Small Arms Review Editorial Stuff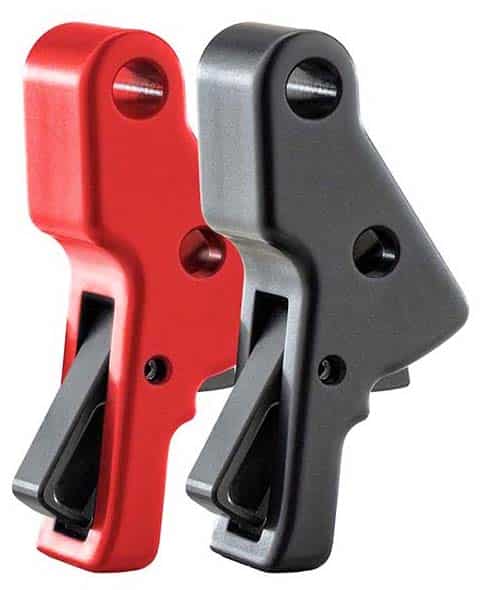 Apex Announces New CZ P-10 Trigger Kit
Apex Tactical Specialties is pleased to announce the introduction of its new Action Enhancement Kit for the CZ P-10 line of 9mm pistols. Starting at just $104.95, the package includes an Apex Action Enhancement Trigger, Apex Performance Disconnector and Apex Slide Cover Plate, which, when installed, significantly improves the feel of the trigger pull while reducing pull weight.
Apex's engineering and design team developed the Action Enhancement Kit as a direct drop-in replacement for the factory polymer trigger, disconnector and slide cover plate of the CZ P-10. The end user has the option of using either the Apex or factory disconnector to achieve one of two distinct trigger pulls.
Installing the Apex Trigger, Performance Disconnector and Slide Cover Plate will reduce the trigger pull to sub-4.0 lbs and provide a light, smooth take-up with linear rolling trigger break at striker release and a reduction in over-travel.
For more of a duty/carry trigger, using the CZ factory disconnector with the Apex Trigger and Slide Plate Cover will provide a more defined trigger break at striker release and a pull weight at approximately 5.5 lbs.
Both trigger installation options require the use of the Apex Slide Cover Plate which is an engineered product designed specifically to work with the Apex and factory components to achieve the proper trigger performance.
The new trigger kit, in Black, is now available for pre-order. Retailers and wholesale distributors that have not yet ordered and wish to stock the new trigger kit can contact Apex at dealer@apextactical.com or (623) 322-0200 for pricing and quantity availability.
Features and Specifications:
Reduces trigger pull to approx. sub 4.0 lbs (using full Apex Enhancement Kit)
Reduces trigger pull to approx. 5.5 lbs (using Apex Trigger and Slide Cover Plate)
Direct drop-in replacement of factory components
Maintains factory safety values
Easy to install
Apex Part #: 116-115 (Black)
MSRP: $104.95
SMITH & WESSON
M&P 12 Shotgun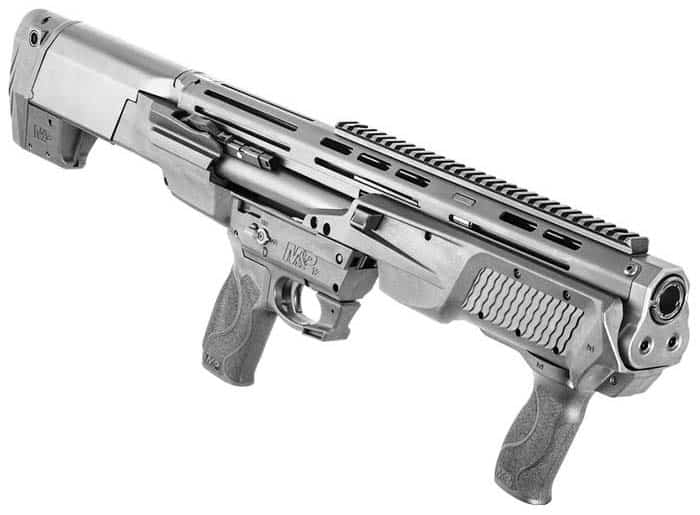 Smith & Wesson announced today that it has introduced a new, bullpup-style pump action shotgun: the M&P12. Designed for home protection, the new M&P12 shotgun is packed with features in a compact, maneuverable package. The M&P12 is chambered for 12 gauge 3" shells but is able to accept a combination of stan-dard 2 ¾", 3" magnum, and mini-shell loads, offering the user a variety of load options to best suit their needs. The M&P12 also features complete ambidextrous controls, an M&P grip, picatin-ny-style rail, and more.
Kyle Tengwall, Vice President of Marketing, said, "Smith & Wesson has a long, storied history of making handguns for self-defense, yet no conversation around personal protection can be complete without mentioning the 12 gauge shotgun. With the introduction of the new M&P12, Smith & Wesson is able to offer our consumers a personal protection product in a variety of categories: pistol, revolver, rifle, and shotgun. Today, we're excited to unveil the M&P12 – a new category introduction for Smith & Wesson, and a firearm that's purpose-built for protection and a blast to shoot at the range.
The M&P12 shotgun is built on a reliable, pump-action platform with two independent magazine tubes that feature load assist buttons to simplify loading and unloading. Each tube can hold up to 7 rounds of standard 2-3/4" shells, or up to 6 rounds of 3" magnum shells. Mini-shells can also be utilized for maximum ammo adaptability. Magazine tubes are easily selected using a simple, push button selector, providing the operator with a visual cue of which magazine tube is feeding the barrel.
The M&P12 features fully ambidextrous controls, utilizing an oversized action release that can be engaged from either side of the firearm as well as the familiar AR-style ambidextrous safety selector. Hallmark M&P features can be found throughout the shotgun, including the new M&P grip with four interchangeable palmswell grip inserts to customize fit for the user. The M&P12's bullpup design delivers maximum maneuverability with an over-all length of 27.8", as well as M-LOK slots on the barrel shroud to easily accessorize with lights, lasers, and more. The M&P12 shotgun ships with both modified and cylinder choke tubes, four palmswell grip inserts, a 15" cable lock, choke tube wrench, & hard plastic, foam-lined case.
The MSRP on the new M&P 12 shotgun is $1,165. smith-wesson.com
This article first appeared in Small Arms Review V25N9 (November 2021)