By Chris Choat
Crane Tactical Unveils ACS-50 (Advanced Combat Sight) for .50 BMG
There are few weapons that have withstood the test of time and have been as widely respected as the venerable .50 cal. Browning machine gun. Its superior ballistics and range of ammunition has allowed it to command the battlefield from the early stages of WWII to present day. Tomorrow's battlefield however is changing, and so then changes the roles of those operating within it. It doesn't take much observation to recognize the sighting limitations that prevent the .50 BMG from realizing its true potential in this new age of combat. The original "peep sight" has long since been ignored in the heat of battle and rarely lends itself useful except in training environments and fixed position applications. Twenty-first century warriors are on the move and likewise the .50 BMG is mobile and requires the ability to rapidly adapt to changing combat conditions. The ACS-50 offers the BMG the flexibility to meet the demands of this environment.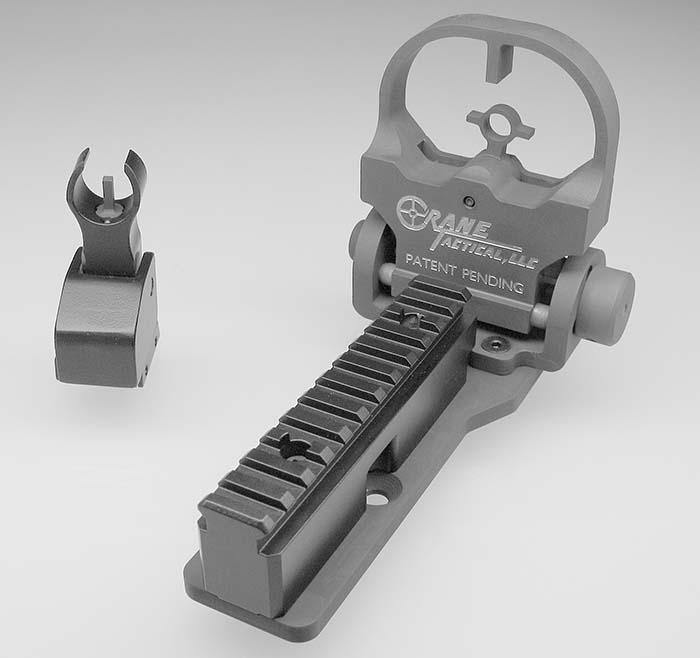 Feature Highlights
Rapid Target Acquisition apertures combined with front adjustable ghost ring sight provide for quick and natural sight alignment. Apertures and sight frame have integral "spider sight" stadia lines that aid in rapid alignment of sights on target.
The patented three range rotary aperture provides no lapse of target impact from point blank to 1,000 meters. These aperture ranges, based off of M33/M8 ballistic trajectories, optimize the most widely used ammunition within the most likely range limit of combat target engagements. (Based on SWAT weapon assessment reports.)
Aperture ranges are set at 400, 700, & 1,000 meters. Trajectories alone provide overlapping impact coverage based on military weapon qualification requirements on E and double E sized targets. Cone of Fire further enhances this overlap. The three apertures are a qualifying gunners' dedicated course of fire, making the sight easy to use in a training environment.
Rear integral MIL STD 1913 scope rail is standard and provides simultaneous use of the iron sights with PAQ4 IR laser for night operations and/or co-witnessed EOTech, AimPoint, or similar optics. Front and rear iron sights can be folded and stowed allowing for dedicated use of the rail for night vision sights, PEQ2 IR laser or higher magnification scopes for longer range engagements and target identification; thus greatly reducing the potential of collateral damage.
Front sight has an M16 style post allowing an adjustment tool or tip of a 5.56mm/7.62mm cartridge to fine-tune the elevation of sights to individual weapons in theater. Rear sight is adjustable laterally for zero and windage requirements.
In addition to quality all steel construction and state of the art production, the revolving aperture is by design self cleaning in its motion. The rotation sweeps debris through the housing pocket and out the bottom drain hole.
Tri-aperture is easy to interchange, should special ammunition use require significantly different trajectory; e.g., SLAP.
Entire sight package is designed to utilize existing sight mounting provisions. Installation can be easily and quickly made in the field, requiring a few basic tools and approximately five minutes.
The ACS-50 is currently being evaluated by the U.S. Dept. of Defense and GSA who are the largest potential end-users. It will be available to private security operators and the civilian market as inventory allows. All sales and inquiries can be directed to Crane Tactical, LLC at (414) 640-7113 or (414) 640-7114 or visit us on-line at www.cranetactical.com.
SureFire's Outdoorsman Series Utilizes New LED Technology
SureFire, designer and manufacturer of high-performance illumination tools, has upgraded its Outdoorsman Series with new light emitting diode (LED) technology. The new, super-efficient LEDs used in Outdoorsman flashlights will generate higher light outputs, using the same power source. They also, at a given light output level, run longer than the LEDs previously used in SureFire E1L and E2L flashlights. The new, electronically regulated LED still utilizes a Total Internal Reflection (TIR) lens to help maximize light transmission and create a user-friendly beam with a bright center and gradually diminishing corona. The one-battery E1L now has a maximum output of 30 lumens (a 5 lumen increase) and a total run time of 10 hours; a 150% increase. The two-battery E2L now has a maximum output of 45 lumens (up by 15) and a 133% increase in run time – 14 hours of total useful light. Both lights are still made from aerospace-grade aluminum and hard anodized for a strong, durable finish. O-ring seals help keep out moisture, dust and dir, and a strong Pyrex window protects the solid-state LED from impact. The Outdoorsman series of flashlights feature stainless-steel pocket clips, convenient click-on/off switching, and patented lockout tailcaps to prevent accidental activation during transport or storage. The diminutive E1L measures only 3.3 inches long and weighs a mere 2.2 ounces with batteries. The slightly larger E2L is 5.25 inches long and weighs 3.5 ounces. MSRP for the E1L is $99 and the E2L is $129. Both lights are available through authorized SureFire dealers or direct from SureFire. Please contact them at SureFire, LLC, Dept. SAR, 18300 Mount Baldy Circle, Fountain Valley, CA 92708. Phone: (714) 545-9444. Fax: (714) 545-9537. Their website is www.surefire.com.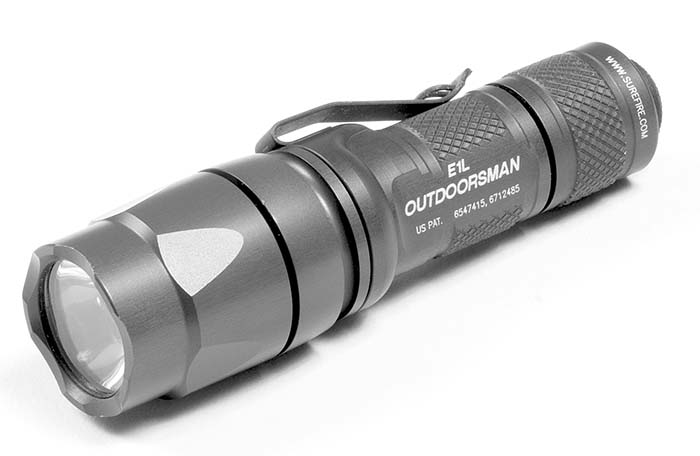 GG&G Introduces New Battle Hawk Tomahawk
GG&G has recently introduced the Battle Hawk, an extreme duty tactical tomahawk designed to excel in "Aggressive Use" situations. In the tradition of many elite units, most of which have carried tomahawks since colonial America, GG&G created the Battle Hawk to fill the requests of those in need of a superior breaching and entry tool. American handcrafted of top quality S7 Crucible tool steel, S7 was chosen for its outstanding shock and impact resistance. S7 also withstands chipping and breaking under the most adverse conditions even with demanding users. The Battle Hawk's one-piece design with G10KG high density textured Micarta handle scales is a tool capable of any mission-essential task. A double contour handle provides long and short grip, assuring positive control in any size hand. The Battle Hawk dimensions are a comfortable 13.25 inches overall length with a head length of 8.25 inches. The 3-inch rear spike, in addition to the multiple cutting edge head design, will definitely get the job done. A Matte Black Kydex Sheath with Tek-loc fastener is included and the Battle Hawk is available powder coated in four colors: Matte Black, Matte OD Green, Matte Desert Tan, and Matte Combat Gray. A solid and effective 44 ounces and tempered to 56-58 Rc hardness, earned the Battle Hawk the manufacturers designation of Combat Utility Tool (CUT). To purchase the Battle Hawk and other fine GG&G products, please contact them at GG&G Inc., Dept. SAR, 3602 E. 42nd Stravenue, Tucson, AZ 85713. Phone: (520) 748-7167. Fax: (520) 745-7583. They can be found on the web at www.gggaz.com.
Nighthawk Custom Introduces Heinie Tactical Carry
Nighthawk Custom of Berryville, Arkansas, a manufacturer of high quality custom 1911-style handguns, proudly announces that they will be offering a new custom gun, the Nighthawk Custom Heinie Tactical Carry in collaboration with Richard Heinie. The Heinie name is one that needs no introduction in the shooting industry, as Heinie sights are known the world over and adorn some of the finest 1911s on the planet. His skill as a master gunsmith is so sought after that he has enough guns already on order to carry him into his mid-seventies. After extensive testing of Nighthawk Custom pistols, Heinie chose to work with Nighthawk Custom to build a signature pistol to his very demanding specifications. The Nighthawk Custom Heinie Tactical Carry will be the first in the partnership, and will be built exactly to Heinie's specifications. Many tactical pistol enthusiasts are familiar with this package already. Each one will have a specially selected barrel, Heinie Solid Trigger, compete carry de-horn, Heinie Straight Eight Slant Pro Night Sights, and a very unique Heinie mag well that is affixed to the gun after altering the frame. This alteration affords the benefits of a larger opening in the well area without adding grip length like most available add-on magazine wells do. The result is a fast, easy to load, accurate fighting gun. The Nighthawk Custom Heinie Tactical Carry also sports a flatslide top with 40 LPI serrations. You'll recognize the quality when you open the breech, look inside and see the mirror-like shine on the feed ramp and the barrel throat. This is a very special 1911 that is built to last a lifetime. For more information, or to order one of these outstanding handguns, please contact Nighthawk Custom, Dept. SAR, 1306 West Trimble, Berryville, AR 72613. Phone: (877) 269-4867. Fax: (870) 423-4230. Website: www.nighthawkcustom.com.
Laser Devices Announces New Double Tap switch for Operator
Laser Devices, Inc. (LDI), manufacturer of state-of-the-art visible and infrared aiming lasers, hand held and weapon-mounted tactical lights and small arms training systems is pleased to announce the release of its new Electronic Double Tap Switch (EDTS) End Cap for the popular Operator OP-6 Tactical Lights. Laser Devises' most versatile tactical light, the Operator OP-6, now offers users even more options. The EDTS has a remote cable port to allow quick and easy replacement of a broken or worn out remote cable assembly as well as a local activation switch located on the side of the end cap housing. In addition, the EDTS provides the following modes: momentary, continuous on, dimmer mode and positive off. EDTS works with Operator OP-6 lights equipped with an incandescent high pressure Xenon lamp or with the blindingly bright 125 lumen high flux LED head. The EDTS end cap is interchangeable with any existing OP-6 end cap and is sold separately or prepackaged with the OP-6 tactical light. For more information, please contact Laser Devices, Inc., Dept. SAR, 2 Harris Court, Suite A-4, Monterey, CA 93940. Phone: (831) 373-0701. Fax: (831) 373-0903. Website: www.laserdevices.com.
This article first appeared in Small Arms Review V11N1 (October 2007)