By Chris Choat
New Uzi CAR Stock Adapter from 25th CTC
From 25thCTC, the inventors and makers of the SKS "H" Recoil Buffer, Sten Recoil Buffer, Tec AB-10/PM-11/SKS "Muzzle Adapters" and much more, comes one of five upcoming new products; their new "Uzi CAR Stock Adaptor" or UCS. 25thCTC's "UCS Adapter" allows any CAR/16 stock to be installed on semi-auto or full-auto Uzis. It will fit all full-size Uzis that have the hole for the stock nut in the receiver back plate. The UCS Adaptor is all metal, has a black matte finish and is made in the USA. No modifications to the gun are required, and it comes with complete installation instructions, stock nut and screw and two hex wrenches. Using their new "UCS Adaptor" along with a CAR stock will allow for custom length of pull and excellent weapon control. Retail price of this new adapter is only $35. For more information on this, and all of their full line of firearm accessories, please contact them at 25thCTC, Dept. SAR, 108 Smokey Lane, Griffithville, AR 72060. Phone: (501) 516-6025. They can be found on the web at www.25thCTC.com.

DPMS Introduces the Pardus Rifle
DPMS Panther Arms President Randy Luth's vision of a rifle inspired by the elusive leopard (Panthera pardus), has come to fruition with the debut of the Pardus Rifle. The Pardus features many of the same components that have made the DPMS line of rifles successful, such as the forged 6061-T6 aluminum lower receiver, .223 caliber chambering and the outstanding accuracy and reliability of every DPMS rifle, but the new rifle will be a smaller, sleeker version of the traditional Panther rifle. Tapered lines will entice shooters to pick up the rifle and examine the 16 inch bull barrel with an integral compensator and an overall length of 36.75 inches. Shooters will also appreciate the overall clean profile, balance and light weight (8.1 pounds) of the rifle. Looking down the barrel, shooters will notice the shortened sight radius and the comfortable grip of the 4-Rail carbine length free float tube, as well as the single rail Koelbl gas block that will allow shooters to mount both optics and iron sights. The 3-Rail upper receiver, machined from a 6066-T6 extrusion, provides shooters a multitude of mounting options with the two additional Picatinny rails on the left and right sides of the receiver. A titanium nitrate plated bolt carrier assembly completes the upper receiver, and a titanium nitrate plated trigger highlights the forged lower receiver. The new rifle also features the new Pardus buttstock, a 6-position stock with a curved and serrated buttplate, and a Monte Carlo style cheek rest provide the shooter with a better comfort and fit. Hard coat anodizing and a tan coating make this rifle a custom design from DPMS. For more information on this exciting new rifle, please contact DPMS Inc., Dept. SAR, 3312 12th Street SE, St Cloud, MN 56304. Phone: (320) 258-4448. Fax: (320) 258-4449. They can be found on the web at www.dpmsinc.com.

Trigger Tamer – Improves Your AUG Trigger
As good as the Steyr AUG is as a rifle, you can now improve the heavy trigger pull with the new Trigger Tamer. The Trigger Tamer is a drop-in part and requires no modification to the host rifle. The Trigger Tamer is made from machined Delrin, which is actually smoother and slicker than the original Steyr parts. The new part requires only a pin punch (or a ball-point pen) to install and detailed instructions are included. It takes longer to read the installation booklet than to actually install the part. But if you don't want to install the Trigger Tamer yourself, you can send your trigger pack to the manufacturer and they will install it for you free of charge. The Trigger Tamer works in semi-auto packs as well as full-auto packs and will work in AUGs as well as USRs. Users have a 60-day trial period to return the device for any reason for a full refund if they don't like it. The Delrin part is so tough and strong that it is covered by a full lifetime replacement guarantee. Original Steyr trigger packs have various pull weights and it is hard to say what pull weight the Trigger Tamer will produce. But it will give a pull weight that is about 2/3rds of the original. For more information, please contact Trigger Tamer LLC, Dept. SAR, P.O. Box 759, Genoa, NV 89411. Phone or Fax: (877) 230-5950. You can also place on order online at www.triggertamer.com.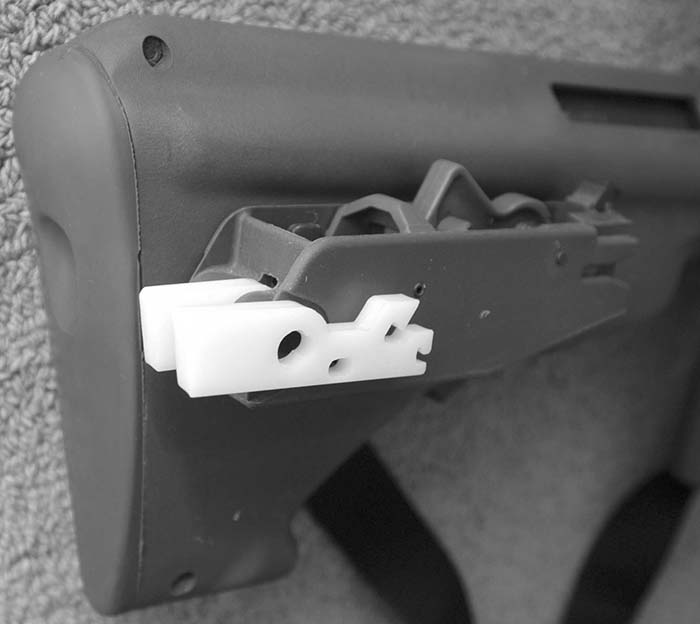 Command Arms Accessories Introduces Magazine Loader/Unloader
First Samco Inc. and & TDI Arms USA have combined to provide the best and most advanced arms accessories for your weapons. The new company, known as CAA, Command Arms Accessories, is committed to producing innovative products such as Picatinny rail systems, advances light and laser devices, hand grips, stocks, bipods and adaptors to satisfy the most demanding operators and usage in the most extreme conditions. Most products are available in black, tan, and OD Green. All Command Arms Accessories come with a lifetime warranty. This change does not affect the Fobus line of holsters and accessories. One of their first new products are two new magazine loader/unloaders. These new magazine loader/unloaders are made for the popular .223 caliber and the 7.62×39 caliber magazines. These new devices work with the M16/AR-15, Ruger Mini 14 magazines and the AK47 magazines. The new loader/unloaders are designed to load and unload single magazines as well as two magazines that are coupled together. Lightweight and compact, the magazine loader/unloaders utilize thumb activated levers for easy loading & unloading of magazines. For more information, please contact Command Arms Accessories, Dept. SAR, 1300 Industrial Highway, Suite B-3, Southampton, PA 18966-4029. Phone: (267) 288-9995. Fax: (215) 322-9223. Their website is www.commandarms.com.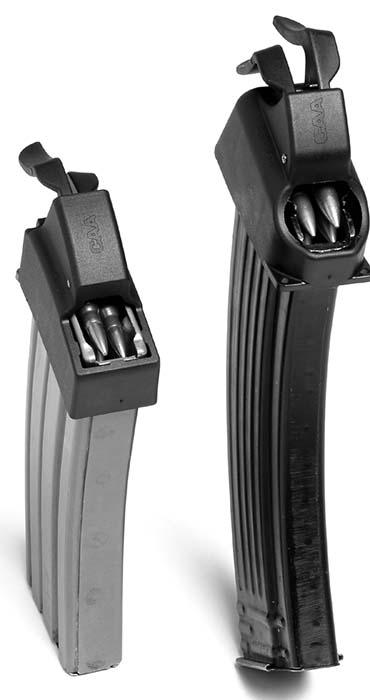 Aimpoint Introduces Comp3 and CompML3 Red Dot Sights
Aimpoint, the world leader and innovator of red dot sighting technology, is introducing a new generation of sights. The new Advanced Circuit Efficiency Technology (ACET) is a breakthrough in technology and has been implemented in a new series of sights. ACET combines Aimpoint's superior accuracy and ease of use with significantly lower power usage. ACET sights can last nearly 50,000 hours (on setting 7 out of 10) on a single DL1/3N battery. That is 49,000 hours more than other competitive sights on the same setting. The new sights are called Aimpoint CompM3 and Aimpoint CompML3. The difference between these two models is that the Aimpoint CompM3 is compatible with all generations of night vision goggles. The new series of sights have several improvements in comparison with present sights. The new sights are even more rugged than the previous generation and with the new ACET technology follows the possibility to choose from two fixed sizes of the red dot – 4 Minutes of Angle (MOA) or 2 MOA. It is said that 30 years of experience shows that the 4 MOA dot provides the best combination of accuracy and speed, whereas the smaller 2 MOA dot puts accuracy before speed.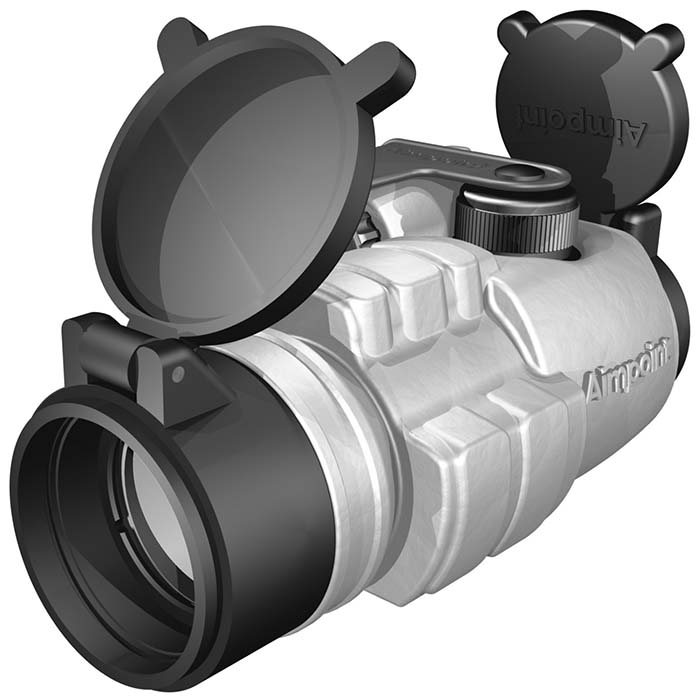 The Aimpoint CompM3 and Aimpoint CompML3 come with a rubber cover that makes these sights extremely durable in severe environments. The covers are available in either black or dark earth brown. Both sights are submersible down to an impressive 135 feet (45 meters). The Aimpoint CompM3 and Aimpoint CompML3 are available now but will not replace existing CompM2 and CompML2 models. Also new from Aimpoint is their 3XMag. This is a 3 power magnifying adapter that is designed to mount behind an Aimpoint sight. It takes advantage of using the red dot of the Aimpoint and also adds greatly extended range for the shooter. There is no need to rezero, just mount the 3XMag and go. It allows the operator the best of both worlds: a CQB sight and an extended range sniping sight. In addition to the magnifying module, Aimpoint has also developed a patented new mount called the Aimpoint Twistmount. This mount allows the 3XMag to be removed or attached in seconds. For more information on these two new products as well as their full line of excellent sighting options, please contact Aimpoint, Inc., Dept. SAR, 3989 Hwy 62 West, Berryville, AR 72616. Phone: (870) 423-3398. Fax: (870) 423-2960. Their web address is www.aimpoint.com.
This article first appeared in Small Arms Review V9N8 (May 2006)