By Chris A. Choat
Command Arms Accessories Introduces Two New Forward Grip and Bipod Combinations
Command Arms Accessories (CAA) the manufacturer of unique and innovative weapon accessories is proud to introduce two new Forward Grip and Bipod Combinations. The Pod Grip, a molded grip and stable bipod combination, offers improved muzzle control and increased accuracy. Manufactured from high-density polymer, it has four finger grooves for a comfortable and secure grip. The push button instantaneously releases the bipod legs allowing the operator to immediately move from the CQB position to the fighting prone position. The bipod feet are serrated for improved gripping. The rail mounting surface of the grip/bipod has two location lugs which lock into the Picatinny rail eliminating any front to rear movement on the rail. Quick release and installation on the rail is accomplished with a spring loaded rail clamp and thumbnut. The second model is the Pivoting Pod Grip and has all of the features of the Pod Grip plus the additional features of pivoting up to 60 degrees off center in both directions (120 degrees total), for acquiring and maintaining the sight picture. The bipod legs re-center automatically once released from the ground for instant weapon repositioning. A unique joint in the grip base allows the operator to correctly position the rifle straight up and down even if the bipod legs are on an uneven surface. The Pod Grip and Pivot Pod Grip are made of super tough polymer with a hard black anodized stainless steel mechanism for use in wet, humid, or salt-water conditions. Tough polymer legs are reinforced with a 1.2mm steel insert heat treated to 48 Rockwell for extra strength. An optional ambidextrous pressure switch mount (PGS) is also available. These new products as well as all other CCA accessories come with a Lifetime Warranty. For more information please contact Command Arms Accessories, Dept. SAR, 76 Vincent Circle, Ivyland, PA 18974. Phone: (267) 803-1518. Fax: (267) 803-1002. Website: www.commandarms.com.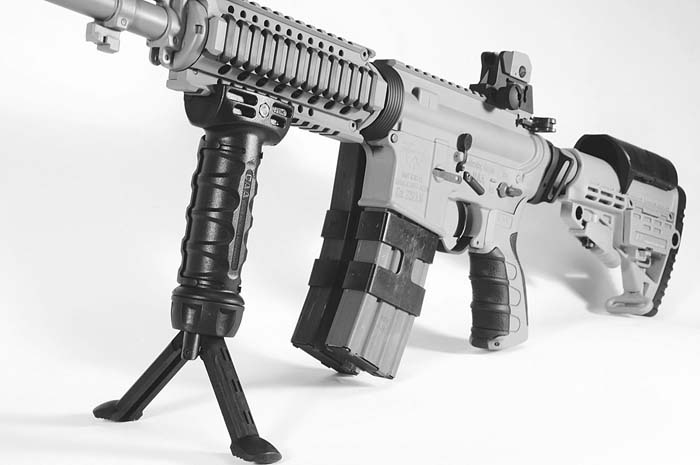 Samson Manufacturing Introduces Krinkov Tactical Rail
Samson Manufacturing makes a full line of tactical rails for just about any tactical rifle. It has now expanded its line of rails to include a very innovative 4-sided rail for the diminutive Krinkov series of AK rifles. The new rail system requires no gunsmithing other than removing the weapon's existing wooden upper and lower handguard. The wood upper handguard is removed from the gas tube and then the tube is replaced. The rail features a barrel clamp that fastens around the barrel just forward of the rear trunnion. The two-piece rail system then fastens to the barrel clamp with four socket head screws for a very secure fit. It has four 1913-Picatinny Mil-Spec rails located on top, both sides and the bottom. The top rail features a clearance slot so that iron sights can still be used. The bottom rail and side rail have clearance cuts for either side or bottom folding stocks. The new rail system allows the addition of optics, lights, lasers and vertical grips (like the excellent new TangoDown Vertical "Stubby" grip shown in the photo). Two models of the Krinkov rail are available; the Model 2 for the Yugoslavian M92 and the Model 3 for the Bulgarian rifles. These, like all of Samson's other rails, are made from 6061 T6 billet aluminum alloy for light weight and rugged strength. They also feature a black anodized finish and laser-etched T-slot letters and numbers. This new rail is added to a long list of existing rail systems and accessories for most tactical rifles as well as the new SIG 556. For more information please contact them at Samson Manufacturing Corporation, Dept. SAR, 110 Christian Lane, Whately, MA 01373. Phone: (413) 665-1162. Fax: (413) 665-1163. Website: www.samson-mfg.com. TangoDown products can be located at TangoDown, Dept. SAR, 1588 Arrow Highway, Unit F, La Verne, CA 91750. Phone: (909) 392-4757. Fax: (909) 392-4802. Website: www.tangodown.com.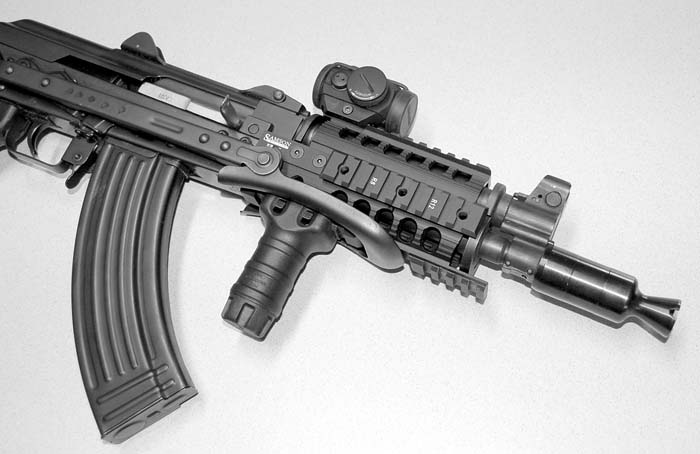 PentagonLight Adds New MOLLE Light Forest
PentagonLight has expanded their highly successful MOLLE Light family with the introduction of their new MOLLE Light Forest. Reminiscent of the widely issued WWII TL 122 vintage military flashlight, the MOLLE Light is an up-to-date version and the smallest high-power anglehead LED flashlight available in the market today. Its small size fits through PALs webbing for secured hands-free attachment on MOLLE vests and compatible gear. The rotating metal clip provides attachment options to numerous other locations. Powered by a single AA battery, this 40-lumen white light has a runtime of up to 3 hours. A green filter is stowed in the base for changing the beam color to green for use as a hunter safety light, and is suitable for outdoorsman/campers without spooking wildlife. The filtered green beam also produces minimal signature to night vision goggles and devices. A top mounted button on/off switch allows operation without removing from webbing. A miniature magnetic compass in the tail-cap serves as a navigation aid. With this new addition, the MOLLE Light has furthered itself as an icon of compact personal flashlights. For more product information on MOLLE Light Forest and other advanced illumination tools please contact PentagonLight, Dept. SAR, 151 Mitchell Avenue, San Francisco, CA 94080. Phone: (650) 877-1555. Fax: (650) 877-9555. Their website is www.pentagonlight.com.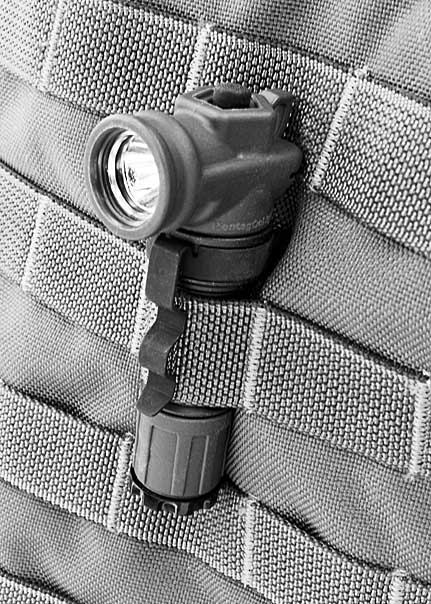 Hardigg Introduces HK UMP Storm Case
Hardigg now has a Storm Case made especially for the Heckler & Koch UMP submachine gun. The new case measures 20×14.6×5.8 inches and looks discreetly like a hard computer briefcase. The case is made from injection molded HPX resin and features easy opening "Press & Pull" latches. It also features a soft grip carry handle, lockable padlock hasps and a pressure release valve. On the inside, the watertight case has custom foam that is cut out for the UMP with its stock folded and an extra magazine. There is a removable piece of foam to accommodate a gun with attached optics. A removable upper foam tray reveals a bottom layer of foam that can store up to five magazines or accessories. It also comes with a padded shoulder strap and is available in either black or olive drab. Storm Cases offer more than just a very durable watertight, padlockable made in the USA case, they also are unconditionally guaranteed for life. For more information on this as well as their full line of weapon, industrial and custom made cases, please contact them at Hardigg Storm Case, Dept. SAR, P.O. Box 201, South Deerfield, MA 01373. Phone: (413) 665-2163. Fax: (413) 665-8330. Website: www.hardigg.com.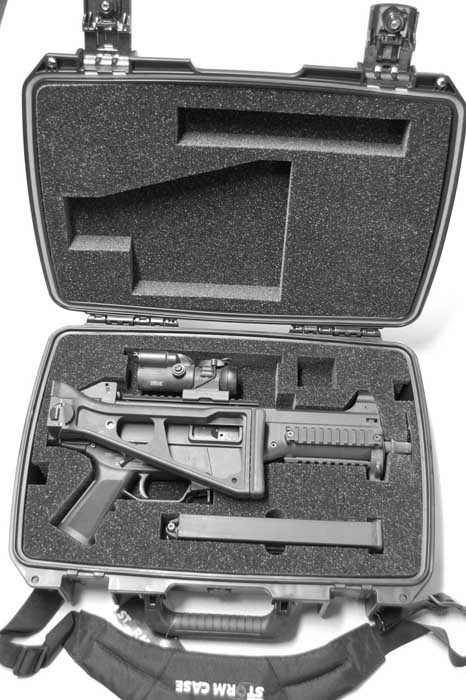 New A2 Back Up Iron Sight from GG&G
Improved and redesigned for 2008, the GG&G A2 Back Up Iron Sight (BUIS) provides the operator with an easy-to-install and easy-to-operate flip-up rear sight and includes the all important locking detent. Improvements include a more tactile and ergonomic windage knob, a countersunk crossbolt and more streamlined body. The GG&G A2 BUIS is always at the tactical ready once placed in the up position. The sight cannot be folded down without depressing the spring assisted detent release button located on the left side of the sight base. This totally eliminates the possibility of accidentally lowering the sight. All of these enhanced benefits improve the A2 BUIS and are offered without additional cost. The new sight can be used as a co-witness iron sight with most red dot sighting systems, as a stand-alone sight or in conjunction with the GG&G F.I.R.E. rails. The sight weighs just slightly over 2 ounces and features the standard military A2 style double peep aperture. The mount body and sight stem are manufactured from billet 6061 T6 aluminum alloy and Type III hard coat anodized in a non-reflective mil-spec finish to provide combat durability. All steel components are black manganese phosphated per mil-spec. As an option, the sight can be ordered with the XS same plane aperture or the Trijicon tritium aperture installed. For more information on this as well as an extensive line of fine firearm accessories please contact GG&G, Dept. SAR, 3602 East 42nd Stravenue, Tucson, AZ 85713. Phone: (520) 748-7167. Fax: (520) 748-7583. Website: www.gggaz.com.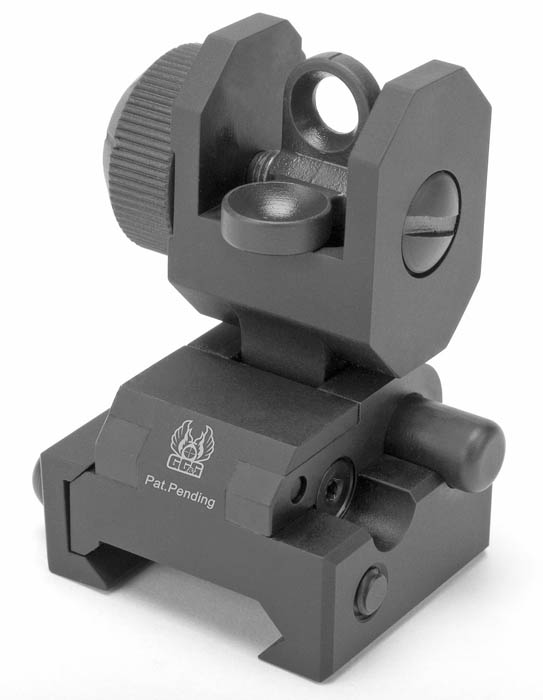 This article first appeared in Small Arms Review V11N9 (June 2008)