By Chris A. Choat
New Tactical Muzzle Brake from Brownells
Brownells new 1/2"-28 thread, .22 caliber, Tactical Muzzle Brake solves a very real problem for shooters using the AR-15. No one associates the .223 with crushing recoil but any muzzle rise affects the second shot of a double tap; a standard occurrence in 3-Gun and multi-gun matches or when follow up shots are required on varmints. The new Tactical Muzzle Brake features 16 oblong ports plus an expansion chamber for lots of "wall" area for powder gases to act against. All that surface area helps reduce recoil and muzzle rise to reduce sight recovery time between shots. The Tactical Muzzle Brake is machined from solid 4140 carbon steel bar stock and hardened to Rc 38-42 to resist blast erosion. The finish is a long-wearing, matte, black oxide that blends well with most barrels. With ports all around, indexing is not needed making installation easy. Brownells is the world's largest supplier of firearm parts, gunsmithing tools, equipment and accessories. Stocking more than 30,000 items, the company supplies armorers, gunsmiths, and shooters worldwide. All of their products are backed by a 100% satisfaction, unconditional, lifetime guarantee. To order, or for more information, please contact them at Brownell's Inc., Dept. SAR, 200 Front Street, Montezuma, Iowa 50171. Phone: (641) 623-5401. Fax: (641) 623-3896. Their website is www.brownells.com.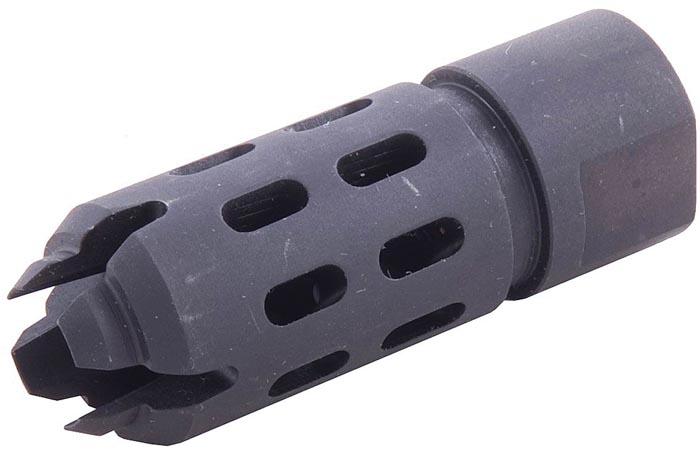 Elite Survival Systems Introduces New Avenger Gun Pack
The designers at Elite Survival Systems are pleased to introduce the new Avenger Gun Pack; an extremely versatile concealed carry solution. The pack was designed to be worn on the belt or over the shoulder with the detachable shoulder strap. Multiple attachment points allow the user to carry the pack at various angles, strong-side or cross-draw. The Avenger mounts to the belt with dual Velcro-wrap belt loops that allow the pack to be attached without removing the belt. The Avenger has a large main zippered compartment with an adjustable holster to fit most handguns. The weapon can be easily accessed using the easy-pull zipper tabs. The pack also has two zippered accessory pockets on the front, one of which has loops for spare magazines and a key hook. This versatile pack has accessory cords on the front, MOLLE straps on the sides for attaching small pouches, and a carry handle on top. It also comes with a Velcro loop patch for attaching an ID. It is constructed of fully padded 1000 denier nylon for maximum durability, and measures 9×6.5×4 inches. Made in the USA. As with all Elite products, attention to detail and quality materials make the Avenger Concealment Pack an ideal solution. For more information please contact Elite Survival Systems, Dept. SAR, P.O. Box 245, Washington, MO 63090. Phone: (636) 390-8360. Fax: (636) 390-2977. They can be found on the web at www.elitesurvival.com.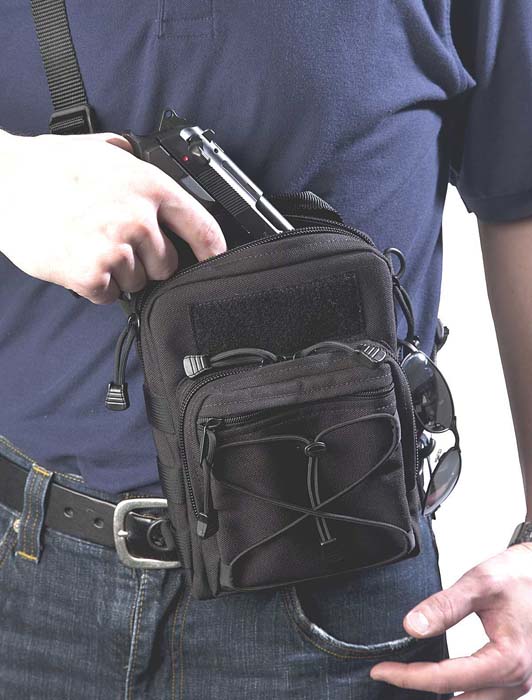 Pelican Unveils Versatile LED Flashlights
Doing it yourself just got easier with the extremely versatile Pelican Products 2365 Flex-Neck LED and 2360 LED flashlights. The 2365 Flex-Neck LED features a nearly 15-inch, flexible cable neck so it that can be bent to shine light anywhere it's needed. Powered by two AA batteries, the 2365's next generation LED provides clean, brilliant light for nearly 15 hours with a peak output of 45 lumens. Weighing in at 9.3 ounces with batteries, the light comes with a magnetic bracket clip to keep it in place when working around metal surfaces. It has an MSRP of $49.95.
With a peak light output of 100 lumens, the 2360 LED is powered by two AA batteries and boasts a run time up to 2.5 hours. The light also features a multi-position, removable black-oxide coated metal clip. For easy one-handed use, the 2360 LED features a tail cap switch and weighs in at a mere 4.6 ounces with batteries. The 2360 LED has an MSRP of $44.95. Perfect for general use in almost any setting, both lights are weather/corrosion resistant feature CNC machined aluminum bodies with a knurled "no-slip" grip pattern and an extremely tough, black Type II Anodized finish. Like all Pelican products, both lights are backed by a Legendary Lifetime Guarantee: "You Break It, We Replace It… Forever." For more information contact Pelican Products Inc., Dept. SAR, 23215 Early Avenue, Torrance, CA 90505. Phone: (310) 326-4700. Fax: (310) 326-3311. Website: www.pelican.com.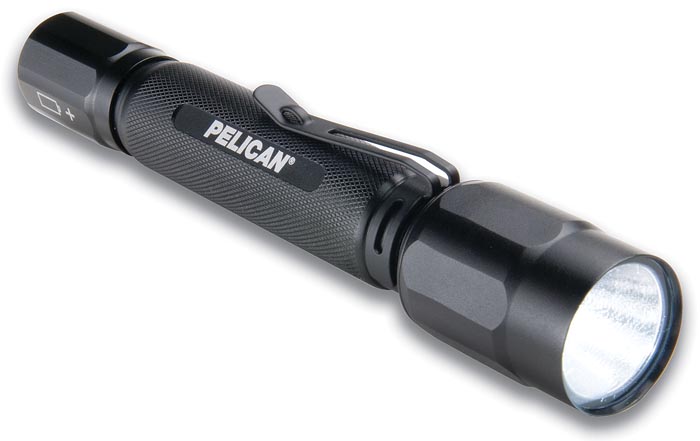 New "Front Mount" Night Vision from NIVISYS Industries
NIVISYS Industries announces a Gen. III day to night-vision conversion system that accurately works at real world tactical speed. NIVISYS Industries now has a new state-of-the-art clip-on night vision unit. Known by model number NSV-80 the new unit simply, quickly and accurately clips onto the 1913 Picatinny rail in front of a telescopic sight to turn a daylight system into a night fighting system. Additionally, the NSV-80 (night vision sight) does not require operators to have error prone, separate night and day zeros on their telescopic sights. The NSV-80 simply mounts in front of most telescopic sights via a quick-detach Picatinny compatible clip on mount. While not always required, the NSV-80 also features a rear rubber seal (Litegard) that fits between the scope's objective lens (or sunshade) and the NSV-80 to eliminate or limit peripheral light. The NSV-80 internal optics makes an accurate full-field view possible even if it is not in alignment with the telescopic sight's objective lens. In other words, if the reticle is in view, the NSV-80 reticle is still on target without further adjustment. No need for potential zeroing errors when converting from day to night operations. NIVISYS' NSV-80 provides a clear and precise parallax-proof conversion from day optics to dark time without any scope adjustments. The optics system and housing of the NSV-80 is made by Zeiss Optics. Then the unit is sent to the folks at NIVISYS where their superior-quality generation III electronics and intensifier tube are installed. The unit is so ergonomically friendly that it can be mounted and operated in total darkness (no need for any red flashlights, etc.) and even with the operator wearing gloves. Simply clip on and turn on. The NSV-80 is 1X and operates on two standard AA batteries. For more information contact NIVISYS Industries LLC, Dept. SAR, 400 South Clark Drive, Suite 105, Tempe, AZ 85281. Phone: (480) 970-3222. Fax: (480) 970-3555. Website: www.nivisys.com.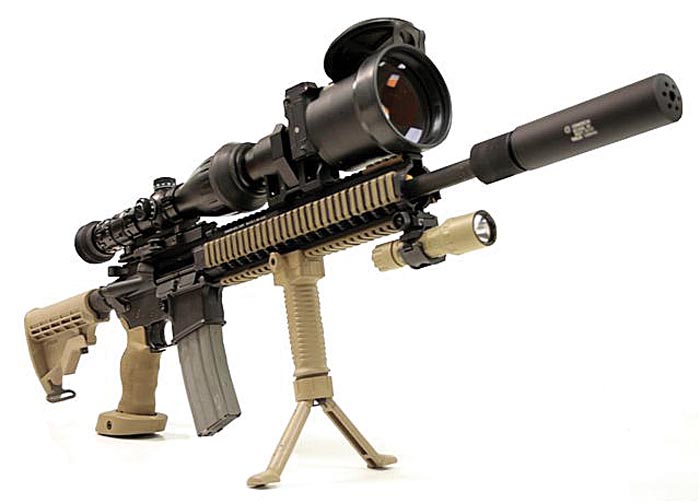 Sentry Solutions Armorers Kit
Sentry Solutions, Ltd., the dry lubrication leader in the military, law enforcement, firearms, and outdoor sporting markets has combined the essentials in oil-free lubrication for firearms and sporting equipment in one convenient and affordable kit. Sentry Solutions' Armorer's Kit contains Smooth-Kote, BP2000 Powder, Hi-Slip Grease and Tuf-Cloth to treat 30 or more firearms or loads of sporting gear, plus applicators, gloves, instructions and more. The kit provides users with the latest in dry lubrication technology that enhances ballistic performance of firearms as it cleans and protects. Sentry Solutions products use graphite, molybdenum disulphide and proprietary lubricants in their products that smooth and protect metal surfaces at the microscopic level thus preventing gear from becoming the dust magnets as seen with oil products. Smooth-Kote is a self-cleaning dry lubrication that gives gun metal a grime-reducing, non-stick coating so dirt, residue, and fouling are easily brushed away. Besides protecting the bore from fouling, Smooth-Kote in gun trigger mechanisms smoothes the trigger pull and enhances accuracy and performance in handguns, shotguns, rifles and muzzleloaders. BP2000 Powder is applied by rubbing into the metal surfaces where it works microscopically. Used by military marksmen for barrel break-ins and conditioning, it decreases the number of rounds required to season a rifle barrel. Hi-Slip Grease is a synthetic blend containing the finest micro-bonding lubricants available today. The grease is a thin film that prevents galling and corrosion of all metals including titanium, stainless steel and aluminum under high loads and extreme conditions. The Sentry Solution Tuf-Cloth is a 12 x 12 inch lint-free cloth impregnated with a water displacing micro-bonding agent that provides a dry shield against rust, friction and wear. It is the choice for our military forces currently serving in Iraq and Afghanistan. The Armorer's Kit comes complete with cleaning accessories such as gloves, cotton-tipped applicators, pipe cleaners, application brushes, patches, alcohol pads and detailed instructions. Sentry Solutions' Armorer's Kit retails for $39.95. For more information you can contact them at Sentry Solutions Limited, Dept. SAR, P.O. Box 214, Wilton, NH 03086. Phone: (603) 654-3001. Fax: (603) 654-3003. Their website is www.sentrysolutions.com.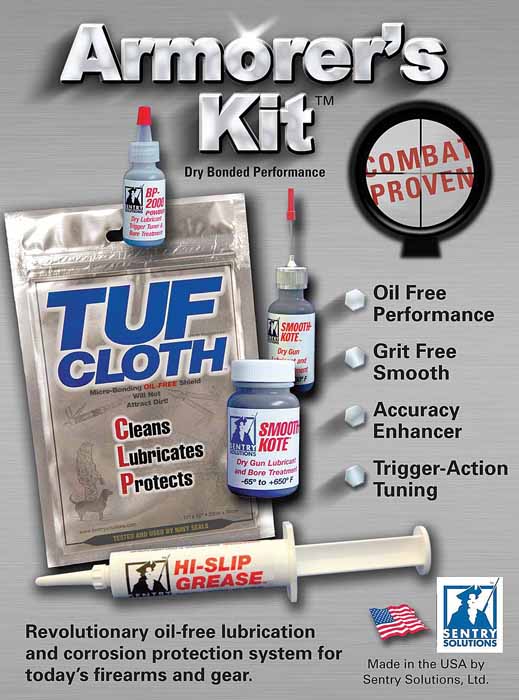 This article first appeared in Small Arms Review V12N11 (August 2009)