By Chris A. Choat
Allegheny Arsenal Introduces New DP-28 Pan Magazine Loader
Allegheny Arsenal, Inc. of Bradford, PA, a well known and long time dealer of machine gun parts and accessories for the beginning and advanced collector, has developed and manufactured a DP-28 (Degtyarev) pan magazine loader to load the 47-round magazines for this light machine gun and the semi-auto versions now on the market. Loading pans has always been a real chore and original loaders have been as scarce as hen's teeth. The new Allegheny Arsenal loader is a completely new, patented design manufactured from tool steel. All critical parts are heat treated and it is covered by a one year warranty for parts and labor.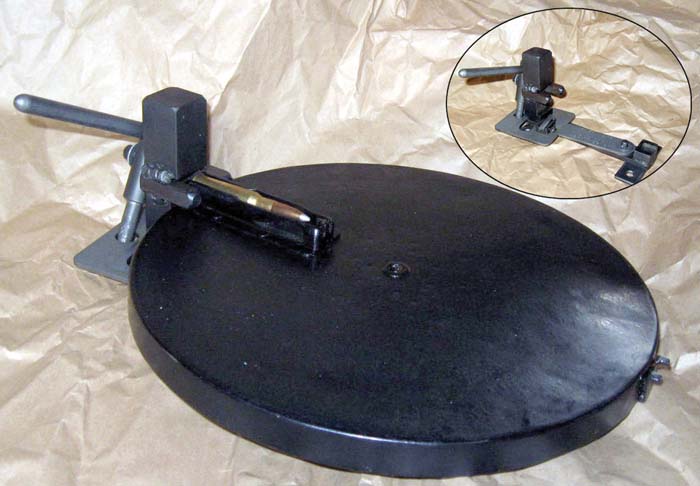 The loader is extremely simple to use and only has three moving parts. It comes completely assembled, ready to use. Complete, easy to follow instructions are provided with the loader. To load a pan, the magazine is placed in the loader on a slight angle, shell port up. The pan is guided in place by two arms and held in place by the center screw on the obverse side. One hand operates the lever, which advances the magazine and takes pressure off the spring and follower. One round is placed into the magazine and the arm is moved again and the process repeated. You can load all forty-seven rounds into a magazine in less than two minutes!
The price for the loader is $269 plus $10 shipping and handling. For more information on the new DP-28 pan magazine loader, as well as other rare machine gun parts and accessories, please contact them at Allegheny Arsenal, Inc., Dept. SAR, P.O. Box 161, Custer City, PA 16725. Phone (814) 362-2642. Fax: (814) 362-7356. Email: mg34@mg34.com. Website: www.mg34.com.
Magnolia State Armory Introduces Galil Magazine Adapters
Magnolia State Armory has added two new magazine adapters to their line of existing magazine adapters that already include versions for the Saiga .223 adapter. The two new adapters fit the popular Galil/Golani rifles. These new adapters allow the use of lower cost and more versatile AR-15/M16 magazines to be used in the Galil rifles. The adapters come in two versions; the first is for the current production Century International Arms Inc. gun and is designated the model AR2G223GLN. The second, model AR2G223GAL, is made for the Ohio Rapid Fire guns as well as the IMI imports. Due to the large number of both styles of receivers of both guns in circulation, as well as milling variations, some minor fitting may be required for either model. All of the adapters are constructed of 6061 aluminum and are finished with hard coat anodizing. The new adapters have ambidextrous release capabilities and are designed to work with any Mil-Spec AR-15 magazine. Colt 20-round magazines and similar that have longer feed lips will not function with the adapters unless the feed lips are shortened. All adapters made by Magnolia State Armory come with a one year warranty. MSA will also soon be releasing an AK adapter to fit AK-47 rifles and variants such as the Arsenal SLR-106. For more information please contact them at Magnolia State Armory, Dept. SAR, P.O. Box 5960, Brandon, Mississippi 39047. Phone: (769) 233-8118. You can also visit them online at www.magnoliastatearmory.com.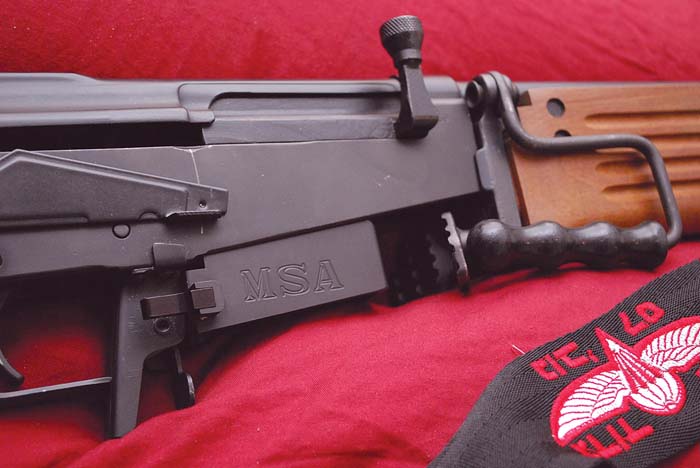 DEZ Arms Announces New AK-47 Adjustable Gas Block
DEZ Arms, Inc. has announced the release of its new, adjustable AK-type gas block for the AK-47 and variants, Romak 3 – PSL sniper rifles commonly used for military, law enforcement and civilian applications shot in semi-auto and full-auto modes. Its regulated gas block is a major improvement over the former block. Once retrofitted on the firearm, adjustments can be dialed in: "off" position for single shots to a full gas position for any load available. The gas block reduces recoil by allowing the proper flow of gas to cycle the bolt and carrier without hitting the rear trunnion and buffer; thereby reducing damage to receiver rails and rivets in the rear trunnion and rails. Bolt carrier racking caused by violent gas pressure slamming against the gas piston and carrier is also reduced. Carbon build-up on the piston head and shaft are similarly reduced by directing unused gasses out the muzzle end of the barrel. This unique adjustable gas block enhances bullet velocity by using less gas to cycle the system. Simply mount the adjustable gas block to the barrel with four set screws, adjust the gas flow by turning the regulator – in to decrease, out to increase the gas. Once the desired adjustment has been dialed in, lock the regulator by tightening the slotted nut. A screw driver, coin, or rim of a cartridge case can be used to precisely adjust the regulator. The adjustable gas block can quickly and easily be installed. First remove the front sites from the barrel by removing pins. Next remove pins from the old gas block then remove the existing block from the barrel. Lastly, install the adjustable gas block on the barrel and align the gas port hole with the gas block port. Apply Lock-Tite to the set screw tips and tighten securely allowing time to dry. The gas block is made from 4140 chrome moly steel and comes in two sizes; .592 for AK-47 and variant barrels and .610 for Romak 3 and PSL barrels. The new AK-47 Adjustable Gas Block will be offered at an introductory price of $99.99 for a limited time only. For more information you can contact them at DEZ Arms, Inc., Dept. SAR, 2899 11th Drive, Adams, WI 53910. Phone: (630) 280-9446. Fax: (630) 668-2041. Website: www.dezarms.com.

Walker's Introduces New Power Muff Quads
Walker's, the shooting and hunting industry pioneer in hearing protection, expands their line with their new Power Muff Quads. The most advanced amplification earmuffs on the market are now available in Realtree and Mossy Oak, and Blaze Orange, complimenting their current black production models. These popular earmuffs incorporate four individual high frequency response directional microphones that provide the most natural, crystal clear sound amplification and hearing protection, all in one unit. By incorporating the advanced Sound Activated Compression (SAC) circuit, loud sounds, like muzzle blasts, are instantly compressed, while line commands and conversations at the range and in the field are still easily heard. The new muffs feature 9X hearing enhancement, 24 dB noise reduction rating, sound activated compression and two independent volume and bass/treble controls for precise sound fine tuning. Batteries are included with each unit. For more information you can contact them at GSM-Walker Products, LLC, Dept, SAR, P.O. Box 535189, Grand Prairie, TX 75053. Phone: (877) 269-8490. Website: www.walkersgameear.com.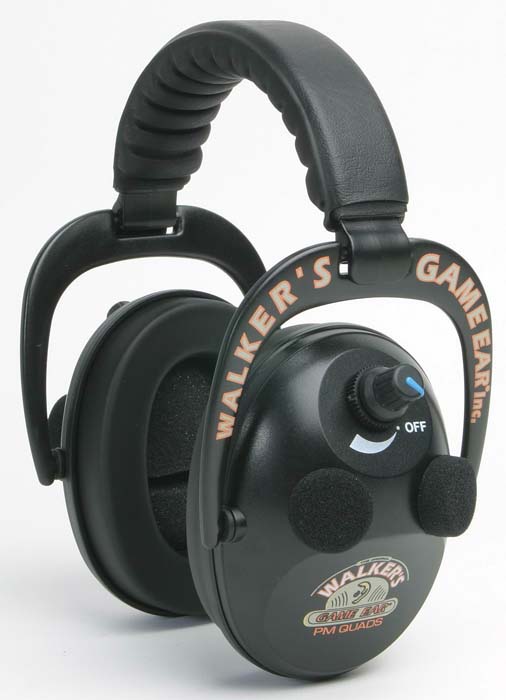 New XS Sight Systems AR-15/M16 CSAT Combat Sight
The XS CSAT Combat Sight eliminates the guesswork shooters face when trying to accurately engage targets in close quarters with the aperture sight commonly used on AR style rifles. When engaging up-close targets with open sights on AR/M4 rifles, guessing and holding high has been the standard procedure. This is because the height of the sights above the barrel causes bullets to impact as much as 2 1/2 inches below point of aim at close quarter engagement distances. The XS CSAT Combat Sight incorporates a square notch above the aperture. The square notch allows you to hold dead-on when the threat is only feet away and the aperture permits accurate shooting at extended ranges. With the easy to install CSAT Combat Sight, never again will you guess or take your hands from your weapon to flip sights when transitioning between close and long range targets. Manufacturers Suggested Retail Price is just $35. The CSAT Combat Sight was designed by Master Sergeant (Retired) Paul Howe. Howe is the lead instructor for Combat Shooting and Tactics (CSAT), the Senior Manager with Triple Canopy Law Enforcement Training. Howe spent 10 years with U.S. Military Special Operations as an Assault Team Leader, Sniper and Senior Instructor. For more information please contact them at XS Sight Systems Inc., Dept. SAR, 2401 Ludelle, Fort Worth, TX 76105. Phone: (888) 744-4880. Fax: (800) 734-7939. Their website is www.xssights.com.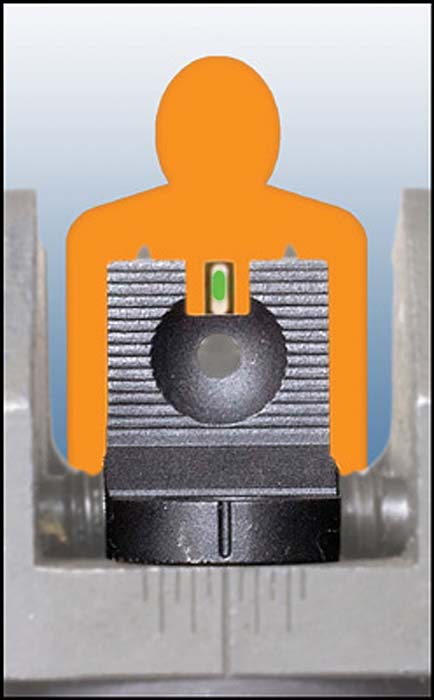 This article first appeared in Small Arms Review V12N12 (September 2009)