Leatherman Introduces the MUT
After more than 18 months of research and collaboration with competitive shooters and operational snipers, Leatherman has completed development of the MUT; an everyday carry multi-tool with central features for weapon maintenance. The MUT is the first tool to combine both weapon's upkeep and general utility tools in one platform, making it the perfect tool for everyone from competitive and recreational shooters, to military and law enforcement professionals. Central to the MUT are: the bolt override tool to clear a jam without disassembly (also doubles as a hammer); replaceable carbon scraper to keep the weapon clean and performing at its best; replaceable firearm disassembly punch, the threads of which accept cleaning rods and brushes; replaceable cutting hook for clothing, zip ties, or cord; and interchangeable screwdrivers in the popular sizes for adjusting sighting systems. Utility tools include: a knife; saw; needle-nose and pliers; regular, hard and stranded-wire cutters, a carabiner/bottle opener, and optics mount adjustment wrench accessory. The materials used in the MUT include non-scarring bronze for the carbon scraper and 154CM steel that keeps an edge three-times as long for wires cutters. Other features include extra-large, one-handed opening blade and extra-long bits to reach into tight places. The bits were sized specifically for adjustment to all current and last-generation optics rings and pistol grips. In addition, quick and easy replacement logic was built into the most commonly used parts. The MUT will be available in a black or silver utility model and a black EOD version. The EOD model has mil-spec cap crimpers, fuze wire cutters and a C4 punch (instead of the firearms disassembly punch) designed for use by those in a breacher or EOD tech capacity. Both models come with a mil-spec MOLLE sheath and are covered under the Leatherman 25-year warranty. For more information please contact Leatherman Tool Group, Inc., Dept. SAR, 12106 Northeast Ainsworth Circle, Portland, OR 97220. Phone: (503) 253-7826. Fax: (503) 253-7830. Website: www.leatherman.com.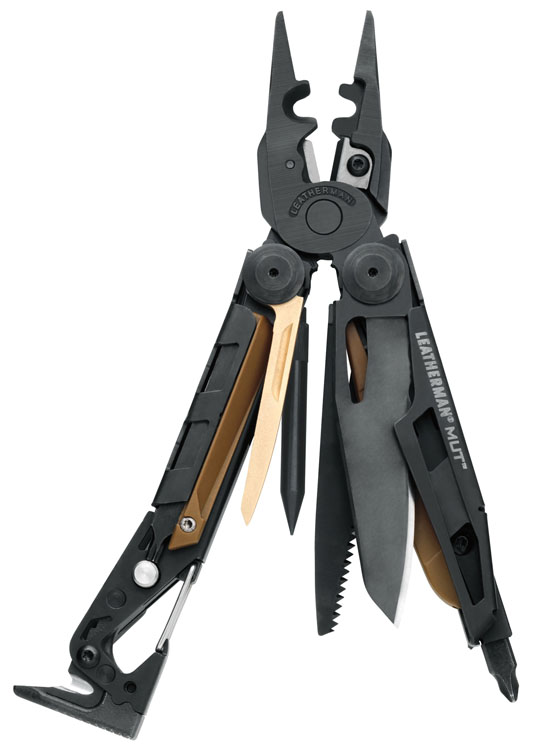 Remington 700 SPS Tactical AAC-SD with Threaded Muzzle
The new Model 700 SPS (Special Purpose Synthetic) Tactical AAC-SD centerfire rifle chambered in .308 features the time-proven Model 700 action: the number one choice of police and military marksmen and one of the most popular bolt-action rifle series in America, with some of the latest performance-driven features including a threaded muzzle. At the core of the 700 SPS Tactical AAC-SD is the machined solid-steel, cylindrical Model 700 receiver design ensuring uniformity, strength and solid bedding area. Unique to this precision rifle is the 20-inch heavy-contour clean barrel, threaded to accept AAC and all 5/8-24 threaded flash hiders, muzzle brakes and suppressors. The tactical-style carbon steel, hammer-forged barrel is the perfect balance between handling in tight spots and delivering pinpoint accuracy. With a twist rate of one in 10 inches, this rifle is optimized for accuracy. These specialty, bolt-action rifles are shipped with a thread protector installed. The rock-solid barreled action is bedded into a well-designed, Hogue Overmolded Ghillie Green pillar bedded synthetic stock with a semi-beavertail fore-end for added stability. This soft-touch, sure-grip stock is extremely comfortable for extended, long range shooting and assures a positive grip in both stressful situations and inclement weather. The dual point pillar bedding guarantees a solid interface between the action and stock to help insure cold bore accuracy and prevent point-of-impact shifts. Add Remington's X-Mark Pro externally adjustable trigger, designed to "break-like-glass" and set at 3.5 pounds from the factory, and this rifle delivers surgical-like accuracy. Other key features include receiver drilled and tapped for the addition of optics; distinctive laser-engraved "Tactical Rifling 1 in 10" roll mark; convenient hinged floorplate magazine with 4-round capacity; non-reflective, black oxide external metal finish; and sling swivel studs. The suggested retail base price is $757. For more information contact Remington Arms, Dept. SAR, 870 Remington Drive, P.O. Box 700, Madison, NC 27025. Phone: (336) 548-8820. Fax: (336) 548-7741. Their website is www.remington.com.

New Configurable AR-15 Lower from Lancer Systems
The L15's changeable Magwells make it the most versatile AR receiver available today. With three Magwell configurations to choose from the L15 lower can be rapidly customized for a specific mission, trip to the range or 3-gun match. The Tactical and Competition Magwells have a large smooth funnel-like internal surface to facilitate rapid magazine changes. The standard size Magwell emulates the size of a typical AR lower. The Magwells attach to the lower via a captured rail and lock into place with a standard front takedown pin. The use of the takedown pin allows the Magwells to be removed without the use of special tools. The Magwells are precision machined from aluminum billet to match the features in the lower ensuring there is no rattle during operation. The lower also features an ambidextrous bolt release and oversized magazine release button. The L15 lower is available stripped or complete with various trigger and magazine well options. For more information you can contact them at Lancer Systems, Dept. SAR, 7566 Morris Court, Suite 300, Allentown, PA 18106. Phone: (610) 973-2614. Fax: (610) 973-2615. Website: www.lancer-systems.com.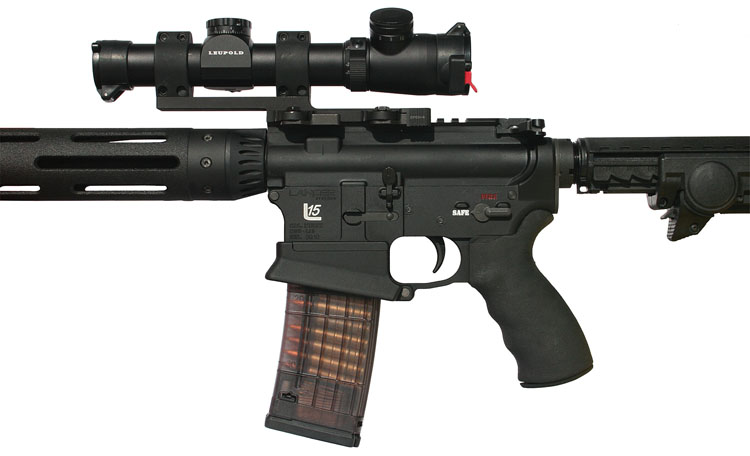 TacStar Adds Capacity to Mossberg 930/935 Shotguns
TacStar – a Lyman Brand – has added two new products that increase both the magazine capacity and shell holding capacity for Mossberg's newest autoloading shotguns. Both the new Magazine Extension and new SideSaddle Shellholder offer fast, easy, no-gunsmithing mounting. The 930/935 Magazine Extension features rugged all-steel construction and increases magazine capacity by three shells. The extension simply replaces the screw-off magazine cap and includes an extended magazine spring to retain factory function and reliability. TacStar's 930/935 SideSaddle quickly gives the shooter an extra six shells securely held to the side of the shotgun's receiver. Made of virtually indestructible, weatherproof Hytrel polymer, the new shell carrier requires no alteration of the shotgun and can be installed in minutes. The TacStar Magazine Extension and SideSaddle for the Mossberg 930 and 935, as well as all TacStar products and Lyman brands, are available nationally through firearms and sporting goods dealers and mail order companies. For more information you can contact them at Lyman Products Corporation, Dept. SAR, 475 Smith Street, Middletown, CT 06457. Phone: (800) 225-9626. Fax: (860) 632-1699. Website: www.lymanproducts.com.

Crimson Trace Announces Laserguard for Ruger SR-9c
Crimson Trace has announced the upcoming release of a New Laserguard product for the Ruger SR-9c: the LG-449. The newest addition to the immensely popular Laserguard family attaches to the trigger-guard and is instinctively activated with a pressure button located on the front of the grip. Tested with over 5,000 rounds of 9mm +P, this secure platform holds zero shot after shot providing the repeatability and performance that Crimson Traces' customers have come to expect. As with all Laserguard models, the LG-449 attaches to the trigger guard, leaving the grip of the gun unencumbered for an ergonomic, instant activation that assures accurate and quick shot placement. The Laserguard housing is manufactured out of rugged polymer with a rubber-overmolded activation pad. The rock-solid Laserguard uses the frame of the pistol as its foundation for stability, giving the LG-449 industry-leading shot repeatability. The design of the LG-449 follows the sweeping lines of the SR9c to produce an appealing accessory that looks natural to the pistol itself. The same texture pattern on the frame of the pistol is carried over to the texture of the LG-449 making the combination of the superb handgun and laser aiming device seamless and unobtrusive. The ultra-compact 3.3mm diode powered by either one-1/3N 3V lithium battery or two-357 silver oxide batteries gives this Laserguard model an extremely compact yet powerful beam that is completely user-adjustable for both windage and elevation. With over 4 hours of illumination with either choice of batteries, the LG-449 will be ready when you are. MSRP is $209. For more information please contact Crimson Trace Corporation, Dept. SAR, 9780 Southwest Freeman Drive, Wilsonville, OR 97070. Phone: (503) 783-5333. Fax: (503) 783-5334. They can be found on the web at www.crimsontrace.com.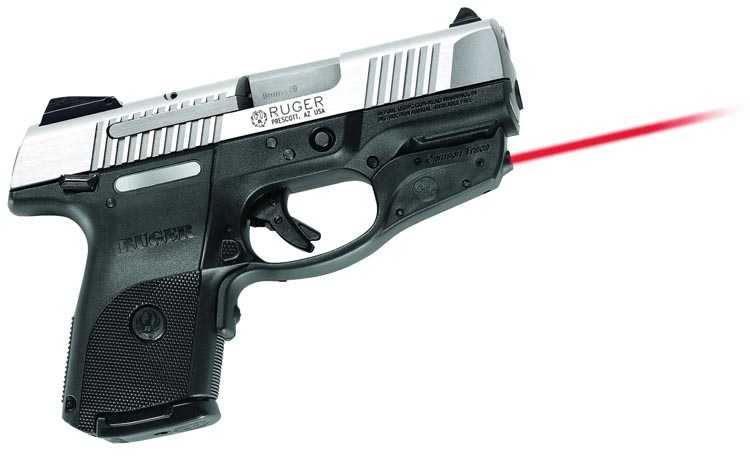 This article first appeared in Small Arms Review V14N1 (October 2010)