New Products for AUG and MSAR from Manticore Arms
If you are tired of scraping and bloodying your knuckles trying to charge your Steyr AUG or MSAR rifle with an optic mounted, the Raptor Charging Handle by Manticore Arms solves this issue and provides benefits not found in the traditional charging handle. Manticore Arms, Inc., a developer of original firearm products from concept to market, has developed the Raptor Charging Handle as a specific solution for those tired of injuring themselves on the standard charging handle on the Steyr AUG and MSAR series of rifles. The horizontal design of the Raptor permits plenty of hand clearance even with a large optic such as an EOTech mounted on the low-height top Picatinny rail. The clearance is such that it can be pulled fully rearward and then folded upward to lock the bolt back, unlike the conventional handle. A quick slap of the Raptor levers it out of the rear lock back position, and the bolt goes home. The Manticore Arms Raptor Charging Handle projects horizontally to allow a more natural, ergonomic grip, and is sized for two fingers or gloved hands to grip the handle comfortably. Made in the USA of fiber reinforced polymer and weighing less than two ounces, the Raptor Charging Handle has no sharp edges to cut or tear, and is lightly textured. Best of all, just like the conventional handle, the Raptor Charging Handle retains the ability to fold safely out of the way when pressed against the body or any other object.
Also new from Manticore is their Brass Buster brass deflector. When shooting a Steyr AUG or MSAR rifle off your weak shoulder there is a very real risk of injury from ejecting brass striking you in the face or eyes. As a solution to this problem, the Brass Buster as an ambidextrous/reversible brass deflector designed to facilitate weak side shooting for all Steyr AUG and AUG clone rifles. It also facilitates safe shooting for those using a rifle not ejecting the proper direction for their dominant hand or eye, such as a left handed shooter using a rifle with a right side ejecting bolt. It can be installed or removed in seconds without any need for tools, adhesives, or Velcro. The Brass Buster is reversible and works whether your rifle is set up for right or left side ejection. Simply install the deflector "T" shield on the ejection port side of the gun. Both new products are compatible with all Steyr AUG rifles and clones including the, MSAR STG-556 (all generations) and E4. For more information you can contact them at Manticore Arms, Inc., Dept. SAR, 902 South Randall Road, Suite C #318, St. Charles, IL 60174. Phone: (603) 715-0334. Their website is www.manticorearms.com.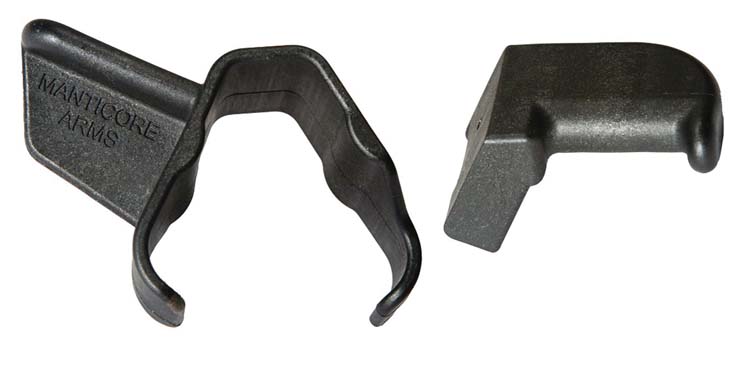 Rock River Arms Announces PDS Pistol
The Rock River Arms PDS Pistol is the first of a new generation of firearms employing Rock River Arms' patent-pending Piston Driven System (PDS). Utilizing a purpose-designed bolt carrier, an adjustable gas piston and an over-the-barrel spring and guide rod arrangement, the Rock River Arms PDS is able to completely eliminate the traditional recoil system associated with AR-style firearms, making for an extremely versatile weapon platform. The design of the upper receiver and guide rod base prevents gas blow-by to the back of the receiver. The two position adjustable regulator is conveniently positioned on the right side of the regulator housing.
The New PDS Pistol has a full length top mounting rail from the rear of the receiver to the regulator housing, allowing flexible placement of numerous optics, lights, lasers and other accessories. The folding ambidextrous, non-reciprocating charging handles may be used independently or in unison to charge the RRA PDS Pistol. The RRA PDS Pistol features a Mil-Std 1913 rail on the rear receiver adaptor as well as a Mil-Std 1913 rail on the regulator housing that allows sling or weapons mounting capabilities. The handguard features an integral Operator Safety Flange to help prevent support-hand movement/slippage towards the muzzle. For more information please contact Rock River Arms, Inc., Dept. SAR, 1042 Cleveland Road, Colona, IL 61241. Phone: (309) 792-5780. Fax: (309) 792-5781. Website: www.rockriverarms.com.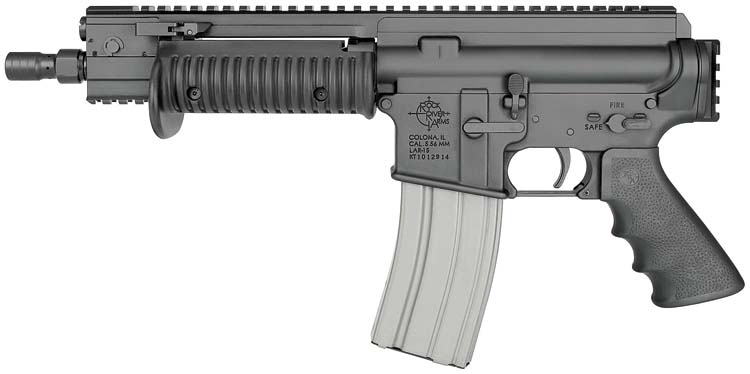 Zel Custom Introduces Magazine-Fed .50 BMG Upper for AR-15s
Zel Custom Manufacturing introduces the Tactilite T2, a magazine-fed, bolt-action .50 BMG conversion for AR-15 style rifles. The T2 utilizes a side-mounted magazine design on Zel Custom's unique steel billet upper receiver. As a "firearms accessory," the Tactilite T2 .50 BMG conversion kit requires no special paperwork, background check or waiting period. The T2 receiver is CNC-machined from solid 4140 steel bar stock, heat treated for greater strength and durability, and features an integrated scope rail, for superior accuracy. The T2 comes standard with a 7075 aluminum quad-rail, black CeraKote finish and one 5-round Accuracy International magazine. Available options include choice of Mossberg or Lothar-Walther barrels, choice of barrel contour and choice of right- or left-handed receiver. Prices start at $2,298. For more information contact Zel Custom Manufacturing, Dept. SAR, 11419 Challenger Ave., Odessa, FL 33556. Phone: (303) 880-8701. Fax: (303) 265-9268. They can be located on the web at www.tactilite.com.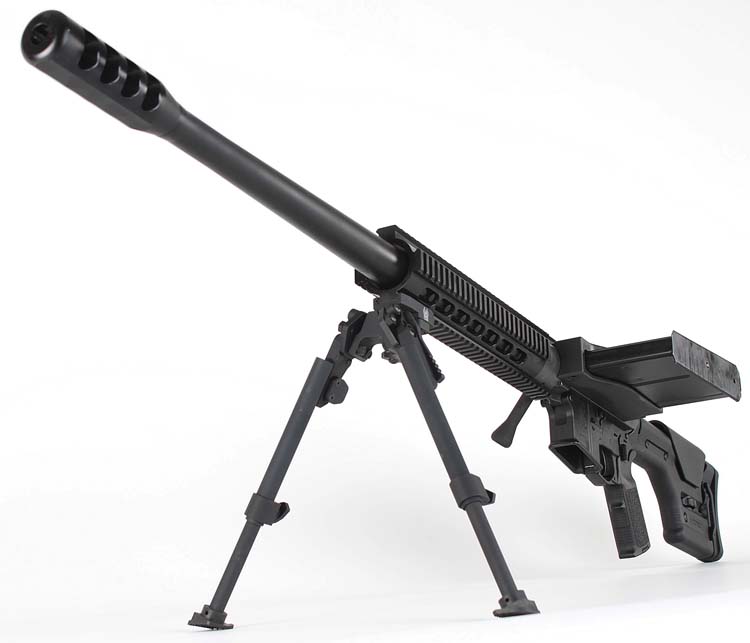 Ruger Introduces SR-556 Piston Driven Rifle in 6.8 SPC
Sturm, Ruger & Co., Inc. is pleased to announce the new Ruger SR-556/6.8, a new chambering in the popular SR-556 two-stage, piston-driven, AR-style rifle. The new SR-556/6.8 brings the power and downrange authority of the 6.8 SPC cartridge in a two-stage piston rifle that runs cooler and cleaner than traditional gas-driven, AR-style rifles. Packaged with one five-round magazine and two twenty-five round magazines, the SR-556/6.8 is an ideal hunting rifle for those who appreciate the versatility of the customizable and ergonomic AR-style platform. The 6.8 SPC has ample power for hunting medium-sized game, and the greater muzzle and downrange energy enhances the capability of the SR-556 in defensive or tactical roles as well. The SR-556/6.8 retains all the features of the original SR-556 that make it an outstanding value in the AR-style rifles. The patent-pending, two-stage piston delivers a smooth power stroke to the one-piece bolt carrier, which softens recoil, aiding both shooter comfort and durability of the rifle. The four-position gas regulator allows the shooter to tune the rifle to the ammunition being fired and environmental conditions present. A chrome-lined, cold hammer forged barrel provides accuracy and longevity, Troy Industries folding battle sights, quad rail and rail covers add considerable value to the package, as does the Hogue Monogrip, six-position stock, sight adjustment tool, and the padded carry case, all included with the SR-556/6.8. The SR-556/6.8 maintains the mid-length gas system and the heavy (.850″) barrel contour under the handguard of the original SR-556. The 1:10 twist barrel has a standard SAAMI 6.8 SPC chambering, is 16.12 inches long, is threaded 5/8-24, and is capped with the effective and distinctive Mini-14/SR-556 flash suppressor. The SR-556/6.8 weights 7.75 pounds without a magazine. For more information you can contact Sturm, Ruger & Co., Inc., Dept. SAR, 200 Ruger Road, Prescott, AZ 86301. Phone: (928) 541-8893. Fax: (928) 541-8850. Website: www.ruger-firearms.com.

New Black Gun Shooting Rest from Hyskore
Hyskore has just introduced their new Black Rifle Shooting Rest. This shooting rest was designed specially for black rifles with pistol grips and extended magazines in mind. It is constructed with two parallel rails that leave a gap in the center so that long magazines and pistol grips fit into the rest. This allows the gun so set lower in the rest so it can be shouldered easily. The solid, lightweight rest disassembles with a convenient self-storage feature. By undoing only 2 hand-knobs, the front leg brace can be moved to the top side of the rest where it can be reattached for transit and storage. This reduces the foot print of the rest by 60%. It also features 3-point leveling, a magnetic spirit level, front leather rest bag, rear rest platform and auxiliary buttstock strap. Many shooters like to use a rabbit ear rest bag to support the rear of the gun. With that in mind, the Black Gun Shooting Rest has a 4 inch by 5 inch ear platform beneath the removable padded yoke. This gives the shooter a wide range of options for supporting the gun. The rear elevation adjustment knob can be placed on either the left or right hand side of the rifle. The rest will accept guns with magazines up to 40-round capacity. For more information on this or any of their fine line of rifle rests please contact Hyskore, Dept. SAR, 193 West Hills Road, Huntington Station, NY 11746. Phone: (631) 673-5975. Fax: (631) 673-5976. Website: www.hyskore.com.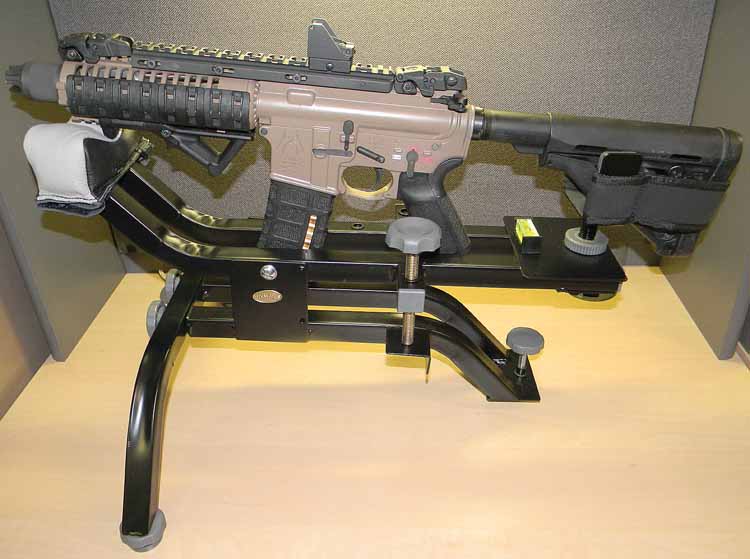 This article first appeared in Small Arms Review V14N3 (December 2010)