Remington Upgrades M-24 Rifle with Leupold ER/T Scope
Remington's latest upgrade of its Sniper Weapon System for the U.S. Army, the M-24E1, includes a new Leupold Mark 4 6.5-20x50mm Extended Range/Tactical (ER/T) M5 Locking Adjustment riflescope. Specially designed and built with the military sniper in mind, the scope has an auto-locking elevation adjustment. This feature ensures rock-solid reticle adjustment is maintained during rough going and stressful conditions on the battlefield. Other key features of the new ER/T include M5 windage and elevation adjustment dials with audible, tactile 1/10 (0.1) milliradian clicks to match the range-estimating, mil-based Horus reticle options. An elevation zero-stop helps prevent under-rotation in high-stress situations. With the battle-proven Horus H27 or H58 reticle in the front focal plane, the scope offers the versatility of a variable magnification optic and the ability to accurately range at all magnification settings (the reticle magnifies with the image). Leupold's Xtended Twilight Lens System delivers an exceptionally clear, bright sight picture for outstanding target discrimination at all powers and in a wide range of lighting and environmental conditions. A lockable fast-focus eyepiece makes reticle focus simple to achieve and maintain. Other key features include side focus parallax adjustment for fast, easy parallax focusing from 75 yards to infinity, from any shooting position. The Mark 4 6.5-20x50mm ER/T M5 Locking Adjustment riflescope is waterproof, fog proof and shock proof. For more information contact either Remington Defense at www.remingtondefense.com or Leupold & Stevens at www.leupold.com.

BarrelXchange Introduces 76-Round Drum for the AK-74
For the first time ever there is now a high capacity drum magazine for the 5.45×39 AK-74. The drum holds 76 rounds of the inexpensive 5.45×39 Combloc ammunition. Drums are open back loading design (Chinese clone) and can be loaded and stored indefinitely. Wind them up when you need to. These professionally converted Romanian AK-47 drums go through over 20 modifications each and are test cycled 2-3 times before packaging. Each drum comes with loading instructions and a money back guarantee. Some may require minor fitting on catch pad. Drums will fit in any AK-74 variant semi or full auto. Can also be fitted to MGI AR-15 lowers with AK-74 or AK-47 magwells and a 5.45 upper. The drums are $295 each plus $10 flat rate shipping with sales in the U.S. only. All state and local laws apply. For more information or to place an order you can contact Troy Edhlund at BarrelXchange, Dept. SAR, P.O. Box 821, Arlington, Heights, IL 60006. Phone: (847) 609-4811. The website is www.barrelxchange.com.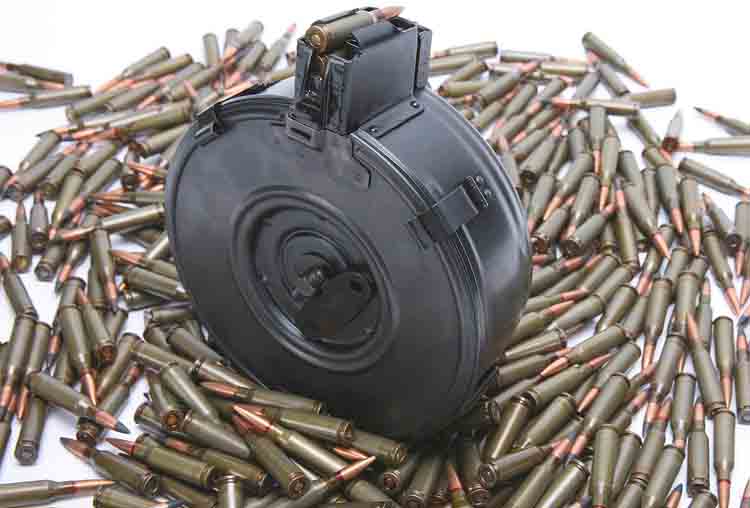 New HK Super Long Low Profile Scope Mount from MFI
MFI has just introduced a new 14 inch long optics rail mount for the HK 91/G-3 series of weapons. The new mount was developed as a direct response to requests by the U.S. Military for a longer scope mount that will fit uniformly all HK 91/G-3 variants including the HK 21 (some modification may be required). In fact these new mounts are in the supply chains for all theaters of combat operations including Iraq and Afghanistan as well as law enforcement, SWAT teams and private military contractors throughout the world. This sleek design allows extended length for any of the HK guns in 7.62×51/.308 guns. There is plenty of room for a full size sniper scope and a PVS-22, which is slightly longer than the new PVS-24. Used in conjunction with MFI's 30mm Tall Sniper rings or their 30mm Cantilever Scope Ring the new mount is a perfect match for the PVS-22 Night Vision height, which is also standard Mil-Spec height for all night vision optics that are to be used with and in front of regular daylight rifle scopes. Unlike competitors' mounts, the new MFI mount takes less than 5 minutes to mount on the weapon. HK ejection port buffers or any device that rolls over the top of the gun's receiver in the same location where the mount fits cannot be used along with the new mounts. The MFI Low Profile mount lies on the top of the receiver with near zero clearance. The mounts are made from 6061 T-6 aircraft grade aluminum with hardened steel legs and hooks. They are hard anodized flat black, weigh only 7 ounces and are 100% Picatinny/Mil-Spec 1913 correct. These low profile mounts are made so that they do not interfere with the iron sights when the scope is removed. The mounts are the real deal and made for live weapons. MFI now also has extended low profile mounts for the HK 33, HK 53 and the HK MP-5. For more information please contact them at MFI LLC, Dept. SAR, 2215 Via Dulcea, Fallbrook, CA 92028. Phone: (760) 728-7079. Their website is www.mfiap.com.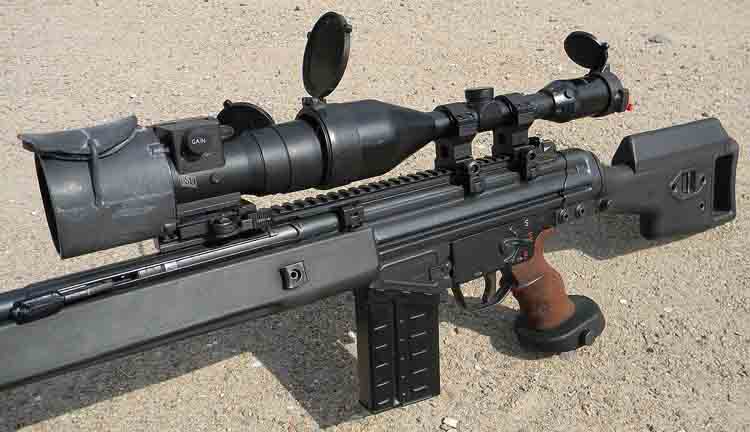 Arsenal, Inc. Introduces new 5 and 10-Round Magazines for AK Rifles
Introducing one of Arsenal, Inc.'s latest accomplishments, the 5 and 10-round 100% U.S, made magazines for 7.62×39 AK rifles. For the first time ever, there is a 100% U.S. made magazine with a steel lug insert. The solid steel lug allows for a precision fit and longevity for the magazine. Your magazine will not wear over time due to rubbing against the mag catch. The new double-stack magazine is perfect for all shooting enthusiasts who like to bench shoot or shoot from prone position. They are also great for those of you that live in a state that only allows lower capacity magazines. These magazines are made using the original Kalashnikov design. They are not reverse engineered and are made to the original specs. These are by far the highest quality, low profile magazines on the market today and pass the Russian Mil-Spec drop tests. The smooth body is made from the same high quality polymer and texture as the U.S. made furniture found on all Arsenal, Inc. firearms. The magazine will count as three (3) 922r compliance parts and is available in plum and black colors. The magazines come with a limited lifetime warranty. For more information or to place an order you can contact them at Arsenal, Inc., Dept. SAR, 3395 S. Jones Blvd. #331, Las Vegas, NV 89146. Phone: (702) 643-2703. Fax: (702) 307-2341. Website: www.arsenalinc.com.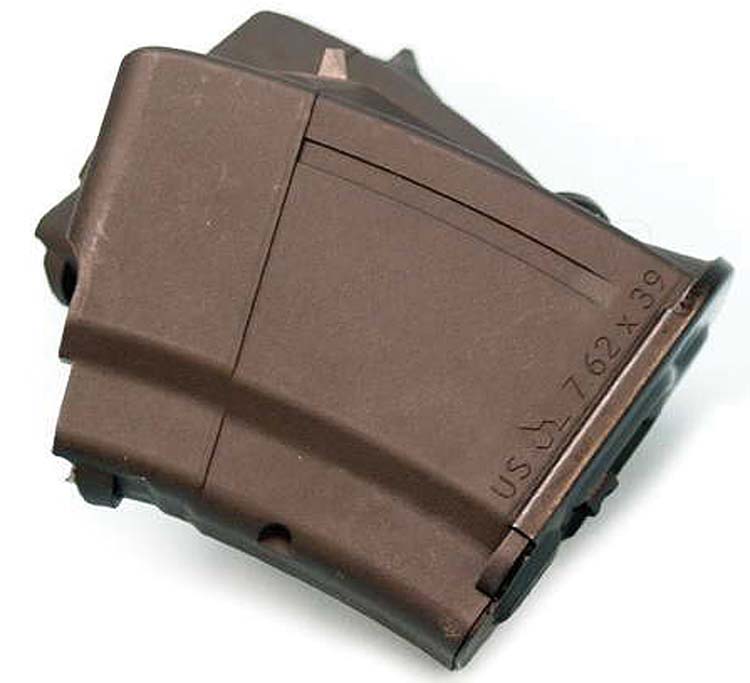 Rudy Project Introduces New Tactical Eyewear
Rudy Project, long known for their sport line of eyewear, now has a line of tactical eyewear that is second to none. In case you haven't heard of them they make the most technically cool eyewear there is. They have been used by athletes since 1985 and now they are making a line of tactical glasses and goggles that offer cutting edge eye protection as well as the most optically clear glasses that there are. They are also very good looking. The lenses used in the glasses are called Impacts and are made from the same material as Apache helicopter windshields. The material used in the lenses is stronger than any other lens material. It is stronger and 10% lighter than polycarbonate. The lenses are guaranteed unbreakable for life. They also have excellent resistance to abrasion and scratching. In fact, Rudy Project lenses are so scratch resistant that they are covered by a Replacement Lens Guarantee. They are so high tech that they have a Hydrophobic treatment that facilitates runoff of water droplets from the surface of the lens, maintaining vision free of typical distortion caused by wearing the glasses in a wet environment. The lens can be had in just about any color including several colors of Photochromic. The Photochromic lenses automatically darken within just a few seconds. Rudy Project glasses have very high tech frames as well. Some are made from plastic mixed with advanced carbon, others from advanced metal composites but all feature temple arms and nose pieces that are 360° adjustable, so you can literally shape the frame to your face. The frames fit comfortably under hearing protection even for extended periods. You can adjust the nosepiece so that the glasses fit either closer or farther from your face to control fogging. Rudy Project Tactical Eyewear features instantly changeable lens so the user can change colors to fit the requirement. All Rudy Project glasses can also be fitted with prescription lens. For more information on this outstanding eyewear you can contact them at Rudy Project North America, Dept. SAR, 3300 E. 17th Ave., Denver, CO 80206. Phone: (949) 272-2457. Fax: (949) 260-7851. Website: www.rudyprojectusa.com.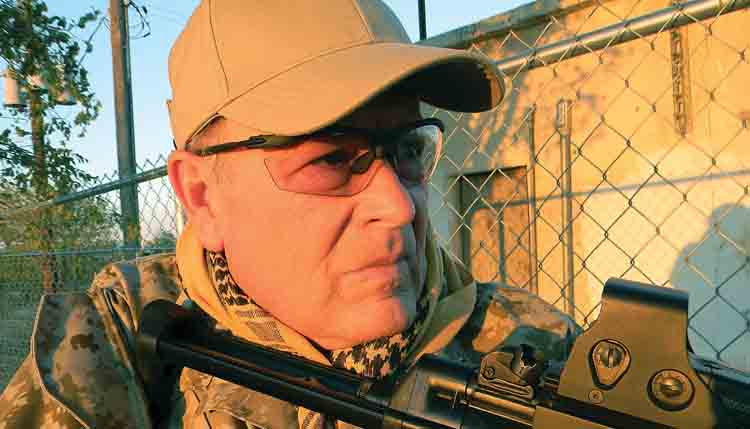 Pelican Deploys the 9440 Remote Area Lighting System
Pelican Products has announced that their Advanced Area Lighting Group has rolled out the 9440 Remote Area Lighting System (RALS), as an incredibly bright and extremely portable area light. The 9440 RALS features 10 next-generation LEDs and a beam spread of 120 degrees that effectively lights a large area. Additionally, it offers two brightness settings that shine 2,400 lumens for 3 hours in high-setting and 1,200 for 6 hours in low. The light is powered by the latest, maintenance-free, nickel metal hydride rechargeable battery. As a result, it runs silent and has no power cord which eliminates trip-hazards and emits no toxic fumes like bulky inefficient gasoline-powered lights. Setting up in seconds, and weighing in at a mere 16 lbs., the 9440 RALS is built with a streamlined, self-deploying tripod for easy site placement and a nylon shoulder strap for simple transport. The 9440 RALS also features a telescoping light tower which extends more than 7 feet and a light array that articulates 90 degrees. The 9440 RALS is available in either yellow or black and has an MSRP of $999.95. For more information you can contact Pelican Products Inc, Dept. SAR, 23215 Early Avenue, Torrance, CA 90505. On the web at www.pelican.com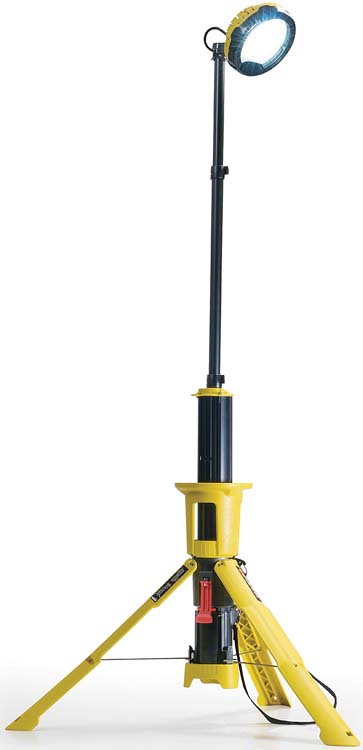 This article first appeared in Small Arms Review V14N4 (January 2011)