By Chris Choat
Streamlight Introduces Rail Mount Tactical Flashlight
Streamlight has expanded its extremely popular line of ultra-compact Strion flashlights with the introduction of the Tactical Strion. They have also introduced a new tactical rail mount for the model, making the Tactical Strion the first and only rechargeable gun-mountable tactical flashlight available today. The Strion represents the state-of-the-art in rechargeable flashlights and it's as bright as flashlights five times its size. The introduction of the Tactical Strion and tactical rail mount has added significant versatility for law enforcement or military professionals using the light in tactical situations. For them, the ability to use the same rechargeable flashlight they carry on their duty belt in either hand-held or weapon-mounted roles is unprecedented. At 5.3 inches in length, the Tactical Strion weighs just 4.6 ounces. The grooved and serrated body is manufactured from machined, anodized aluminum, and is designed to provide solid rail mount retention as well as a superior hand-held grip. The serrated tailcap push-button switch is extended beyond the light body to allow easy one-handed momentary operation. A quick clockwise twist of the tailcap places the light in constant-on mode. Powered by an innovative, super-compact lithium ion rechargeable battery, the Tactical Strion utilizes a xenon gas-filled bulb that produces up to 12,000 candlepower (116 lumens) of intense, focus-adjustable light for up to70 minutes of continuous runtime between charges. The snap-in charger holder achieves full-charge in just 2.5 hours. Built-in digital controls prevent overcharging, and an LED indicator provides positive verification of battery charge status. The newly developed tactical rail mount allows quick light attachment/detachment from the firearm. Available as an accessory for the Tactical Strion, the new machined aluminum rail mount is designed to work on virtually any long gun with a 1913 (Picatinny-style) rail. Suggested retail price for the Tactical Strion system, with AC/DC charger and tactical rail mount is $224.95. The tactical rail mount is also available separately for $60. For more information please contact Streamlight, Inc., Dept SAR, 30 Eagleville Road, Eagleville, PA 19403. Phone: (610) 631-0600. Fax: (610) 631-0712. Their website is www.streamlight.com.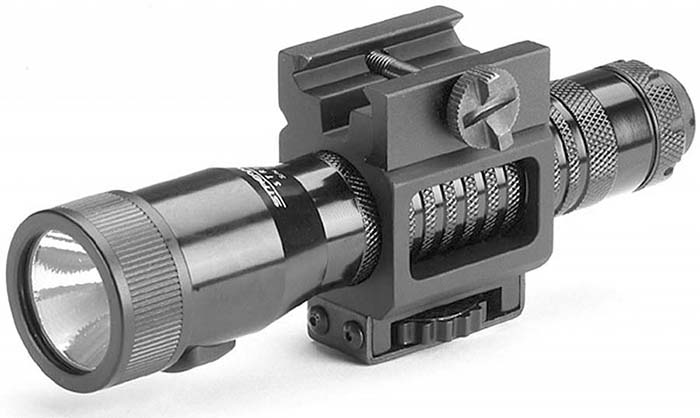 LaserMax Sight Now for Springfield XD Sub-Compact
LaserMax, Inc. is pleased to announce a new addition to its renowned internal laser sight line. The LMS-3XD is a precision engineered laser aiming device designed to fit inside Springfield XD Sub-Compact pistols. The LMS-3XD will join three other LaserMax models for XD pistols released last spring. The first units are expected to ship early this May. LaserMax's proprietary laser sighting system consists of a replacement guide rod/spring assembly and a modified takedown lever. The miniaturized laser, electronics and batteries are all housed within the spring guide, which is crafted from tough aircraft grade aluminum. Activation is ambidextrous and as simple as pressing in on a button incorporated into the takedown lever. The laser is pulsed, which makes it up to three times more visible than a continuous laser. Weighing in at a mere 20.5 ounces, the Springfield XD Sub-Compact pistol packs either 10+1 rounds of 9mm or 9+1 rounds of .40 S&W into a very small package. With dozens of incredible features and an overall size of only 6.26 inches in length and 4.55 inches in height, the XD Sub-Compact is perfectly built for concealed carry. The new LaserMax sight fills a void that no other laser system could fill; it provides the capability for precise laser targeting in low light, while adding nothing to the external dimensions of the firearm. The LMS-3XD adds less than an ounce to the weight of the firearm. Installation is a simple process that is user friendly and can be performed in minutes without special tools. The sight comes with permanently set alignment and guaranteed center of mass accuracy. The LMS-3XD is compatible with all of the many holsters and rail-mounted lights available for the Springfield XD. While a great deal of thought obviously went into making the XD Sub-Compact a small and rugged carry firearm, Springfield has also gone to great lengths to assure that it is a safe pistol to handle. Each unit comes equipped with a USA Action Trigger safety, firing pin status indicator, firing pin safety, grip safety, and loaded chamber indicator. The LaserMax LMS-3XD is compatible with every one of these important safety features. LaserMax, Inc. is the leading manufacturer of laser gun sights for law enforcement and the shooting sports community. All LaserMax products are designed and manufactured in the U.S.A. For more information, please contact LaserMax, 3495 Winton Place, Rochester, NY 14623. Phone: (585) 272-5420. Fax: (585) 272-5420. They can be located on the web at www.lasermax.com.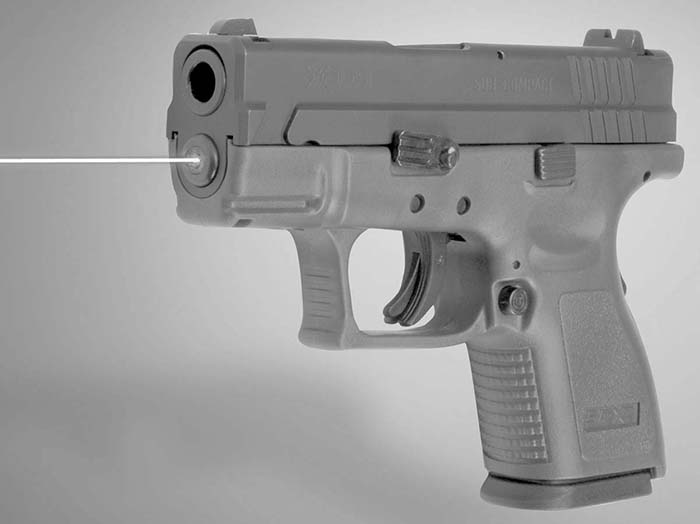 Centurion Arms Introduces "Diopter" Sights for AR-15/M4 Rifles
Centurion Arms introduces a set of new "diopter" style iron sights for use with AR-15 or M4 flat top receivers. The new sights are designed to the correct ergonomic height for the standard AR-15/M4 flat top receivers for the proper feel and rapid sight acquisition. The rear drum has four different apertures, allowing the shooter to rapidly adjust for different light conditions. It uses a standard HK type adjustment tool for windage and elevation. The front sight mounts to any commonly available same-plane rail style hand guard (LMT MRP, La Rue, Knight's free float rails, Daniel Defense, Samson, Troy Ind. and Yankee Hill Machine to name a few). It uses a standard fixed blade which can be replaced with the tritium front sight blade commonly sold for the HK91/94/93/ and MP5's. Both front and rear sights are also compatible with any standard AR-15/M4 sights, including any standard height back-up iron sights or the detachable carry handle rear sights. This offers the shooter maximum sight options. The new Centurion Arms sights also take up a minimal amount of rail space leaving plenty of room to be used as back-up iron sights in conjunction with AimPoint, EO Tech and most other readily available red dot sights. The front and rear sight set retails for $225. For more information, please contact Centurion Arms, Dept. SAR, P.O. Box 1528, Imperial Beach, CA 91932. Visit them at www.centurionarms.com.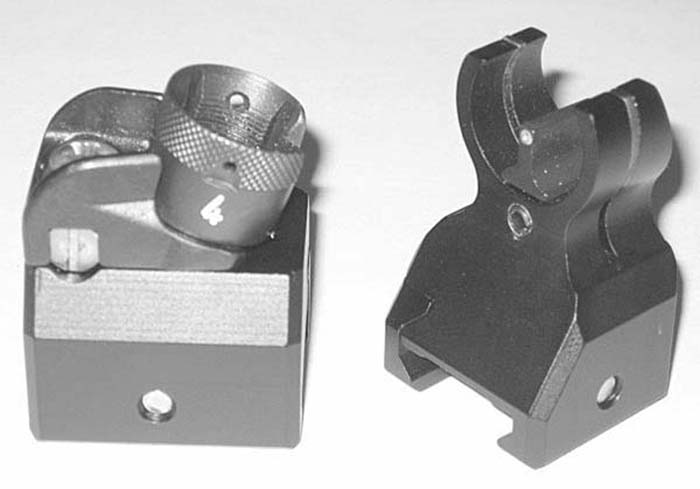 10-Round Magazine Extension for FN 5.7 Pistol from CMMG
CMMG Inc, a Missouri based company, is now offering what every FN 5.7 pistol owner has been waiting for; a ten-round magazine extension. Made from high impact polymers, the new product, called the 5.7 EXT, provides the shooter with up to 10 extra rounds of the potent little cartridge per magazine. This brings the total round count from 20 up to 30. The CMMG 5.7 EXT comes in a kit that contains the extension and a new chrome silicon replacement spring. The kit installs in seconds without the need for special tools. For more information, please contact CMMG, Inc., Dept. SAR, P.O. Box 369, Fayette, MO 65248. Phone: (660) 248-2293. Their website is www.cmmginc.com.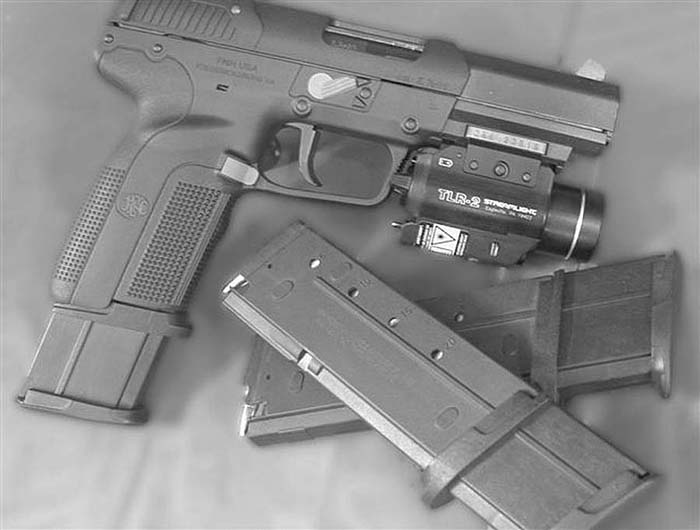 CamelBak Launches New Tactical Hydration Systems
CamelBak Products, LLC, the world leader in hands-free hydration systems, has announced that it has developed two new tactical products. CamelBak's Delta-5 Tactical Vest is a revolutionary new design that fully integrates efficient, hands-free hydration into an extremely comfortable, adjustable, breathable and durable vest platform. Generous MOLLE/PAL webbing on the front and back of the vest are ideal for attaching most current pouch systems, zip-cuffs, and other accessories. The Delta-5 has a low profile drag handle for situations involving wounded personnel and multiple Velcro attachment points for identification patches. The Delta-5 was specifically designed to keep the user's gear and 102-ounce (3.1 L) water supply close to the body, while not interfering with existing soft or hard body armor systems.
Designed specifically for officers and soldiers who need their gear close at-hand in tense tactical situations, the new ST-5 Tactical Pack is ideal for use by police officers involved in SWAT or riot control operations. The ST-5 offers quick access to frequently used tools, including a riot baton and helmet, radio and tactical light, and numerous MOLLE/PAL attachment points allow pouches and zip-cuffs to be easily secured to the exterior of the pack. In addition to offering a generous 1,404 cubic inches (23.0 L) of cargo space for gear, the ST-5 features CamelBak's 100-ounce (3.0 liter) Omega Water Beast reservoir with HydroGuard technology. Tough, USA-made 1000D Cordura exterior construction provides high resistance to abrasions and tears, and an integrated high-visibility rain cover keeps gear dry while enhancing safety in low-light conditions. The design of the ST-5 utilizes wide, padded shoulder straps, a padded waist belt and a sternum strap to comfortably stabilize the load on the back and an adjustable strap management system keeps straps out of the way for enhanced comfort and safety. To maximize the function and flexibility of its packs in-use, CamelBak has also introduced a number of MOLLE-compatible pouches to its line for 2006. Manufactured of tough 1000D Cordura, tactical-grade nylon and elastic, CamelBak's new pouches are available in the following models:
Triple SMG Mag Pouch – carries three, 30-round sub-machine gun magazines
Pistol Mag Pouch – carries two, double-stack, high-capacity magazines
M4 Mag Pouch – carries four, 30-round M4 or AR-15 magazines
Rapid Pouch – holds most heavy, hand-held 'brick' radios
Double Cuff Case – holds up to two pairs of metal handcuffs; hinged or chain link
Tactical Light Pouch – ideally sized to hold a standard hand-held combat light
The Delta-5 Tactical Vest and ST-5 are the latest additions to CamelBak's extensive line of hydration systems for military, tactical and law enforcement professionals. To learn more, please contact CamelBak Products, Dept. SAR, 1310 Redwood Way, Suite "C", Petaluma, CA 94954. Phone: (707) 792-9700. Fax: (707) 665-3844. Their website is www.camelbak.com.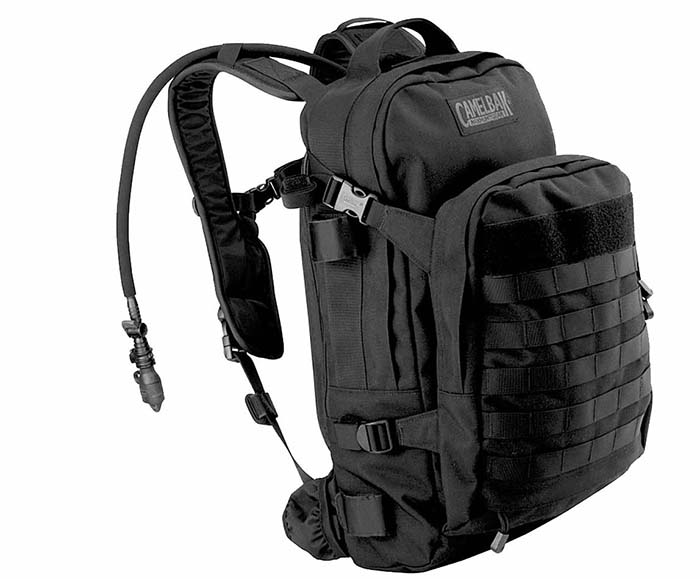 This article first appeared in Small Arms Review V9N11 (August 2006)