Slide Fire Stock Turns Any AR-15 into an M16

The new SSAR-15 stock from Slide Fire Solutions turns any AR-15 style rifle into a bump-firing M16 type rifle. The new stock merely replaces the rifle's existing collapsible stock and pistol grip. Installation takes about 3 minutes and requires an Allen wrench, which is included with the stock. Slide Fire Solutions' ground breaking "Slide Stock" technology and ergonomic design provide individuals the ability to Slide Fire more safely – offering another element of entertainment for recreational shooters everywhere. Applying principles that have been used for over 40 years to Bump Fire – this new radical design ensures the operator can hold the rifle correctly without compromising their own safety or the safety of others around them. Unlike when bump firing from the hip; the SSAR-15 allows the shooter to properly hold the firearm. In addition, as a result of the shooter having to push forward to discharge each round, they are able to correct their point-of-aim for each shot discharged instead of allowing recoil to push the muzzle upward in an unsafe direction. In principal the SSAR-15 functions very similar to the Gatling or crank style firearms. When operating a firearm that uses a crank – the operator's arm moves in continuous motion. The operator moves the crank clockwise and a round is fired. The operator continues to move the crank forward to discharge another round, and so on. With the SSAR-15, the operator moves the upper assembly forward to discharge a round. To discharge the next round the operator must again move the upper assembly forward. Just like when using the Gatling systems, a semi-auto firearm equipped with the SSAR-15 will never fire automatically. Secondary to design, the SSAR-15 has opened other avenues for physically challenged sportsmen to operate their firearms without the need for bulky prohibitive equipment. Individuals that suffer from severe arthritis, partial paralysis, or other conditions that affect their ability to traditionally operate a firearm can now utilize the SSAR-15 and the muscular strength in their entire arm to active the firing mechanism. All SSAR-15 stocks come with a letter of approval from ATF. For more information please contact Slide Fire Solutions, Dept. SAR, P.O. Box 143, Moran, TX 76764. Phone: (325) 945-2356. Website: www.SlideFireSolutions.com.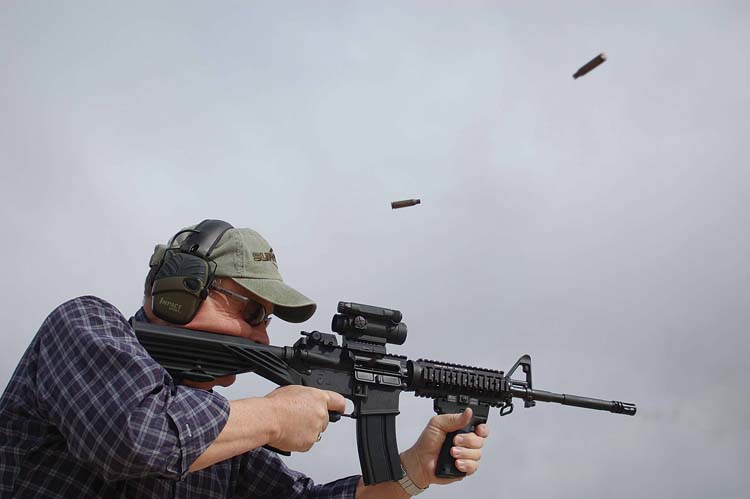 Kahr Arms Introduces the CM9 Pistol

Kahr Arms is pleased to introduce their newest series of Kahr pistols – the CM series. The new line begins with the Kahr CM9093, which is based on Kahr's most popular 3-inch barrel 9mm model the PM9093. The CM Series takes the value priced features from Kahr's CW series (3.6-inch barrel 9mm, .40 S&W and .45 ACP models) and incorporates these features into a smaller 3-inch barrel package. The CM9093 has the same external dimensions as the PM9093, which make it ideal for concealed carry by licensed civilians and law enforcement personnel. The CM9093 is chambered in a 9×19 caliber, has a 3 inch barrel and an overall length of 5.3 inches, with a height of 4.0 inches. The pistol weighs in at 14 ounces plus 1.9 ounces for the 6-round stainless steel magazine. Differences between the CM models and PM models include: the CM9093 has a conventional rifled barrel instead of the match grade polygonal barrel on Kahr's PM series; the CM slide stop lever is MIM (metal-injection-molded) instead of machined; the CM series slide has fewer machining operations and uses simple engraved markings instead of roll marking; and finally, the CM series are shipped with one magazine instead of two magazines. The black polymer frame features patented 4140 steel inserts molded into the frame in the front and back for added rigidity and strength, which can withstand firing thousands of rounds. Kahr's two patents covering the offset recoil lug and the trigger bar attachment allow Kahr's barrel to fit lower in the frame, and since there is no hammer, the shooter's hand is further up the grip resulting in less felt recoil and quick follow-up shots. The CM9093 does not have a magazine disconnect, nor does it have double-strike capability. The CM9 boasts real sights, which are drift adjustable in the rear and a linepinned-in polymer front sight featuring a white bar-dot configuration. Finally, the slide does lock back after firing the last round – another feature missing on a number of lower cost compact semiautomatic pistols. The CM9 slide is only .90 inch wide and is machined from solid 416 stainless steel with a matte finish. Each gun is shipped with one 6-round stainless steel magazine with a flush baseplate. Magazines are made in the USA, plasma welded, tumbled to remove burrs and feature Wolff Gunsprings. The magazine catch in the polymer frame is all metal and will not wear out on the stainless steel magazine after many uses. For more information please contact Kahr Arms, Dept. SAR, 130 Goddard Memorial Drive, Worchester, MA 01603. Phone: (508) 795-3919. Fax: (508) 795-7046. Website: www.kahr.com.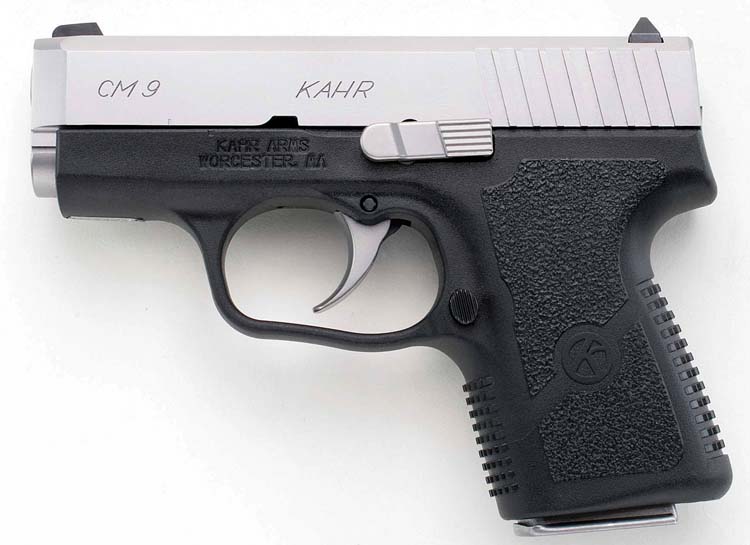 Wilson Combat has New Rail Interface for AR

The new T.R.I.M (Tactical Rail Interface, Modular) AR rail has been designed by the Wilson Combat engineering team to be among the lightest, strongest and most versatile compact free-floating rail systems on the market. Machined of high-strength 6005A-T5 aircraft aluminum with a Mil-Spec hard anodized finish, the T.R.I.M. rail handguard/interface and its robust, anti-rotational mounting system doesn't sacrifice strength, stability or accuracy over bulkier designs. The oversize and tough nitrocarburized 4130 steel barrel attachment nut reduces heat transfer and the ergonomic handguard design offers a sleek, non-abrasive platform for comfortable dynamic shooting. Light, strong and easy to install, the Wilson Combat T.R.I.M. AR-15 rail interface solves multiple installation issues their gunsmiths have encountered with other rail systems in over 10 years of building thousands of custom AR-15 rifles. The entire T.R.I.M. interface can be easily end-user installed in five minutes with common hand tools and can be quickly removed or replaced with a different length rail interface in the field with nothing more than a hex key. The T.R.I.M.'s attachment points enable the end-user to quickly position the supplied modular Picatinny rail panel on the attached interface in pre-specified locations. A generous inside diameter of 1.47 inches accepts low profile gas blocks and many of the available piston gas systems. Integral push-button Q.D. sling swivel attachment points are located on both sides of the T.R.I.M. for the ultimate in sling mounting versatility. Three models are available; TRIM 7.3 (Carbine-Length) 7.3″ – 10.0 oz, TRIM 9.3 (Mid-Length) 9.3″ – 11.5 oz, TRIM 10.4 (SBR-Length) 10.4″ – 12.2 oz and the TRIM 12.6 (Rifle-Length) 12.6″ – 13.9 oz. The systems large internal diameter covers low profile gas blocks and many piston systems. For more information or to place an order contact Wilson Combat, Dept. SAR, 2234 CR 719, Berryville, AR 72616. Phone: (870) 545-3618. Fax: (870) 545-3310. Website: www.wilsoncombat.com.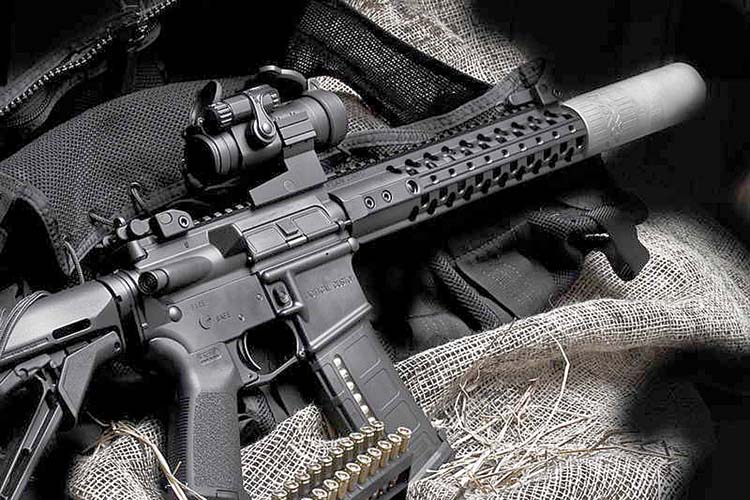 Battle Arms Development Ambidextrous Safety Selector

Battle Arms Development Ambidextrous Safety Selector (B.A.D.A.S.S.) is a new selector for the AR-15/M16 series of rifles. The new selector is not only ambidextrous but is customizable with different styles of levers to fit the needs of any shooter. Three different lever styles are available; a short lever, standard lever and a thin lever. These levers can be used on either side and allow for 9 possible combinations. The levers are held to the main selector body with Torx screws for added strength and to minimize stripping and a proper size Torx l-key is provided. The new selector is precision machined from 12L14 solid bar stock steel and is manganese phosphate finished in matte black to match most rifle finishes. The unit is heat treated to Rockwell 48-52. The selector is available in three models; the BAD-ASS AR15/10 semi-auto, the BAD-ASS-ST (Short Throw) 45° semi-auto for use in specially marked 45 degree lowers such as Spikes Tactical and the BAD-CASS-3P for use in M16 (full-auto) lowers. For more information or to place an order please contact them at Battle Arms Development, Inc., Dept. SAR, P.O. Box 92742, Henderson, NV 89009. Phone: (702) 508-8625. Fax: (702) 948-4472. Their website is www.battlearmsdevelopment.com.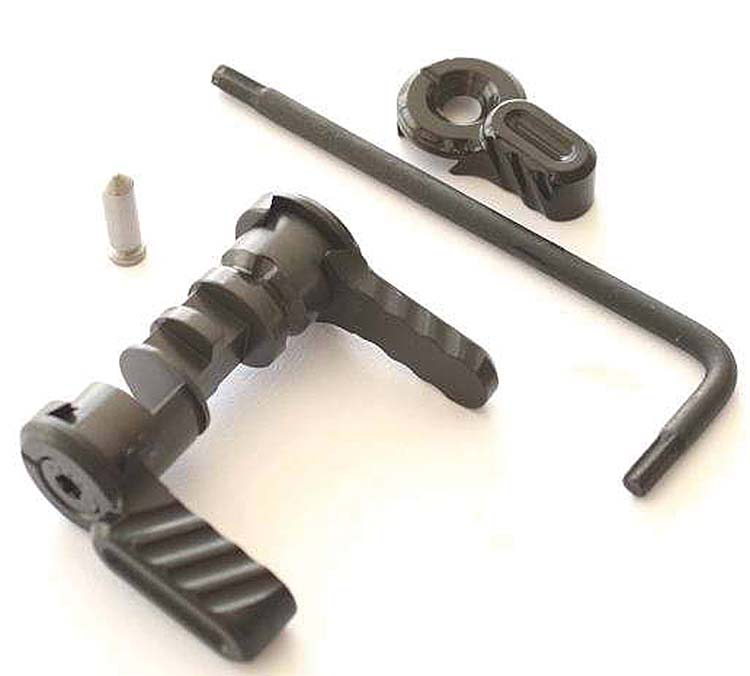 MTM Introduces Tactical Range Box

MTM Case-Gard, known for their plastic ammunition boxes and shooting accessories, announces their new Tactical Range Box. It is carefully designed to service both bolt action and AR-style rifles. The Tactical Range box not only includes two adjustable gun forks for rifles and shotguns, but it also has an all new action block insert arm that is designed to fit into the magazine well of AR-15/M16-style rifles. It offers excellent support for cleaning and accessory mounting for customization with red dots, lights, and lasers. The Tactical Range Box uses a two-piece design. The removable top storage box is a bonus for storing all of your small cleaning items like oils, solvents, brushes, batches, as well as any additional accessories. Unlatch the top box to reveal a deep-storage maintenance center. This is a convenient place to stash your larger items like ammo and powder. For more information please contact them at MTM Case Gard Company, Dept. SAR, P.O. Box 13117, Dayton, OH 45413. Phone: (937) 890-7461. Fax: (937) 890-1747. Website: www.mtmcase-gard.com.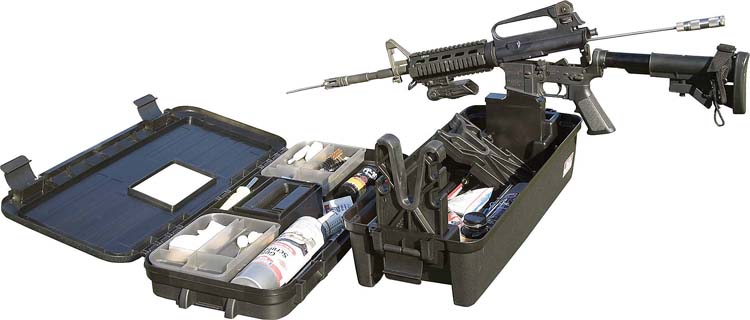 Safariland Expands Line of Protech Impact Special threat Plates

Safariland, a BAE Systems line of business, has announced the introduction of the new Protech Impac-RT Plus to its line of Protech Impac special threat plates. These plates provide law enforcement officers the option to upgrade protection against rifle threats.

Built upon the performance of the Impac-RT plate for rifle threats, the Impac-RT Plus provides heavy duty protection in a sleek design. The Impac-RT Plus is made of a hybrid steel and fiberglass composite and is covered with heat bonded spall wrap to help reduce spalling, fragmentation and ricochet from ballistic impacts. The Impac-RT Plus has been independently tested to defeat the following rounds: 7.62×51, 147 gr., 7.62×39, 123 gr., 5.56×45, 55 gr. (M193) and 5.56×45, 62 gr. (M855). As supplemental protection, plates should always be used in conjunction with an NIJ certified flexible armor vest. All Impac style-plates are offered in four different sizes including a 5×7 inch for shorter torso lengths, a standard sized 5×8 inch, a 7×9 inch for expanded torso protection and a 10×12 inch shooter's cut.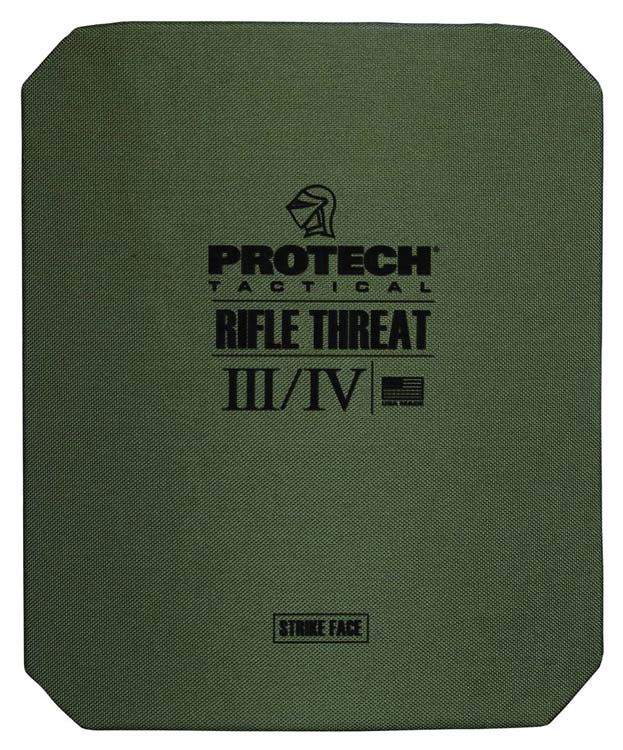 Protech's line of Impac special threat plates is now available in five styles: Impac-HT for high velocity handgun threat protection, Impac-CT for spike and edged blade threat protection, Impac-MT for handguns as well as spike and edged blade threat protection, Impac-RT for rifle threat protection and Impac-RT Plus for enhanced rifle threat protection. For more information contact Safariland, Dept. SAR, 13386 International Parkway, Jacksonville, FL 32218. Phone: (904) 741-5400. Fax: (800) 366-1669. They are on the web at www.safariland.com.
This article first appeared in Small Arms Review V14N9 (June 2011)