Hyskore Introduces Black Rifle Machine Rest and Armorers Vice
The new Hyskore Black Gun Machine Rest allows the user to sight in and find out exactly how accurate the gun is. It progressively absorbs the recoil pulse by employing two long (110mm) stroke nitrogen filled compression dampers assisted by adjustable coil springs. This gives it the unique ability to handle everything from .22 LR to .375 H&H. With previous machine rests you had to change dampers for different calibers. In addition, the dual rail design of the Black Rifle Machine Rest accommodates pistol grips and high capacity magazines allowing it to be used with 30- or even 40-round magazines of any caliber. The gun can be fired from the shoulder, using the buttstock strap, directly off the shoulder without the strap, or with the strap and secured in the vise for repeatability testing. The entire vise assembly can be removed to expose a platform for rest bags and a remote hydraulic trigger release is included with the rest. The rest has ambidextrous windage adjustment knobs and ball bearing elevation adjustment. The rest even has mounting tabs to bolt it to your shooting bench. Also new from Hyskore is their new Armorer's Vice. The portable Armorer's Vise can be used at the workbench or at the range. It is a versatile gun servicing fixture that clamps to a bench top and rotates 360º around a horizontal axis. A gun can be held at any required angle for all cleaning and servicing procedures. Both new products can be used with bolt guns as well as "Black Guns." For more information on these and an extensive line of fine firearm accessories please contact Hyskore, Dept. SAR, 193 West Hills Road, Huntington Station, NY 11746. Phone: (631) 673-5975. Fax: (631) 673-5976. On the web at www.hyskore.com.

Troy Battlemags Now Shipping
Troy Industries is pleased to announce that they have started shipping their much anticipated CBIR (Chemical, Biological, and Impact Resistant) polymer Battlemags to industry dealers and distributors. These magazines have been involved in a lengthy research and development phase, in which time they have come under severe punishment and testing. They have survived not only loading and feeding evaluations, but also destructive product testing, such as being shot with shotguns, high powered rifles, crushed by vehicles, frozen and baked in extreme temperature ranges. All magazines then functioned flawlessly after the for-mentioned torture tests, and the visual results can been seen on the Troy YouTube video channel. Stephen Troy, Troy Industries President and CEO, declared that the magazines will offer the end-user the most durable and comprehensive magazine on the market today. The CBIR Battlemag is currently offered in a 30-round 5.56mm/.223 version. They are available in black, flat dark earth, OD green, and coyote tan. Every magazine includes a flush and shock absorbing bottom floor plate. Battlemags work flawlessly with all M4, M16, AR-15, HK416, and FN SCAR rifles and carbines. Other features include a proprietary engineered resin, reinforced feed lips, anti-tilt follower, and an aggressive fish scale gripping pattern. You can contact them at Troy Industries, Inc., Dept. SAR, 151 Capital Drive, West Springfield, MA 01089. Phone: (413) 788-4288. Fax: (413) 383-0339. On the web at www.troyind.com.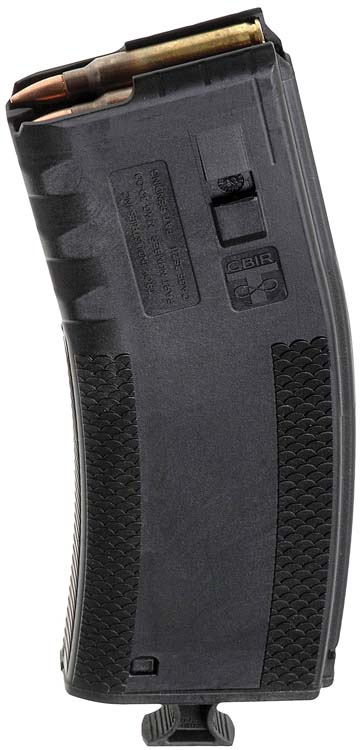 New Sightmark Night Vision Monocular
Venturing into the dark of night can be an unnerving experience, but with the Sightmark Eclipse 2×24 Gen 1 Night Vision Monocular, outdoorsmen can feel right at home even in the darkest places. Inspired by military and law enforcement applications, the Sightmark Eclipse features multi-coated optics and a wide-angle field of view to give you a crystal clear, dynamic image. The built-in IR illuminator extends viewing capabilities even farther allowing you to acquire your target even in the darkest situation, without them seeing you. With three different magnification options in the Eclipse Series, the monoculars are both powerful and reliable, with up to 72 hours of continuous operation without a battery change; you will never have to worry about suddenly and unexpectedly being plunged into darkness. Accessories include a tripod adapter, carrying case and an attached lens cover to prevent losing the lens cap on late night outings. For more information contact Sightmark, Dept. SAR, 2421 Callender Road, Suite 123, Mansfield, TX 76063. Phone: (817) 225-0310. Fax: (817) 394-1628. Website: www.sightmark.com.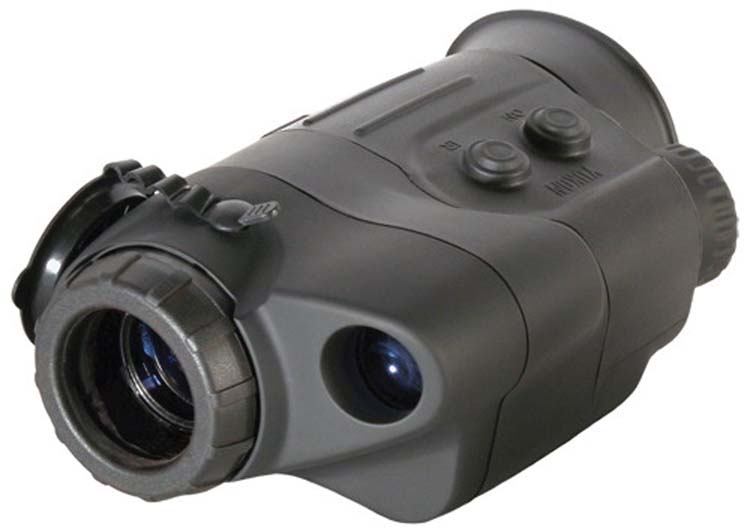 Woolrich Introduces Discreet Carry Jacket
Woolrich Elite Series Tactical introduces the Elite Discreet Carry Twill Jacket, the latest addition to the company's line of concealed carry outerwear. Based on one of Woolrich's most popular traditional jackets, the Dorrington, the Elite Discreet Carry Twill Jacket has a number of tactical features built in. Large, reinforced inner pockets feature integrated holster loops to accommodate concealed carry handguns with up to a 6-inch barrel. A unique double angle on the inner pocket provides ready access to gear, but prevents the pocket from flaring open and exposing the contents. The rear locker loop conceals the entrance to a hidden accessory tunnel, which allows for convenient yet discreet carry of plastic restraints as well as providing routing for electronic wires. Front hand warmer pockets contain internal accessory loops, perfect for carrying spare magazines, flashlights, batons or chemical sprays. These elastic loops are set at a 45-degree angle for optimized access and keep the items secure and in a consistent orientation for rapid deployment. The hip-length waistband and cuffs are fully adjustable and the jacket features a boulder-washed finish for a broken-in feel. The shell is made of 11.5 oz. cotton twill and is lined with a polyester Sherpa liner. Sleeves are insulated with diamond-quilted 60-gram Arctic Insulation. For more information on this and other tactical clothing please contact; Woolrich Elite Series Tactical, Dept. SAR, 1 Mill Street, Woolrich, PA 17779. Phone: (570) 769-6464. Website: www.woolrichelitetactical.com.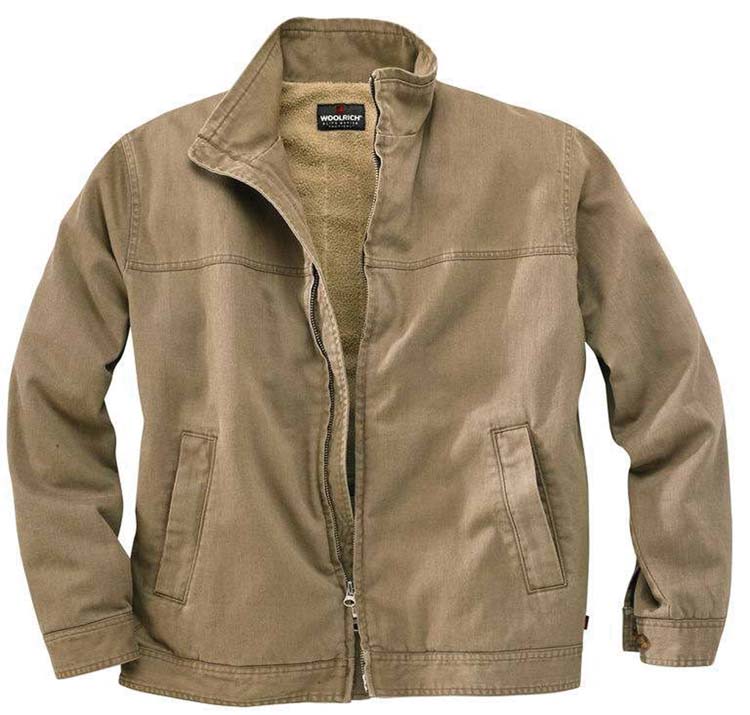 Revision Now Has Tan Desert Locust Goggle
Revision, leading developer of protective eyewear for militaries worldwide, introduces the Tan 499 Desert Locust Goggle Kit with enhanced camouflage for the warfighter. The new color configuration is designed to better integrate with the U.S. MultiCam uniforms currently in service in Afghanistan. The new kit features a Tan 499 frame and strap with MultiCam anti-reflective sleeve and carrying case. The Desert Locust Goggle is the first and only MultiCam eyewear on the U.S. Army Authorized Protective Eyewear List (APEL).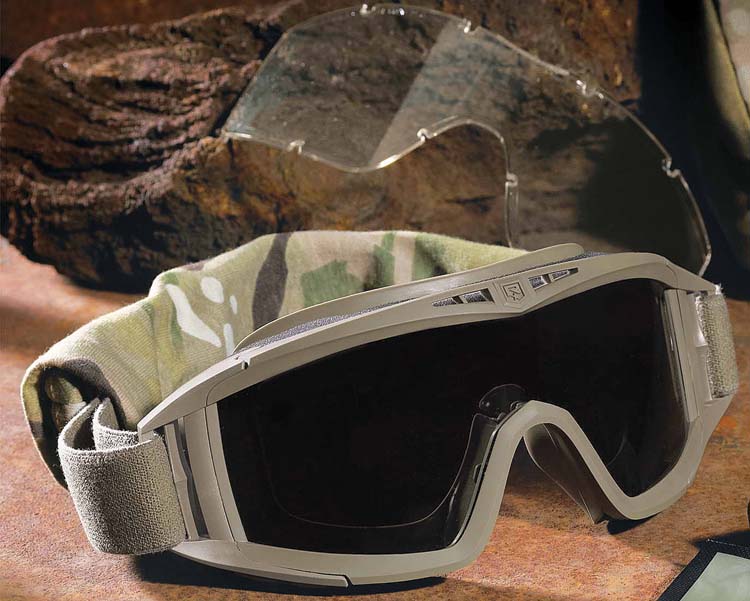 The Tan 499 Desert Locust Goggle combines the best ballistic protection and widest field-of-view with optimal fit and superior camouflage making this the ultimate goggle for extended use. Its high-performance OcuMax coated lenses protect against fogging and scratching while the filtered ventilated frame keeps sand, wind and dust at bay. The goggle exceeds ANSI Z87.1-2010 and military ballistic impact requirements; ensures flawless optics for distortion-free vision; and provides rugged durability to protect and perform through all the rigors of combat. The Tan 499 Desert Locust Goggle U.S. Military Kit retails for $99.99 MSRP. For more information you can contact them at Revision, Dept. SAR, 7 Corporate Drive, Essex Junction, VT 05452. Phone: (802) 879-7002. Fax: (802) 879-7224. On the web at www.revisionmilitary.com.
Desert Tactical Arms Introduces New Suppressors
Desert Tactical Arms developed the DTSS (Desert Tactical Sound Suppressor) to enhance accuracy, repeatability, and minimize impact shift between suppressed and unsuppressed fire. Testing shows consistent accuracy improvements of nearly 0.25 MOA when shooting with a DTSS. The full titanium construction makes the DTSS the lightest .338 caliber silencer on the planet weighing just 1.15 pounds. They offer both steel and titanium suppressors. The DTSS Silencer conveniently installs over the SRS-QD Brake. The baffle design tightens the Suppressor as gases impact the baffles, which prevents the Suppressor from loosening during high volume fire. Many competitors use a ratcheting lock to prevent their cans from loosening. Distance between ratchet teeth allows minor play even when tightened, which will degrade accuracy. DTSS are available in .30 and .338 caliber options and provide a high-to-low compatibility feature that allows the .338 caliber suppressor to attach to both .338 and .30 caliber muzzle brakes and prevents the .30 caliber suppressor from accidentally being installed on a .338 caliber muzzle brake. For more information you can contact them at Desert Tactical Arms, Dept. SAR, P.O. Box 65816, Salt Lake City, UT 84165. Phone: (801) 975-7272. Fax: (801) 908-6425. Website: www.deserttacticalarms.com.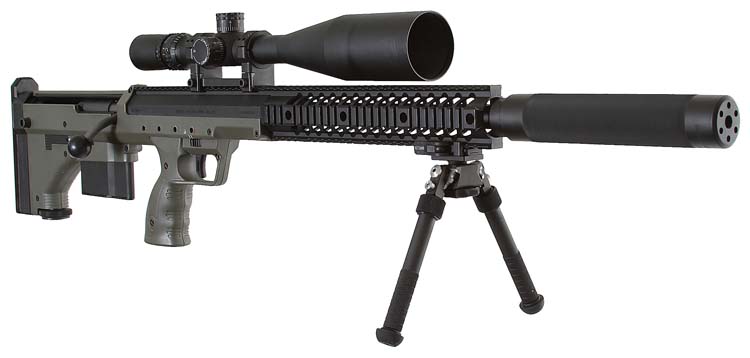 This article first appeared in Small Arms Review V14N12 (September 2011)