ATI Now Offers New B&D 37mm Launchers
American Tactical Imports is proud to announce that they are offering the entire line of Bates & Dittus (B&D) products. B&D is a relatively new company that brings exciting products to the industry. B&D specializes in 37mm launchers of several varieties including a pistol configuration (SML-37) and the new under barrel launcher (UBL-37). In January, the company made a formal announcement that gave ATI exclusive worldwide rights to distribute all B&D products. Now, these products are stocked and ready for shipment through ATI.
B&D launchers are made of 6061 aircraft grade aluminum and 4140 hardened steel. They can handle 37mm ammunition including flares, smoke and pyrotechnic rounds for civilian use and batons, CS gas, rubber pellets and other less-than-lethal options for law enforcement and military. The launchers in the B&D product lineup include the following: The Original, the Top Break Launcher, or TBL, comes in a number of possible configurations. Standard is a 12-inch barrel with a full-length upper Picatinny rail, and a 1x Red/Green dot laser sight. The TBL is a single action/exposed hammer launcher available with solid poly rifle style or telescoping stocks, horizontal or vertical foregrip, and 12- or 16-inch barrel length. Wood stocks are also available as an option (16WSW). The Survival Mate Launcher, or SML, is the pistol configuration 37mm launcher, offered in 6- and 12-inch barrel lengths. The latter comes equipped with a vertical foregrip. The Extreme Duty Top Break, or ExD-37, caters to law enforcement and military and is intended to function consistently with training tactics; it is DAO with an internal hammer and approximately a 15 lb. trigger pull and available in 12- and 16-inch lengths, both with a custom aluminum vertical foregrip. Last is the Under Barrel Launcher, or UBL. It is the B&D recreation of the M-203. It has a 12-inch barrel with a full-length upper Picatinny rail for attachment to a Picatinny rail-equipped AR-15 style weapon. For more information please contact American Tactical Imports, Inc., Dept. SAR, 100 Airpark Drive, Rochester, NY 14624. Phone: (585) 328-0945. Fax: (585) 328-4168. Website: www.americantactical.us.

Brownells Now Offers TAC-21 Chassis for Remington Rifles
Brownells has now become the exclusive distributor of the TAC-21 Remington 700 Chassis, a modular chassis for Remington 700 short-action rifles that offers a combination of benchrest accuracy, superior ergonomics and specialized design. Made by Modular Driven Technologies of Chilliwack, British Columbia, the drop-in chassis serves as a base onto which the operator can add tactical components. It's manufactured out of aluminum and hard-anodized to Mil-Spec type III standards with a top full-length Mil-Stn 1913 accessories mounting rail. It weighs just over 3 pounds. The TAC-21 chassis is designed to accept any AR-15 buttstock and pistol grip and uses Accuracy International Chassis System-style magazines, also known as AICS magazines, in .223 Rem. and .308 Win. calibers. It retails for $849.99. Other features of the TAC-21 chassis include the ability to add Mil-Stn 1913 accessory rails to the forend and it has mounting holes that are spaced for Magpul-style L5 (11 slots) and L3 (7 slots) rails. The new chassis minimizes any warping or distortion and V-shaped bedding ensures optimum accuracy and repeatability. For more information contact Brownells, Dept. SAR, 200 South Front Street, Montezuma, IA 50171. Phone: (641) 623-5401. Fax: (641) 623-3896. On the web at www.brownells.com

Crimson Trace Announces Laserguard For Ruger LC9
The LG-412 Laserguard from Crimson Trace, engineered in conjunction with Ruger for as a perfect fit to their hot new LC9, is now available at a retail price of $209. The new LG-412 was subjected to a particularly arduous series of tests, due to the unique characteristics of Ruger's compact and powerful design. The LG-412 fits seamlessly to the Ruger's trigger guard and dust cover, resulting in a unit that adds nothing to the width of the pistol. The LG-412 features an industry-leading 4-hour continuous run time on one 1/3N battery and is pre-zeroed from the factory at 50 feet. Windage and elevation adjustments may be fine tuned by the user for different loads. Crimson Trace has been working with major holster manufacturers to ensure their consumers have carry options for laser-equipped LC9s and these holsters will be available from either the holster maker or Crimson Trace. Contact Crimson Trace Corporation, Dept. SAR, 9780 SW Freeman Drive, Wilsonville, OR 97070. Phone: (503) 783-5333. Fax: (503) 783-5334. Website: www.crimsontrace.com.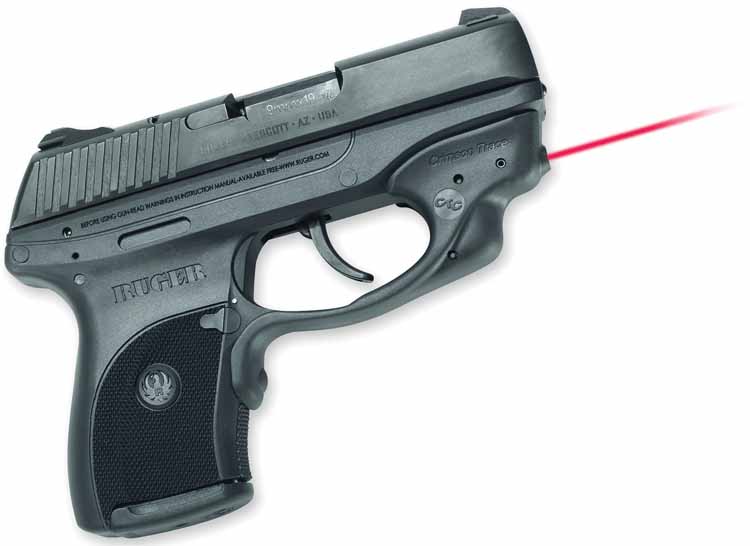 New PEL-6 Secutor From Strategos International
Strategos International, LLC announces the most highly evolved hand-held and weapon-mounted lighting tool; the PEL-6 Secutor, now available to tactical officers for close quarter conflicts and low light environments. Strategos was the first to recognize that operators required a complete paradigm shift in light tool operation and created a tool that would change the market and affect low-light training methodology. The LedWave PEL-6 Secutor is the latest technology in illumination tools using feature-rich and intuitive electronics.
The Secutor, named after a class of gladiator in ancient Rome, utilizes a 212 LED that produces over 120 Lumens of bright white light. Featuring a patented user interface of a rotating tailcap, the flashlight enables the user to program constant on modes thus enabling functions to be activated with one hand. The user does not have to alter his grip to push buttons or rotate bezel rings to achieve immediate tactical functionality. The Secutor allows the operator to adjust the levels of light from low (variably and fully adjustable) to its unique high output disorienting strobe light. The original design was one of the first to incorporate rapid strobe disorientation into a handheld, everyday flashlight. The strobe function was designed to affect adversaries by reducing or eliminating their ability to maintain balance, peripheral vision and depth perception, thus allowing operators to act quickly and maintain situational awareness. The Secutor Momentary and Constant On switches are easily accessed with a one or two finger rotation of the tail cap. The unique lock-out system on the Secutor prevents the light being accidentally activated in high risk diminished light situations and also when storing the light. The Secutor is easily activated from the lock-out position under duress with the snap of the thumb or fingers. The new PEL-6 Secutor, the next generation of tactical light technology, features more stable electronics preventing unintentional battery drain and providing better programming stability. The new surface coating of the Secutor is made from a super durable ceramic that prevents scratches better than the previous model. For more information you can contact them at Strategos International LLC, Dept. SAR, 12909V S 71 Hwy, Grandview, MO 64030. Phone: (816) 795-3768. Fax: (816) 795-2753. Website: www.strategosintl.com.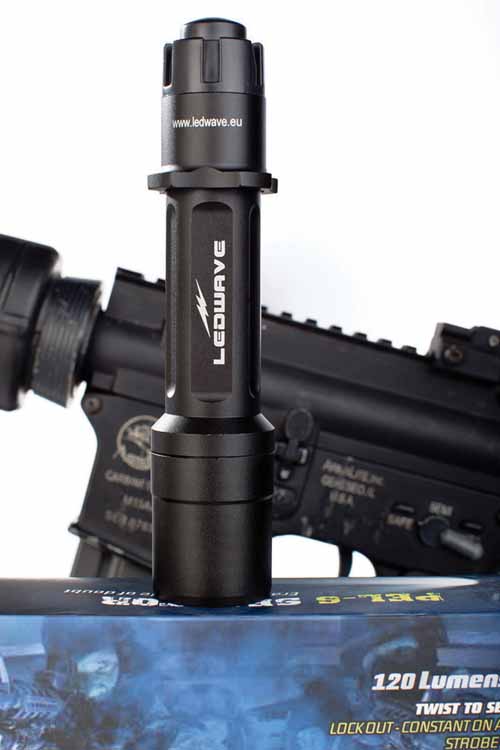 Bushnell Elite Tactical Scopes Are Professional Grade
The new Bushnell Elite Tactical series scopes are built to withstand the rigors of the field, whether in military and law enforcement situations, three gun competition or countless rounds at the range. The Elite Tactical series features the best Bushnell has to offer – optical excellence, precision engineering and rock-solid reliability. With fully multi-coated optics and the new anti-reflective Ultra Wide Band (UWB) Coating, Elite Tactical riflescopes deliver light transmission across more of the visible light spectrum than before. What that means for shooters is enhanced clarity, exceptional brightness and true color from dawn to dusk. The 100 percent waterproof, fog proof and shock proof Elite Tactical series is now more reliable than ever, thanks to the newly introduced Argon-purging process. Argon provides added resistance against corrosion, longer seal life and reduced chances of fogging. Another benefit of Argon is that it conducts heat at a slower rate, drastically reducing thermal conduction within the scope to provide long-lasting performance. Bushnell takes all-weather performance a step further with its patented RainGuard HD lens coating. The permanent, water-resistant finishes causes moisture from rain, snow, sleet and condensation to bead up and scatter less light, giving shooters a clear view when weather conditions become a challenge. Elite Tactical scope tubes are hammer-forged from high-quality, rugged T6061 aluminum. The scopes feature target turrets for rapid adjustment to range and windage. The Elite Tactical Series product line includes seven riflescopes, including one fixed 10x magnification scope and two first focal plane riflescopes with illuminated reticles and .1 Mil adjustments. The scopes are backed by the Elite Bullet-Proof Warranty – a no questions asked one-year replacement warranty. Contact Bushnell Outdoor Products, Dept. SAR, 9200 Cody Street, Overland Park, KS 66214. Phone: (913) 752-3400. Fax: (913) 752-3539. On the web at www.bushnell.com.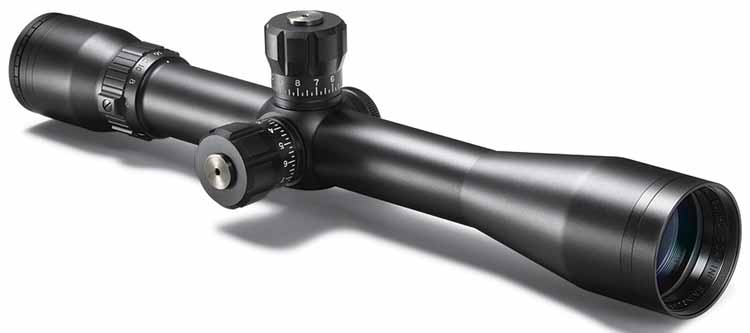 Minox Introduces NV 351 Night Vision Device
Best known for high-quality binoculars and their legendary spy camera, Minox has now added the NV 351 high-performance night vision device. Thanks to advanced illuminator technology, it delivers sharp images from twilight through full night with 2.5x magnification. With a range of 230 feet, it lets you pick up far-off objects even in total darkness. Easy to carry and use because it is so lightweight (12 oz.) and compact (just 6-3/4"x3-1/8"x2"), the NV 351 allows noise-free and discreet observations, using just one hand. With its robust, weatherproof design, it performs in any conditions and temperature fluctuations from -22º to 122º F. The eyepiece is designed to give eyeglass wearers the full field of view. There is also a tripod socket for extended viewing. The Minox NV 351, complete with a handy carrying case and batteries, has a retail price of $399. You can contact Minox USA, Inc., Dept. SAR, P.O. Box 123, Meridien, NH 03770. Phone: (866) 469-3080. Fax: (603) 287-4834. Website: www.minox.com.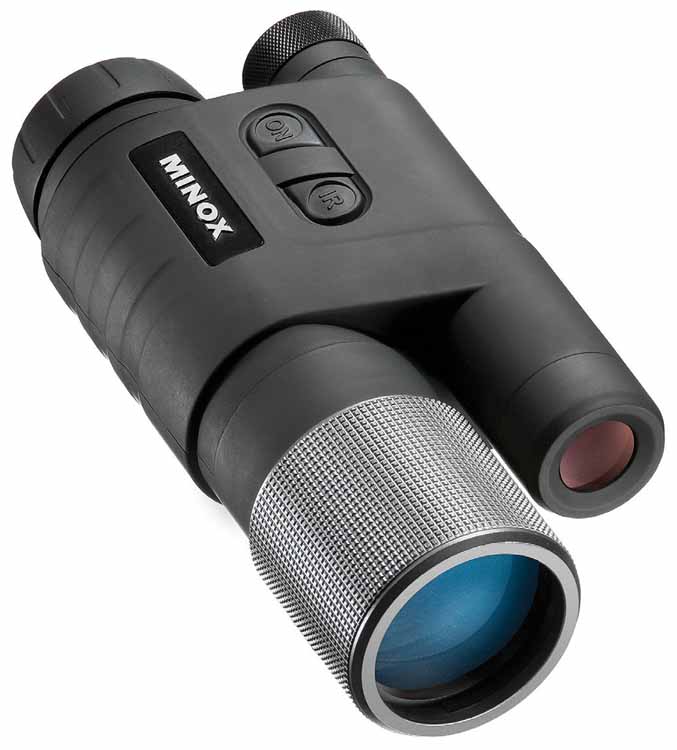 This article first appeared in Small Arms Review V15N2 (November 2011)