SIG Sauer Introduces New M400 Carbine
SIG Sauer, Inc., the leading manufacturer of commercial, law enforcement and military firearms, introduces an improved version of the current 5.56x45mm military issue centerfire tactical carbine, the SIG M400. The SIG M400 has been introduced for consumers who prefer the direct impingement gas system and have an inventory of parts and accessories for the original M4-style carbine. Built with SIG Sauer quality and reliability, the SIG M400 is also an exceptional value for those seeking an AR-platform rifle. To increase accuracy over mil-spec carbines, the SIG M400 features a tensioning device designed into the lower receiver that ensures a tight lockup and eliminates accuracy-robbing play between the upper and lower receivers. The lower receiver has all the same features as the SIG 516 such as an ambidextrous magazine release and rear quick-detach sling mount. Both receivers are machined from 7075-T6 aircraft-grade aluminum forgings and coated with a durable phosphate finish. The upper receiver features an integrated Mil-Std 1913 accessory top rail for mounting optics and accepts most M16/AR-15-style furniture. A six-position collapsible polymer stock offers adjustability to fit all shooters. An enhanced version of the SIG M400 features all Magpul furniture. Chambered in 5.56 NATO, the SIG M400 will be available in semiautomatic for commercial users. Three-round burst or fully automatic versions will be made available for military and law enforcement. Built to full military specifications, the SIG M400 features a 16-inch chrome moly steel barrel with a chrome-lined chamber and bore. A direct-gas impingement system operates a seven-lug, rotating bolt. The muzzle is threaded 1/2 x 28 TPI to accept a variety of flash hiders, compensators or suppressor mounts. An M16A2 flash compensator is included. A removable sight assembly and carry handle, 30-round magazine and hard case are standard features on this rifle. For more information please contact SIG Sauer, Inc., Dept. SAR, 18 Industrial Drive, Exeter, NH, 03833. Phone: (603) 772-2302. Fax: (603) 773-2113. On the web at www.sigsauer.com.

Leatherwood/Hi-Lux Announces new 8X USMC Sniper Scope
One of the most recognized names in military sniping during the Vietnam conflict was Marine Corps marksman Carlos Hathcock. During his two tours, he was credited with 93 confirmed kills. The rifle he relied on for very precise long range shot placement was a Model 70 Winchester, of .30-06 caliber, topped with an 8x Unertl scope. Scopes of this design, with micrometer click external adjustment, were once favored by long range precision shooters, and quite a few different scope manufacturers offered very similar models. Today, an original USMC marked scope in mint condition can sell for as much as $5,000 to $6,000. With the current interest in shooting and competing with vintage style sniper rifles, just a working standard model scope in very good condition can still bring $2,000 or more. Leatherwood/Hi-Lux Optics is now adding an 8X USMC-SNIPER model to its Wm. Malcolm line of vintage style riflescopes. Not only will this scope match the originals for extremely precise adjustment of windage and elevation, the new made scope also offers the advantages of modern lens making, with fully multi-coated lens surfaces for maximum light transmission. This scope offers the brightest, clearest, and sharpest optics ever in a riflescope of this design. The scope will be marked with the Wm. Malcolm name over the USMC-SNIPER model designation, and each will be serial numbered – as were the original USMC models. The Marine Corps utilized this style of scope on sniper rifles during WWII and Korea. The new Wm. Malcolm 8X USMC-SNIPER captures the look, the precision and the accuracy capable with riflescopes of this type. At the $549 suggested retail price, it is far more affordable than a serviceable original from the 1940s, or even the 1970s when they were still in production. Like all Leatherwood/Hi-Lux Optics, the Wm. Malcolm USMC-SNIPER model comes backed with a limited lifetime warranty. You can contact them at Leatherwood/Hi-Lux Optics, Dept. SAR, 3135 Kashiwa Street, Torrance, CA 90506. Phone: (310) 257-8142. Fax: (310) 257-8096. Website: www.hi-luxoptics.com.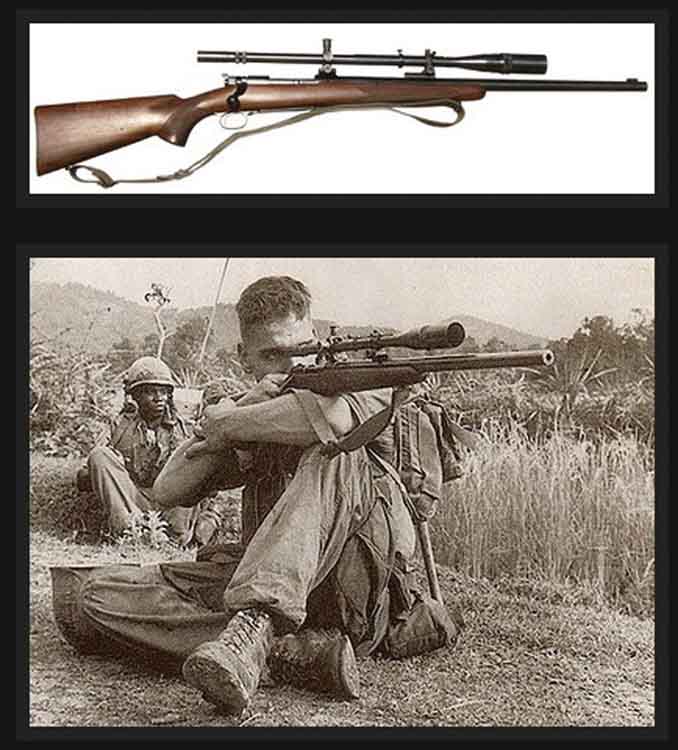 New High Tech Suppressors From Thompson Machine
Thompson Machine's Poseidon series of sound suppressors represent something truly new on the sound suppressor market. While most 9mm and .45 ACP pistol suppressors are 7 + inches long and weigh in at around 10 ounces or more, Thompson Machine's Poseidon 9mm is a scant 4.25" in length and weighs a barely-there 3.5oz. Designed to suppress your sidearm to a hearing-safe level without significantly affecting its handling characteristics, the Poseidon series of suppressors uses artificial environment technology combined with a cutting edge baffle design to provide shocking efficiency and sound suppression in an impossibly small package. Perhaps most amazingly, the Poseidon .45 which quiets the bark of the mighty and venerable .45 ACP cartridge is only 4.5 inches long and weighs less than 5oz. In addition to their line of micro-suppressors (which includes a 4-inch .22 LR suppressor called the Wasp for rimfire enthusiasts), Thompson Machine manufactures a full range of suppressors, from 4 different models of .22 LR muzzle suppressor up to 5.56 and .30 cal. centerfire rifle suppressors. Everything that Thompson Machine makes is easily disassemble-able for cleaning and user service, which is also a feature that sets their suppressors apart. For more information you can contact them at Thompson Machine, Dept. SAR, 172 Center Street, Panacea, FL 32346. Phone: (805) 408-5161. Website: www.thompsonmachine.net.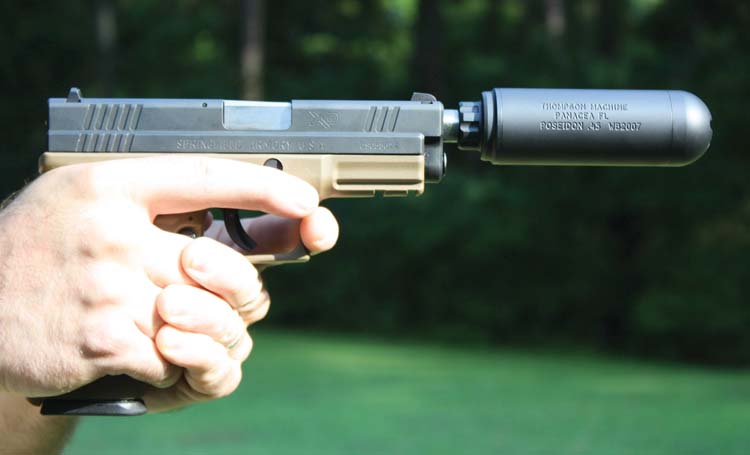 New Bezel Option for Elzetta Flashlights
Elzetta Design, LLC is pleased to announce the release of a third bezel option for its popular line of ZFL-M60 LED Flashlights. The new Low Profile Bezel provides a sleek new look for the Elzetta line, reduces bulk, and accommodates many commercially available filters. Elzetta ZFL-M60 Lights are built to order with all components available separately for complete modularity and easy modification to suit personal preferences and missions. All Elzetta products are made in the USA to the highest standards. More information is available from Elzetta Design, LLC, Dept. SAR, P.O. Box 54364, Lexington, KY 40555. Phone: (859) 707-7471. On the web at www.elzetta.com.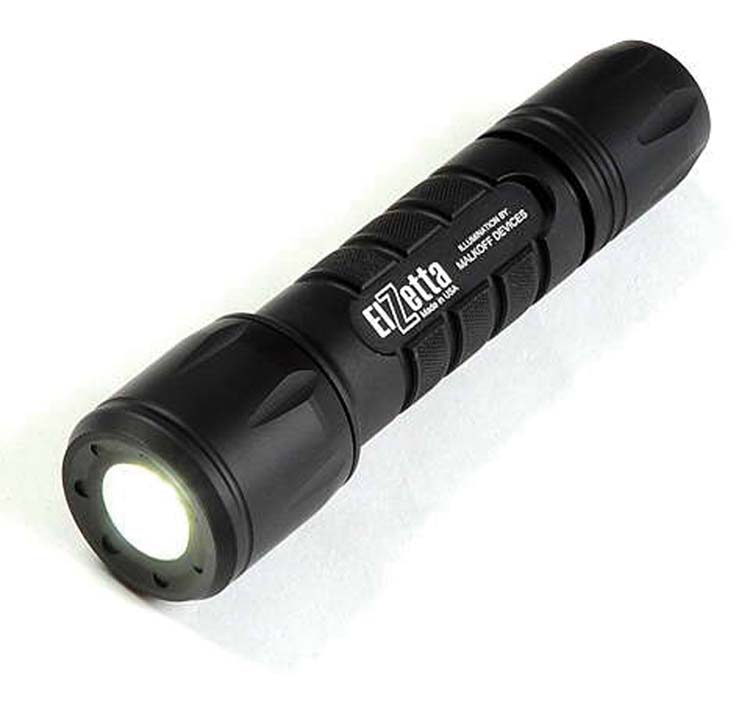 Israeli Special Forces DVD from Mako Defense
With the release of its DVD titled Israeli Special Forces Training: Counter Terror Carbine, Mako Defense now offers video training information that enables anyone to understand and apply the unique advantages of the Israeli Method of fighting with a tactical carbine. This DVD parallels the live Mako Defense courses currently being offered across America. It gives viewers the opportunity to learn and practice techniques that can save their lives and the lives of innocent victims. The Israeli Method of fighting revolves around the concept of using speed and accuracy to quickly neutralize any threat, while protecting bystanders. As presented by Mako Defense, it is designed to give U.S. law enforcement officers the most effective methods for working alone, with a partner, or in a team; to give military combatants the skills required for a successful mission; and enable civilians to become highly competent in every aspect of using their tactical rifles for home defense as well as shooting sports. Mako Defense Training – live and on DVD – is fast-paced, exciting and readily understood by everyone. Even in live classes where law enforcement officers, military personnel and civilians often train together, each person is able to learn at their own pace and within their different physical capabilities. DVD training can be repeated and reviewed endlessly at no additional cost, to perfect the Israeli Method techniques shown. Each technique is presented, demonstrated, and then broken down, while being filmed from multiple angles, before being demonstrated at speed in live fire drills. Viewers can experience dry-fire practice of the methods taught in the DVD course. Mako Defense instructors are experienced warriors who have seen extensive action as members of Israel's most elite special operations units. They are certified as instructors by the Israeli government and teach the Israeli Method on a daily basis in Israel and around the world. The lead instructor featured in these videos has responded to most hostage situations in Israel from 1995 to the making of the video. Instructors were also members of the leading Israeli Police counter-terror and hostage rescue team. They have completed years of service in both a military unit that is the equivalent of the U.S. Delta Force, and in an undercover unit that specializes in the abduction or elimination of high-level terrorists. For more information contact The Mako Group/Mako Defense, Dept. SAR, 1 Lenox Avenue, Farmingdale, NY 11735. Phone: (631) 880-3396. Fax: (631) 880-3397. Website: www.themakogroup.com.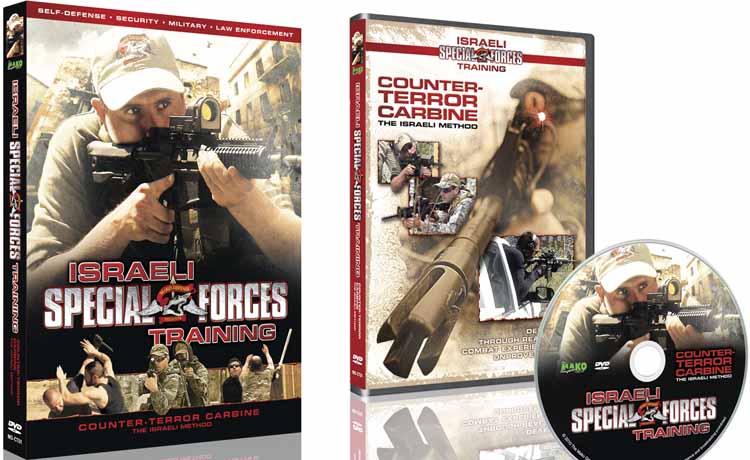 New Tactical Pens From Tuff-Writer
Tuff-Writer, Inc. produces a line of tactical pens that are now used by military, SWAT, EMT and civilians that require a pen built to function under extreme conditions. The USA Made Tuff-Writer pen is designed to not only function under the harshest of environmental conditions, but also as a defensive tool where life-saving reliability is an unconditional must. Tuff-Writer pens are precision machined to aerospace tolerances in the United States. Made from 6061-T6 aluminum hard anodized to MIL-A-8625 "F" Standards for maximum durability, the pen's custom designed spring steel clip is attached with hardened bolts and then chemically bonded. Tuff-Writer pens utilize a pressurized cartridge made by Fisher, which writes at any angle, even upside down. The pens are designed with a screw-on cap so when the pen is closed, it functions as one solid piece, critical as a self defense tool. All Tuff-Writer pens are guaranteed against material and workmanship defects for the life of the pen. For more information please contact Tuff-Writer, Inc., 4292 E. Agave, Phoenix, AZ 85044. Phone: (480) 329-6105. On the web at www.tuffwriter.com.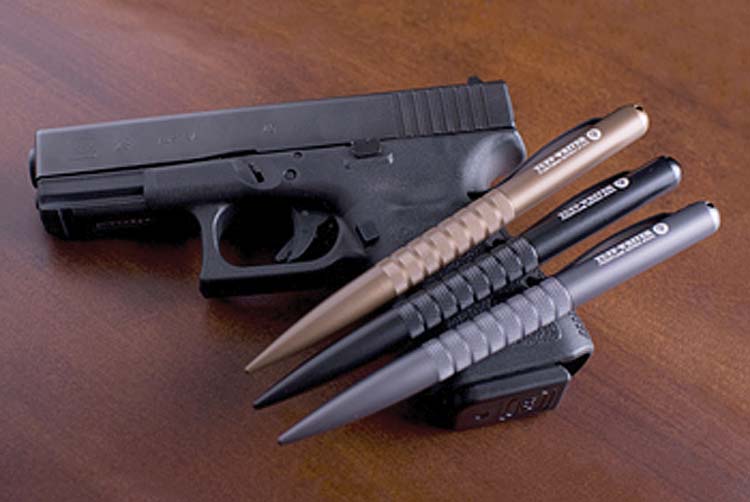 This article first appeared in Small Arms Review V15N4 (January 2012)