New Del-Ton TRX Rifle Available Through ATI
American Tactical Imports (ATI) is proud to introduce the brand new Del-Ton TRX16 rifle. Del-Ton fans have long awaited the release of a new product from the family owned, North Carolina-based AR manufacturer. This new rifle from Del-Ton, Inc. is a 16-inch semiautomatic rifle already fully dressed with the latest Troy Industries accessories. Chambered in 5.56x45mm, the TRX features forged 7075 T6 Aluminum hard coat anodized Mil-Spec upper and lower receivers. The 1×9 twist chrome moly vanadium barrel has a threaded muzzle, mid-length gas system, Troy Industries Low Profile gas block and A2 flash hider. The TRX also features a reinforced fiber Troy Battle Ax buttstock and a Troy 13-inch TRX Extreme Hand Guard. It weighs 6.8 lbs. empty and has a fully extended length of 36.75 inches and a collapsed length of 33 inches. The sights are Troy DOA/STD rear folding and Troy M4/HK front folding. The TRX has an HPT/MPI tested bolt. MSRP for the Del-Ton TRX16 rifle is $1,250 and it comes with a hard case, 30-round Troy magazine and a cleaning kit. It will be available in both black and flat dark earth. For more information please contact American Tactical Imports, Dept. SAR, 100 Airpark Drive, Rochester, NY 14624. Phone: (585) 328-0945. Fax: (585) 328-4168. Website: www.americantactical.us.

Ruger Announces New SP101 Revolver in .22 LR
Sturm, Ruger & Company, Inc. announces a new SP101 revolver chambered for the .22 Long Rifle, the most popular cartridge in the world. The new .22 LR Ruger SP101 is true to Ruger standards of rugged reliability and perfect for those seeking a quality small frame revolver. This new SP101 will appeal to firearm instructors and enthusiasts who want to practice and perfect their shooting skills, or just spend time plinking with inexpensive rimfire ammo. Ruger re-engineered the SP101 to chamber eight rounds instead of the traditional six, improved the sights, and maintained the same classic features that were the SP101. The 30-ounce double-action revolver is made of weather resistant stainless steel with a satin finish for longevity and good looks. The walnut grip panels inset in the one-piece rubber grip are checkered and engraved. The revolver features a fully adjustable square-notch rear sight and fiber-optic, square-post front sight. The 4.2-inch barrel features a half shroud covering the ejector rod. For more information contact Sturm, Ruger and Company, Inc., Dept. SAR, 200 Ruger Road, Prescott, AZ 86301. Website: www.ruger.com.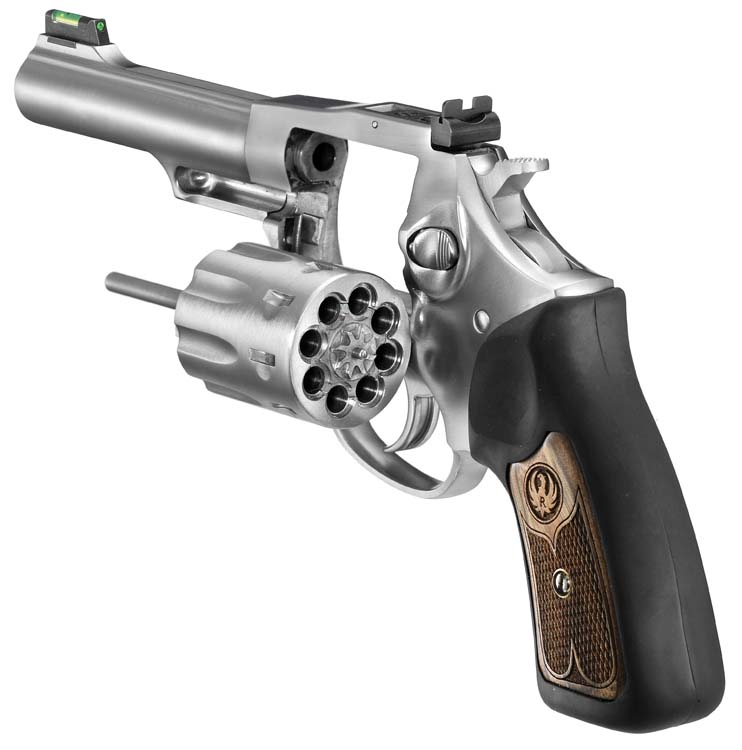 M240 Machine Gun Foregrip and Rail Adapter
Special Tactical Services, LLC, now has a new adapter kit that allows the user to add useful accessories to the M240 machine gun by means of a rail (patent pending). This short rail adapter assembly fitted to the forward mount lug is primarily designed for rapid and rugged attachment of vertical foregrip assemblies but the attachment is also suitable to accessory bipod assemblies that utilize a Mil-Std 1913 interface (Picatinny Rail Grabber). As the pivot point has been moved closer to the operator, the STS adapter provides a more natural handling point and improved ergonomics. Bipods attached in this location allow for a more rapid traverse and offer handling characteristics that emulate the Mk43/M60-E3 configuration for quicker engagement of multiple targets dispersed across the field of fire. Installation is quick and easy. Simply pull the center pin all the way out to the right side. The pin is captive and will stop in the fully disengaged position. Place the adapter over the receiver forward the mounting hole location. Push the pin all the way left, through the receiver lug into the fully engaged position and securely attach the rail accessory or grip of your choice. STS does not recommend the attachment of polymer or cast metal (MIM) rail interface material. Plastic or rubberized grips are fine; so long as they incorporate a high quality machined metal rail grabber. For more information you can contact them at Special Tactical Services, LLC, Dept. SAR, Diamond Springs Road Suite B, Virginia Beach, VA 23455. Phone: (757) 554-0699. Fax: (208) 693-9692. On the web at www.spectacserv.com.

New Rifle Assault Bag From Uncle Mike's
Uncle Mike's, a leading provider of shooting accessories for more than 60 years, has introduced the Rifle Assault Bag, a rugged and versatile case for owners of AR or modern sporting rifles. Constructed of tough 600D polyester and lined with 2-inch closed-cell foam padding, the Rifle Assault Bag offers gun owners long-lasting protection for their firearm. Hook and loop straps hold the firearm securely in place, ensuring it doesn't shift in transit. The bag also features a hidden interior pocket for handgun storage. With three exterior pockets, the Rifle Assault Bag provides shooters with plenty of room to store extra magazines and gear, making it an ideal case for range or competitive shooters. The bag is not only compatible with AR style guns, it is also a great option for take-down firearms and other short rifles and shotguns. The bag is available in lengths of 36 or 43 inches and is 20.5 inches deep and 11.25 inches high. It includes a padded, adjustable shoulder strap, and is available in the following three colors: black, canopy or dark earth. The MSRP for the Uncle Mike's Rifle Assault Bag is $101.95 for the 36-inch model and $113.95 for the 43-inch version. For more information contact Bushnell Outdoor Products, Dept. SAR, 9200 Cody, Overland Park, KS 66214. Phone: (913) 752-3400. Fax: (913) 752-3550. On the web at www.unclemikes.com.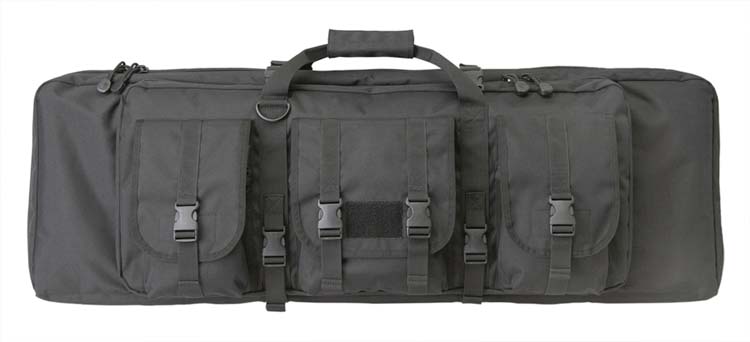 New Blaze Gun Case from Technoframes
Technoframes is the world leading producer of high quality gun & ammunition storage solutions, with product lines ranging from gun cases and ammunition boxes to replica ammunition displays. Their new Blaze is a state-of-the-art gun case precision engineered from hi-grade aluminum and ballistic acrylic. Blaze delivers not only a secure storage system but also an unparalleled display platform for a wide range of handguns. The built-in dual-sided locking system facilitates rapid access if needed while the comfort grip handle means Blaze is also easily transportable. Add-on components include devices to enable the gun case be both wall mounted and have the contents obscured from prying eyes, so, with 3 different models to choose from, Blaze has got you and your handgun covered. For more information on these innovative cases please contact them at Technoframes, Dept. SAR, P.O. Box 1067, Manchester, NH 03101. Phone: (866) 246-1095. Website: www.technoframes.com.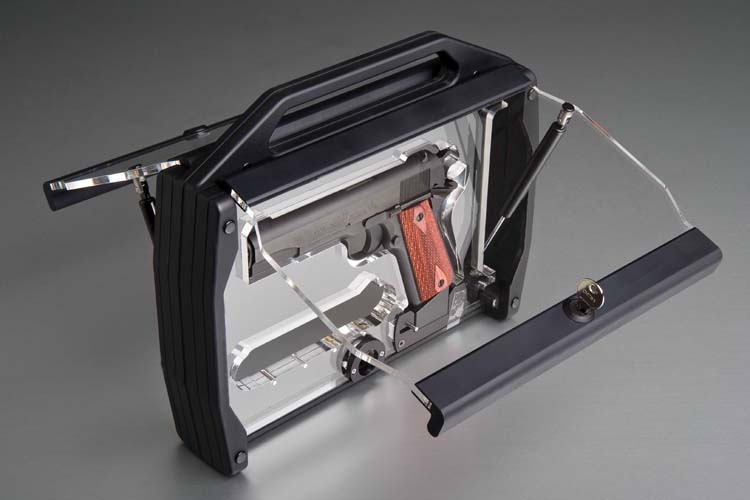 New SureShell Shotshell Carrier from Mesa Tactical
Mesa Tactical, provider of high quality tactical accessories and gear to law enforcement, military and civilian shooters, announced the availability of its four-, six-, and eight-shot SureShell shotshell carrier and optics rail assemblies for Mossberg's Model 500 and Model 590 pump action shotguns. Mesa Tactical's aluminum SureShell shotshell carriers are an industry standard and the preferred choice of most federal, state, and municipal law enforcement agencies due to their hard anodized aircraft aluminum construction and fail-safe shell retention system.
Mesa Tactical has been supplying shell carriers for the Mossberg 500 platform since November 2005, but this current announcement highlights the availability of integrated shell carriers and optics rail assemblies. Similar products have been available for the Benelli M2, Benelli M4 and Remington 870 platforms for years, but this is the first time integrated shell carriers and rails have been offered for the Mossberg shotguns. SureShell shell carrier and rail assemblies for the Mossberg pump shotguns feature four-, six- or eight-shell shotshell yokes fitted to a bracket incorporating a Mil-Std 1913 (NATO STANAG 2324) Picatinny optics rail. The rail bracket is secured to the shotgun receiver using the optics rail mounting holes already drilled and tapped into the Mossberg receiver at the factory. The optics rail stretches most of the length of the shotgun receiver, or about 4.5 inches, allowing the mounting of a red dot scope or other target acquisition aids. In addition to the standard 4.5 inch rails, Mesa Tactical is also offering four-, six- and eight-shell carriers in a full length (20 inch) configuration. Twenty inch rails allow the use of back-up iron sights (BUIS) in addition to optics. The full length rails are supported at the front by Mesa Tactical's new Magon magazine clamps. A unique feature of the full length rail and Magon clamp system is the ability to completely field strip the weapon, including removal of the barrel and bolt carrier, without tools, leaving the rail and clamp intact. A full length rail is also available with no shell carrier. For more information contact them at Mesa Tactical, Dept. SAR, 1760 Monrovia Ave., #B1, Costa Mesa, CA 92627. Phone: (949) 642-3337. Fax: (949) 642-3339. Website: www.mesatactical.com.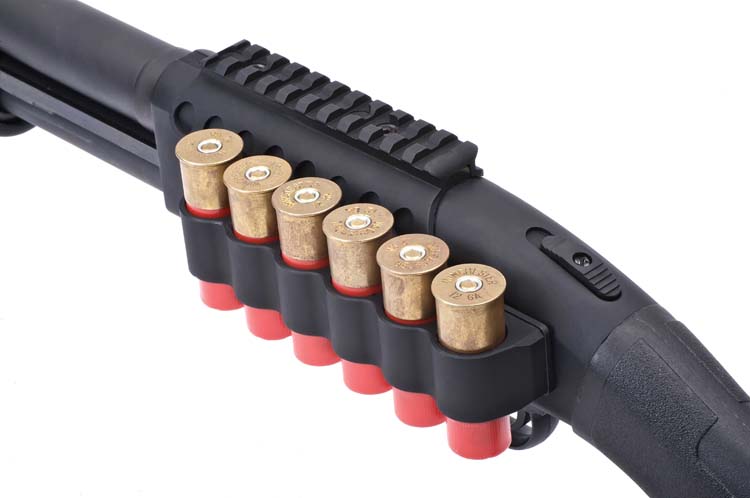 AccuCover Increases Accuracy While Reducing Parallax Error
British designed and manufactured, the AccuCover is an entirely new concept in scope cover design. As you would expect from a manufacturer of quality scope covers, it provides excellent protection of your scope and lens against whatever the elements can throw at it. However, what really makes the AccuCover unique is its ingenious patented design which helps you soot both faster and more accurately. This is done quite simply with the addition of high visibility markings on the rim of the scope cover. When you aim, your eyes traditionally focus on the crosshairs within the scope and the target behind. With AccuCover, your peripheral vision also come into play, sensing the four markings on the rim and helping to keep your eye aligned with both crosshairs and target. By simply aligning the brightly colored chevrons with the crosshairs, the eye becomes centralized to the scope. Its simplicity is its beauty. With all three elements aligned, this not only allows you to acquire the target faster, it also ensures a more accurate, consistent shot. The benefits of the AccuCover are:
Reduced parallax error – excellent cheek weld delivering greater accuracy
Reduced rifle cant – less rifle tile delivering greater accuracy
Faster eye alignment – especially in dusk/dawn lighting conditions
Silent push-button opening – ensuring a stealthy approach
Cover folds flat to scope – eliminating undergrowth entanglement
Water resistant – as you'd expect from a first class scope cover.
AccuCover is already being used by British police forces for firearm training and on sniper rifles and the military is also learning of the benefits of this simple product. It comes in three sizes, which fit up to 99% of all ocular rifle ends. For more information, contact them at AccuZero Ltd, P.O. Box 6387, Leighton Buzzard, Beds, LU7 6BY Great Britain. Phone: +44 (0) 7958 195446. Website: www.accucover.com.
This article first appeared in Small Arms Review V15N5 (February 2012)