By Chris Choat
J&T Distributing Offers New Gas Block Option for AR's 
J&T Distributing has introduced three new gas blocks, increasing the options AR shooters have in selecting a gas block to fit their particular shooting specifications. Designed for AR shooters who prefer removable front sights, the new gas blocks are available in three sizes: .937 for stainless steel bull barrels, .750 for H-Bar barrels and .625 for A-1 barrels. J&T Distributing is one of the few manufacturers of the A-1 size gas block machined from 6061 T6 aluminum and incorporating the 1913 Picatinny rail. J&T's new gas blocks have a pleasing angular profile and an additional set screw on the top surface to insure a perfect gas seal. The blocks are hard coat anodized and are shipped with 3 set screws. With a retail price of $29.95, these low profile gas blocks allow AR shooters to also mount iron sights, flashlights or laser-aiming devices. This new family of gas blocks further expands J&T Distributing's product line, which ranges from complete kits to specialized component pieces for military, law enforcement, competition or hobby shooters. For more information about J&T Distributing's product line, please contact them at J&T Distributing, Dept. SAR, P.O. Box 430, Winchester, KY 40392. Phone: (888) 736-7725. Fax: (853) 745-4638. They can be located on the internet at www.jtdistributing.com.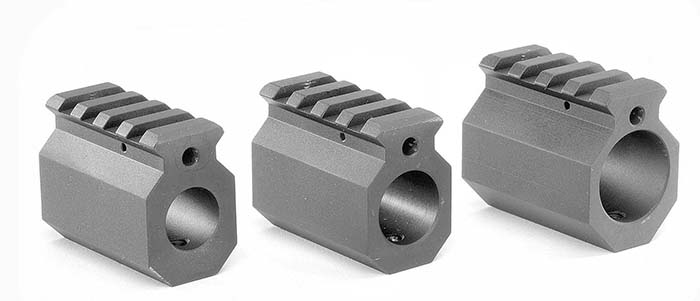 Heavy Duty 7-Position CAR Stock from Ace Limited USA 
Ace Limited USA has introduced a new Heavy Duty 7-position stock for the AR-15/M16 series of rifles. The new stock is without a doubt the strongest MOD stock available for the AR rifle. Current issue CAR or M4 adjustable MOD stocks have one fatal design flaw. The receiver extension tube is weak. The exposed threads and keyway create stress risers that greatly reduce the strength of the GI receiver extension tube. If a fully loaded M4 or M16 is dropped at an angle and the receiver extension tube is bent even slightly, the bolt carrier will get stuck in the receiver extension tube when the first round is fired. Worse, the carrier will be stuck in such a way that the rifle cannot be field stripped to correct the malfunction. In a military or police situation this could be fatal. This new stock solves this inherent problem. This stock features the strongest receiver extension tube available and also includes features such as machine tapered gussets that reinforce the lower receiver, adjustable screw-in stops that allow repeat adjustment to the same position very time in any conditions and four sling positions. The stock also has laser etched delineation marks to ensure a visual confirmation of your stock's adjustment. Adjustable shim screws in the receiver extension tube allow all slop and rattle to be eliminated from the stock. The heavy-duty receiver extension tube can also be ordered separately for use with your existing stock. This is also the perfect stock for the .308 guns out there. This is another "must have" item from the company that is known for their stocks and stock adapters. For more information, or to place on order, please contact ACE Limited USA, Dept. SAR, P.O. Box 191, Chicago Park, CA 95712. Phone: (530) 346-2492. Fax: (530) 346-2582. You can find more information on their websites at www.aceltdusa.com or www.riflestocks.com.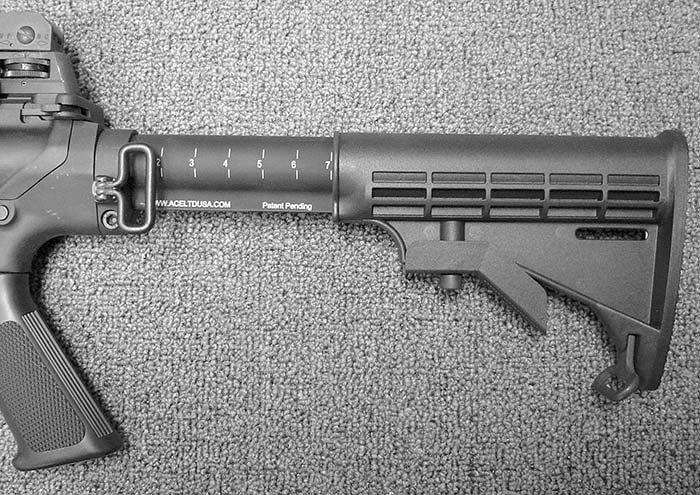 HALO Manufacturing Introduces the Stenstock 
HALO Manufacturing has now introduced a new product that will make Sten owners stand up and take notice. The new product is called the Stenstock and is an adapter that allows the Sten user to do away with his "T" or loop style stock and replace it with any stock that will attach to an AR-15/M16 style rifle. The adapter is made from aluminum and will be hard coat anodized to match the original weapon. The Stenstock also provides an attachment point for a standard AR-15 style pistol grip making the Sten even more ergonomic. For more information on this, as well as a full line of other firearm accessories, please contact HALO Manufacturing, Dept. SAR, 3980 Shenstone Drive, Suite A, Eugene, OR 97404. Phone/Fax: (541) 688-2645. Their website is www.halomfg.com.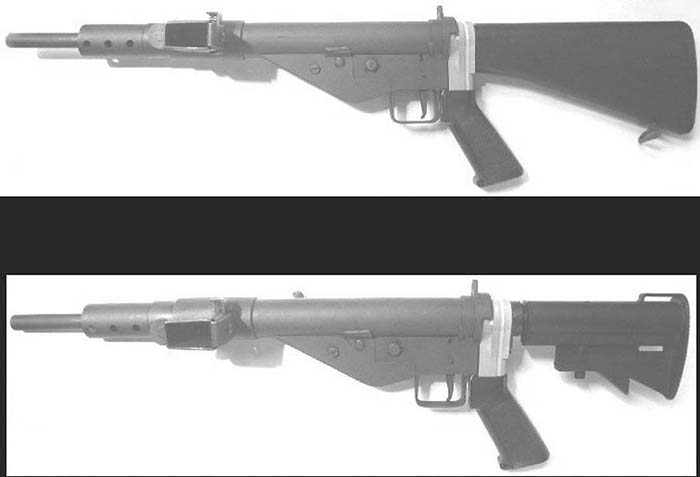 MD3 LaserLight from PentagonLight 
PentagonLight has just introduced their new MD3 LaserLight. The powerful light combines either a 135-lumen or a 75-lumen 5W LED light with a red laser all in one compact package. This compact integration of the light and laser with an ARMS throw lever mount easily engages and disengages both elements from the Picatinny rail at the same time, thus reducing preparation time for nighttime operations. The light source is protected by an anti-scratch tempered glass lens and is maximally focused for greatest distance and center brightness. The laser module is easily interchanged for an optional side mounted LED light for providing low visibility for reduced light signature. The MD3 LaserLight is pre-configured with a straight cord remote pressure pad switch or a push on/off tail-cap switch for the light. An independent push on/off tail-cap switch easily activates the offset laser. Several accessories are available for the light including a coil-cord remote pressure switch tail-cap, constant and momentary on/off tail-cap, gun barrel mounts and conversion heads for alternate light sources of the main light. For more information on this new light/laser combination, please contact PentagonLight, Dept. SAR, 826 Cowan Road, Burlingame, CA 94101. Phone: (650) 697-5505. Fax: (650) 259-1311. They can be found on the web at www.pentagonlight.com.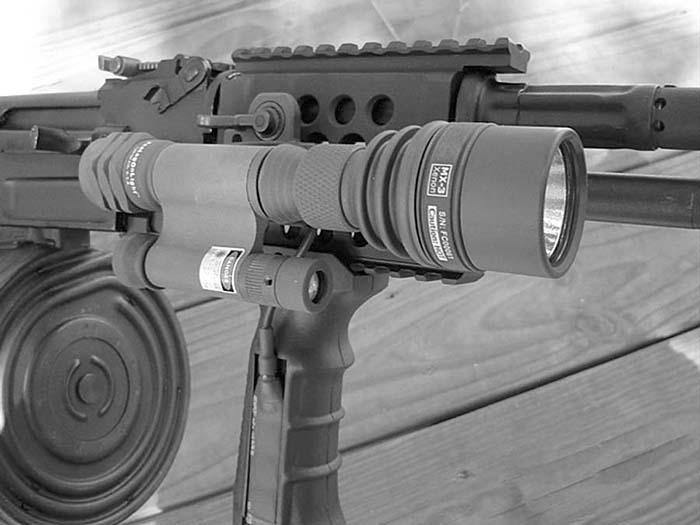 Rapid Deployment Body Armor Bag 
A new company called Rapid Deployment Protection Systems has introduced a new product that combines two products in one. The Rapid Deployment Body Armor Bag is a soft body armor and weapon carrying case all rolled into one. The bag goes from a discrete carrying case holding a weapon to load-bearing vest-type body armor and a ready to use weapon in a matter of seconds. The new bag is made from heavy duty Cordura-type nylon and, by itself, offers no ballistic qualities. It features "Universal Plate Carrier Technology" pouches that can be outfitted with either ceramic or steel ballistic plates and when used in conjunction with soft body armor it will protect the wearer from most rifle ammunition. The Rapid Deployment Body Armor Bag can also be equipped with magazine pouches or pouches for lights, medical kit, gas masks, etc. They even have a place for flex cuffs. There are three versions available. Version 1 fits most submachine guns with folding stocks and short barreled rifles under 24 inches; Version 2 will accommodate weapons up to 39 inches, and Version 3 anything up to 45 inches. Other versions are currently being planned. No law enforcement or military professional should be without one of these bags. For more information, please contact Rapid Deployment Protection Systems Inc., Dept. SAR, 4008 Yarmouth Lane, Bowie MD, 20715. Phone: (301) 805-4830. Fax: (301) 805-4831. E-mail: support@rapiddeploymentinc.com. Their website is www.rapiddeploymentinc.com.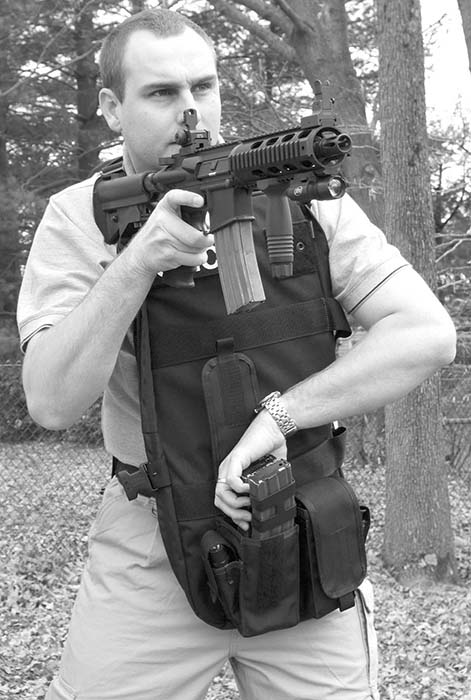 KNS Precision Introduces the Lightning Link Re-enforcer 
KNS Precision, Inc. has just introduced their new Lightning Link Re-enforcer, a reinforcement piece made of stainless steel that prevents an AR-15 Lightning Link from cracking in the weak areas. Those who have invested in an ATF registered Lightning Link know how valuable they are and will want this added protection against breakage. Installation is simple and requires a minimal amount of fitting to the lower receiver. The new Re-Enforcer comes with full instructions along with helpful suggestions for proper maintenance. The Re-enforcer is guaranteed and sells for $129.95. For more information, or to place an order, please contact KNS Precision Inc., Dept. SAR, 3168 N. State Hwy 16, Fredericksburg, TX 78624. Phone: (830) 997-9391. Fax: (830) 997-2528. They can be found on the web at www.knsprecisioninc.com.
This article first appeared in Small Arms Review V9N12 (September 2006)