By Chris A. Choat
ATN Releases Night Arrow Night Vision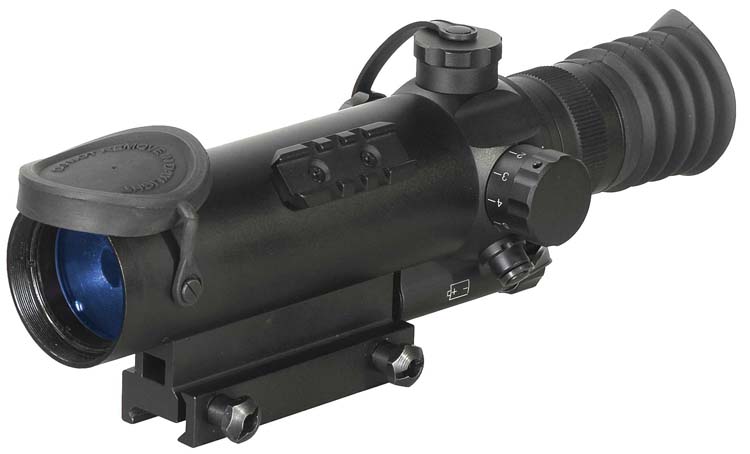 The ATN Night Arrow 4-2 night vision weapon sight features the latest ATN advanced technologies in a compact, lightweight, rugged weapon scope perfect for target acquisition, sport shooting or varmint hunting. Available in a variety of Image Intensifier Tube configurations to fit any budget, the Night Arrow 4-2 features one-knob operation and mounts to a standard weaver rail. Housed in a non-reflective matte-black composite body, the 4X magnification glass lens features a "Red on Green" reticle system with a 1/4 MOA adjustment. The illuminated center red reticle provides for optimal contrast against a dark or light target. Using just one AA battery, the Night Arrow will run 30 hours providing exceptional optics. For more information contact ATN (American Technologies Network) Corp., Dept. SAR, 1341 San Mateo Ave, S. San Francisco, CA 94080. Phone: (650) 989-5100. Fax: (650) 875-0129. Their website is www.atncorp.com.
Practice like the Pros with EZE-Scorer Targets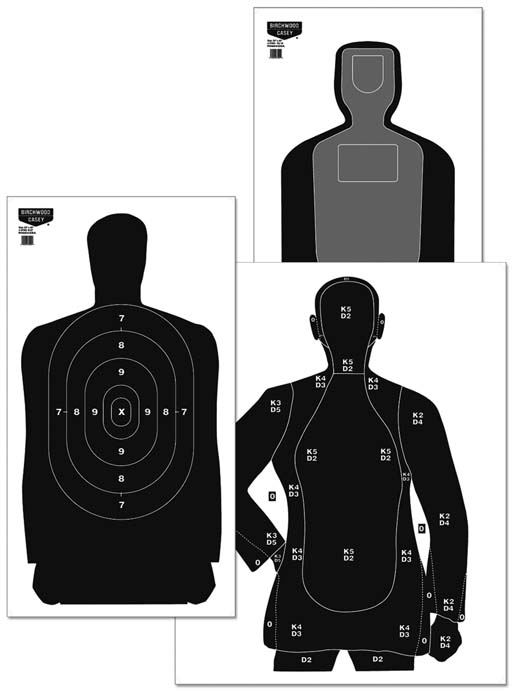 New EZE-Scorer Targets from Birchwood Casey let shooters practice with the same style targets used by military and law enforcement professionals. The new EZE-Scorer paper targets come in the three most popular silhouette styles available with scoring areas clearly marked. Three styles are available; the TQ-19 police training and qualification target, which measures 24×42 inches, the B-27 NRA police silhouette, which measures 24×45 inches and the B-21 police silhouette at 35×45 inches. All three versions feature high contrast black print on bright white paper and are great for both indoor and outdoor ranges. EZE-Scorer targets are highly affordable at a suggested retail price of $1.20. For more information, consumers can log onto the Birchwood Casey website at www.birchwoodcasey.com, or contact them at Birchwood Casey, Dept. SAR, 7900 Fuller Road, Eden Prairie, MN 55344-2195. Phone: (952) 937-7933. Fax: (952) 937-7979.
Stoney Point Introduces Rapid Pivot Bipods and Tripods for Shotguns
With the flexibility of the inverted rubber yoke, the Rapid Pivot system from Stoney Point has been a favorite for rifle hunters around the world. Now, this same system is available for the shotgun user in both bipod and tripod versions. The new Rapid Pivot system for shotguns works great for turkey hunters and slug gun shooters. The unit easily attaches to the magazine cap of the shotgun and can be quickly detached when not in use. In addition to the versatile system for changing your aim point prior to your shot in a quick situation, the rapid pivot yoke also quickly adjusts for height. That target out a little further than you expected? Just lightly lift your shotgun and the rapid pivot will easily lift and hold your barrel at the proper height. Retail prices are: Bipod – $49.99 and Tripod-$69.99. For more information you can contact them at Stoney Point Products, Inc., Bushnell Outdoor Accessories, Dept. SAR, 9200 Cody, Overland Park, KS 66214. Phone: (913) 752-3400. Fax: (913) 752-3550. Website available at: www.stoneypoint.com.
Browning Introduces New Holographic Sight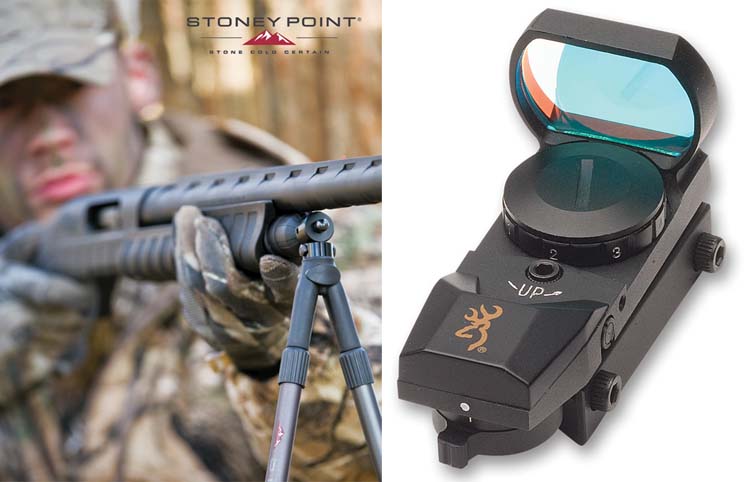 Browning is proud to announce the introduction of their new Buck Mark Holographic Sight to the company's expanding line of shooting accessories for 2010. The new Buck Mark Holographic sight matches up great to Browning's Buck Mark pistols with the one-piece Buck Mark Scope Base that will be also be offered as an accessory for 2010. The new Buck Mark Holographic Sight features a rugged aluminum housing with a black matte finish. Four reticle patterns include: Circle-Dot-Cross Reticle, 3 MOA Dot Reticle, Cross-Dot Reticle and Circle-Dot Reticle. A seven-position brightness rheostat is featured to allow easy brightness adjustments. The field-of-view is 15.7m/100m for unlimited eye relief. The new Buck Mark Holographic sight is powered by one #2032 lithium battery and mounts to a standard Weaver-style base. The new Buck Mark Holographic Sight has a suggested retail price of just $49.99. The Buck Mark Scope Base (one-piece) is $34.99. For more information please contact Browning, Dept. SAR, 1 Browning Place, Morgan, UT 84050. Phone: (801) 876-2711. Fax: (801) 876-3331. Website: www.browning.com.
Offset Light and Laser Mounts from EMA Tactical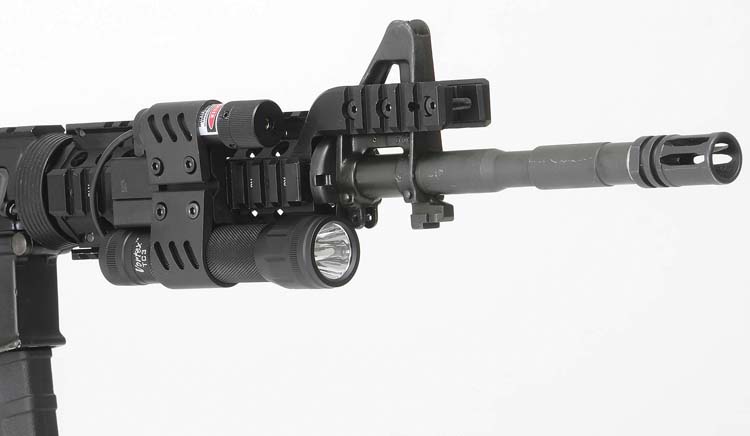 EMA Tactical is proud to introduce their newest polymer offset light and laser mounts for Picatinny Rails. Offset mounts offer many advantages over traditional models. The low profile of the offset mounts decreases the chance of the light or laser snagging on surrounding objects. Another benefit of the offset mounting system is the light/laser is now positioned closer to the operator's thumb or finger for easier quicker more ergonomic access to the switch. These mounts utilize their proven "C" ring clamping mechanism to securely hold the light or laser in place. The finned design reduces weight, dissipates heat and provides a gripping surface. The polymer offset mounts are available in two styles using either a screw mounting system or a large quick release push button to mount to the rail. Both styles are available in two sizes for lights and lasers with either 1-inch or 3/4 inch diameters. These affordable polymer mounts complement their three models of aluminum offset mounts which are designed for the operator also requiring repeatable zero in addition to all of the advantages of an offset light/laser mount. The Aluminum Offset Light and Laser mounts are CNC manufactured from aviation grade aluminum and skeletonized to reduce weight while maintaining strength. They mount on the rail using a captive nut that can be tightened with a wrench or flat head screwdriver. The aluminum mounts feature a lug to prevent movement along the rail. The lights or lasers are clamped in place with two cap screws to insure a very solid repeatable zero. For more information they can be reached at EMA Tactical, Dept. SAR, 1208 Branagan Drive, Tullytown, PA 19007. Phone: (215) 949-9944. Fax: (215) 949-9191. They can be found on the web at www.ematactical.com.
New LaserLyte Rear Sight for Ruger SR9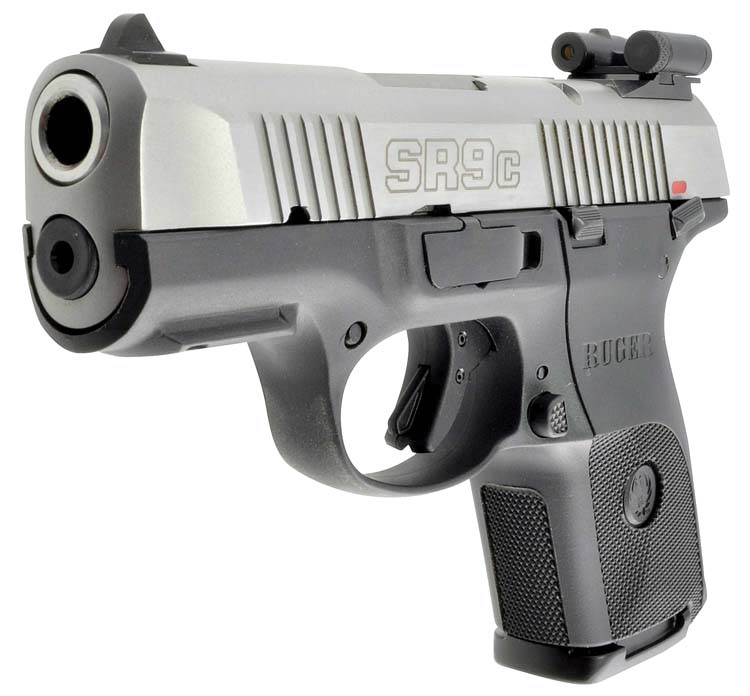 LaserLyte announces its new Rear Sight Laser (RSL) model for Ruger SR9 standard and compact pistols. The RSL's ground-breaking new laser design incorporated into the rear sight, compact size and revolutionary performance make it the most extraordinary system LaserLyte has produced. Easy-to-install and easy-to-operate, the new RSL offers a high-power laser with the benefit of not having to replace existing grips or internal stock parts. The RSL is the only laser system currently available that allows the user to holster a lasered SR9 pistol. The RSL's activation switch is a strategically placed button at the back of the slide that is easily activated by the thumb in a normal shooting position for left- or right-handed shooters. First press of the activation switch produces the constant on mode, second press produces pulse mode, and third press deactivates the laser. A small LED on the back of the laser indicates if the laser is on and what mode it is in. The RSL is also available for Glock, Springfield Armory XD/XD(M) and Smith & Wesson M&P pistols. The unit is constructed from MIM 4650, nickel enriched high carbon steel, the same material used for most heavy-duty gun parts such as iron sights, hammers and levers. It is also black chrome, bead blasted for a non-reflective finish. When mounted onto the pistol the RSL will fit all Level I and II holsters. The RSL is powered by four 377 batteries that provide six hours of normal usage. Normal usage is defined as one minute on and one minute off. This test mimics actual usage where the unit is turned on and off and the battery is given time to automatically regenerate. For more information please contact them at LaserLyte, Dept. SAR, 101 Airpark Road, Suite C, Cottonwood, AZ 86326. Phone: (928) 649-3201. Fax: (928) 649-3970. Website: www.laserlyte.com.
This article first appeared in Small Arms Review V13N10 (July 2010)