By Chris A. Choat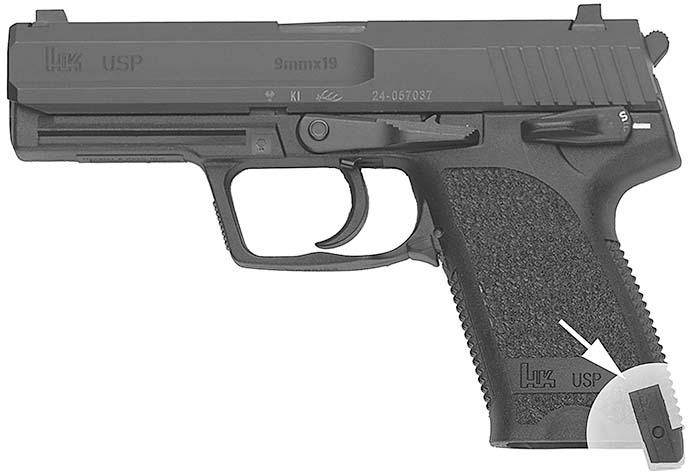 Heckler & Koch's New Lock Out for USP and SOCOM
Beginning in October of 1999, German manufacturer Heckler & Koch started shipping their popular Universal Self-Loading Pistols (USP) and Mark 23s with a groundbreaking internal lock feature known as the Lock-Out. Comprised of a small polymer component, the Lock-Out installs easily and unobtrusively into the USP's grip frame, effectively locking the handgun's action by blocking any movement of the trigger, hammer and slide. Employing the clean and simple design for which HK products are renowned, the Lock-Out component is easily engaged by the turn of a two-pronged key. Once engaged, the handgun will not fire until unlocked. Although unobtrusive, the locked or unlocked position of the Lock-Out device is clearly discernible to the user. While HK will ship both the USPs and the Mark 23s in a locked position, the user may determine whether or not to engage the Lock-Out. "HK does provide external locks with every firearm sold in the U.S., however, the unique design of the USP and Mark 23 enabled our engineers to specifically develop the Lock-Out device for use in storing and securing these handguns" commented Eoin Stafford, H&K president. "This feature serves to underscore HK's commitment not only to firearm quality, but also to safety". Existing USPs and Mark 23s may be shipped to HK for Lock-Out installation. While the Lock-Out is user-friendly, HK policy requires the part to be installed by a competent gunsmith. Installation will be available via authorized dealers and at HK's Sterling, VA gunsmithing department. Suggested retail of the Lock-Out is $14.95. For more information contact Heckler & Koch, Inc., Dept. SAR, 21480 Pacific Boulevard, Sterling, VA 20166-8903. Phone: 1-703-450-1900. Fax: 1-703-450-8160.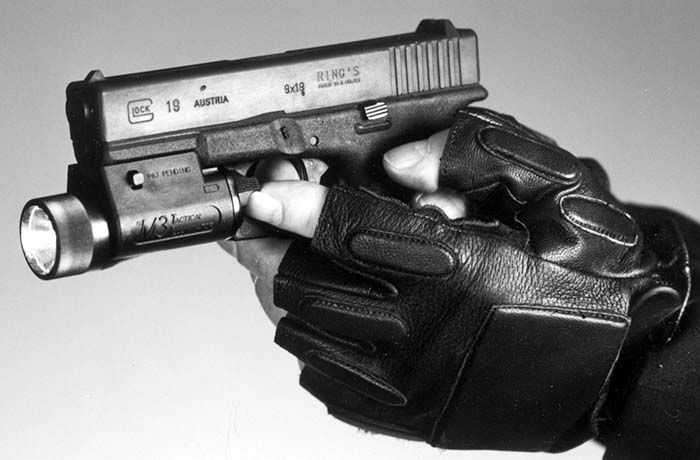 STREAMLIGHT INTRODUCES LINE OF TACTICAL LIGHTS
Streamlight, Inc., a manufacturer of high-powered lighting equipment for professional and consumer applications, has just introduced a new line of gun-mounted flashlights. This new line of Streamlight products, including Models VLI, M-3, M-4, M-4 Pro and M-5 allows users to aim and illuminate simultaneously, making the gun-mounted lights ideal for tactical use and law enforcement. Streamlight now provides a full range of tactical lights for law enforcement and professional use with both ambidextrous, momentary or constant-on switching. The new gun-mounted flashlights will join forces with Streamlight's other tactical flashlight, the Stinger XT. Designed and engineered in cooperation with Insight Technology, Inc., of Londonderry, NH, all five lights feature technology currently being used by U.S. special operations in military applications. Streamlight's gun-mounted lights offer many advantages over night vision equipment and lasers. Tactical lights are more compact, easier to handle and most importantly, provide significantly clearer identification of the target. All five gun-mounted flashlights attach and detach instantly from a wide variety of gun types. Each is constructed with a non-conductive and chemical-resistant polymer case. The lights also offer adjustable beams and easily replaceable lithium or alkaline batteries. The Streamlight VLI can be either mounted or hand-held, is waterproof up to 66 feet, weighs 7.19 oz., offers 1 plus lumens and will fit all tactical rifles and carbines with either Mil-Spec Picatinny rails or Weaver bases. The M-3 is designed to fit Glocks and other popular weapons, including some shotguns with the use of adapter. The M-5 fits Smith & Wesson Model 99 and TSW handguns and the M-4 and M-4 Pro is designed to fit many popular brands including Smith & Wesson Sigma series. For more information on the Streamlight tactical lights contact Streamlight, Inc., Dept. SAR, 1030 West Germantown Pike, Norristown, PA 19403. Phone: 1-800-523-7488. Fax: 1-800-20-7007. On the web at www.streamlight.com.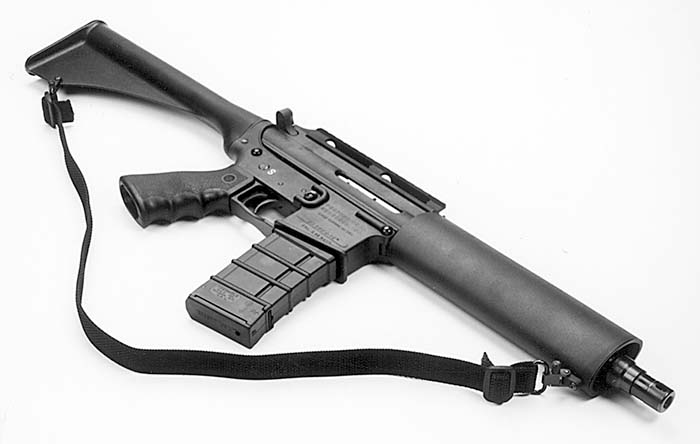 PROFESSIONAL ORDNANCE RELEASES NEW ENTRY RIFLE
The Professional Ordnance reputation for quality and reliability is again revealed in their much anticipated .223 short-barreled rifle. Using state of the art designing procedures, the seasoned engineers at Professional Ordnance have developed what law enforcement personnel and enthusiasts are calling "the answer to all their needs and desires." Designed specifically for Law Enforcement applications, the CM15m is primarily constructed of Carbon Fiber Composite-the same material as in the popular Carbon 15 product line. Carbon Fiber is not only much lighter than conventional construction, but is also more durable. In addition, Carbon Fiber is self lubricating, non-corrosive, and it dissipates heat better than aluminum. Standard features of the C15m include carbon fiber upper and lower receiver, hard chromed bolt and bolt carrier, quick detach stock, stainless steel match-grade fluted barrel, Mil Spec 1913 optics rail, ergonomically designed rubberized grip, carbon fiber handguard and a quick detach compensator. The C15m rifle joins a growing family of state of the art Professional Ordnance, Inc. Carbon Fiber firearms, which set the standard for the new millennium. For more information contact Professional Ordnance, Inc., Dept. SAR, 1070 Metric Drive, Lake Havasu City, AZ 86403. Phone: 1-520-505-2420. Fax: 1-520-505-2141. Professional Ordnance has also just launched their new website. They can be contacted via this site at www.Carbon-15.com.
This article first appeared in Small Arms Review V3N7 (April 2000)