By Chris A. Choat

HIGH TECH M-16 TRIGGER AND HAMMER PINS

For the AR-15, M-16 or AR-10 owners who want to protect their valuable receivers from wear permanently, KNS Precision, Inc., has just introduced one of the most high tech parts that anyone could want. These new parts are hammer and trigger pins that are precision CNC machined from stainless steel. But what makes these pins so unique is that they are hollow and threaded on both ends. They also have very small internal lube ports through which the user can lubricate the inside of the lower receivers hammer and trigger pin holes. The new pins also include two phosphated non-rotational connectors that keep the pins from rotating in the pin holes. The non-rotational connectors are held in place, on the ends of the pins, by non-creep, allen head retainer screws. Also included in the new pin "kit" are the proper size allen wrenches and an EZ install tool. To install the new pins the existing pins are simply replaced with the new pins, one non-rotational connector is then attached to the pins with the supplied screws. A couple of drops of lubricating oil is then put into the other side of the hollow pins and the other non-rotating connector is attached with the other screws. It all takes longer to tell someone how to do it than to actually do it. The new pins are available in either small pin (.154) or large pin (.170) sizes. These new "greaseable" pins eliminate all wear on the pin holes of your valuable lower receivers. They also eliminate pin creep common on some receivers with worn holes or weak hammer and "J" springs. For more information on this and other innovative accessories contact KNS Precision, Inc., Dept. SAR, 3168 North State Highway 16, Fredericksburg, TX 78624. Phone: 830-997-9391. Fax: 1-830-997-2528. Their web site is www.kagerind.com.
NEW LASERMAX INTERNAL LASER SIGHT FOR BERETTA VERTEC

Owners of new Beretta 92/96 VERTEC handguns can now enjoy the benefits of LaserMax totally integrated laser sights. According to LaserMax, its LMS-1441 is a perfect fit in the new gun model, which has a shorter trigger reach and a thinner, slimmer grip, which is useful for shooters with small hands. The laser sight adds less than a quarter-ounce to the weight of the gun, and with no external parts, your favorite grips as well as a standard holster can be used. The LaserMax sight is inside the gun, close to the barrel, to ensure accurate sighting. Unlike external lasers, the LaserMax cannot be bumped or jarred out of alignment. Surefire or other accessory lights can still be mounted on the VERTEC rail and removed as the situation dictates. A removable light and the robust internal LaserMax sight make a perfect combination for low-light tactical situations. The pulsating laser beam increases accuracy and improves aiming speed by revealing the point of aim, which is in line with the gun barrel. As a law enforcement tool, the laser's red dot has been proven to reduce assailant aggression. The LaserMax sight can be user installed in five minutes or less simply by field stripping the gun and dropping the laser sight in, in place of the original recoil spring guide assembly. After installing the new takedown lever with its integral on-off switch, the gun is reassembled and then sight is ready to use. No gunsmithing is needed. The new LaserMax sight has an ambidextrous switch that is easily and comfortably activated with either hand. This activates the highly visible, pulsating laser beam that is emitted directly below the gun barrel. Each LaserMax sight is factory aligned and carries a three-year warranty on all but its expendable parts. For more information contact LaserMax, Inc., Dept. SAR, 3495 Winton Place, Bldg. B, Rochester, NY 14623. Telephone: 1-800-527-3703. Fax: 1-585-272-5427. Their web address is www.lasermax-inc.com.
FNH USA INTRODUCES THE F2000 COMBAT RIFLE

Extending its reputation as a worldwide leader in small arms design and manufacturing, FNH USA, Inc., a subsidiary of FN Herstal, S.A., Belgium, has now officially introduced the next generation of integrated weapons systems, the F2000(. The unique design of the F2000 is based on the concept of interchangeable modules that enable the operator to meet the varied, and often demanding, requirements of different military missions as well as law enforcement requirements. Ergonomically designed, the F2000 allows accessories and modules to be added while keeping its balance and smooth design lines. Chambered in 5.56 X 45 mm, the F2000 is the only ambidextrous "bull pup" rifle with a full-length barrel, yet is fully balanced, lightweight and compact. The F2000 can be comfortably used left-handed without any modifications, and because the weapon features forward ejection, the left-handed operator is not at risk from empty cases, gases or debris. Additionally, the safety and firing selector as well as the magazine catch are all easy to manipulate left-handed. Unlike traditional rifles, the unique design of the F2000 pistol grip allows firing of the rifle or grenade launcher with minimal movement of the firing hand. The grenade launcher is one of the several integrated accessories for the new rifle. The F2000 weapon system also boasts add-on features such as the integrated light and laser or fire control systems. The F2000 weighs less than 8 pounds and has an overall length of just over 27 inches. The gun features a 15.75 inch barrel and uses M-16 type magazines. For more information on this revolutionary new rifle contact FNH USA Inc., Dept. SAR, P.O. Box 697, McLean, VA 22101. Phone: 1-703-288-1297. Fax: 1-703-288-1730. Website: www.fnherstal.com.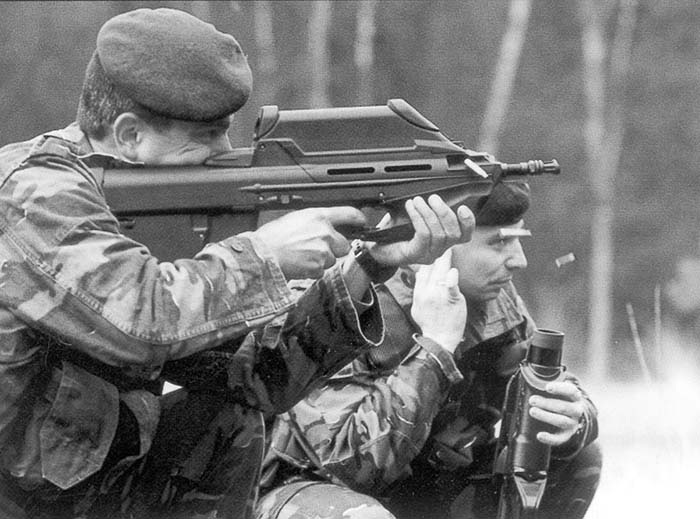 BLACK HILLS GOLD AMMUNITION

Black Hills Ammunition has introduced a new line of premium performance rifle ammunition. Calibers available in the Black Hills Gold Line are .243, .270, .308, .30-06 and .300 Win Mag. This new line of ammo is designed for top performance in a wide range of hunting situations. Bullets used in this new ammunition are the Barnes X-Bullet with XLC coating and the highly accurate Nosler Ballistic-Tip(. The Gold Line is packaged 20 rounds per box, 10 boxes per case. For more information contact Black Hills Ammunition, Dept. SAR, P.O. Box 3090, Rapid City, SD 57709. Phone: 1-605-348-5150. Fax: 1-605-348-9827. Their website is www.black-hills.com.
This article first appeared in Small Arms Review V5N11 (August 2002)