by Chris Choat
CTR-02 COMPETITION TACTICAL RIFLE FROM JP ENTERPRISES

JP Enterprises has introduced a new Competition Tactical Rifle called the CTR-02. The new rifle starts out with a newly-designed matched upper/lower receiver set. These parts are completely machined from 7075 billet. Tolerances and exterior metal finishing are absolutely the standard of the industry. The upper receiver not only has the standard low rail for compatibility with any properly designed sighting accessory, but also the new Integral ACOG Interface, another JP innovation. The Trijicon Advanced Combat Optical Gun sight is, without a doubt, the best optical sight of its type and by far the most popular sight used at most action/tactical matches, as well as by most US Special Forces. The new interface allows for a direct interface without any adapters to the upper receiver resulting in a semi-dedicated system that provides improved ergonomics and instantaneous sight acquisition when mounting the rifle. JP Enterprises has even designed their own custom reticle for the TA01 ACOG to optimize this great sight for the new CTR-02 rifles. The CTR-02 upper receiver also features another new JP design feature,Thermo-fitTM barrel collar which results in the most stable relationship between barrel and upper receiver yet achieved in this type of rifle. The result: reproducible accuracy in the sub half MOA range with match quality ammo. They have achieved groups as small as .172" at 100 yards with CTR-02 rifles. Accuracy in the 1/4 MOA range is possible for those with the skill and the patience to do the work. The new CTR-02 lower receiver is equally innovative. It is the first lower receiver with a large integral mag funnel for easy speed loading, and hidden dovetail interfaces on both sides of the magazine housing for quick detach accessories like tactical lights or extra mag holders. The magazine cavity is electro discharge machined, not broached or cast, for perfect tolerance and geometry. No other company would spend the money to have that done. The result is perfect drop free mag fit and alignment with trouble free feeding and function. Of course, all CTR-02 custom rifles come with the complete JP Fire Control Systems set up to your preference with either a 3 pound competition trigger or a 4 pound tactical trigger. A heavy twenty inch barrel is standard but other lengths and contours are available. CTR-02 complete rifles are shipped in a useable hard case with a nice accessory pack. Included is one 10-round post ban magazine, JP cleaning rod guide, a lube kit with barrel brake-in compound, chamber brush, Johnson safety block, JP tech manual and a JP hat and shirt. For more information on these straight shooting rifles please contact JP Enterprises Inc., Dept. SAR, 7605 N. 128th Street, White Bear Lake, MN 55110. Phone: 1-800.528-9886. Fax: 1-651-426-2472. Their website is www.jprifles.com.
NEW GUN AND CARTRIDGE FROM GUNCRAFTER INDUSTRIES LLC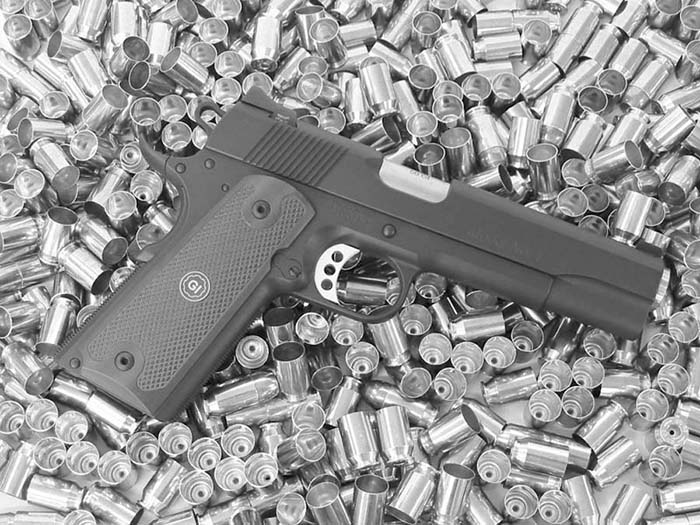 Guncrafter Industries has just introduced a new cartridge as well as a new pistol to fire it. The gun is called the Model No. 1 and the cartridge is the 50 GI. The Model No. 1 is pure 1911 all the way through. The external dimensions are the same as the standard 1911 and the Model No. 1 will fit holsters designed for standard 1911's. It will also accept a majority of the 1911 accessories and components with little or no modifications. The inside of the Model No. 1 has been re-engineered to accommodate the larger 50GI cartridge and also has a beefy .50 caliber stainless steel match grade barrel and a very sturdy magazine of heat treated stainless steel. As for the cartridge, the 50 GI is a proprietary Guncrafter Industries cartridge and was developed from the ground up specifically for the Model No. 1 pistol. It is a very strong, thick-walled cartridge, which when loaded is approximately the same OAL as a .45 ACP round. Due to the large caliber, the cartridge operates at relatively low pressures and has a long reloading life. One of the factory loads for the new cartridge drives a 300 grain bullet at around 725 feet per second, which translates into a 210 power factor. This is achieved even though the pistol is controllable. The gun, as well as loaded ammunition, should be available by the time you read this as well as reloading dies and brass. A conversion unit to shoot .45 ACP in the Model No. 1 pistol will also be available. There will not be a conversion for shooting 50 GI in standard 1911's. For more information on this exciting new pistol and cartridge please contact, Guncrafter Industries, LLC, Dept. SAR, 171 Madison 1510, Huntsville, AR 72740. Phone: 1-479-665-2466. They can be found on the web at www.guncrafterindustries.com.
QUICKRANGE FROM SHOOTING RANGES INTERNATIONAL
QuickRange is a complete prefabricated shooting range that can be delivered to your location ready to use. QuickRange eliminates the problems associated with building a shooting range, for example, design, construction, installation, etc. It is the ideal solution for gun shops, law enforcement and gun enthusiasts everywhere. Whether it is used for training, profit, or enjoyment, QuickRange is the ultimate shortcut to having a shooting range. Each QuickRange is a self-contained, two-lane shooting range in a bulletproof container. It comes complete with shooting stalls, target-retrieval system, bullet traps, lighting and HVAC system. QuickRange is available in 40-, 60- and 80-foot lengths and is customizable for added style and convenience. Best of all, with QuickRange, everything is ready to go right out of the box. The QuickRange is handcrafted to the highest specifications and delivered fully assembled. Because of is customizable size, you can put it almost anywhere. All safety, noise reduction and air-quality requirements are met and exceeded in every QuickRange through the use of anechoic foam and HVAC systems with HEPA filters. Comfort, reliability and quiet are right on target in every model. For more information please contact Shooting Ranges International, Dept. SAR, 3240 Sirius Avenue, Unit D, Las Vegas, NV 89102. Phone: 1-702-362-3623. You can visit the+m on the web at www.shootingrangesintl.com.
T1 SERIES FROM TOOL LOGIC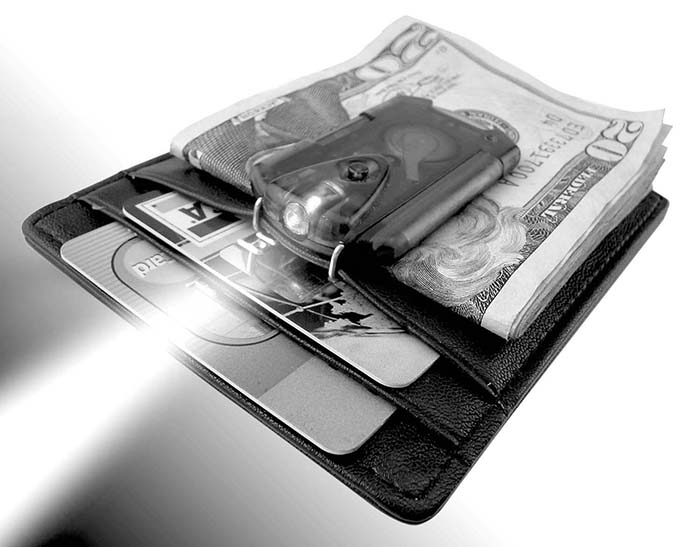 Tool Logic, the innovator in pocket sized Atool boxes has now introduced three new products in what they call their T1 Series. These three new products combine several tools in a pocket sized unit that can be carried without adding hardly any bulk to items that you already carry with you everyday. The first is called the Tech Light and contains a white light LED flashlight, precision screwdrivers, a screwdriver socket, ball point pen, a keyring attachment and also a detachable clip. This new product can be clipped to a pocket, hat bill or other item to provide light just where you need it or attached to a keyring to illuminate a dark car interior or lock. Actual size is just 2 inches long and it weighs a mere 0.4 ounces. The second new product is the T1 Series Business Card. This product is more in line with several other of Tool Logic's existing products. It is an ultra-slim business card sized unit which contains a precision pair of scissors, letter opener, nail file, precision screwdrivers, ball point pen, sewing needle, tweezers, toothpick, ruler and also a detachable clip. The final product in the T1 Series is the Leather ID Wallet. It is the perfect companion to the other T1 Series tools. The custom made ID wallet holds a T1 Business Card with or without the clip for easy carry. This wallet is designed to hold a driver's license and several credit cards in addition to the T1 Business Card. By putting the T1 Business Card into it with the clip on the outside it is converted into a money clip. The wallet is just 4 inches by 3 inches and weighs just 0.7 ounces. For more information on these new products as well as Tool Logic's extensive line of other mini tool products please contact Tool Logic Inc., Dept. SAR, 2290 Eastman Ave., Suite 109, Ventura, CA 93003. Phone: 1-805-339-9725. Fax: 1-805-339-9712. Their website is www.toologic.com.
This article first appeared in Small Arms Review V7N11 (August 2004)