By Chris Choat
KEL-TEC ANNOUNCES THE SU-16D PERSONAL SECURITY RIFLE
The SU-16D is a gas operated, semi-automatic rifle in 5.56mm NATO caliber. The barrel and chamber are chrome lined. These new "Delta" model rifles are intended as a personal weapon for non-infantry military personnel, special operations, SWAT law enforcement, and civilians in high risk environments. The SU-16D is especially suited for low intensity urban combat such as ambush response from inside a vehicle or fighting in confined spaces. The concept of replacing the pistol with a carbine in military units is not new. The intermediate power 5.56mm round and modern polymer materials make it possible to achieve a weapon of a size and weight only marginally larger than a service pistol. The SU-16D has a conventional gas piston operation and utilizes the proven "16" breech locking system. The reciprocating bolt handle also functions as a case deflector. The rear sight is zeroed at 250 meters and is adjustable for windage. The front sight is of the 16 type. Two integrated Picatinny rails will accept a multitude of standard accessories. Except for barrel, bolt, sights and mechanism, the SU-16 is made entirely of high impact, glass fiber reinforced polymer. The SU-16D can be disassembled for cleaning and inspection with only a cartridge as a tool. The SU-16D accepts any magazine that will fit the AR-15/M16 and weighs only 4.7 pounds loaded with 30 rounds. Folded length is less than 20 inches. The SU-16D is currently available in two models; the D9 and the D12. The SU-16D12 has a longer barrel for higher velocity and can also accept a standard "9" bayonet, or more appropriately, Kel-Tec's light weight, folding bayonet. For more information contact Kel-Tec CNC Industries, Inc., Dept. SAR, 1475 Cox Road, Cocoa, FL 32926. Phone: (321) 631-0068. Fax: (321) 631-1169. They can be located in cyberspace at www.kel-tec.com.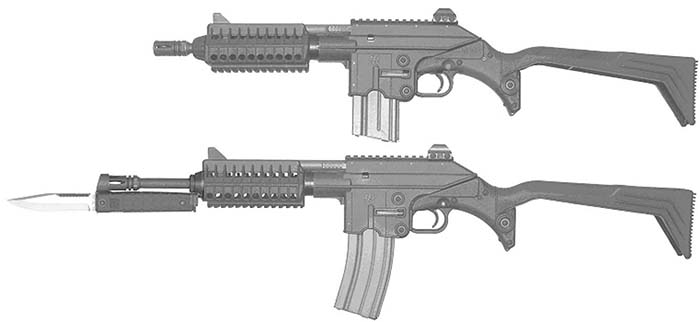 FOBUS USA/FIRST SAMCO NOW OFFERS AK 47/74 RAIL HANDGUARDS
Fobus USA, a division of First Samco, is now offering a new rail system handguard for the AK 47/74 style rifle and variants. The new handguard features upper and lower halves. The upper handguard is designed to provide a rigid ultra-light platform on which to mount virtually any mission specific accessory. The lower handguard has two mini forward Picatinny side rails and a hull length lower rail. The new handguards will mount any Weaver or Picatinny accessories. They are manufactured from reinforced plastic composite. The new handguards are available in your choice of three colors: black, OD green or tan. No gunsmithing is required to mount the handguards but some minor fitting might be necessary as there are many variations in the weapons themselves. The new handguards are super light and, as all the Fobus products, they carry a full Lifetime Warranty. This is the latest addition to an extensive line of holsters, handguards, rail systems and other fine firearm accessories. For more information contact Fobus USA/First Samco Inc., Dept. SAR, 1300 B-3 Industrial Hwy., Southampton, PA 18966. Phone: (215) 355-2621. Fax: (215) 322-9223. They can be found on the web at www.fobusholster.com.
NORTHERN LIGHTS TACTICAL INTRODUCES TRACS REMOTE TARGET SYSTEM
Northern Lights Tactical announces the TRACS remotely operated vehicle system. TRACS is the most flexible target platform and tactics training tool ever created for police, S.W.A.T, civilian, and the military. Designed to emulate the unpredictable actions of live targets, TRACS has everything you would want in a moving target platform. Instructors operate the system by radio control. Fully armor-plated with four-wheel drive, TRACS is capable of traveling as fast as a running man over a wide variety of terrain. Rugged, powerful, and portable with an operating range that exceeds 500 yards. Completely variable movements make TRACS far superior to any wire-based, track-based or pneumatic target system. Various accessories can be added to allow for tactical applications at a significantly lower cost than high-end bomb robots. Camera systems, payload delivery, remote triggers, paintball guns, and remote sensing modules can be added to the base unit. Developed as a base ROV platform, TRACS can be adapted to customer's specific mission requirements. For more information, please contact Northern Lights Tactical, Dept. SAR, 210 The Village, Suite 203, Redondo Beach, CA 90277. Phone: (310) 376-4266. Their website is www.northernlightstactical.com.
FALCON INDUSTRIES INTRODUCES FULL-COVER RAIL COVERS
Falcon Industries now offers a comprehensive line of full size rail covers for AR-15/M16 rifles with rail system forearms. The new rail covers are designed to clip directly onto any Picatinny rail configurations and will be marketed under the Ergo Grip trademark. They form a full cover handguard and rail protector that protects the unmounted rail areas from damage as well as the shooters hands from the uncovered rails. Falcon makes these rail covers available in 16 different configurations. The rail covers come in three sizes. The small size covers 5 slots, the medium covers 10 slots and the large covers 15 slots. The large size is also available in a diamond pattern. All these covers are manufactured in four standard colors: black, coyote brown, dark earth and OD green. Falcon will also make the rail covers in special custom colors for OEMs. Falcon Industries manufactures an extensive line of precision ergonomically designed grips and accessories for tactical rifles which include AR-15/M16, AK, FAL, HK and also 1911 pistols. For more information, please contact them at Falcon Industries, Dept. SAR, P.O. Box 1690, Edgewood, NM 87015. Phone: (505) 281-3783. Fax: (505) 281-3991. Their website is www.ergogrips.net.
SIGARMS INTRODUCES THEIR NEW CONCEALED CARRY COAT
SigTac, the SIGARMS Tactical Apparel Company, uncovers their Black Concealed Carry Coat. With the help of law enforcement, military officers and Special Ops, SigTac has tailored this garment to offer high performance and their professional standards, on and off duty. The new SigTac Black Conceal Carry Coat is a strategic addition to the SigTac tactical line. Made of 100% heavyweight cotton canvas and set off with a smooth nubuck leather collar, this coat is sturdy and stylish – a perfect fit for everyday wear. Lined with warm 300-gram anti-pil fleece, and lightly garment washed, comfort and easy movement will never be an issue. For added protection, the SigTac Concealed Carry Coat features ambidextrous internal pistol pockets for concealed carry of even large framed pistols such as the P220 or the GSR 1911. The SigTac Concealed Carry Coat is available through local firearms dealers or online at www.SIGARMS.com and comes in Black (and also Tobacco Brown) in sizes Small to XXXL. For more information, please contact SIGARMS, Inc., Dept. SAR, 18 Industrial Drive, Exeter NH 03833 or the SIGARMS Hunting Division, 22 Marin Way, Suite 2A, Stratham, NH 03885. Phone: (603) 772-2302. Fax: (603) 772-9082. http://www.sigarms.com.
This article first appeared in Small Arms Review V9N3 (December 2005)