By Chris A. Choat
TAC-LATCH II FOR H&K'S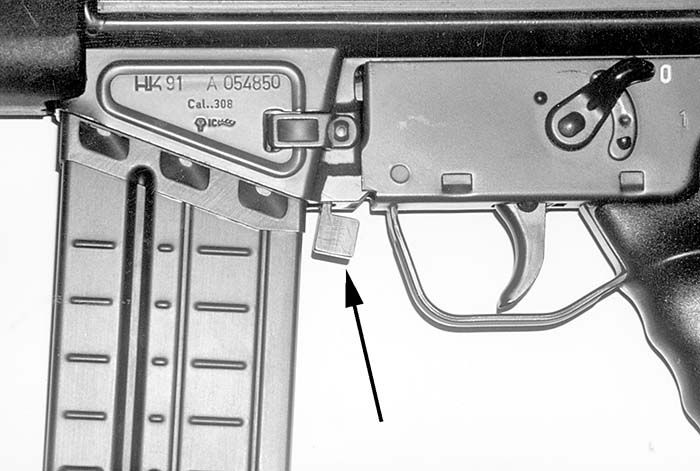 JB Manufacturing is now manufacturing and marketing the Tac-Latch II, a "Do-it-yourself", easily installable magazine release mechanism for the H&K "Black Rifles". The Tac-Latch II is an improved version of the original Tac-Latch introduced in the early 1980's. The Tac-Latch II provides the H&K shooter with a magazine release that can be used with the left hand much like the "flapper" mag release on the full-auto H&K's. The Tac-Latch II is easily installed with only a roll pin punch and a hammer. The installation takes only a few minutes and best of all, the Tac-Latch II is priced at a fraction of the cost of an original H&K mag release plus installation. The only difference in the Tac-Latch II and the original H&K mag release is that the flapper on the Tac-Latch II is pushed to the side instead of forward to release the magazine. The new release is made of solid 1018 steel for years of use and is black oxide coated to match the weapons finish. There is also an anti-rattle spring incorporated into the Tac-Latch II for quiet operation. It comes in two models, one for the 308/223 (G-3,91,53,93) series of guns and one for the 9mm (MP-5,94,SP-89). This new release is made right here in the good ole' USA and carries a lifetime warranty. For more information or to place an order contact: JB Manufacturing, Dept. SAR, 3680 W 4975 S, Roy, Utah 84067. Phone: 1-801-985-3990. Web Site: www.taclatch.com.
PAGER PAL CONCEALMENT HOLSTERS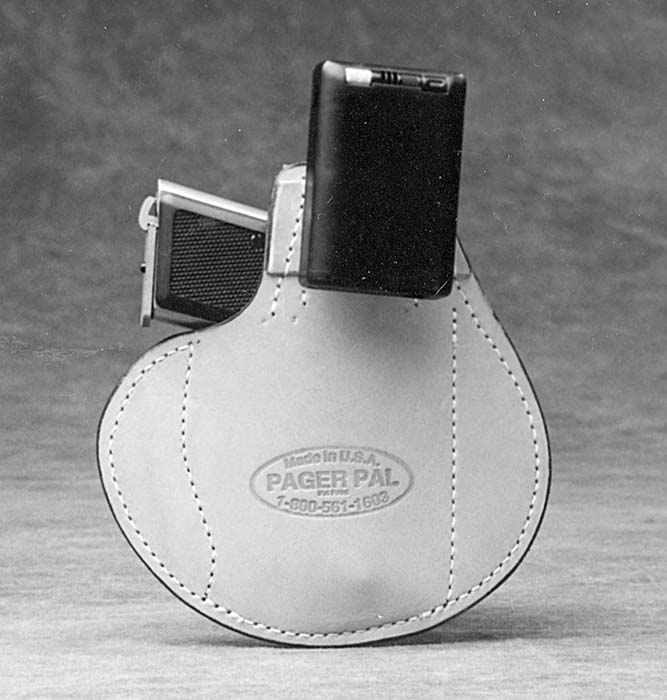 Pager Pal Concealment Systems now has a full line of quality concealment holsters and accessories. Stepping away from traditional holsters that fall short of total concealment, the patented Pager Pal® holster pioneers the art of concealed carry. Hand made with fine leather, the Pager Pal® allows the user to conceal a handgun, dressed any way, without looking armed. It can be worn without a coat, jacket, untucked shirt or obvious fanny pack. With this holster you can even go without a shirt. The holster can be worn comfortably either sitting or standing. The Pager Pal® offers the utmost in versatility. Your real pager or six interchangeable accessories can be easily attached to the base holster. Accessories include a mini maglight case, knife sheaths available in 4 1/2" and 5 1/2" sizes, leather pager case, simulated pager, badge clip and an eyeglass case. The Pager Pal® is available in sizes for small, medium and large frame handguns, either black or tan finish and right or left-hand draw. Other holsters are available which include the Pant Pal® and the Belt Pal®. For more information contact: Pager Pal Concealment Systems, Dept. SAR, 200 West Pleasantview, Hurst, TX 76054. Phone: 1-817-285-9888. Fax: 1-817-285-8769. They can also be contacted on the web at www.pagerpal.com.
STARLIGHT GUN CASES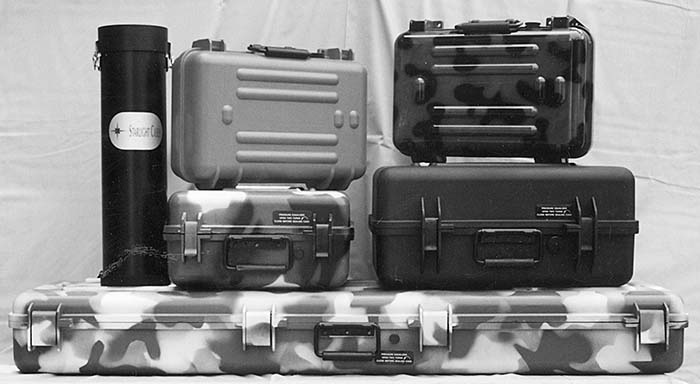 What has conquered the salt, sand, dust and temperature extremes of Desert Storm, survived a drop from a five story building with only a scratch, and refused to be crushed under the weight of a HUMVEE or a MK 113 ARMORED TANK? Starlight Gun and Equipment Cases!! Touted as the worlds' finest cases, these specialized, state of the art containers will protect your valuable weapons, optics, medical instruments, cameras and laptop computers. These cases are specially formulated from a high-density polymer resin for optimum strength. They feature user configurable "Hex-A-Pluk" high-density foam inside to custom fit each case to the users particular item. Other features include an airtight, watertight "O" ring seal on the lids to keep out the environment, spring loaded unbreakable padded handles, removable, hinged lid divider shelf and shoulder strap fittings. The cases also have an air pressure equalizer valve and are watertight to 400 feet! All this and they float too. Cases are available with a floating capacity of up to 175 pounds. All Starlight Cases are rust and corrosion proof, dent proof and are virtually indestructible. The cases are available in five sizes as well as four tubular models for scopes or fishing rods. They come in black, OD green and jungle and desert camo. Other colors are available with minimum order requirements. They are also guaranteed for LIFE. For more information on Starlight Cases contact; New Innovative Products, Inc., Dept. SAR, 2180 Hwy 70A East, P.O. Box 118, Pine Level, NC 27568. Phone: 1-919-965-8643. Fax: 1-919-965-9177. On the web at www.starlightcases.com.
"PLUG" YOUR GLOCK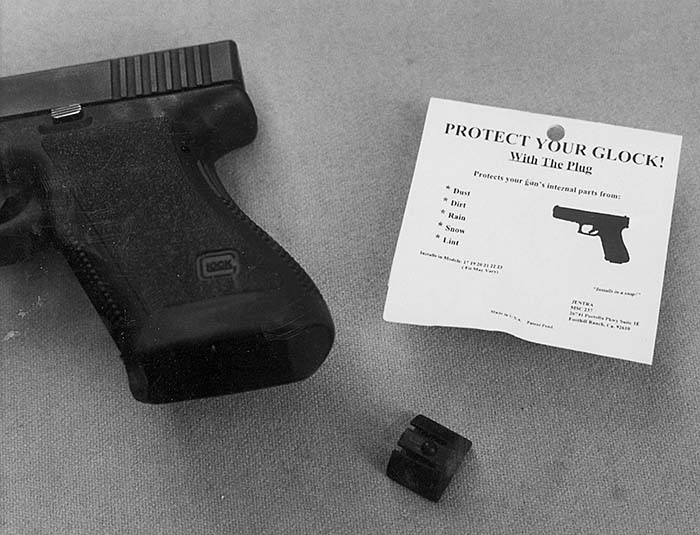 There is now a product that will protect your Glock handgun's internal parts from dust, dirt, rain and any other miscellaneous gunk that might cause a malfunction. The new product is called the "Plug" and it snaps into the cavity at the bottom rear of the grip. As many Glock shooters already know, this cavity is actually a hollow tunnel that goes straight through the grip to the underside of the slide. This simple new product plugs that tunnel thus keeping all miscellaneous debris from ending up in your guns sear plate, return spring and firing pin. The plug also makes the gun more "snag free" by closing the cavity. The "Plug" simply snaps into place and locks into the small hole at the rear of the grip. The plug can be removed with a ballpoint pen. The "Plug" is made from a DuPont® plastic called Hytrelr and will last virtually forever. It has a textured finish that matches the Glock finish perfectly. At a retail price of $6.95 what have you got to lose? For more information contact; Jentra Manufacturing, Dept. SAR, P.O. Box 237, 26741 Portolla Parkway, Suite 1E, Foothill Ranch, CA 92610. Phone: 1-714-699-3843.
LOW COST AMMO FROM PARAGON
Dale Thomas, President of Paragon Sales Inc., has just informed Small Arms Review that they have a new shipment of low cost .303 ball ammo for the full-auto enthusiast. The ammo is non-corrosive, with slightly higher than normal pressure, making it suitable for the 1919 Browning machine gun or semi-version only. This clean, surefire ammo is packed loose, 1000 rounds per case and priced at $125.00 per 1000. They also have .303 ball ammo on Vickers belts. This ammo is original British WWII ball packed 250 rounds per tin and 500 per case, on 250 round Vickers belts. It is also clean and surefire priced at $85.00 for 500 rounds; $169.95 per 1000 rounds. Prices include shipping to most states. For more info or to place an order, contact Paragon Sales Inc., Dept. SAR, P.O. Box 2022, Joliet, IL 60434. Phone: 1-815-725-9212.
This article first appeared in Small Arms Review V2N5 (February 1999)