By Chris Choat

1911 COMPACT LASERGRIPS® FROM CRIMSON TRACE LIGHT THE NIGHT

Classic design combines with 20th century technology to give you an alternative sighting method for your 1911 compact that allows repeatable pinpoint shot accuracy and easy activation. Simple to install and sight-in, this straightforward design boasts finely tuned dual activation pads for immediate target acquisition. State of the art construction combines smooth, snag-free side panels with a rubber overmold finger groove adding an extra level of comfort and reduced recoil. A master on/off switch is built in for complete system over-ride, and Lasergrips are fully adjustable for windage and elevation. The new Lasergrips will fit all Colt, Kimber and Springfield 1911 style compact pistols. For more information contact Crimson Trace Corporation, Dept. SAR, 8089 S.W. Cirrus Drive, Beaverton OR 97008. Phone: 1-503-627-9992. Fax: 1-503-627-0166. They are on the web at www.crimsontrace.com.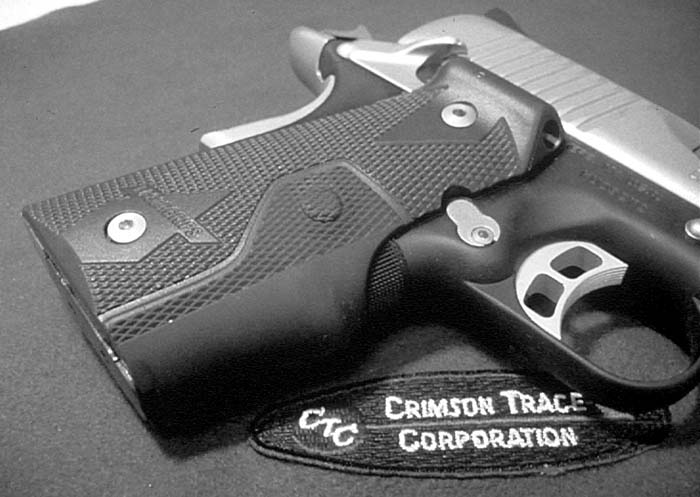 LIGHTWAVE ILLUMINATOR™ HEAD TORCH

Lightwave of Laguna Hills, CA announces the introduction of a brand new kind of head torch, the solid-state Lightwave Illuminator™ Portable Lighting System. Like no other head torch, the Lightwave uses four super-bright white light emitting diodes (LEDs) that have a typical life of over 1000,000 hours. This is over 11 years of continuous usage (with battery change). The Lightwave Illuminator also has a specially designed printed circuit board to control the flow of voltage from the three AAA alkaline batteries. This means that the batteries powering a Lightwave Illuminator head torch will last 14 times as long as those powering a regular head torch. In fact, leaving a Lightwave Illuminator on for 336 hours, continuously, Lightwave's engineers could still read a newspaper using only the light output from the Lightwave Illuminator. The Lightwave Illuminator weighs only 5 ounces and with batteries still only weighs less than 7 ounces. The light is waterproof to several feet so rain etc., is no problem. This makes it a good choice for camping, fishing and other outdoor activities. The Lightwave is also shockproof and there is no spark, caused by a breaking filament, if you happen to drop it. This makes it a great choice for miners, oil field workers and others where sparks can cause a big problem. The light can be dropped onto hard surfaces from 10 feet and the LEDs will not break and the light will still function normally. Except for batteries and abuse the light is warranted for 5 years. The super-bright white LEDs are visible for over one mile and are so bright that you almost have to be careful looking directly into them. Manufacturers suggested retail price is $39.95. Foe more information contact LightWave, Dept. SAR, 24702 Kim Circle, Laguna Hills, CA 92653. Phone: 1-949-462-9065. Fax: 1-949-859-7581. On the web at www.longlight.com.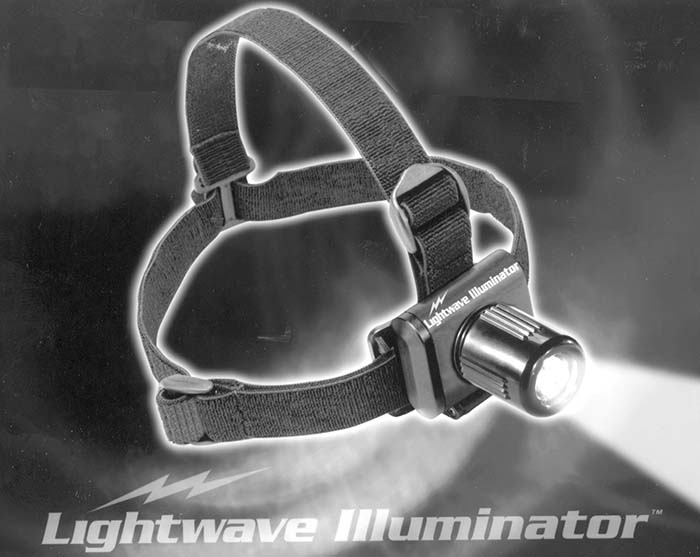 KENWOOD FREETALK FAMILY RADIOS

Taking personal communications to a new level of convenience, style, and economy, Kenwood Communications has introduced FreeTalk? EL, its smallest, least costly, family 2-way radio. Offering both the operating range and channel capability of more expensive FRS radios, the new FreeTalk EL (Model UBZ-AM14) offers an illuminated LCD display, volume and status indicators, automatic battery saver function, ring tones, and other popular features. Offered in black and fashionable translucent blue, the radios have a suggested list price of $114.95 per pair. As with all FreeTalk radios, airtime for sending and receiving messages is always free. "Family radios are the easiest and least costly way for people to keep in touch over short or moderate distances," said Chris Ryg, Consumer Sales Manger. "It's easy to see why they have quickly become the most popular 2-way radios for use by the general public." The new FreeTalk EL, with a range of up to two miles, allows conversations to be conducted on any of the 38 "talk groups" available on each of its 14 channels. The radio's LCD display is lighted, providing good visibility at night or in darkened rooms. The display shows which channel and talk group is in use, whether the radio is sending or receiving a signal, and at what level the speaker volume is set. Volume is set with a 32-step control. All radio controls and settings are operated using push-buttons. The radio's small size and ergonomic design allow for convenient one-handed operation by children as well as adults. Any number of people can participate in conversations on the same channel, and FreeTalk EL may be used with other FRS radio from Kenwood and other companies. As with more expensive FRS radios, the FreeTalk EL allows users to contact each other either by voice or by sending a ring tone. To conserve power, the radio has a battery saver function that switches the receiver on and off at predetermined intervals. The radio, which sounds an alert tone when the battery level is low, operates on four AAA-size batteries, providing 30 hours of operation under typical usage patterns.Among the smallest FRS family radios available from any company, the FreeTalk EL measures a mere 3-3/4" tall, 2-1/4" wide, and less than 1-1/4" deep. It is equipped with a fixed, low-profile antenna and belt clip. An instruction manual is packaged with each pair of radios, which carry a 90-day warranty. For more information contact Kenwood Communications, Dept. SAR, Technology Park at Johns Creek, 3975 Johns Creek Road, Suwanee, GA 30024. Phone: 1-800-950-5005. The company's web site is www.kenwood.net.

TAC-JAC 2001

Ridgeline , Inc., has just introduced their incredible Tac-Jac 2001. This quality made, heavy duty jacket was designed primarily for special operations, tactical deployment and undercover operations where the law enforcement/military professional is required to carry a wide variety of equipment including weapons, communications and other necessary items. The Tac-Jac 2001 has many special features for concealed carry where the professional must blend in with the environment. As such it is designed with a sporting look however is reinforced for maximum load bearing. It is made from the finest, most durable cotton/nylon blend for the utmost in comfort, wear and convenience. It is heavy enough for cold/inclement weather wear and also for wear in hotter climates where body armor may also be necessary. The sleeves zip out for comfort and all pockets, both interior and exterior, are easily accessible. The Velcro quick draw flaps located at the waist on the right and left sides are designed for rapid side arm deployment, as are the two interior weapons pockets. Other features of the outstanding Tac-Jac 2001 include rear shoulder yoke with pull down ID flap, Velcro epaulets, 2-flap shotgun shell pockets with retainer, dual closure snaps, heavy duty zipper with pull tag, long 3 inch elastic cuffs, map pockets, pull-down badge holder, gear pockets and elastic secured magazine pouches. The Tac-Jac 2001 is available in medium, large, x/large and xx/large in regular, long and extra long lengths. It can be ordered in either black, khaki and green. For more information contact Ridgeline, Inc., Dept. SAR, 101 Ridgeline Drive, Westcliffe, CO 81252. Phone: 1-719-783-4161. Fax: 1-719-783-4162. They are on the web at www.pro-ears.com.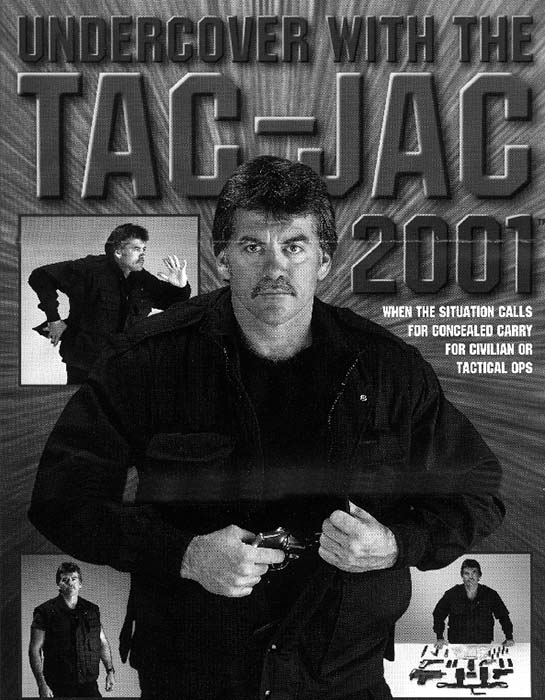 SAR 21: ASSAULT RIFLE FOR THE 21ST CENTURY

Singapore Technologies Kinetics is the land systems arm of Singapore Technologies Engineering. As a world-class integrated land systems group, S. T. Kinetics provides design and engineering services for military vehicles, weapons systems ammunition is ranging from manufacturing, upgrading, prepared to maintenance and life-cycle management. It also provides components and subsystems design and development, and laboratory and industrial test services. Singapore Technology Kinetics has now introduced the S. A. R. 21 assault rifle. The SAR 21 is a world's latest and most advanced combat rifle. Designed and manufactured by ST Kinetics, the SAR 21 was first introduced to the public in September 1999 in Singapore. It then quickly made its international debut at the Defense Systems Equipment International 99 show in the UK and is now set to make waves in the international arena. Gunning for any industry first, the SAR 21 boasts many outstanding features and state-of-the-art technologies integrated into one rifle. Built on the "Bull-Pup" design with extensive use of high strength engineering plastics and composites, the 5.56 caliber gas operated assault rifle is 20 percent shorter, more compact and lighter in weight compared to an equivalent M-16, it's widely used U.S. counterpart. Perfectly balanced with ergonomic design and very low recoil, the SAR 21 is ideally suited for the modern combat infantryman. It's integrated 1.5X optical scope eliminates the need for zeroing to suit different users while enabling quick and accurate aiming. For low light conditions, its built-in laser aiming device with infrared or visible red dot option, offers almost instant reaction capability. In addition, the aiming sight located above the optical scope provides a backup combat site for the soldier. For added protection, the SAR 21 has incorporated patent-pending safety features, like a high-pressure vent hole at the barrel extension and a composite plate at the cheek arrests. Both features prevent the user from sustaining serious injuries in the unlikely event of the chamber explosion. The former feature provides an outlet to release the high-pressure while the latter shields the user from the explosion. The SAR 21 is easily disassembled without the use of tools. It breaks down into four major groups, the barrel group, bolt group, upper receiver group and lower receiver group. There are four variants of the SAR 21. The SAR 21's modular construction is highly adaptable for various operational requirements and its variants come with a high commonality of parts, providing cost savings in logistics support, training and spare parts requirement. The new variants include the SAR 21 Light Machine Gun, the SAR 21 with 40 mm Grenade Launcher, the SAR 21 P-rail and the SAR 21 Sharp Shooter. The SAR 21 Light Machine Gun features a heavy barrel, bipod and open bolt firing system. The SAR 21 Light Machine Gun was developed as a section assault weapon. The SAR 21 can also be fitted with 40 mm Grenade Launcher with a 9 inch barrel. The laser aiming device is mounted on the quadrant platform for quick accurate target acquisition. This configuration serves to add firepower to the modern combat infantryman. The SAR 21 P- rail has a sight mounting platform in place of the integrated optical scope. This variant offers the flexibility of integrating other sighting systems according to the users needs. The last model, the SAR 21 Sharp Shooter, has a 3X optical scope in place of the 1.5X optical scope. The SAR 21 is gas operated with a rotary bolt. It offers both semi and full-auto fire with a cyclic rate of between 450 to 650 rounds per minute. It is fed by a 30 round box magazine and standard accessories include magazines, rifle cleaning kit and rifle sling. Optional accessories include the laser aiming device, blank firing attachment and bore sighting equipment. For more information contact Singapore Technologies Kinetics, Ltd., Dept SAR, 5 Portsdown Road, Singapore, 139296. Phone: (65) 473-6311. Fax: (65) 471-0662. Their web address is www.stengg.com.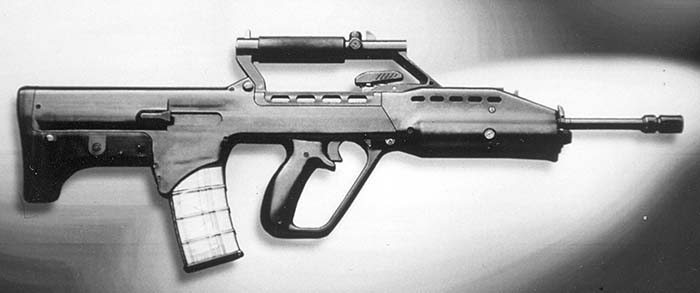 This article first appeared in Small Arms Review V4N5 (February 2001)