By Chris Choat
New Tactical Handguards for HK Series Rifles from JLD Enterprises
JLD Enterprises, Inc., makers of the PTR-91 series of rifles, is now introducing a new line of tactical handguards to fit various HK and similar series rifles. The new handguards are made from aluminum and are available in black and OD green. The handguards feature threaded "hardpoints" at the 3, 6 and 9 o'clock positions that accept Picatinny rails in different lengths. The rails are also available from JLD and come in 1-3/4, 3 and 6 inch lengths. At this time, 2 models will be available: one to fit the HK 93, 33 and PTR-91K, and a longer model to fit the full size G3, 91, Cetme and PRT-91 rifles. The new handguards require no gunsmithing and provide a rock-solid mounting platform for optics, lights, lasers and forward vertical grips. For more information of these new tactical handguards, please contact JLD Enterprises, Inc., Dept SAR, P.O. Box 562, Unionville, CT 06085. Phone: (860) 676-1776. Fax: (860) 676-1880. They can also be contacted via the internet at www.jldenter.com.
Pelican Introduces Desert Tan Color Cases
Pelican Products, a leading manufacturer of high-impact watertight cases, has worked with the US Military to develop desert tan colored versions of their world-renowned Protector cases. All Pelican cases, including the desert tan, have been MIL-SPEC tested in conjunction with the U.S. military, which approved and helped match the color to exact standards. Pelican Protector Cases offer a fully stackable design, boasting nearly 14,000 cubic inches of possible storage space in the largest cases. To ensure easy and immediate access, the cases also feature double-throw latches that have been tested to 400 pounds, but open with a light pull. For added security, stainless steel reinforced padlock protector holes are included on most models. Like all Pelican Protector Cases, the cell-core construction helps protect sensitive equipment in some of the most extreme conditions on Earth. Additional standard features include a lid equipped with a polymer o-ring for a dust and waterproof seal, and a moisture-fighting, pressure-balancing, automatic Gore-Tex purge valve. Proprietary customizable Pick N' Pluck foam is also standard in most Pelican Protector Cases. Of course, Pelican Cases can also be spotted by the distinctive, trademarked "Dual Band" design. Optional features include TSA-approved security padlocks, multi-pocketed lid organizers as well as single and dual-level padded divider sets. As with all Pelican products, the cases are backed by a Legendary Lifetime Guarantee of Excellence: "You Break It, We Replace It…Forever." For more information please contact Pelican Products Inc., Dept. SAR, 23215 Early Ave., Torrance, CA 90505. Phone: (310) 326-4700. Fax: (310) 326-3311. They can be found on the web at www.pelican.com.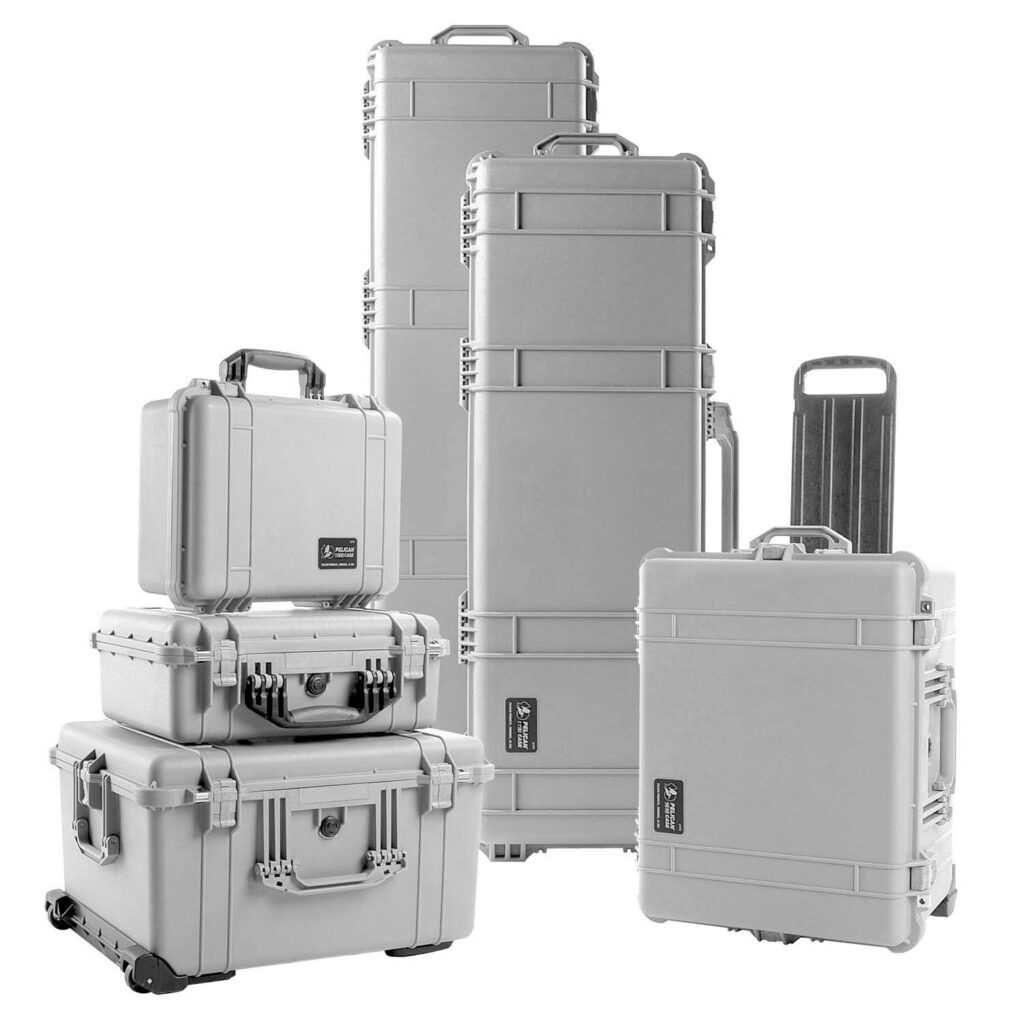 Magtech Introduces 3 New Calibers for First Defense Series
Magtech Ammunition, Inc., a manufacturer and distributor of ammunition products, introduces three new handgun calibers for Magtech First Defense personal protection ammunition. In 2004, Magtech introduced the first three calibers of the Magtech First Defense ammunition series for law enforcement and personal defense: 9mm Luger, .40 S&W, and .45 Auto. For 2005, Magtech adds three more options to their ultimate personal protection ammunition: .357 Magnum, .38 Special, and .380 Auto. Magtech First Defense rounds are designed with a 100% copper bullet, unlike other traditional hollow-point ammunition containing a lead core covered by a copper jacket. With this solid copper construction, First Defense bullets have no jacket to split or tear away, ensuring controlled expansion and penetration. For the past 75 years, Magtech Ammunition has been using the highest quality materials, cutting-edge manufacturing technology and state-of-the-art equipment to provide the shooting industry with exceptional standards for ammunition manufacturing and distribution. Each round is designed and constructed to meet SAAMI and CIP technical specifications for reliability, consistency and safety. For more information on Magtech First Defense ammunition and other products offered by Magtech, contact: Magtech Ammunition, Inc., Dept. SAR, 6845 20th Avenue South, Suite 120, Centerville, MN 55038. Phone: (800) 466-7191. Their website is www.magtechammunition.com.
Remington Introduces the New 870P MAX Shotgun
Remington now swings the pendulum even further on its 870P Police shotgun line offerings. The new 870P MAX carries maximum features for tactical shotgun applications. The buildup starts with the standard 870 Police parkerized 18-inch barrel shotgun. They've included the Davis Speedfeed IV-s 13-inch LOP full pistol grip buttstock for ease of handling and comfort while wearing a vest. (The stock is 1 inch shorter than a standard full length stock). Next is the Wilson Combat/Scattergun Ghost Ring sight system that includes the XS interchangeable front sight. This system also allows the user to remove the rear sights and put on a low profile front bead for instant bead sight acquisition. Last but not least is the Surefire Tactical fore-end flashlight with momentary & toggle switch ON/OFF application. Other features include Remington's new R3 recoil pad to lessen the felt recoil of full load buckshot and slugs as well as provide a quicker second shot recovery. This new 12 gauge shotgun also features a dark black parkerized finish. For more information, please contact Remington Law Enforcement & Government Sales Division, Dept. SAR, 870 Remington Drive, P.O. Box 700, Madison, NC 27025-0700. Phone: (336) 548-8899. Fax: (336) 548-8798. Their web address is www.remingtonle.com.

Du-Lite's New Kwikseal Firearm Lubricant
Since 1955, Du-Lite has been manufacturing and providing Kwikseal to many of the world's most prestigious firearm manufacturers. Winchester, Sturm Ruger, Kimber, Thompson Center Arms, Henry's Repeating Rifles, U.S. Firearms, Dakota Arms, Charter Arms, Barrett Firearms and Colt all rely on Kwikseal to protect their firearms while at the factory in storage and during shipment to their dealers. Due to recent consumer interest, Kwikseal is now available in 3.5 and 14 oz. non-aerosol pump cans. This new packaging makes Kwikseal both a safer and more economical alternative to pressurized cans currently in use by their competitors. Kwikseal provides superior protection against the corrosive conditions of salt water because of its waxing agents. Waterfowl, small and big game hunters all have found Kwikseal to provide the best protection available. It displaces moisture and seals metal parts. In storage, Kwikseal won't evaporate or migrate down vertically stored firearms. Waxing agents in the oil adhere to the metal providing a barrier to protect against rust and corrosion. Repeated applications will not build up or laminate as other products do. Newly applied Kwikseal contains a solvent which dissolves the existing layer and creates a new barrier of protection lasting up to 18 months. For more information on this revolutionary product, please contact Du-Lite Corporation, Dept. SAR, 171 River Road, Middletown, CT 06457. Phone: (860) 347-2505. Fax: (860) 347-9404. Their website is www.dulite.com.
This article first appeared in Small Arms Review V9N5 (February 2006)