by Chris Choat
TWO NEW PRODUCTS FROM BARRETT FIREARMS
Barrett Firearms has just announced two new products. The first is their new Barrett Brand ammunition. The initial offering is designated Barrett M33 Ball and is manufactured exclusively for Barrett by Israel Military Industries, Ltd. This ammunition is built with all milspec components using the latest technology in military ammunition manufacturing. The ammunition is packed in 10-round plastic field packs and then in 80-round fiberboard cases. The ammunition carries the new Barrett headstamp "Barrett .50". Barrett ball ammunition brings to the shooter high quality ammunition at a reasonable price. Those interested should visit the Barrett web page or contact their local FFL dealer for pricing and availability. Manufactured to milspec, the new ammunition features a 661-grain FMJ projectile loaded to 2,910 fps using 233 grains of WC860. Barrett has also just released a new knife that will be added to their accessory line. The new knife is called the Barrett M50 and is a custom and proprietary design by Ernest Emerson made especially for Barrett. The knife reflects the Barrett rifles strength, quality, durability and commitment to excellence. This knife will provide owners with a hard-use cutting edge that will last a lifetime. The Barrett M50 features a straightedge black blade with the Barrett and Emerson logo. The M50 retails for $195 plus shipping and handling. The first 250 knives will be their "Signature Edition" designated the "M50 SE" and signed by Ronnie Barrett. These signature edition knives will be serial numbered 1 to 250 and will only be available directly from Barrett via their web page. This highly collectable knife is priced at $275 plus S&H. All of the Barrett M50 series knives have a black straightedge blade and side pocket clip. The new knife is 4.9 inches closed, 8.5 inches open and weighs just 4.65 ounces. The blade is made from 154CM High Carbon Stainless Steel and the scales are made from G-10 Epoxy Resin Laminate. For more information contact Barrett Firearms Manufacturing, Inc., Dept. SAR, P.O. Box 1077, Murfreesboro, TN 37133; phone: 1-615-896-2938; fax: 1-615-896-7313; website: www.barrettrifles.com.
2004 SHOOTER'S BIBLE® NOW AVAILABLE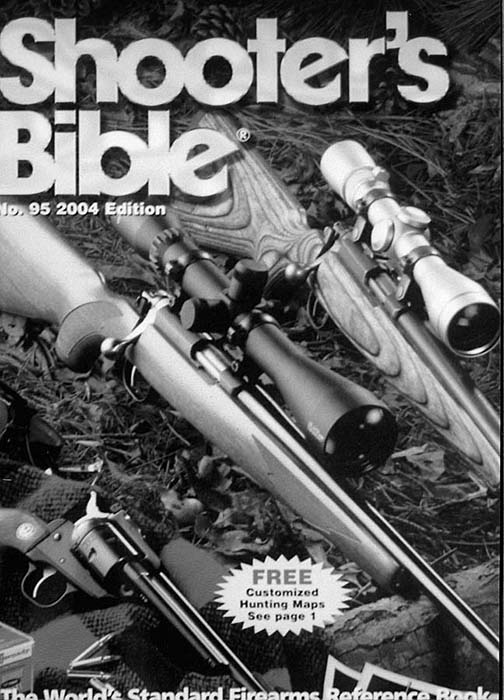 Stoeger Publishing is pleased to announce the availability of the 2004 Shooter's Bible. This reference guide has served North American sportsmen since 1924, providing them with the most comprehensive reference guide detailing new products, specifications of firearms, optics and ammunition as well as up-to-date prices on firearms and related equipment. The 576-page reference guide continues the tradition of providing technical information on not only the newest products to hit the market, but also on those that have been around for years. In addition to the technical specification, The 2004 Shooter's Bible includes feature stories from renowned historians and gun authorities. Wayne van Zwoll, nationally known gun writer has complied and edited the technical section of the book as well as included two feature stories in this valuable reference guide. Other noted outdoorsmen and writers such as Keith Sutton, Stan Warren, Kenneth Smith-Christmas, John Taylor, Jim Casada, Gene Gangarosa and Bob Campbell share their knowledge with feature stories in this 95th edition of the Shooter's Bible. Available this year in both a soft cover and a Limited Edition hardcover, 2004 Shooter's Bible is a must-have for anyone with an interest in shooting. The 2004 Shooter's Bible hard cover (ISBN 0-88317-274-7) has a suggested retail price of $39.95. The soft cover version (ISBN 0-88317-244-5) has a suggested retail price of $23.95. Both versions are available at local Benelli and Stoeger firearms dealers nationwide, you favorite neighborhood bookstore or online at www.StoegerPublishing.com. For more information contact Stoeger Publishing, Dept. SAR, 17603 Indian Head Highway, Suite 200, Accokeek, Maryland 20607-2501; phone 1-877-GUNBOOK.
GAUGE-MATE, INC INTRODUCES NEW SHELL ADAPTER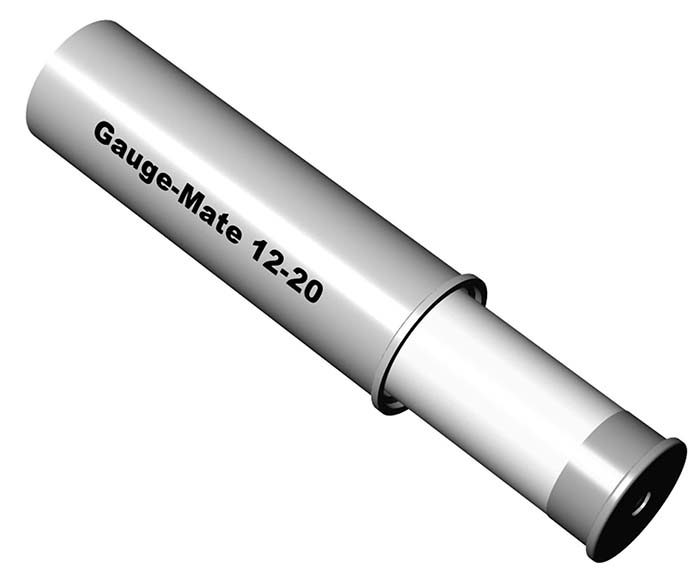 Gauge-Mate, a leader in the gun accessories market, has launched a new line of shotgun gauge adapters. These adapters add versatility, convenience and ease of shooting to your favorite gun, eliminating the need to purchase additional guns, and transforming a single gun into an all-in-one firing powerhouse! Available in eleven sizes from 10 to .410 gauge, Gauge-Mate's patent-pending, gauge adapter tubes allow you to shoot a smaller gauge shell without impacting performance. Use them to lessen the loud, intimidating kick of a larger gauge shells, making your gun ideal for more effective target shooting, for training bird dogs and gun novices, or for teaching gun safety courses. Skeet and trap shoot shooters love them! These unique adapters feature Patent pending Extractor-Grip™ technology that permits quick and expedient spent shell removal. Gauge-Mate's adapters are manufactured from corrosion-resistant stainless steel rather than less durable aluminum or carbon steel that similar products are made from. As a result, these durable adapters are the only ones that handle any size field or target loads as well as environmentally friendly steel shot. Even with these wide-ranging features and benefits, Gauge-Mate adapters are reasonably priced. They can be purchased by calling (800) 709-9910, online at www.gaugemate.com or through various outdoor mail-order catalogs. For more information contact Gauge-Mate, Inc., Dept. SAR, 4952 Windplay Drive #C, El Dorado Hills, CA 95762; phone: 1-800-709-9910; fax: 1-916-941-9368.
FOBUS USA INTRODUCES NEW HOLSTER FOR WALTHER P22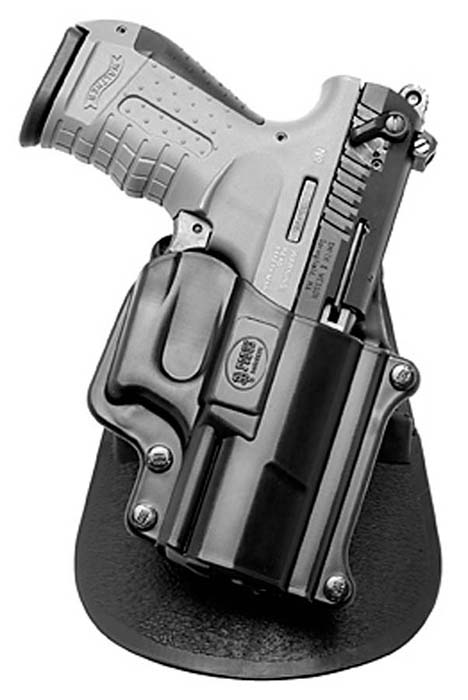 Fobus USA has just announced a new holster for the Walther P22 pistol called the Model WP22. The Walther P22 holster will utilize their unique passive retention system that secures the pistol while allowing instant presentation without the need to disengage mechanical securing devices. The new holster is impervious to hot or cold conditions and is less than half the weight of other holsters at only 1.8 ounces. The WP22 is covered by a lifetime warranty for wear. The new WP22 holster is available in a right-hand paddle configuration. Owners of suppressed P22's also take note. The new holster is open at the muzzle allowing P22's with threaded muzzle adapters to also fit. For more information contact Fobus USA, Dept. SAR, 1300 Industrial Highway, Suite B-3, Southampton, PA 18966; phone: 1-215-355-2621; fax: 1-215-322-9223; website: www.fobusholster.com
NEW "ULTRAVID" BINOCULARS FROM LEICA
Just introduced from Leica is a new line of binoculars that promises to meet or exceed the legendary qualities of all others in the Leica line but in a more compact and lighter weight configuration. The new Leica ULTRAVID binoculars not only out-perform the competition, but set a new benchmark in design and function. They are said to be lighter, brighter, faster and stronger than any other binocular on the market. The new binocular starts with a housing made from light high-grade magnesium. The wall thickness is almost twice that of other binoculars on the market using magnesium, making the Leica stronger and more durable. Each ULTRAVID binocular features enhanced optics with greater contrast and higher brightness by virtue of Leica's High Lux System (HLS) and stray light elimination. Each model of the new binocular is nitrogen filled and waterproof to a depth of 16.5 feet. They also have an extreme operating range from -13º to +131º F. They are also fog proof as well as impervious to the elements. ULTRAVID Binoculars are available in both 42 mm and 50 mm models. The 42mm models are offered in magnifications of 7, 8 or 10 power and the 50mm models in 8, 10 and 12 power. Both models are available in either green or black rubber armor coating. For more information on these as well as the entire line of Leica Optics please contact Leica Camera, Inc., Dept. SAR, 156 Ludlow Ave., Northvale, NJ 07647; phone: 1-201-767-7500; fax: 1-201-767-8666; website: www.leica-camera.com.
This article first appeared in Small Arms Review V7N4 (January 2004)