By Chris A. Choat
NEXT GENERATION OF RADIOS FROM MOTOROLA

Motorola, Inc., announces its latest innovation in two-way radio technology: the Motorola TalkAbout T6000 series, with entertainment, sports, and lifestyle features never before found in a single small device. The Motorola TalkAbout T6000 two-way radio series is unlike any ever introduced to the market, providing a multitude of new capabilities that can help users in navigating their environment. With a range of features including a digital compass, thermometer, altimeter/barometer, weather channel, FM stereo radio and stereo headset, these new two-way radios are the ultimate tool for the rugged outdoorsman or the urban adventurer. Other features of the Motorola TalkAbout T6000 radios include 14 channels with 38 security codes, clock with timer, alarm and stopwatch, hands-free and speakerphone use and drop-in rechargeable battery with drop-in capability. With a range of up to two miles the T6000 series radios are the ultimate communication tool for small groups who want to stay in touch while hiking, biking, snowboarding or just roaming the neighborhood or local mall. The T6000 series of radios are also water, dust and shock resistant. For more information contact Motorola, Dept. SAR, 600 North US Highway 45, Libertyville, IL 60048. Phone: 1-800-353-2729. Fax: 1-501-223-0301. They are on the web at www.motorola.com

GONCZ HI-TECH GENERATION II FIREARMS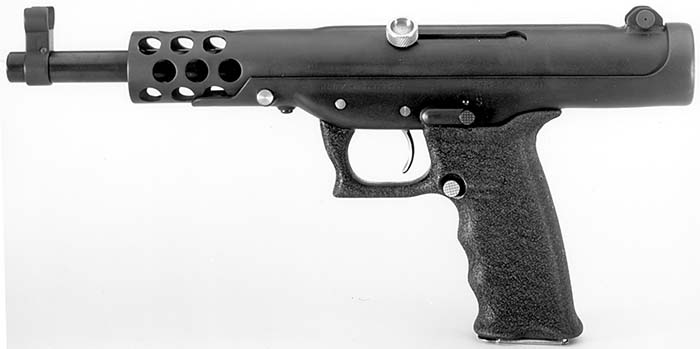 Goncz High-Tech Firearms, designed and developed by Lajos John Goncz, have evolved over a period of 15 years to the point where they are some of the most modern, practical firearms available. The designer set out to develop a single "Gun System" that would replace the combined need of a sidearm and a much larger long gun. The firearm would also be capable of delivering high fire power and superb accuracy at distances up to 150 meters. This system can be equipped with scopes, lasers, lights, sound suppressors, etc. Its compactness, dependability, light weight and controllability are also very important factors to consider. These are arms designed for civilian populace, law enforcement and military. The compact Goncz Hi-Tech Firearm is a semi-auto pistol and carbine for the next Millennium. The pistol incorporates a seven-inch barrel enclosed in a ventilated shroud, micro-adjustable sights, safety and magazine releases on both sides of the frame, a trigger system that directly controls the firing pin (without any independent movement of the firing pin itself), and a telescoping bolt system. The firearm also features a pistol grip that is at the "center point" of balance, thus reducing felt recoil and helps keep the shooter on target during rapid fire situations. The firearm uses a double row, double column feed magazine which comes in 10 round capacity for the civilian market or 19 and 30 round capacity for law enforcement. Other important features of the Goncz Hi-Tech Firearm include safe trigger system, telescoping bolt system and easy disassembly with no tools required. The Goncz Hi-Tech pistols and carbines are available chambered in 9 X 19 mm Parabellum, .45 ACP, 7.62 X 25mm, 9 X 18mm and the new high velocity 5.56 X 18mm. For more information contact Arms Tech, Inc., Dept. SAR, 1125 Magnolia Blvd., North Hollywood, CA 91601. Phone: 1-818-769-6566. Fax: 1-818-769-6583.
NEW "SPIDER" SUPPRESSOR FROM ADVANCED ARMAMENT CORP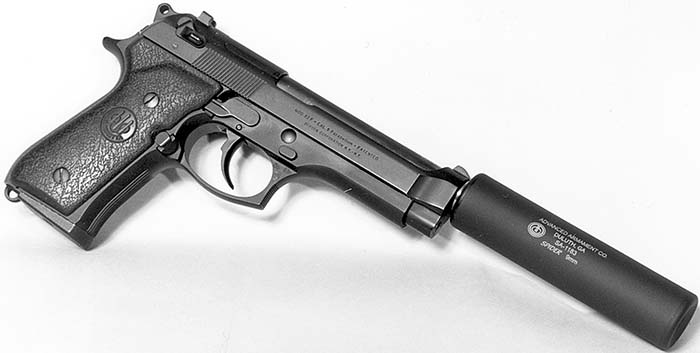 The new "Spider" suppressor from Advanced Armament Corp. is a thread mounted suppressor designed for use on 9mm semi-automatic pistols. Through the use of artificial environment technology, the SPIDER completely eliminates the muzzle flash signature and bothersome first round pop, thus making it equally suitable for use by civilian sport shooters and military/law enforcement tactical users alike. The diminutive size and light weight of the SPIDER enable it to reliably cycle most popular 9mm semi-automatics without incorporating cumbersome and expensive recoil enhancing equipment into the design. As with all Advanced Armament Corp. suppressors, the SPIDER features a stainless steel rear mount to prevent excess thread wear common with all-aluminum suppressors. Constructed of aircraft quality, CNC machined components, the SPIDER is available in a black, hard coat anodized finish. For more information on this and other models of cutting edge suppressors contact Advanced Armament Corporation, Dept. SAR, 221 West Crogan Street, Lawrenceville, GA 30045. Phone: 1-770-277-4946. Fax: 1-770-963-6556. 0n the web at www.advanced-armament.com.

SHARP SLIDER STOCK FOR THE RUGER 10/22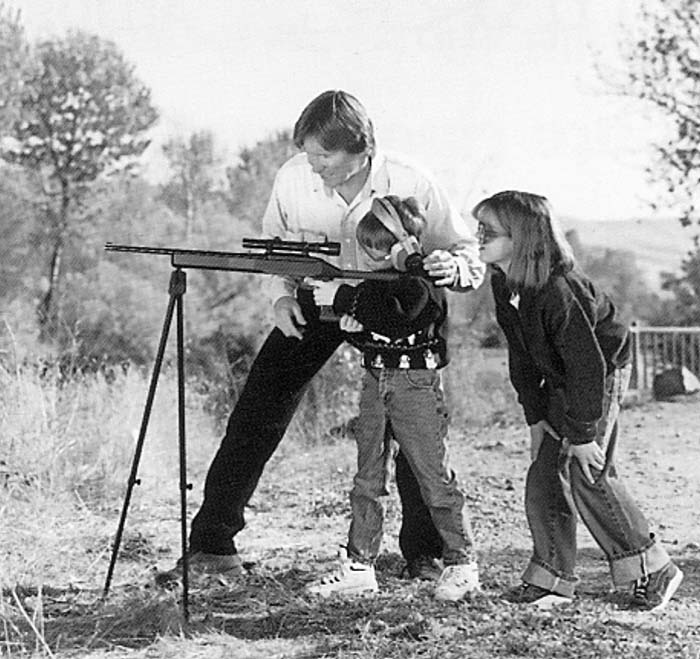 The Sharp Slider was introduced by Sharp Products, Inc., at this years SHOT SHOW. The Sharp Slider is an adjustable stock and bipod system that allows families to customize the popular Ruger 10/22 rifle into a versatile family firearm so that multiple young hobby shooters can learn firearm safety and the proper care and handling of firearms from a very early age. The bipod element of the system attaches to the Slider Stock and supports the length of the adult barreled action, effectively prohibiting dipping and swinging while giving the on site adult total control. Young hobbyists can focus solely on safe handling and technique as they fully grow into a typical adult firearm rather than growing out of several versions of youth rifles. This feature makes the Slider extremely cost efficient for families that have several growing children but still want to share their interests with their children. The adjustable stock telescopes outward to accommodate all growing children as well as extending a quarter of an inch beyond a normal adult stock so that an adult can comfortably assist and instruct children as well as shoot the rifle themselves. The Slider is also ideal for handicapped shooters with special needs because of the support that the bipod offers. For more information contact Sharp Products, Dept. SAR, P.O. Box 81, Nampa, FL 83653-0081. Phone: 1-208-466-7787. Fax: 1-208-466-4224. They can also be contacted at SharpProductsInc@msn.com.
PROEARS HEARING PROTECTION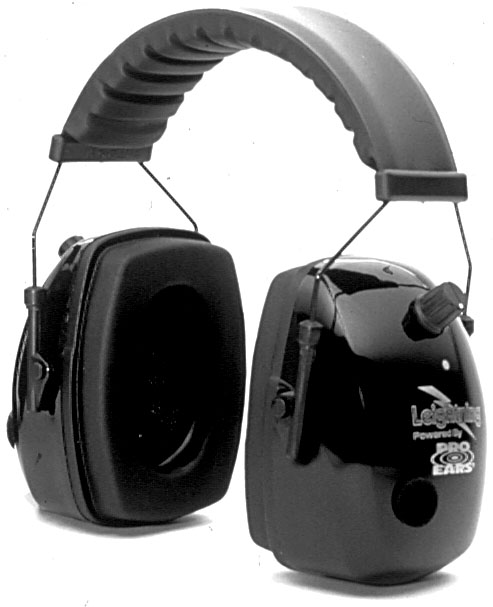 The most advanced hearing protection and advancement system is now available from Howard Leight company. Two new products, THUNDER™ and LEIGHTNING™ POWERED BY PROEAR Sr, compress loud noises to safe levels. Most ear protection devices only "clip" peak sounds, but THUNDER and LEIGHTNING POWERED BY PROEARS are different. With Dynamic Sound Compression(tm), these two new innovative products allow the user to safely hear every sound. Sounds are compressed to within 72 decibels, so every sound is heard with clarity and no distortion at a safe level. These innovative products feature stereo reception, independent volume control and no connecting wires. THUNDER POWERED BY PROEARS is comfortable, with an extra-long, padded headband with wire for a custom fit. LEIGHTNING POWERED BY PROEARS has oversized cushions for extended wear, and a folding headband for easy storage. Both products are backed by Howard Leight's warranty and quality service. For more information contact Howard.
This article first appeared in Small Arms Review V3N9 (June 2000)