by Chris Choat
SILENCIO INTRODUCES NEW LINE OF ERGONOMIC HEARING PROTECTORS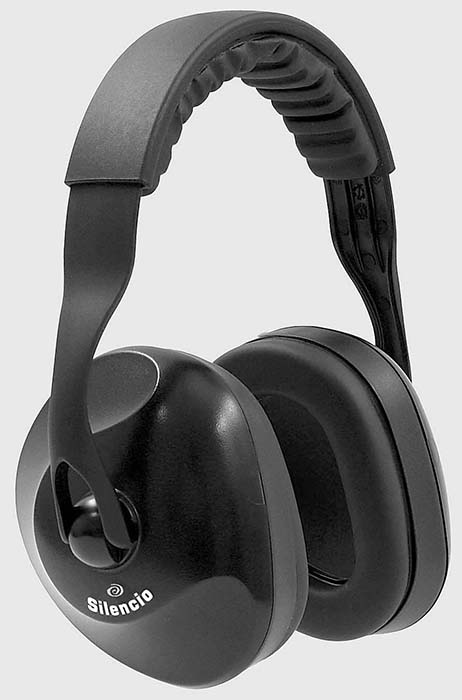 Silencio announces the launch of the Orion and the Phoenix, the premier earmuffs in a new Contour Series of ergonomically designed hearing protectors. The Contour Series features specially contoured ear cups that are designed to follow the shape and orientation of the ear for maximized comfort, fit and protection, even when wearing shooting glasses. The contoured ear cups, coupled with a sleek, low profile design, make the Orion and the Phoenix the first earmuffs specially designed to accommodate both long gun and pistol shooters. Both protectors also are lightweight and have Custom Comfort adjustable headbands designed to comfortably fit a wider range of head sizes. For more information please contact Silencio, Dept. SAR, 56 Coney Island Drive, Sparks, NV 89431; phone: 1-775-359-4451; fax: 1-775-359-1074; You can see their website at: www.silencio.com.
FOBUS MAGAZINE AND CUFF CASE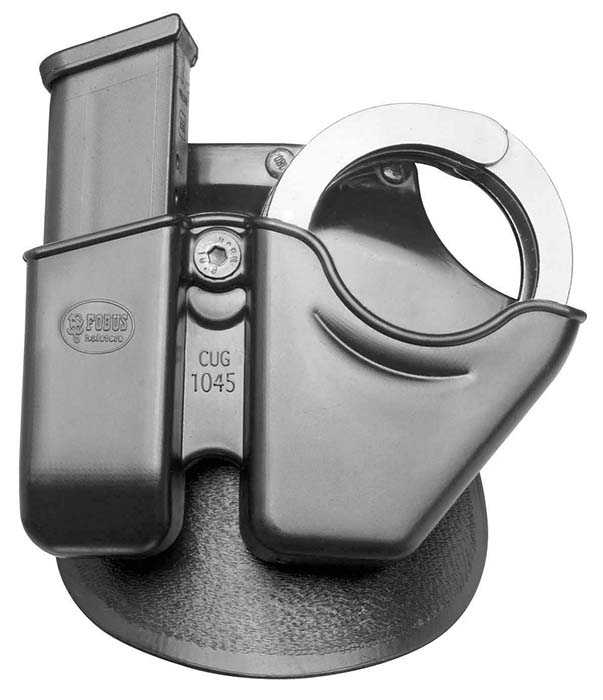 Fobus USA announces its new Magazine and Handcuff case it added to their extensive line of holsters, cases and other firearms related products. The new case will accommodate magazines used in Glock models 20/21 and 29/30. The combination magazine and handcuff pouch weighs less than 2 ounces and is a welcomed addition to their line of on-duty/concealment accessories. It is designed for all 10mm and .45 ACP caliber double-column magazines and will hold either chain or hinged handcuffs. It is available in paddle or belt attachment styles as well as the Roto style. This new pouch eliminates the need for two separate belt carriers. Instant access to either the magazine or handcuffs is achieved due to the "proven retention system" that allows removal without disengagement of any devices. This system allows even the most strenuous physical activity with no compromise of retention. This new item, like all other Fobus products, carries a Lifetime Warranty. Suggested retail for the new case is just $22.99. For more information please contact FOBUS USA, Dept. SAR, 1300 Industrial Hwy., Suite B-3, Southampton, PA 18966; phone: 1-215-322-9227; fax: 1-215-322-9223; website: www.fobusholster.com.
NEW HK/CETME SCOPE MOUNT FROM TAPCO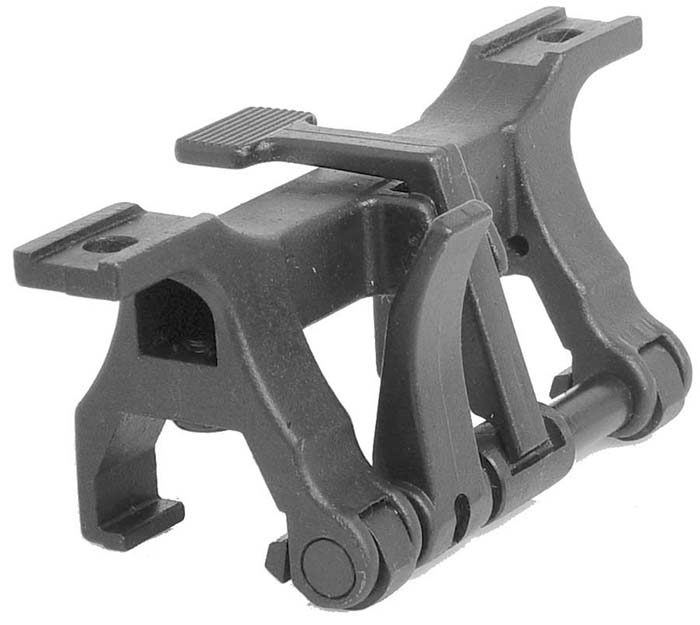 Finally a mount for your HK and CETME rifle! This innovative and stylish HK/CETME claw mount is now available to complete the look of your HK or CETME. Designed to match the quality of the original STANAG mount, TAPCO's claw mount is made to exacting tolerances and is constructed from investment cast carbon steel with a matte black finish. These mounts give your HK or CETME a distinctive look, and they are see-thru to maintain the use of your iron sights. The new production STANAG-to-Picatinny adapters allow for STANAG type scopes and rings as well as Weaver type rings. Made of aluminum alloy with a hard coat anodized finish. The combination of the mount and STANAG to MIL-STD-1913 rail adapter retails for $99.99. Separately the claw mount retails for $89.99 and the adapter retails for $14.99. For more information contact: TAPCO, Inc., Dept. SAR, P.O. Box 2408, Kennesaw, GA 30156; phone: 1-800-554-7445; fax: 1-800-226-1662; website: www.tapco.com.
DPMS NOW OFFERS .308 STEEL FLATTOP RECEIVER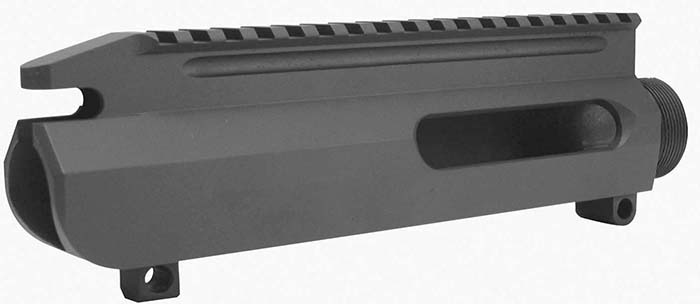 Adhering to the DPMS tradition of providing new and innovative products, DPMS Panther Arms offers the first upgrade to their hugely popular LR-308 series rifles, the .308 solid steel flattop upper receiver. Machined from 4140 steel and heat treated to a Melonite finish for increased hardness and wear resistance, this new .308 receiver offers shooters a balanced, smoother, sleeker and more angular alternative to the standard .308 upper receiver. Available for the 16-inch heavy-barreled LR-308T, the 18-inch bull-barreled LR-308B and the original 24-inch SST bull-barreled LR-308, the .308 solid steel flattop upper receiver weighs a robust 2.56 pounds and adds an additional 1.48 pounds to the rifles. Competition shooters and benchrest shooters alike will appreciate the increased weight and rigidity of the .308 solid steel flattop upper receiver as it adds stability and increases accuracy by bringing the rifle's center of balance closer to the shooter's body. For more information please contact DPMS Inc., Dept. SAR, 13983 Industry Ave., 3312 12th. Street S.E., St. Cloud, MN 56304; phone: 1-320-258-4448; fax: 1-320-258-4449; website: www.dpmsinc.com.
ECLIPSE ENGINEERING INTRODUCES THE AR-MASTER STOCK PIVOT ADAPTER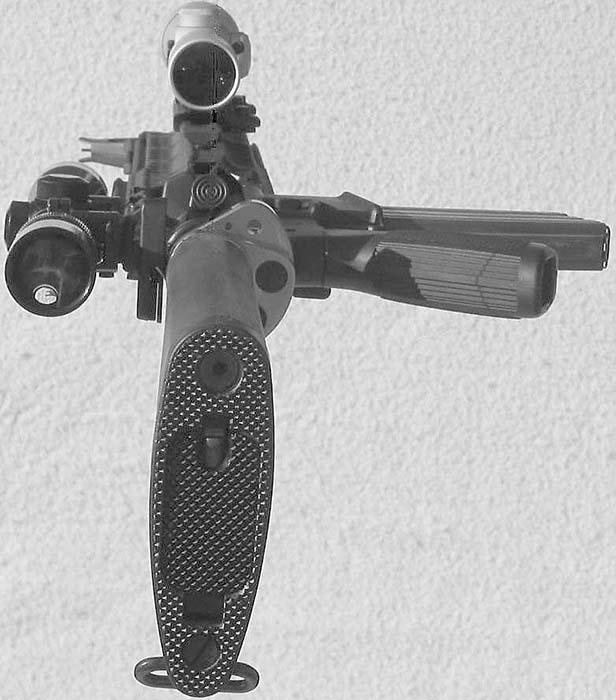 AR-Master™ is pleased to introduce the Stock Pivot Adapter™ (Patent Pending) model SPA1 for the AR-15. The SPA enables the user to INSTANTLY access-on-demand secondary or redundant optical mounted sights by simply rotating the action in cases of damage, loss of zero to the primary sight, or for near/far range sighting scenarios. Additionally, when the action is rotated 45º or 90º, the pistol grip and high-capacity magazines protrude to the side and not straight down, aiding in a lower/narrower profile for defensive operational positions such as beneath vehicles or other horizontal working envelopes. For more information contact Eclipse Engineering & Design, Dept. SAR, P.O. Box 913, Marysville, WA 98270; phone: 1-360-653-2706; You can visit their website at: www.armaster.com.
BLACK HILLS AMMUNITION INTRODUCES NEW .22-250 AMMUNITION
The .22-250 is the newest member of the Black Hills Gold family. It is offered in both 50-grain and 60-grain loadings. The 50-grain Nosler Ballistic-Tip™ is just the ticket for accurately reaching out and explosively terminating varmints at long range. Black Hills has tested this load with over 20,000 rounds on prairie dogs. It works. The 60-grain Nosler Partition™ is a bullet that has been needed in the .22-250 for decades. Until this Black Hills Gold load, the .22-250 was available only in bullets actually designed for small varmints. When used on deer or antelope the result was often ruined meat and wounded animals. For those skilled shooters who choose to use the ..22-250 for game larger than varmints, this new load with the 60-grain Nosler Partition™ bullet is the best choice. For more information please contact Black Hills Ammunition, Dept. SAR, P.O. Box 3090, Rapid City, SD 57709; phone 1-605-348-5150; fax: 1-605-348-9827; website: www.black-hills.com.
This article first appeared in Small Arms Review V7N9 (June 2004)