by Chris Choat
NEW M3 TACTICAL LIGHT FROM STREAMLIGHT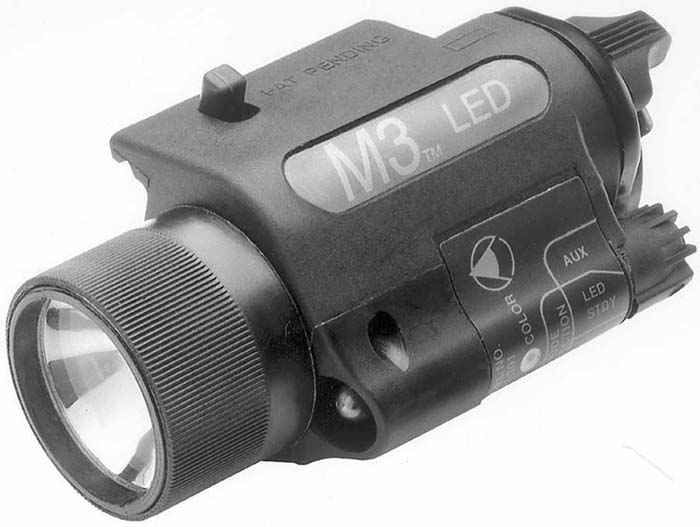 Streamlight, Inc., has now introduced their new M3 tactical navigation light. The M3 LED is a gun-mounted flashlight equipped with two lighting sources that allows users to aim and illuminate simultaneously. The new M3 LED provides even greater tactical advantages than the original M3 which was equipped with a single halogen bulb. The M3 LED features both a halogen bulb and an LED, which is available in green, red or infrared. In addition to being able to switch between the two light sources, the M3 provides many advantages. While in LED mode, the new tactical navigation light offers extended run time, and because LEDs operate for up to 100,000 hours, users can be confident that the LED won't burn out. By activating the M3's LED users can help preserve night vision and since infrared LED is only detectable with night vision devices, police officers are better able to conceal their position. Built to military specifications, the M3 LED features an ambidextrous momentary/steady power switch that toggles between four modes: halogen bulb only, LED only, halogen bulb and LED and off. When mounted to the gun, the light's compact design helps maintain proper balance, allowing for a steady, accurate shot. The new light is powered by two 3-volt lithium batteries and while in LED mode shines at a range of 10 meters for a minimum of 24 continuous hours. Them halogen lamp has a range of 25 meters and a continuous runtime of one hour. The M3 LED, like all of the other Streamlight gun-mounted lights, attaches and detaches easily to a wide variety of gun types with rails, including Glock handguns, as well as other rifles and shotguns with the use of an adapter. The new light weighs just 3.7 ounces, is 3.4 inches long and is constructed of a chemical-resistant polymer case. Suggested retail price of the new M3 LED is $274.95. For more information please contact Streamlight, Inc., Dept. SAR, 30 Eagleville Road, Eagleville, PA 19403-3996; phone: 1-610-631-0600; fax: 1-610-631-0712; website: www.streamlight.com.
FNH USA, INC., ANNOUNCES NEW PATROL BOLT RIFLE

FNH USA, Inc., a subsidiary of FN Herstal, S.A., Belgium, recently announced the latest addition to its Long Range Precision Rifle line with the Patrol Bolt Rifle (PBR). The new rifle combines the best in traditional design with the latest materials, workmanship and manufacturing. The new rifle was designed for law enforcement and military as well as commercial use. Available in three models with 18-, 20- and 22-inch barrels the PBR is chambered for the 7.62 X 51mm (.308) cartridge. All three models have cold rotary-forged medium heavy barrels with a recessed crown and feature a four-groove right hand twist of one turn in 12 inches. The PBR utilizes a magazine with four-round capacity. The rifle features a controlled round push feed and is drilled and tapped for supplied scope bases, which are MIL-STD-1913. For more information on this rifle contact FNH USA, Inc., Dept. SAR, P.O. Box 697, McLean, VA 22101; phone: 1-703-288-1292; fax: 1-703-288-1730; website: www.fnhusa.com.
WINCHESTER ADDS TWO NEW SILVERTIP LOADS
In response to consumer demands, Winchester's Supreme Ballistic Silvertip® line is now available with popular weight 55-grain bullets in two of the most popular calibers, the .223 Remington and the .22-250 Remington. The heavier weight Ballistic Silvertip bullets improve long-range ballistics and reduce wind drift on the challenging long-range shots. The heavier weight bullets also add knockdown power for the bigger predators like coyotes and bobcats. Each of these new heavier weight Supreme varmint loads incorporate the proven Supreme Ballistic Silvertip design with a solid base boattail for excellent long range accuracy, Lubalox® coating to reduce engraving forces and barrel fouling and the polycarbonate tip to resist deformation in the magazine. The Ballistic Silvertip polycarbonate tip, along with the soft lead alloy core, combines to ensure rapid fragmentation in varmint calibers. The new .223 Remington 55-grain BST loading has a muzzle velocity of 3,240 fps and a muzzle energy of 1,282 ft-lbs. The .22-250 Remington load delivers 3,680 fps with 1,654 ft-lbs of energy. For more information contact Winchester Ammunition/Olin Corp., Dept. SAR, 427 North Shamrock Street, East Alton, IL 62024-1174: phone:1-618-258-2000; fax: 1-618-258-3609; website: www.winchester.com.
NEW M4 HANDGUARDS FROM DPMS PANTHER ARMS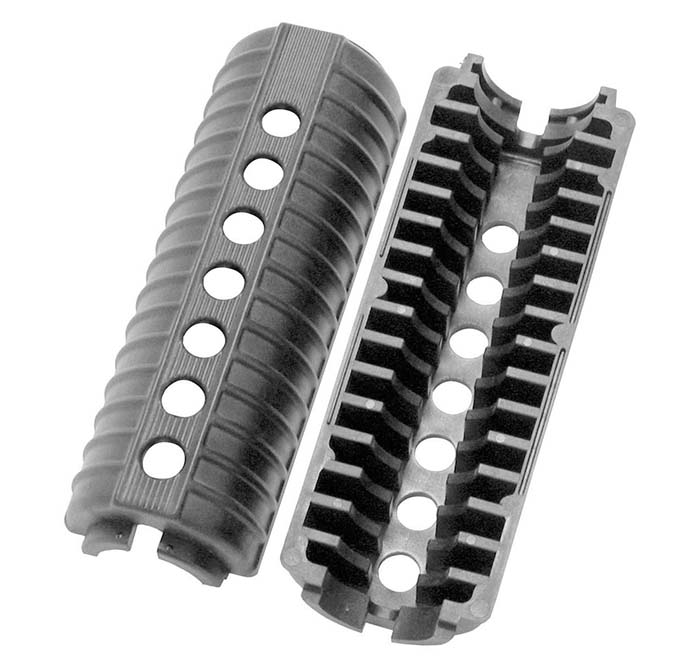 For more than 100 years, fins have been used to cool metal objects. Now DPMS Panther Arms brings that concept to your AR-15/M16 rifle. DPMS Panther Arms introduces the new M4 "GlacierGuards™" an M4 style handguard that utilizes 15 internal fins, rather than the standard aluminum double-shield, for heat dispersion. These unique fins, while dispersing the heat generated by rifle fire, also provide unsurpassed strength and rigidity for the handguard. Externally, the M4 "GlacierGuards™" feature 15 ribs that mirror the internal fins, and provide the shooter an enhanced grip. The M4 "GlacierGuards™" accommodate barrels with diameters less than one inch, namely the military M4 contoured barrel and the industry standard heavy barrel. Made of a high tech, temperature resistant polymer that withstands temperatures greater than 500º, which allows the handguards to resist over-heating after continuous fully-automatic fire for over 200 rounds. The fiber-reinforced polymer provides additional strength and rigidity and keeps the handguards' weight at one half pound per pair, compared to the standard .4 pounds per pair. DPMS is an industry leader in providing quality AR-style rifles, components and accessories. No other company offers more styles or configurations of AR rifles. DPMS also provides choices for shooters ranging from high-power to small-bore by offering several rifles chambered in .22LR, .223, 7.62×39, .308 Winchester and the .300 Remington Short Action Ultra Mag. For more information on these as well as other innovative products contact DPMS, Inc., Dept. SAR, 13983 Industry Ave., Becker, MN 55308; phone: 1-763-261-5600; fax: 1-763-261-5599; website: www.dpmsinc.com.
BLACK HILLS AMMUNITION INTRODUCES .223 60-GRAIN NOSLER PARTITION
Black Hills Ammunition's line of .223 ammunition now includes the 60-grain Nosler Partition bullet. This special bullet combines reliable expansion with excellent weight retention and penetration. Black hills reports this bullet also provided superb accuracy in its developmental testing, shooting groups comparable to their match ammunition. Black Hills offer this bullet in both their new and remanufactured lines. This bullet is also versatile, working well in all firearms tested from fast rifling twist semi-autos to traditional bolt action rifles. Velocity is 3,150 fps from a 24-inch barrel. For more information contact Black Hills Ammunition, Dept. SAR, P.O. Box 3090, Rapid City, SD 57709; phone: 1-605-348-5150; fax: 1-605-348-9827; website: www.black-hills.com.
U.S. NIGHT VISION INTRODUCES NEW MONOCULAR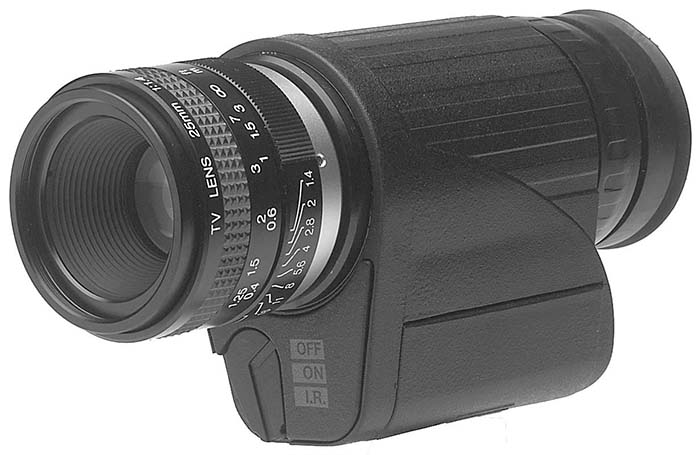 America's foremost manufacturer of high quality night vision products is proud to introduce the USNV-SNS-1 night vision monocular. The latest addition to their line of high-performance US Generation 3 night vision viewers, the USNV-SNS-1 incorporates a high performance Generation 3, 64 lp/mm image tube and camera quality C-mount lens system. Precision manufactured, the new USNV-SNS-1 features a lightweight, low profile design that is both shock and moisture resistant. Their exclusive built-in ABC (Automatic Brightness Control) and BSP (Bright Source Protection) systems also eliminate problems related to sudden changes in light conditions. In effect, the USNV-SNS-1 offers superior performance, strength and durability in a single night vision monocular. Easy to operate and maintain, the user friendly monocular features a built-in infrared illuminator for use in extreme low light environments. The unit also includes a 37mm and 49mm camera/camcorder adaptor for nighttime video and still photography. Standard accessories include a padded carry case, neck/wrist lanyard, owner's manual and AA battery. For more information contact U.S. Night Vision Corp., Dept. SAR, 3303 Harbor Blvd., Suite E-5, Costa Mesa, CA 92626; phone: 1-714-546-4555; fax: 1-714-546-4999; website: www.usnightvision.com.
This article first appeared in Small Arms Review V7N6 (March 2004)