By Chris Choat
SIGARMS Introduces New Custom SAS Series Pistols
SIGARMS Inc., a firearms manufacturer offering the highest quality products and services in the industry, now offers their new custom SIG Anti-Snag (SAS) Series Pistols. Straight from the SIGARMS Custom Shop, these limited production P229 and P239 pistols have been put through a dehorning process to eliminate all sharp and rough edges. The result: an ultra-smooth, snag-free profile that's ideal for concealed carry because the radius edges allow for a faster draw. For the ultimate performance, each pistol has a contoured stainless steel slide with a front SIGLITE Night Sight and a contrasting rear sight. The lightweight black hard-anodized alloy frame includes a rounded trigger guard and dust cover. Each model includes new SIG SAUER wood grips and is covered by a limited lifetime warranty. These limited production pistols are currently available for delivery. The P229 SAS has a 12-round capacity and the P239 SAS has a 7-round capacity. Both are chambered in .40 S&W. For more information, please contact SIGARMS, Inc., Dept. SAR, 18 Industrial Drive, Exeter, NH 03833. Phone: (603) 772-2302. Fax: (603) 772-9082. Their website is www.sigarms.com.
DPMS Introduces the "Pardus" CAR Stock
Make your shooting experience more enjoyable with the addition of an innovative new buttstock design from DPMS. Made of space age, lightweight, fiber reinforced black Zytel, the buttstock has four integral slots for sling attachment in addition to the standard sling swivel making it completely customizable to the needs of both left and right handed shooters. Customize your length of pull with the 6-position buffer tube. Both the standard 6-position tube and the Mil-Spec tube are available with this design. Adjusting the tube with cold or gloved fingers just got easier too as DPMS has designed a more ergonomically shaped latch with fully integrated finger grooves. Shooters will also notice the curved, saw-tooth buttplate. The curved plate allows the shooter to pull the rifle to the shoulder more securely, providing for a tighter cheek weld to the comfortably flared, Monte Carlo-style cheek rest. Law enforcement and military personnel who routinely wear Kevlar will appreciate this insightful design element. One final design element that everyone will appreciate, especially those who have inadvertently dropped the rifle on its buttstock, is the reinforced area surrounding the latch pin. This reinforced area will provide additional strength to the latch pin and help to resist breakage should the rifle ever be dropped buttstock down. Available now, this new tactical carbine length black buttstock assembly will retail for $69.95 and includes the stock, buffer, buffer spring, lock plate and locking ring. An OD Green and a Tan assembly are also available at $74.95. For more information on this as well as their extensive line of other AR-style rifles, components and accessories, please contact at DPMS Inc., Dept. SAR, 3312 12th Street SE, St. Cloud, MN 56304. Phone: (320) 258-4448. Fax: (320) 258-4449. They can be located in cyberspace at www.dpmsinc.com.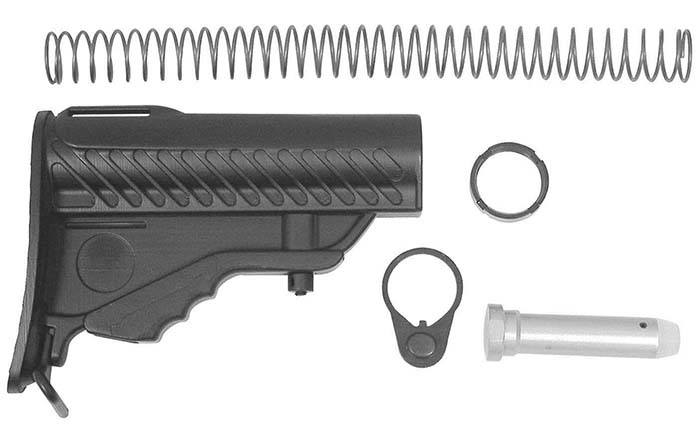 Samson Quick Flip Mount for Aimpoint 3X Magnifier
Samson Manufacturing Corporation has now introduced what is probably the best mount available for the Aimpoint 3X Magnifier. The new mount, called the Quick Flip, mounts the Aimpoint 3X magnifier rock solidly to any flat top rail, yet allows the magnifier to "flip" to the side out of the way instantly. This allows the user to go from standard unmagnified Aimpoint to 3X magnification in an instant. The mount is precision machined and features a pre-drilled base that perfectly mates to the 3X magnifier. It also comes with Allen head attaching screws. The Quick Flip has a spring loaded base that is kept in place by a lever in its side. When the lever is pressed, the base with the magnifier attached, flips to the side out of the way allowing an unmagnified view if the coexisting Aimpoint sight. The Quick Flips also incorporates the excellent ARMS #17 single lever platform mount. This allows the entire unit to be removed with a simple throw of a lever. Another great feature of the mount is a built-in safety that blocks the release lever when the ARMS base is removed from the rifle. This keeps the unit from flipping open when stored in a BDU pocket or case. The new Quick Flip is available in two models, one that flips to the right and one that flips to the left. If you are familiar with Samson's rail forearm systems, then you'll know that this product is the very best made. If you are not familiar with their products, treat yourself right and pick one of them up today. They are built like a brick outhouse and will probably outlast the rifle they are used on. For more information, please contact them at Samson Manufacturing Corporation, Dept. SAR, 110 Christian Lane, Whately, MA 01373. Phone: (413) 665-1162. Fax: (413) 665-1163. They can be found on the web at www.samson-mfg.com.
Crimson Trace Introduces Lasergrips for Glock
Crimson Trace announces that the G-Series, the company's eagerly anticipated new Lasergrips for Glock pistols, are now available. The G-Series consists of four different models, each of which is custom designed to fit specific Glock frames. The G-Series Lasergrips are the latest addition to the Crimson Trace produce line. The four G-Series Lasergrips fit 20 different Glock handguns, including full-size, compact and sub-compact models. The one piece unit installs easily and securely by simply sliding it over the back strap and replacing the trigger-housing pin. After installation, Lasergrips hold zero shot after shot. In fact, over 2,000 rounds were fired during torture testing with no adverse effects to the sighting system. Patented Lasergrips, the world's only grip-integrated laser sight system, incorporate a laser sight and pressure-sensitive activation switch in the ergonomically designed grip. The G-Series utilizes a special design feature in which the activation switch is located in the back of the grip, turning on the laser's bright steady beam when the firearm is held in a normal firing grip. No other laser sighting system has this "instinctive activation" feature. Lasergrips are fully adjustable for windage and elevation, precision engineered to exacting specifications and made in the USA using the highest quality components and workmanship. By adding the Lasergrip to the stock grip, the ergonomics of the Lasergrip actually improve the point-of-aim characteristics of the pistol. The areas where the batteries fit make a slight palm swell that naturally fill the hand and provide more of a purchase on the firearm. Suggested retail on the new grips will be $299. For more information contact Crimson Trace Corporation, Dept. SAR, 8089 SW Cirrus Drive, Beaverton OR 97008. Phone: (503) 627-9992. Fax: (503) 627-0166. They can be located on the web at www.crimsontrace.com.
Pelican Rolls Out Their New 1560 Case
Taking their classic 1550 Case to another level, Pelican Products, Inc., a leading manufacturer of high-impact, all-purpose watertight cases, has unveiled the new 1560 Case. As one of the newest members of the Pelican Protector case family, the 1560 boasts more that 2,800 cubic inches of possible storage space. Features include rubberized front and side grips for maximum comfort, as well as ball-bearing, polyurethane wheels and an extension handle for easy transport. The case also features stainless steel reinforced padlock protectors for added defense against cutting and theft. For extra convenience, optional accessories such as TSA-Accepted Pelilocks, lid organizers and padded divider sets are available so travelers now have the 1560 as a viable mid-sized case to check important equipment in. Like all Pelican Protector cases, the 1560's cell-core construction helps it excel in some of the most extreme conditions on Earth. Pelican Cases can be spotted by the distinctive, trademarked Dual Band design. Additional standard features include a lid equipped with a polymer sponge O-ring for a dust and waterproof seal and a Gore-Tex purge valve that stops moisture from entering the case and automatically balances interior and exterior air pressure. As with all Pelican Products, the 1560 is backed by their Legendary Lifetime Guarantee of Excellence: "You Break It, We Replace It…Forever." For more information on this as well as their full-line of fantastic products, please contact them at, Pelican Products Inc., Dept. SAR, 23215 Early Avenue, Torrance, CA 90505. Phone: (310) 326-4700. Fax: (310) 326-3311. Their website is www.pelican.com.
This article first appeared in Small Arms Review V9N6 (March 2006)