By Chris A. Choat
GEMTECH T.E.R.I.S.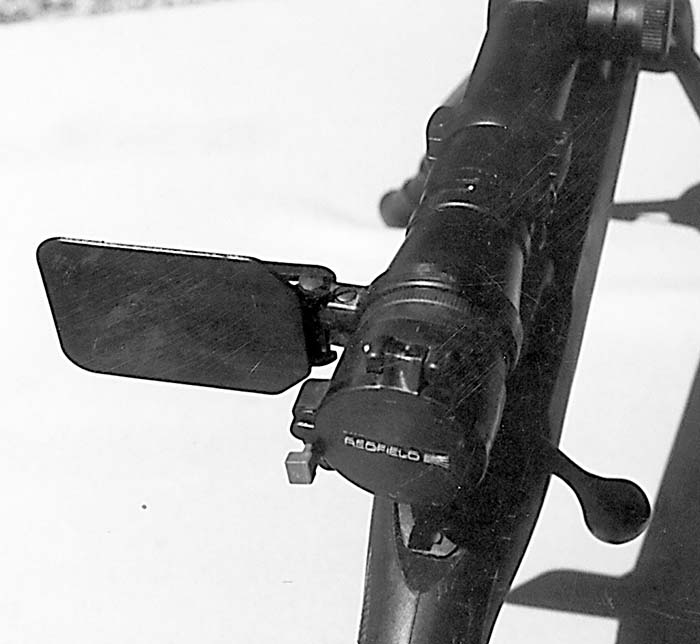 Gemtech is proud to introduce their new TERIS (Tactical Eye Relief Interface System). The TERIS is a flip-out sight-blocking device that attaches to your scope. The TERIS offers several features that benefits most all shooters. It allows shooting with both eyes open, helps eliminate eyestrain and facial muscle contractions, adds more light to shooters vision and stops crossover from having both eyes open too long. Ballistic data cards can also be attached to the device so that the shooter can keep target acquisition while checking ballistic tables. The TERIS clamps to the scope with a non-marring clamp and folds out of the way while remaining on the scope. Data cards are also available from Gemtech. The TERIS is available for most Leupold and similar size scopes. For more information or to place an order, contact Gemtech, Dept. SAR, P.O. Box 3538, Boise, ID 83703. Phone: 1-208-939-7222. Contact them on the web at www.gem-tech.com.
NEW VARMINT PAKS FROM NOSLER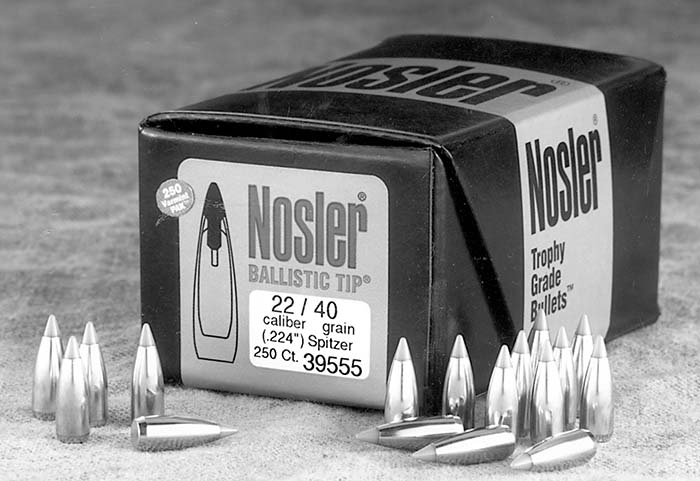 Nosler, Inc., manufacturer of high quality rifle and handgun bullets, has announced the availability of large quantity packages for some of its most popular Ballistic Tipr Varmint offerings. The new Nosler 250 quantity Varmint Paks are available for the .22 caliber 40 grain and .22 caliber 55 grain Ballistic Tipr Varmint bullets and are aimed at the varminter who counts his trigger pulls in the hundreds and thousands. These quantity packs represent a substantial savings as well. The bullets feature ultra-thin, tapered jackets and pure lead cores for violent expansion across the entire spectrum of velocities and ranges. The Nosler Varmint Paks look like larger versions of the 100 count black and gold boxes currently available for all Ballistic Tipr Varmint bullets. For a 1998 Nosler Bullets for Sportsmen catalog featuring their entire line of bullets, contact them at Nosler, inc., Dept. SAR, P.O. Box 671, Bend, Oregon. Phone: 1-800-285-3701. On the web at
www.nosler.com.
PEARCE GRIP ENHANCERS FOR GLOCKS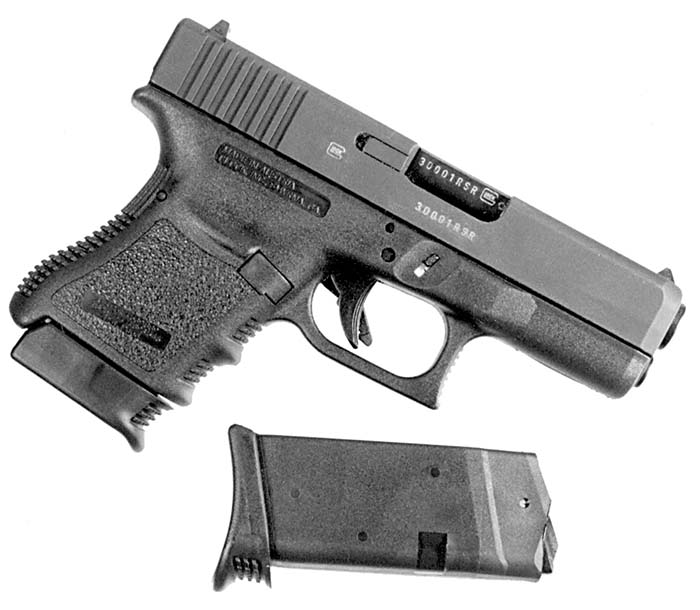 Pearce Grip, Inc., has just introduced their new grip accessories for the Glock series of handguns. The Grip Enhancers with Mag-Track replaces the factory magazine floor plate and provides extra gripping surface without increasing the over-all length of the grip. This is accomplished by lengthening the floor plate and filling the semi-circular recess in the lower forward portion of the grip. These "Grip Enhancers" also provide for easier manual magazine extraction and minimize the possibility of debris entering the magazine well. They also incorporate an identification magazine feature called Mag-Track consisting of a series of five circular recesses that allow the user to mark each magazine for tracking purposes. These Grip Enhancers are available for Models 17, 18, 19, 20, 21, 22, 23, and 24. Pearce Grip also makes a complete line of grips for other handguns. For more information contact Pearce Grip, Inc., Dept. SAR , P.O. Box 187, Bothell, WA 98041. Phone: 1-800-390-9420. Fax: 1-425-488-7102. On the web at www.pearcegrip.com.
T'SOB AR-15/M-16 SCOPE MOUNT FROM SSK INDUSTRIES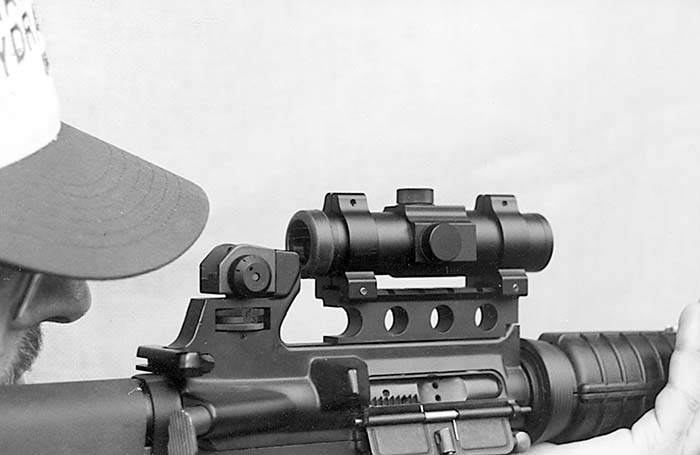 A new AR-15/M-16 sighting system is now available from SSK Industries. The new mount called the T'SOB is mounted to the top of the AR receiver and places the optical red dot sight in line with the guns' iron sights. To achieve this the carrying handle must be cut and part of it removed. The guns' iron sights can still be used by looking through the red dot scope. The shooter is instantly ready for action either way. Mounts are available for typical red dot sights, C-More sight, HOLO and the Aimpoint Mil Comp Q.D.. SSK Industries will chop your carrying handle and install the T'SOB for $125.00 plus $10.00 for shipping and insurance. SSK also offers the 30mm Ultra-Dot sight to go along with their new mount. For more information contact SSK Industries, Dept. SAR, 590 Woodvue Lane, Wintersville, OH 43953. Phone: 1-740-264-0176. Fax: 1-740-264-2257.
SIGARMS sig pro SP2340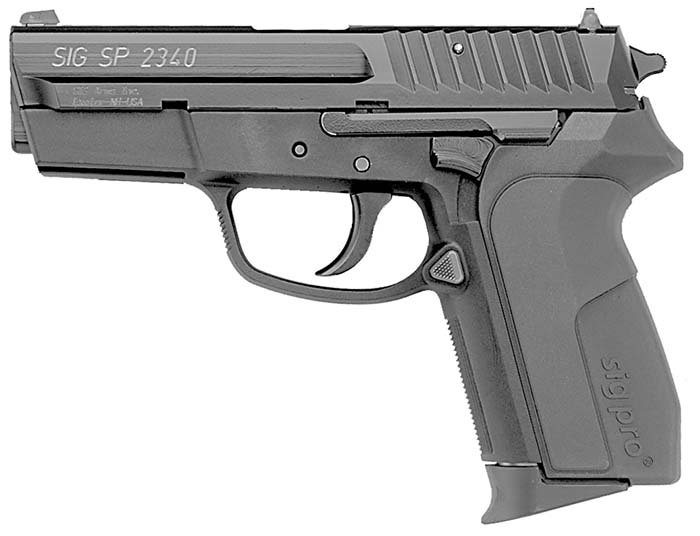 SIGARMS has added a new line of polymer pistols to the world-renowned SIG/SAUER semi-automatic family of handguns. Breaking new ground in polymer technology has allowed the famous SIG/SAUER reputation for quality and engineering to continue on in this lightweight, low maintenance pistol. These newly designed polymers form the frame of this advanced pistol design, which also incorporates an integral accessory rail to meet shooters' specific needs. One main feature of the new sig pro is the integral fire control unit that incorporates the hammer, sear and trigger in one modular piece. Now, conversion from SA/DA to DAO is simply a matter of exchanging the integral fire control unit. The new sig pro offers shooters a one-piece stainless steel slide that has maximum corrosion resistance while making the pistol truly handsome in its blackened stainless finish. Two sets of grips are included with the new pistols; the first is a composite grip that provides a firm, non-slip hold, while the second offers shooters a little more comfort and fit, thanks to a softer rubberized compound. The gun comes equipped with standard low profile, high contrast, combat-type sights, a blade front and notched rear. SIGLITEr night sights are available as an option for those who want the best for low light conditions. Available calibers for 1998 are limited to .357 SIG and .40 S&W. For more information contact; SIG Arms, Inc., Dept. SAR, Corporate Park, Exeter, NH 03833.=20 Phone: 1-603-772-2302. Fax: 1-603-772-1481.
This article first appeared in Small Arms Review V2N2 (November 1998)