By Chris Choat

NEW M4N RIFLE NOW AVAILABLE FROM M2 CORPORATION

A new M-16 variant is now being produced by M2 Corporation of Vas Vegas, Nevada. The new rifle, called the M4N, offers two superior attributes; it achieves over 2850 FPS with standard M193 ammunition and it accommodates virtually all the electronic or thermal-aiming technology produced today or on the horizon. The M4N is capable of deploying either current issue passive night vision aiming devices, or the emerging generation of night vision and thermal aiming systems. The M4N employs the M2 Design front sight, providing the operator with significant improvements over the common M-16-type "A" front sight. The side mount position accommodates a laser designator or I/R illuminator, and the side mount bayonet lug allows operators equipped with the M203 40MM grenade launcher to use the bayonet. If the electronic aiming device becomes unusable, the M4N is equipped with standard back-up mechanical sights. When night operations are required, the M4N is up to the challenge. The M4n has a barrel length of 12.75 inches, weighs 6.7 pounds and has an overall length with the stock extended of 31.7 inches. As stated before the gun produces a muzzle velocity of 2850m FPS and has an effective range of 550 yards. The cyclic rate of the M4N is 650-700 rounds per minute depending on ammunition used. Naturally it is select-fire. For more information on this as well as other M-16 variant designs contact M2 Corporation, Dept. SAR, P.O. Box 96207, Las Vegas, Nevada 89193. Phone: 1-702-263-4450. Fax: 1-702-263-7875. Website: www.m2corp.com.
STREAMLIGHT INTRODUCES THE M-6 TACTICAL LASER ILLUMINATOR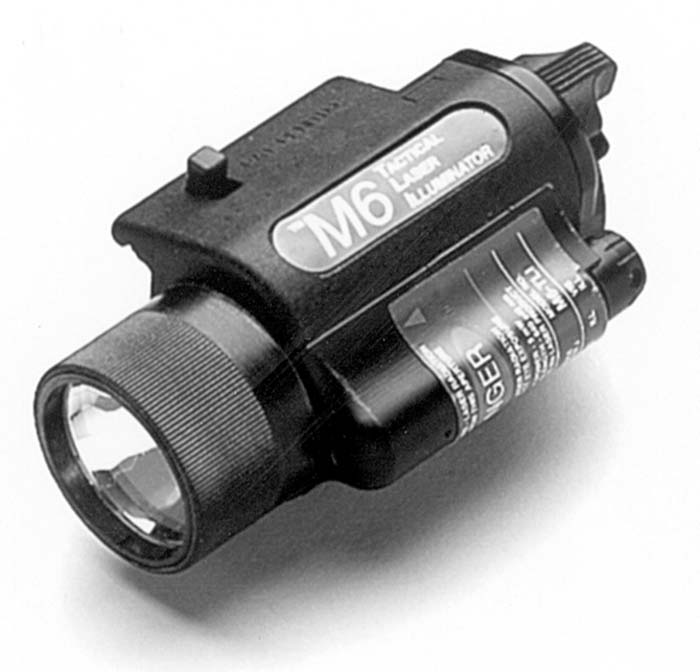 Streamlight, Inc., well known for its high-powered lighting equipment now introduces its latest gun-mounted flashlight-the M-6 Tactical Laser Illuminator. Allowing officers to simultaneously illuminate and use laser aiming, the M-6 is affordably prices for tactical and law enforcement use. The M-6 continues in the tradition of providing high-intensity lighting that law enforcement officers have come to rely on when using the company's original line of tactical gun-mounted lights-the M-3, M-4, M-4 PRO and the M-5. What sets it apart from its predecessors is the integrated laser that complements the powerful white light. Designed and produced in cooperation with Insight Technology, Inc., of Londonderry, NH, the M-6 laser can be seen from up to 500 meters when used at night and 32 meters during the day. A master switch allows the operator to toggle between four positions; white light only, laser only, dual and off. The M-6 operates on two lithium batteries and has a continuous run time of over one hour in "dual" mode and over 48 hours in " laser only" mode. The added laser technology does not significantly affect the weight of the M-6. At only 3.7 ounces, it weights only 0.4 ounces more than the M-3, which is equipped with a visible light only. The M-6 has been designed to fit the Glock rails. The M-6 lists for $399.95 and includes a limited lifetime warranty on the body and the switch. For more information on the new M-6 contact Streamlight, Inc., Dept. SAR 1030 West Germantown Pike, Norristown, PA 19403. Phone: 1-610-631-0600. Fax: 1-610-631-0712. Their website is www.streamlight.com. 
NEW SCORPION SILENCERS FROM ADVANCED ARMAMENT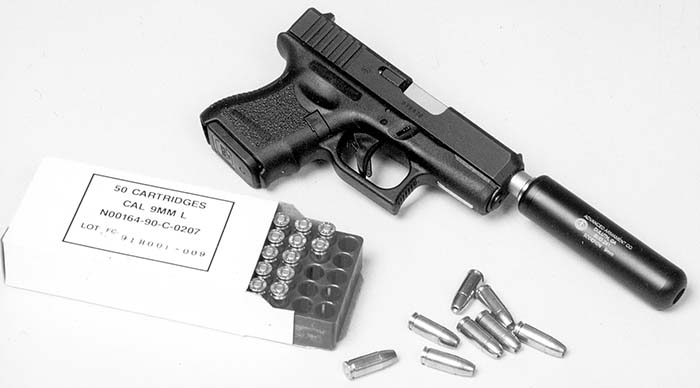 Advanced Armament has just introduced another new silencer to their existing line of top quality firearm sound suppressors. The new silencer is called the Scorpion and was designed for extreme tactical scenarios where low profile, light weight and world class sound suppression means the difference between life and death. With a length of only 4 inches and a weight of only 2.2 ounces, the Scorpion interfaces well with small 9mm handguns such as the Glock 26, Glock 19 and the Kahr K9. Through the use of advanced baffle design and artificial environment technology, the Scorpion delivers 28 dB sound reduction without the use of elastomer wipes. This gives users the option of utilizing hollow point ammunition and frees them from the logistic inconveniences of changing wipes every 10 shots, as well as the accuracy degradation associated with such designs. The Scorpion dramatically outperforms all other models in its size class and many that are significantly larger. Constructed of black anodized aerospace quality aluminum and stainless steel, the 1.0 inch diameter body of the Scorpion does not occlude the issue sights of most handguns. As with all Advanced Armament Corporation silencers, the Scorpion features a stainless steel rear mount to prevent wear common with all-aluminum silencers. For more information on the new Scorpion, other high quality silencers, special-ops holsters and other innovative products contact Advanced Armament Corporation, Dept. SAR, , 221 West Crogan Street, Lawrenceville, GA 30045. Phone: 1-770-277-4946. Fax: 1-770-277-4841. They can be found on the web at www.advanced-armament.com.
EOTECH INTRODUCES NEW HOLOGRAPHIC SIGHT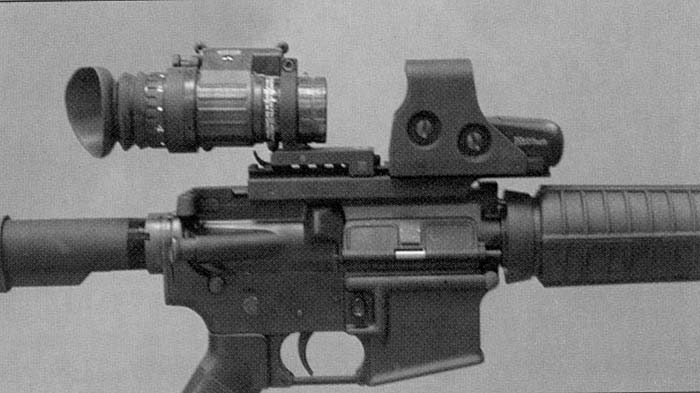 EOTECH, Electro-Optics Technologies, has just introduced their new HOLOgraphic Diffraction Sight (HDS). The new sight is the first electro-optic sighting system to apply holographic, heads-up technology to small arms. When used in Close Quarter Battle (CQB) environments, this revolutionary new optic delivers amazing speed and accuracy gains as well as uncompromised use of peripheral vision. The HDS has been designed and tested to provide consistent, reliable performance even in the most hostile operational environments. It is waterproof, fogproof, shockproof and temperature proof. The HDS is built to withstand Mil-Spec drop tests and still remain fully operational as well as holding zero. The Heads Up display is constructed with a 3 layer, shatterproof laminate glass the is 3/16 " thick for added durability. Additional protection is provided by a "roll bar" hood. In holography, all of the information required to reconstruct the reticle image is recorded everywhere in the heads-up display window. If the window is obstructed by mud, snow, rain, etc., the HDS remains fully operational, with point of aim/impact being maintained. Even in such extreme cases where the laminated window is shattered, the HDS is still fully functional. As long as the operator can see through and portion of the window, the entire reticle pattern will be visible on the target. The standard reticle is a 65 MOA ring with alignment ticks and a 1 MOA dot combining both eye recognition speed and precision aiming. An optional 1 MOA dot reticle is available for precision aiming situations. Virtually any image can be created as a reticle pattern, in either 2 or 3 dimensions. Images can be created on non-interfering optical domains to support ranging, trajectory path, and even for dual use weaponry such as the M16/203 platform. Reticles can be tailored for applications such as less than lethal systems, medium caliber weaponry and grenade launching platforms. The HDS mounts to any 1" Weaver dovetail mounting rail (also supports Picatinny interface). EOTECH can also supply mounting solutions for such weapons as the Steyr AUG, FN P90 and FAL, IMI Uzi, Sig 550, and the AK47/MAK90. Another model of the sight, the HDS 550 has night vision settings allowing it to be used in conjunction with various night vision optics. For more information on this exciting new sight contact EOTECH, Inc., Dept. SAR, 3600 Green Court, Suite 400, Ann Arbor, MI 48105. Phone: 1-734-741-8868. Fax: 1-734-741-8221. Their web site is www.eotechinc.com.
This article first appeared in Small Arms Review V5N2 (November 2001)