By Chris Choat

ADVANCED ARMAMENT M9-SD SUPPRESSOR FOR BERETTA 92F

Advanced Armament Corp. has a new suppressor specifically designed for the Beretta Model 92F 9mm semi-automatic pistol. Designated the M9-SD the new suppressor represents the state of the art in quick-detach sound suppressor technology. Constructed of anodized aircraft quality aluminum and 17-4 PH stainless steel, the M9-SD delivers unparalleled performance in a physically small package. The 1.25" OD x 7.4" suppressor features integral front and rear sights (a front night sight is available as an option), and can be attached or removed in less than 2 seconds. This wipeless baffle stack minimizes first round pop, and delivers 30+ dB dry, and 40+ dB wet sound reduction. Factory Beretta barrels modified to accept the M9-SD are also available from Advanced Armament Corp. For more information on this and other fine suppressors contact; Advanced Armament Corp., Dept. SAR, 221 West Crogan Street, Lawrenceville, GA 30045. Phone: 1-770-277-4946. Fax: 1-770-963-6556. They can be found on the web at www.advanced-armament.com.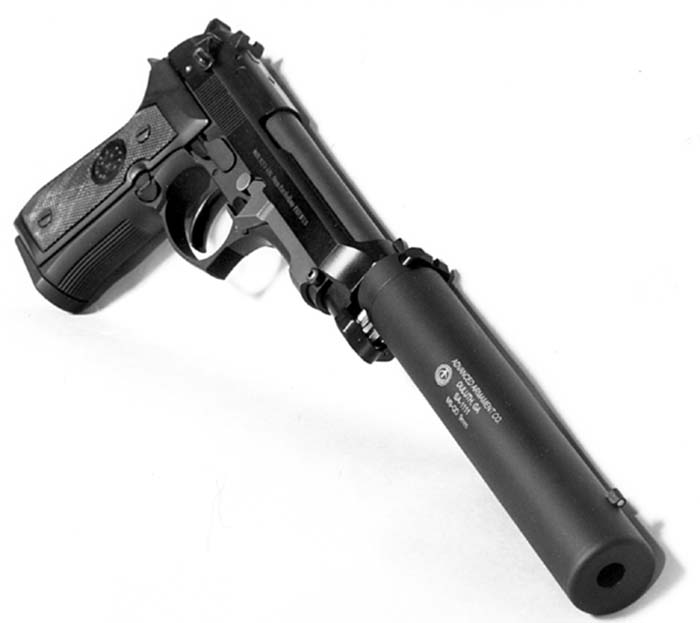 ZEISS INTRODUCES STAINLESS STEEL RIFLESCOPES

As the popularity of stainless steel rifles continues to increase, more and more hunters are looking for superior optics that complement their centerfire or rimfire rifle of choice. Because of this Carl Zeiss Optical, Inc. announces the availability of the popular Z-series1.5-6×42, 2.5-10×48 and 3-12×56 riflescopes in a stainless finish and the C-series 3-9×36 in both the stainless and silver finishes. The newest additions to the premium line of Zeiss riflescopes combine rugged, all-weather durability with a touch of elegance. The stainless steel finish provides the perfect balance of color with the rifle, while the protective finish is considerably harder and more resistant to abrasion and mechanical damages than laquer finishes. Engineered for strength and reliability, all optical elements in Zeiss' stainless and silver finished riflescopes are fully coated with the exclusive T* multi-coating. The result is a sharp, clear, well contrasted, well-detailed image in low light conditions such as dawn or dusk when game is most active. A nitrogen filling ensures these riflescopes do not fog up due to extreme fluctuations in temperature. As with all Zeiss products, these stainless steel riflescopes are guaranteed to be waterproof and shockproof. This is backed by the best warranty in the industry, Zeiss' Limited Lifetime Transferable Warranty. For more information contact Carl Zeiss Optical, Inc., Dept. SAR, 13017 N. Kingston Ave., Chester, VA 23836. Phone: 1-800-338-2984. Fax: 1-804-930-8315. On the web at www.zeiss.com.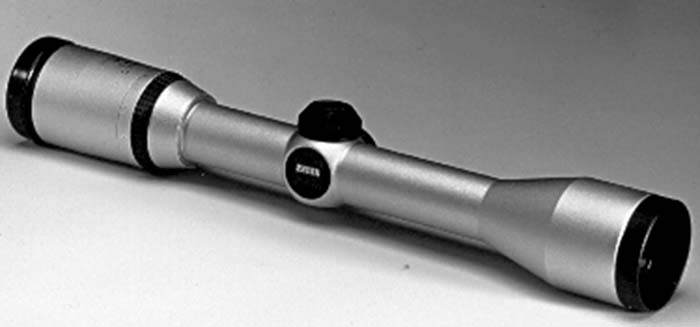 COLD STEEL® KOBUN™ CARBON V®

Cold Steel, one of the world's leading manufacturers of quality knives, has announced a new version of the popular Kobun™ fixed blade boot knife. The new version of the Cold Steel Kobun integrates a black epoxy powder coated Carbon V® steel blade for added corrosion and scratch resistance. This innovative steel provides durability and ruggedness, yet holds an edge for an extended period and is easy to resharpen when necessary. The blade is 5 1/2" long and 1/8" thick. Cold Steel's new Kobun-Carbon V features a durable, checkered Kraton(r) handle that provides unsurpassed comfort and balance, as well as a positive grip, wet or dry. Overall, the Kobun is 9 7/8" long and weighs 4.5 ounces. Each is supplied with Cold Steel's exclusive Quick Draw Concealex(tm) sheath that incorporates an integral belt/boot clip. Like all Cold Steel fixed-blade knives the Kobun Carbon V is protected by Cold Steel's exclusive five year warranty. Manufacturers suggested retail price for the new Cold Steel Kobun Carbon V is $99.00. Cold Steel manufacturers a full line of knives and tools optimized for hunting, outdoor recreation and self defense. Cold Steel is the inventor of Carbon V(r) Steel, Kraton(r) molded synthetic handles and the San Mai III(r) laminated blade. For more information on the Cold Steel Kobun(tm) Fixed Blade Boot Knife, contact; Cold Steel, Dept. SAR, 2128-D Knoll Drive, Ventura, CA 93003. Phone: 1-800-255-4716. They can be located on the web at www.coldsteel.com.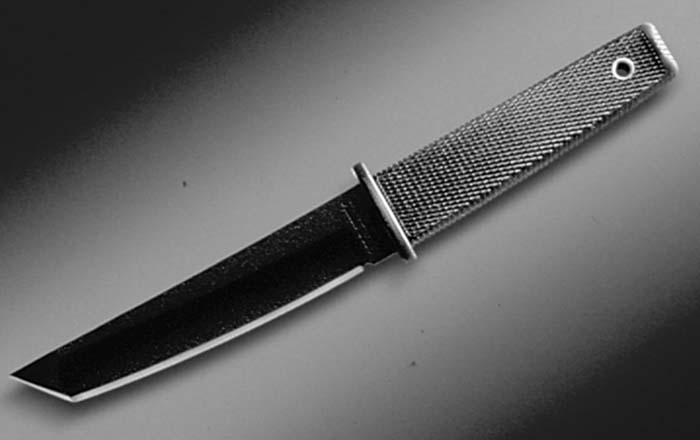 TASCO'S PROPOINT OPTIMA 2000

It's new. It's revolutionary. It's the smallest red dot sighting device making the biggest impact on the industry. Professional shooters are calling Optima 2000 the most revolutionary development in optical sighting devices in the last 25 years. The newest and perhaps most innovative Tasco Propoint red dot sight is aptly named the Optima 2000. It provides optimum performance and is engineered with the kind of advanced turn-of-the-century technology that has never been seen in this millennium. The Optima 2000 is smaller (only 1 1/2" long) and lighter in weight (only 1/2 ounce) than any other sighting device. It is extremely durable and rugged. Thousands of test rounds had no effect on it. It held its point of aim and its one-piece, dovetailed-style, slide mount remained immovable. The red dot is always on. There's no time lost in activating it and it can be seen in all ambient light conditions. While primarily use on pistols, the Optima 2000 can be mounted on shotguns for skeet and trap shooting or for duck hunting. It also works well on rifles for sport or hunting. And its value for law enforcement is undeniable. Optima 2000 is available with a bright, in-focus 3.5 or 7 M.O.A. dot on the same plane as iron sights allowing for fast target acquisition. Battery operated, the unit is supplied with a cover which puts the dot in a "sleep" mode extending the battery like for years of use. The latest in a long line of highly regarded and rated ProPoint sighting devices, Optima 2000 is covered by the Tasco 2-year No Fault, No Hassle/Limited Lifetime Warranty. For more information on this any other great Tasco products contact Tasco, Dept SAR, 2889 Commerce Parkway, Miramar, FL 33026. Phone: 1-888-GET-TASCO. Fax: 954-252-3705. Website: www.tascosales.com.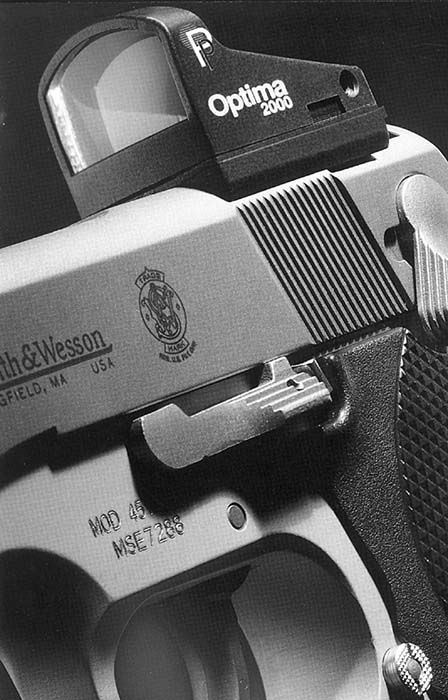 RIMFIRE BULLET TRAP

Malvern Products has just introduced their new bullet trap designed specifically for all rimfire cartridges including .22 Magnum. The new trap features 1/8" construction with 1/4" thick material at all critical areas. The revolutionary conical design of the new trap causes impacting bullets to hit a sloped surface no matter how they enter the trap. Unlike "flat & deflect" traps, the conical shape causes the bullets to spiral in with a minimum impact to the center where it is deflected down by a 90 degree elbow. The trap has a built-in balanced carry handle as well as a stand to set it upright. The front inlet to the trap is a large 18 inches. Retail price of the trap is $299.00. For more information contact Malvern Products, Dept. SAR, 176 Pennsylvania Ave, Malvern PA 19355. Phone: 1-610-647-1717. You can also contact them via their website at www.malvernproducts.com.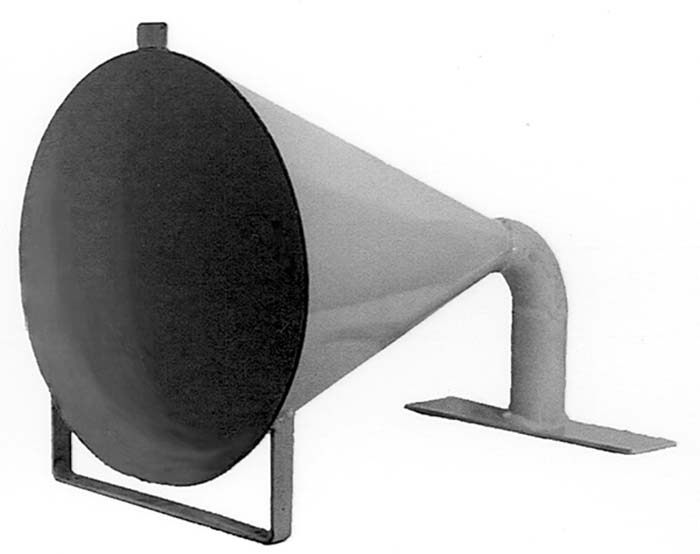 WOLF PERFORMANCE AMMUNITION

Wolf Performance Ammunition has just introduced another caliber in their line of high quality ammunition. Wolf Performance .45 Auto ammunition is their new caliber and features a 230 grain copper jacketed FMJ projectile with a steel case. The steel case allows Wolf to produce the most economical and highest quality .45 Auto cartridge available today. Wolf is the only Russian ammunition available with Cooper Jacketed Projectiles in all calibers which results in less barrel wear As with all Wolf products, the .45 Auto comes with a Performance Guarantee. Wolf Performance Ammunition is produced in the city of Tula, Russia's oldest industrial city. This city is the home of Tula Cartridge Works (TCW) which manufactures Wolf Ammunition. Sporting Supplies International (SSI) of Anaheim, California is the exclusive importer of Wolf Performance Ammunition. Currently Wolf ammo is available for rifles in 7.62×39, .223-55 grain, .223-62 grain and 5.45×39. All of these calibers are loaded with boat tail bullets for match grade accuracy. It is also available in the following pistol calibers; 9mm Luger, 9×18 Makarov, .380 Auto, .40 S&W and the new .45 Auto. The case mouth and the primer pocket feature a mil-spec sealant ensuring consistent and reliable operation no matter what the weather conditions. In addition, a green lacquered case ensures the best function cartridge in adverse environmental conditions, and it also extends storage life. All Wolf ammunition is newly manufactured and non-corrosive. For more information on this fine ammunition contact Wolf Performance Ammunition, Dept. SAR, 2201 E. Winston Road, Suite K, Anaheim, CA 92806. Phone: 1-714-635-4246. Fax: 1-714-635-9276. Their website is www.wolfammo.com.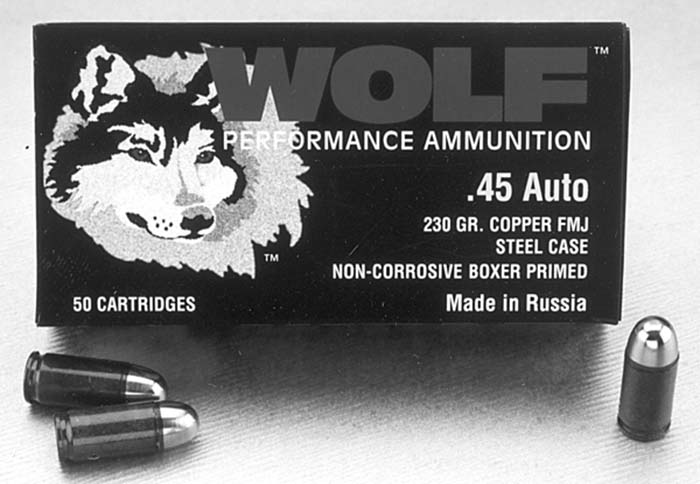 This article first appeared in Small Arms Review V4N1 (October 2000)