by Chris Choat
A RETRACTABLE GRAPPLING HOOK FOR REGULAR AND SUPER HEROS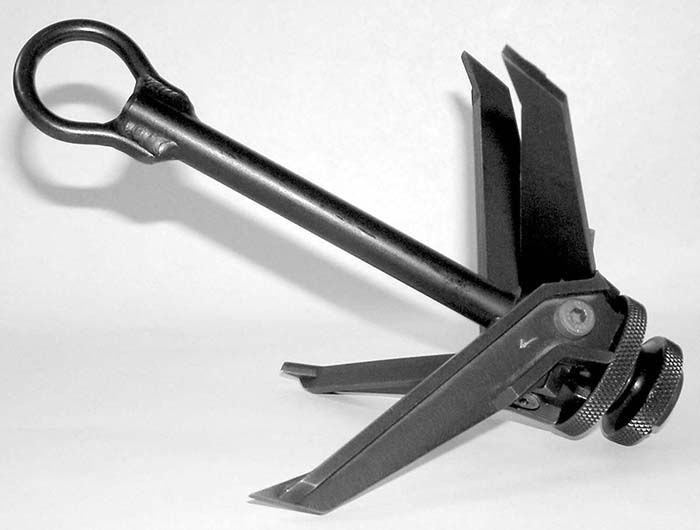 With twin goals of Spiderman-like vertical mobility and safety, Capewell Components, Inc. of South Windsor, Connecticut, has licensed from the U.S. Army, a lightweight, retractable grappling hook for scaling walls and buildings, and boarding boats. The device, which Capewell plans to bring to market later this year, offers a material edge to first-responders and special operations soldiers. The Individual Protection Directorate and the Army Natick Soldier Center originally designed, developed, and tested the hook as part of its mission to provide warfighters with high-quality, safe, and easily portable equipment. The hook, which folds up into a compact, portable cube weighing less than 1.5 pounds, when deployed can support 1,608 pounds, or six 268-pound men. A smaller hook is also a safer hook: it doesn't get hung up accidentally while being carried, it can be thrown farther, which offers greater mobility in scaling obstacles, and it affords greater distance in clearing hazards. Grappling hooks have many uses, including gaining entry or providing exit from buildings. For climbing and descending, the user places or tosses the grappling hook onto a roof, through a window or anywhere that catches and secures itself to give the necessary support. The other end of the hook is attached to a rope, which the user climbs or fastens to an item that is to be raised or lowered. Most grappling hooks are large, heavy, bulky, and risky to use because the breaking strength of the metal is largely unknown. To improve the safety of this useful equipment, engineers at the Natick Soldier Systems Center in Massachusetts developed super new lightweight, high-strength materials that cut the weight and bulk by 50 percent over the standard grappling hook. Capewell has licensed this technology and will mass-produce a high-quality retractable grappling hook for diverse markets. TechLink, a nationally recognized technology transfer organization located in Bozeman, Montana, worked with Capewell and the Natick Soldier Systems Center to assist Capewell in applying for the exclusive right to license and commercialize this technology. TechLink is also assisting the company in transitioning the grappling hook back to the Army for potential use in warfare. The grappling hook will complement Capewell's life support systems, such as its military compact descenders as used by military personnel, SWAT teams, and firefighters. In addition, Capewell offers a line of ascent/descent products for use by the same type of users mentioned above plus construction and oil rig workers, and building maintenance personnel. For more information please contact Capewell Components, Inc., Dept. SAR, 105 Nutmeg Road South, South Windsor, CT 06074. Phone: 1-860-610-0700. Fax: 1-860-610-0120. They can be found on the web at www.capewell.com.
NIKON ANNOUNCES 6-18x40AO BUCKMASTERS® RIFLESCOPE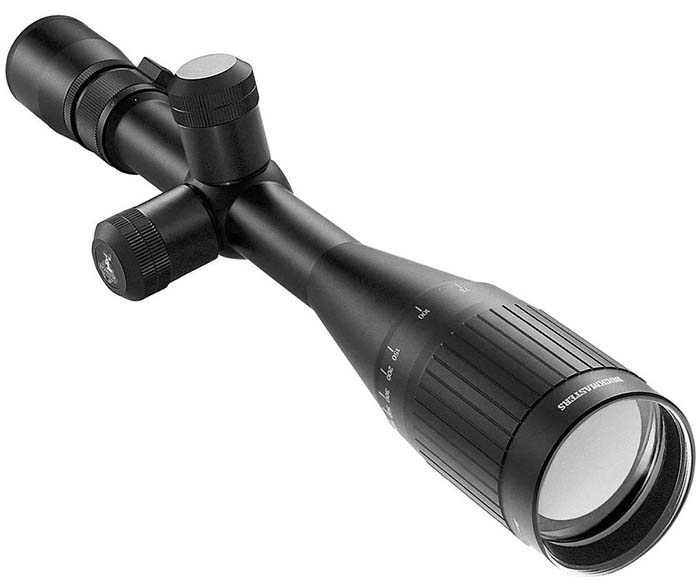 Nikon Sport Optics has announced the addition of a new long-range riflescope that combines target-style precision with big game hunting ruggedness and enhanced optical performance. The new Nikon 6-18x40AO Buckmasters series offers shooters a versatile magnification range and advanced performance features that make it a valuable addition to beanfield rifles, antelope guns, varmint rigs and other long range shooting setups. The 6-18x40AO Buckmasters incorporates precision ground and polished lenses coated with Nikon's exclusive BrightVue proprietary lens coating, which boosts light transmission up to 92%. Its durable 1-inch main body tube is constructed with aircraft grade aluminum and it is nitrogen filled and O-ring sealed for true waterproof, fog-proof and shockproof performance. Nikon's new long-range scope is available with the popular Nikoplex reticle or Nikon's target dot reticle, which incorporates a fine crosshair with a 1/2-MOA dot. It also features an Adjustable Objective (AO) lens, allowing the shooter to adjust for parallax at any range from 50 yards to infinity. A 40mm objective lens allows for low mounting of the scope on most rifles, and eye relief is 3.4 to 3.7-inches to accommodate harder recoiling rifles. Like other Buckmasters scopes, a black matte finish is standard. Nikon's new Buckmasters 6-18x40AO incorporates target-style windage and elevation knobs, with precise 1/8 MOA clickstops. The large dials make them easy to operate with gloves, and each has highly visible, numbered, index marks, allowing for quick adjustments and easy and accurate return to zero while on the bench or in the field. The 6-18x40AO provides 40 MOA of internal windage and elevation adjustment for long range shooting capability. For maximum versatility and shooting precision, Nikon includes an extra set of oversized target knobs and a screw-on sunshade with each scope. Like all Nikon riflescopes, the new 6-18x40AO is protected by Nikon's exclusive Lifetime Full Warranty. For more information on all Buckmasters riflescope models, plus information on Nikon's full line of Rangefinders, Binoculars, Spotting Scopes and Riflescopes, please contact: Nikon Sport Optics, Dept. SAR, 1300 Walt Whitman Rd., Melville, NY 11747-3064. Phone: 1-800-248-6846. They are located on the web at www.nikonusa.com.
NEW G-36KE "BLUE GUN" FROM RING'S MANUFACTURING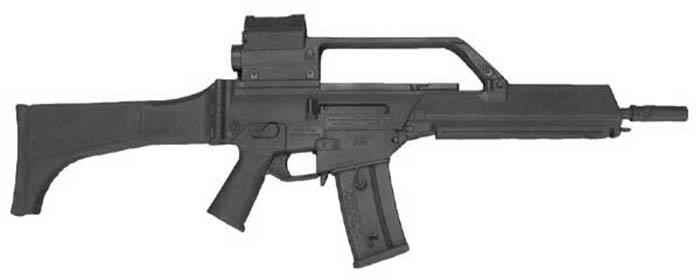 Ring's Manufacturing, producers of replica training firearms, has just introduced their newest "Blue Gun". The new model is an exact copy of the H&K G-36K. Ring's Manufacturing has been producing replica impact resistant polyurethane plastic training firearms for years. They actually started their business by producing their highly detailed replicas for the motion picture industry. These exact replicas can be used for weapon training exercises such as weapon retention, room clearance, using cover, practicing position and stance and others. They are highly detailed and in most cases even weigh the same as the firearms that they represent. They are molded in "Law Enforcement Blue" in a safety color that is recognized throughout the world. For special situations they can also be ordered in black. The "Blue Guns" feature a steel "skeleton" to prevent flexing and bending while maintaining the handling and balance of the actual firearm. The guns also feature metal hard points that slings can be attached to. With the guns being the exact size of their real counterparts they can also be used with sighting devices and, in the case of their handguns, holsters. Ring's has over 30 models of handguns as well as submachine guns, assault rifles, shotguns, magazines, knives, flashbang grenades, flash lights and other accessories. Their newest model, the FSG36KE, is a copy of the advanced new assault rifle from Heckler & Koch. For more information on these exciting training aids please contact Ring's Manufacturing, Dept. SAR, 99 East Drive, Melbourne, FL 32904. Phone: 1-321-951-0407. Fax: 1-321-951-0017. Their products can be seen on the web at www.blueguns.com.
POLYMER CASED .223 AND .308 AMMUNITION FROM NATEC, INC.

Natec, Inc., has now introduced the world's first patented, high pressure, polymer cased ammunition called PCA SPECTRUM. The lightweight PCA cartridge is produced from an engineered polymer supplied by a world-leader in manufacturing polymers and is supplied exclusively to Natec for ammunition. Conventional projectiles, propellants and primers utilized in Natec's unique PCA casing generate similar or better ballistic/performance results to comparable metal-cased products, at lower charge weights. Polymer is a natural insulator meaning that fired cases are immediately cool to the touch. Another benefit is that the polymer color can be changed so different loads can be color coded for instant recognition. PCA ammunition is produced in the USA on state-of-the-art equipment, using modern manufacturing processes. The new ammunition offers a light weight, high performance round at a lower cost and will work in any weapon already chambered for the same brass cartridge. As of this writing the ammunition will be produced in four different .223 loadings and three .308 loads. Natec is currently completing its development of a .50 caliber load called the 50 caliber PCA Spectrum. For more information on this new development in ammunition please contact, NATEC, Inc., Dept. SAR, 11 Arkansas Street, Plattsburgh, NY 12903. Phone: 1-518-324-5625. Fax: 1-518-324-5627. Their website is www.natec-usa.com.
This article first appeared in Small Arms Review V7N12 (September 2004)