By Chris A. Choat
Elite Iron Introduces New Extreme Duty Suppressors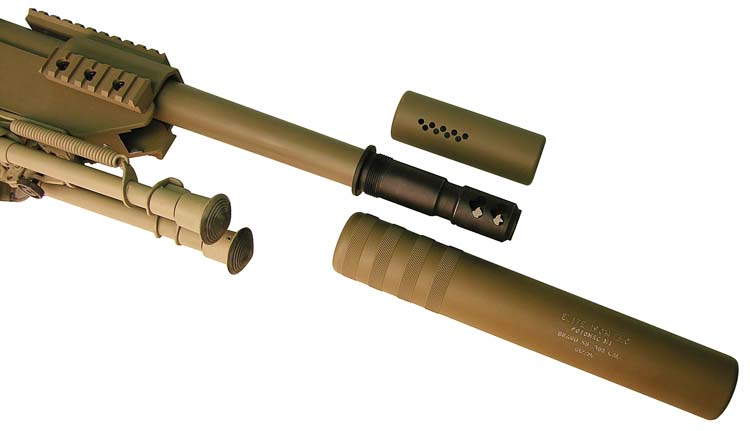 The demand for high performance weapons systems is spawning a whole new generation of advanced armament solutions for today's elite military, law enforcement and discerning civilian marksmen. To meet the challenge, Elite Iron, a high end custom weapons systems and sound suppressor manufacturer in Potomac, Montana, has announced the development of three new extreme duty suppressors. The Bravo SD, Sierra SD and the SEAR, all three over-the-barrel mounted suppressors configured to reduce the overall length of the weapons, are now available for purchase from Elite Iron or any one of their many dealers. Based on real world input, the Elite Iron Bravo SD sound suppressor has been designed for shooters who need significantly reduced sound pressure and increased accuracy for a more compact .30 caliber rifle configuration. The SD stands for Special Deployment for good reason as the Bravo SD adds only 6 inches to the overall length of a rifle because of the unique over-the-barrel design. The matching muzzle brake allows for a 2-point contact that provides more stable barrel dynamics. The Bravo SD tube is made of 304 stainless steel. Internal parts are CNC-machined from solid 17/4PH stainless steel billets and are 100% TIG welded for added strength. The suppressor weighs only 26 ounces and has an overall length of 10 inches and diameter of 1.625 inches. The Bravo SD notably lowers the sound pressure level by 34-35 db. The Sierra SD was created for .338 Lapua chambered rifles and has the same built-in toughness, structural integrity, and increased accuracy as the Bravo SD. The Sierra SD weighs just 30 ounces, is 12 inches long, and has an exterior diameter of 1.625 inches. The 2-point contact (with matching muzzle brake) and over-the-barrel design, only adds 7.75 inches to the overall length of the weapon. Using the muzzle brake only also reduces recoil significantly for both the Bravo SD and Sierra SD. Sierra SD sound pressure level reduction is an impressive 33 db. The SEAR (Special Engagement Assault Rifle) suppressor is custom built to a host weapon supplied by a client or provided Elite Iron. The SEAR is also an over-the-barrel design for rifles from .22 to .30 caliber that require maximum sound level suppression. The .30 caliber version weighs 30 ounces, is 13 inches long, 1.625 inches in diameter, and reduces sound pressure level by 35 db. For critical shooting scenarios, the over-the-barrel Bravo SD, Sierra SD, and SEAR offer excellent sound signature reduction, increased accuracy and shorter overall rifle length. For more information please contact them at Elite Iron LLC, Dept. SAR, 1345 Thunders Trail, Building D, Potomac, MT 59823. Phone: (406) 244-0234. Fax: (406) 244-0135. They can be found on the web at www.eliteiron.com.
Steyr Announces Long Range SSG 08 in .338 Lapua Magnum

Steyr Arms has substantially upped the ante on its extraordinary long-range tactical rifle, the SSG 08, with the introduction of a brand new adaptation chambered in the ultimate long-range tactical round, the .338 Lapua Magnum. The rifles are currently in route to the U.S. and will be available this summer. Introduced to the American long-range shooting market in 2009, the SSG 08 was designed to the specifications of Austria's EKO COBRA anti-terrorism unit. The SSG 08 is based on Steyr's unique Safe Bolt System (SBS) action, which is bedded in a high-grade aluminum stock and mated to Steyr's direct trigger, legendary for its crisp, clean and repeatable break. The skeletonized stock includes a UIT rail along the length of the fore end, a built-in bipod post, multiple mounting points for user-customized Picatinny rail combinations and a fully enclosed detachable-box magazine. The butt of the stock folds for transport and features an adjustable cheek piece, an adjustable butt plate, and an integrated, finely adjustable rear-elevation pod. The cold-hammer-forged barrel measures 27.17 inches to maximize the potential of the .338 cartridge, and its 1:9 twist rate will stabilize bullets up to and including the increasingly popular 300-gr. HPBT Secnar projectile. The action, magazines and stock were lengthened to accommodate the dimensions of the .338 Lapua Magnum cartridge. Due to the SSG 08's extreme accuracy potential and ability to maintain supersonic speeds at distances in excess of 1,500 meters with the .338 Lapua chambering, a 20-MOA declination scope base will also be included to make use of your favorite long-range optic. The .338 Lapua Magnum version of the SSG 08 also includes a newly designed heavy-duty bipod. The suggested retail price is $6,795. For more information contact Steyr Arms, Dept. SAR, P.O. Box 840, Trussville, AL 35173. Phone: (205) 467-6544. Fax: (205) 467-3015. Website: www.steyrarms.com.
Barrett Now Has Improved REC7 Rifle in .223

Barrett, a company world known for providing high-end firearms, optics, ammunition and training, announces the newest improvements and additions to the respected REC7 piston-operated rifle line. The REC7 rifle continues to impress with its enhanced reliability, accuracy and durability. Barrett continues to expand this product line by adding the popular 5.56 NATO chambering cartridge to the lineup. Many improvements have been made to the REC7 line, with many new enhancements included. The most visual changes are the Daniel Defense free-float rail system and Magpul MOE six-position stock. The Barrett Enhanced Piston-specific Bolt is made from 9310 steel and is nickel-Teflon coated. Along with the new extractor, these features increase durability. Each bolt is proofed and magnetic-particle tested to guarantee reliable performance. Machined from 8620 steel, the nickel-Teflon coated anti-tilt bolt carrier features an integral piston strike face. The patented chrome-lined, forward venting, fluted gas block increases reliability by eliminating carbon buildup in the gas cylinder. The 17-4 stainless piston is the strongest on the market, and is easily accessed for cleaning without removing the handguard. The two-position (suppressed/unsuppressed), nitride finish gas plug is corrosion-resistant and easily manipulated with gloves. The gas block acts as an extended rail, providing ample space for mounting optics and accessories. The REC7 rifle's forged 7075 aluminum upper and lower receivers are type 3 hardcoat anodized. The lower houses a dependable Mil-Spec single-stage trigger. The Magpul enhanced trigger guard allows easy access to the trigger in cold weather or with tactical gloves. The upper supports a free-floating, 16-inch hammer-forged, chrome-lined barrel with M4 feed ramps machined into both the receiver and the barrel extension. Each barrel is proofed and magnetic-particle tested for quality assurance. A Mil-Spec A2 flash hider protects the muzzle. The REC7 rifles now include two 30-round magazines – either Magpul PMAG 5.56 NATO or Barrett 6.8, three rail covers and tactical soft case. A right-hand, single-point Burnsed sling loop is angled for charging handle clearance. You can get more information by contacting Barrett Firearms Manufacturing Inc., Dept. SAR, P.O. Box 1077, Murfreesboro, TN 37133. Phone: (615) 896-2938. Fax: (435) 856-1040. Website: www.barrettrifles.com
Pelican Introduces New LED Lantern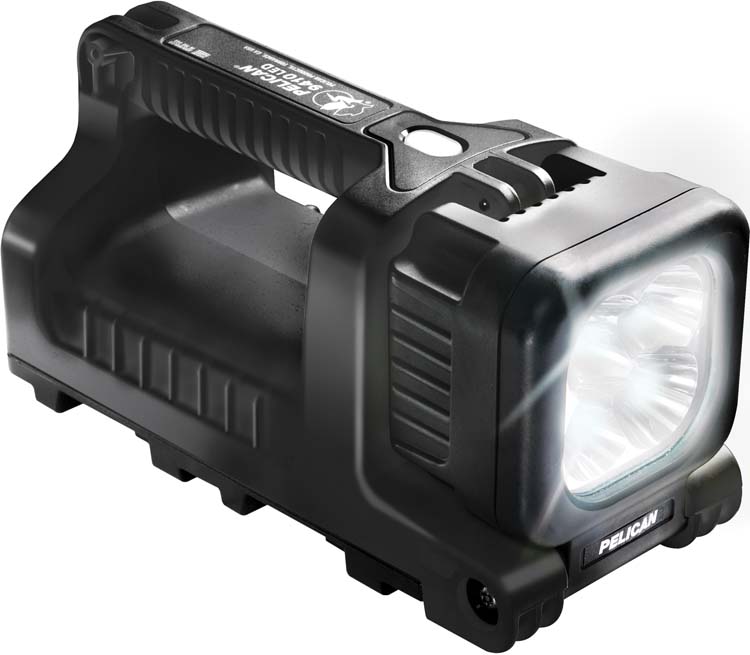 Pelican Products has introduced the rugged 9410 LED Lantern as their most powerful hand held lighting tool ever. Engineered with an array of four next-generation LEDs, the 9410 LED Lantern shines a smoke-cutting 710 lumens/43,200 candela peak beam intensity. The 9410 LED Lantern offers three illumination modes (high, low and flashing) with a water-resistant electronic switch that toggles between modes at the push of a button. The switch also features an integrated battery level indicator that illuminates when the lantern is on – green (more than 75%) – amber (Between 75% and 25%) – red (25% and lower). Powered by the latest in Nickel Metal Hydride rechargeable battery technology, it boasts nearly two hours of run time (4 hours and 45 minutes on low mode). Designed to stand on end, the lantern array can be rotated 120 degrees transforming it into an area work light. The 9410 LED also features a sure-grip, all-weather handle and an extra large space to accommodate gloved hands. Rated IPX4 water-resistant, the lantern has an incredibly tough polymer construction that will stand up to just about any abuse that comes along. It weighs in at a mere 3 pounds (with batteries) and features a quick-release nylon safety strap that prevents entanglement. In order to ensure a secure attachment, the 9410 LED Lantern and charger base are rated NFPA 1901 for use on fire apparatuses. With an MSRP of $399.95, the lantern is available in black and safety yellow. Like all Pelican hand held lighting tools, the 9410 LED Lantern is backed by the company's Lifetime Guarantee of Excellence. Please contact them at Pelican Products Inc., Dept. SAR, 23215 Early Avenue, Torrance, CA 90505. Phone: (310) 326-4700. Fax: (310) 326-6047. On the web at www.pelican.com.
Hoppe's New Bore Snake Viper Offers Increased Cleaning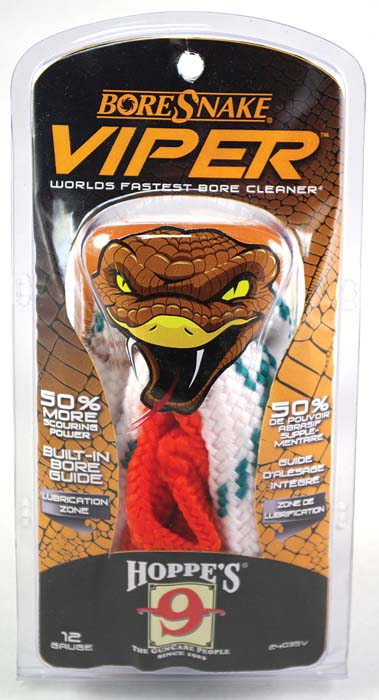 Hoppe's new Bore Snake Viper takes the world's fastest gun bore cleaner and makes it even better. The Bore Snake Viper utilizes the same one-pass pull-through technology and compact storage size of the original Bore Snake with the addition of an extra cleaning brush for a total of three, providing 50% more cleaning power. The Bore Snake Viper has a cone shaped bore guide on the leading end to allow for easy insertion into your gun's bore. The pull cord on the Bore Snake Viper is attached directly to the brushes for superior strength. The area to apply lubricant on the Bore Snake is clearly marked in bright orange. The new Bore Snake Viper is available to fit .22-.30 caliber rifles, 9mm-.45 caliber handguns and 12 gauge shotguns. For more information please contact Hoppe's Products, Bushnell Outdoor Products, Dept. SAR, 9200 Cody Street, Overland Park, KS 66214. Phone: (913) 752-3400. Fax: (913) 752-3539. Please visit their website: www.bushnellperformanceoptics.com.
This article first appeared in Small Arms Review V13N12 (September 2010)