By Chris A. Choat
Eliminate Zombies Quietly with Thompson Machine Suppressor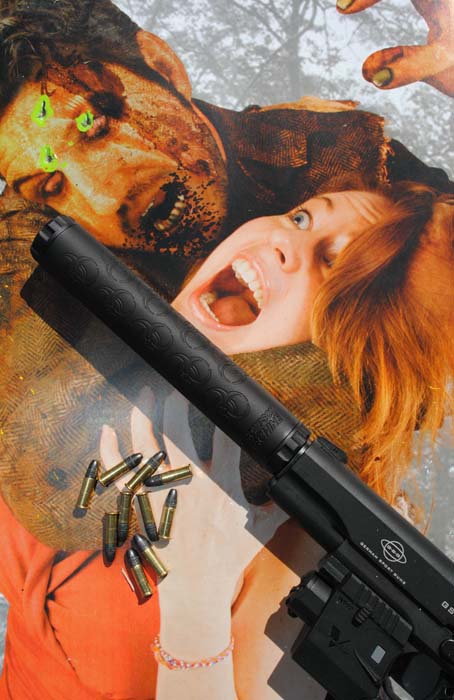 If you have ever had the need to get rid of those pesky Zombies in your backyard and do it without alerting the rest of the pack, then Thompson Machine has just the tool for you. Their newest suppressor is called the Zombie XL and is in caliber .22 Long Rifle. The Zombie XL is a special edition, limited run, suppressor with only a small number of units being produced. The new suppressor is 6.375 inches long with an outside diameter of 1.125 inches and weighs just 4.5 ounces. Made from 6061 T6 aluminum, this new unit features a mono-core design that allows it to be easily taken apart for cleaning. Both front and rear end caps thread onto the core allowing for a "threadless" outer tube. The end caps also incorporate high temperature "O" rings that completely seal the unit for even better noise suppression and keeps grime out of the internal threads. The tube, end cap and mono-core have a flat black anodized finish to match most Zombie killing firearms. The outside of the suppressor's tube is engraved with a special "biohazard" symbol that not only let everyone know that this is a special suppressor but also allows for a textured gripping surface to aid in attaching or removing it. The Zombie XL has 1/2 x 28 threads to fit most .22 LR Zombie eliminators. This new suppressor will also be produced without the special "biohazard" markings and will be known as the ISIS 22. The Zombie XL is also full-auto rated and most people that have heard it say that when shot it had a "dead" tone. For more information or to order one of these special suppressors, contact Thompson Machine, 172 Center Street, Panacea, FL 32346. Phone: (850) 408-5161. Website: www.thompsonmachine.net.
CrossBreed Introduces New OWB Mag Carriers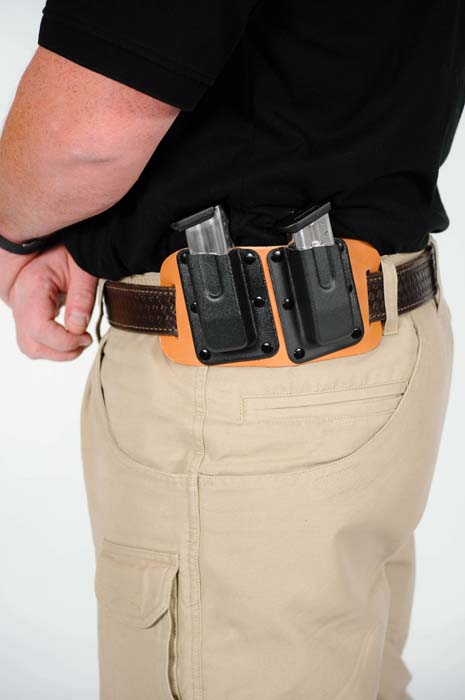 Top quality holster manufacturer CrossBreed Holsters, LLC is proud to introduce the new OWB Mag Carriers for 2012. Carrying spare magazines is always a good idea and frankly, a life-saving decision at times. CrossBreed Holsters is pleased to provide yet another option for doing so. Their OWB Mag Carrier has been completely redesigned for better concealment and, most importantly, easier access to the mags. With a cut down backer, forward rake, and more exposed magazine to grasp, reloads are swift and sure. Great retention ensures your mags stay put and a high ride keeps them concealed under a light cover garment. The OWB Mag Carrier is available for carry of one or two spare mags for all popular firearms. MSRP starts at $36.25. The OWB Mag Carrier comes with their two week try it free guarantee and lifetime warranty, just like all of their other fine products. For more information contact CrossBreed Holsters, LLC, 224 N. Main, Republic, CO 65738. Phone: (888) 732-5011. On the web at www.crossbreedholsters.com.
Volquartsen Custom Redesigns LLV Barreled Receiver

Volquartsen Custom has redesigned its popular LLV upper designed for the Ruger MKII, MKIII and 22/45 target pistols. The LLV Barreled Receiver has been completely redesigned for 2012. A great design has been made even better – better balance, more versatile and yes, even better accuracy! A hard anodized CNC machined billet receiver is the foundation of this lightweight setup. The complete barreled receiver weighs less than 15 oz. The receiver and barrel shroud are precision machined as one piece from aluminum alloy. An integral Picatinny Rail is machined into the top of the receiver. It is then fitted with a 6-inch precision stainless steel barrel that has been machined honed and lapped. The barrel has been contoured to reduce weight without sacrificing accuracy. The barrel features 1/2 × 28 threads on the muzzle end for adding a compensator or suppressor and comes standard with a thread protector. Target sights are also available as an option. Volquartsen Custom offers a complete line of rimfire rifles, pistols and accessories. For more information please contact Volquartsen Custom, 24276 240th Street, P.O. Box 397, Carroll, IA. Phone: (712) 792-4238. Fax: (712) 792-2542. Website: www.volquartsen.com.
Remington Introduces Model 700 SPS Tactical in 300 Blackout

Remington is proud to announce the Model 700 SPS (Special Purpose Synthetic) Tactical 300 Blackout rifle. Chambered for the incredibly popular 300 AAC Blackout, this new rifle features the time-proven Model 700 action and is designed to impress from the bench or in the field at a very affordable price. A long-time favorite of both military and police units, the Model 700 offers the legendary accuracy and unfailing performance you've come to expect. At the core of the Model 700 SPS Tactical 300 Blackout is the machined solid-steel, cylindrical Model 700 receiver design ensuring uniformity, strength and solid bedding area. Unique to this precision rifle is the 16.5 inch, heavy-contour clean barrel threaded to accept AAC and all 5/8 x 24 threaded flash hiders, muzzle brakes and suppressors. The tactical-style carbon steel, hammer-forged barrel is the perfect balance between handling in tight spots and delivering pinpoint accuracy. With a twist rate of one in seven inches, this rifle is optimized for accuracy. These specialty, bolt-action rifles are shipped with a thread protector installed. The rock-solid barreled action is bedded in a Hogue OverMolded Ghillie Green pillar bedded, synthetic stock with a semi-beavertail fore-end for added stability. The soft-touch, sure-grip stock is extremely comfortable for extended, long range shooting and assures a positive grip in both stressful situations and inclement weather. The dual point pillar bedding guarantees a solid interface between the action and stock to help insure cold bore accuracy and prevent point-of-impact shifts. Add Remington's X-Mark Pro externally adjustable trigger, designed to "break-like-glass" and set at 3.5 pounds from the factory, and this rifle delivers surgical-like accuracy. Other key features include a drilled and tapped receiver for the addition of optics; distinctive, laser-engraved "300 AAC Blackout 1:7" roll mark; convenient hinged floorplate magazine with 4-round capacity and a non-reflective, black oxide external metal finish; and sling swivel studs. The Model 700 SPS Tactical 300 Blackout is the perfect tactical bolt-action rifle and available at a very affordable price. Suggested retail price is $817.31. You can contact Remington Arms Company, LLC, 870 Remington Drive, P.O. Box 700, Madison, NC 27025. Phone: (800) 243-9700. Website: www.remington.com.
Wheeler Engineering Develops Anti-Cant Indicator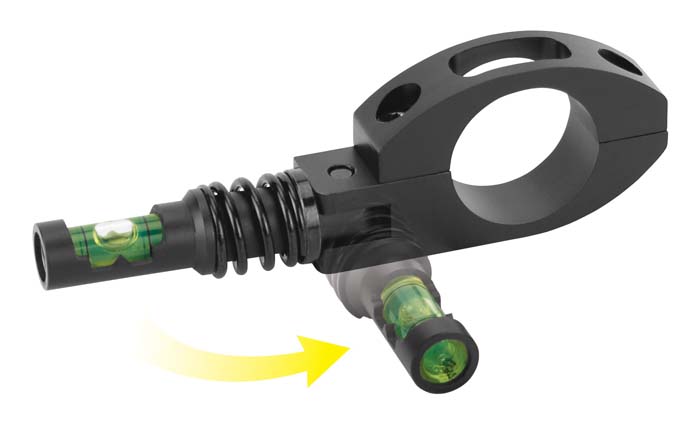 Wheeler Engineering's Anti-Cant Indicator improves accuracy by insuring proper gun alignment, which is critical for turret adjustment and hold over for bullet drop compensation. Keeping your scope perfectly aligned is critical to long-range accuracy. Canting your scope left or right only a couple of degrees may cause error in point of impact. With modern "Drop-Compensating" scopes, an Anti-Cant Indicator is a necessity. If your gun isn't aligned correctly, dialing up the turrets or using hold-over marks will just throw off your shot, causing you to miss your target. The Wheeler Engineering Anti-Cant Indicator ensures that your rifle is always held near perfectly vertical, eliminating any chance for "Cant Error" to cause a miss. The Wheeler Engineering Anti-Cant Indicator is available in both 1 inch and 30mm models. This precision piece of equipment is crafted from machined aluminum with an anodized finish. It easily attaches to a scope tube in the same fashion as a ring. The Anti-Cant Indicator is easy to view from all shooting positions, and when not in use it folds in for protection. Retail price of the Anti-Cant Indicator is just $39.99. For more information about the Wheeler Engineering Anti-Cant Indicator or any Battenfield Technologies products, contact Battenfield Technologies, Inc., 5885 W. Van Horn Tavern Road, Columbia, MO 65203. Phone: (573) 445-9200. Fax: (573) 446-6606. Website: www.battenfieldtechnologies.com.
Morphix Technologies Offers New Training Tool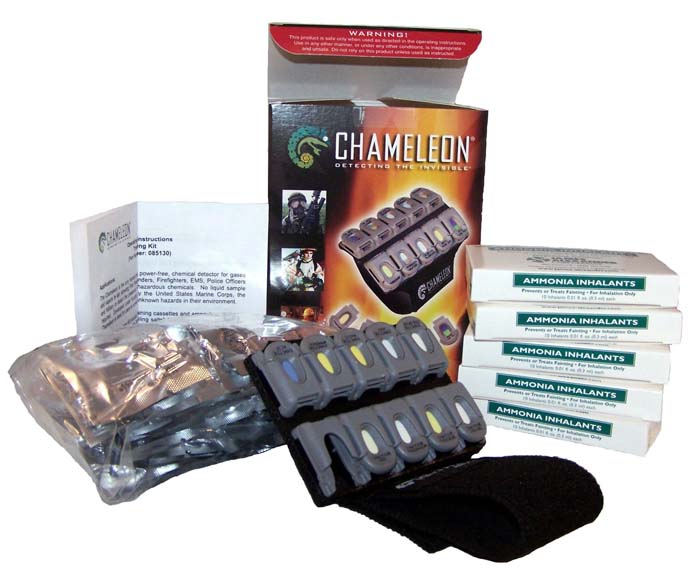 Morphix Technologies, an innovator in the science of detection devices for dangerous chemicals, has created a Training Kit for law enforcement, responder and agency training facilities and schools in response to the increasing need for chemical awareness training. With a rise in illegal drug and chemical production, toxic chemical spills due to industrial or transportation accidents and chemical suicides, more officer and responder training programs include courses that provide critical knowledge on chemical scenarios and how to respond to them. The Chameleon Training Kit, used during training, helps initial responders learn to identify the presence of toxic chemicals through a training Chameleon armband with special inactive cassettes that show the difference between unaffected cassettes and cassettes that read a chemical in the environment. Also included in the kit are blue training cassettes (50 total) and ammonia ampoules that enable the instructor to demonstrate, in a well-ventilated area, how the cassettes change color when exposed to a chemical. Responders learn how to use the Chameleon Training Kit and find that it is as simple as removing one of the grey cassettes from the Chameleon armband and replacing it with one of the blue training cassettes. The Chameleon can then be put over the forearm or attached to a vest with hook and loop. The trainer then demonstrates how a "real world" color change would occur by breaking one of the ammonia ampoules and waving it underneath the training cassette. If the cassette changes from a solid color to two colors, the Chameleon has detected a hazardous level of toxic gas and it's time to leave the scene. The Training Kit is identical to the original Chameleon system and it shows officers how quickly and easily they can configure their Chameleon and put it on in less than a minute. Please contact them at Morphix Technologies, 2557 Production Road, Virginia Beach, VA 23454. Phone: (757) 431-2260. Fax: (757) 216-6209. They can be found on the web at www.morphtec.com.
This article first appeared in Small Arms Review V16N2 (June 2012)