By Chris Choat
New Night Vision Riflescope From Pulsar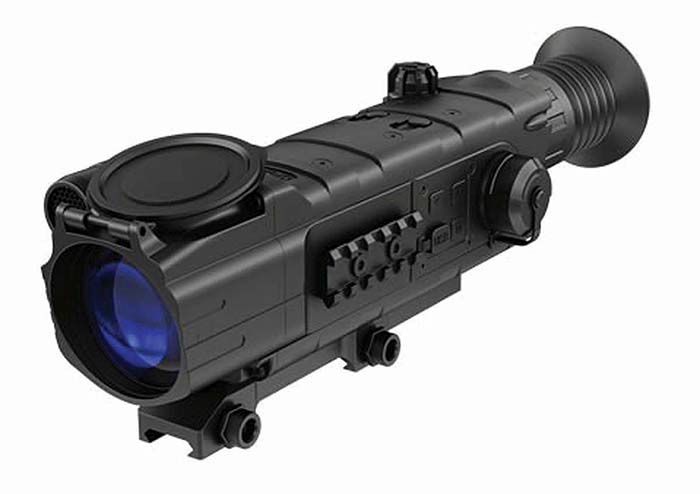 The Pulsar Digisight N550 is manufactured with cutting edge digital technology that enables this riflescope to function in daylight as well as at night. Digisight's large upgradeable metal platform is lightweight and perfect for any rifle type and features digital crosshairs. Since the crosshairs are digital and not mechanical, the user has the unique option to change crosshairs quickly. Just download the digital crosshairs and the user is set for any situation. With the Digisight video output capability, the entire excursion can be recorded or transmitted for professional use, training purposes or just to collect a treasured memento of time in the woods. The Digisight has a one shot zeroing system, so ammo is not wasted when sighting in the scope. With a built-in IR illuminator and bottom mount weaver rail, the Digisight can be easily moved, or removed from the rifle, when needed. The built-in external power supply and remote control capabilities make Pulsar's Digisight the night vision riflescope every marksman wants attached to their weapon. Pulsar products are manufactured with the professional individual in mind. Built on a Mil-Spec platform, Pulsar provides advanced night vision products for military, law enforcement & consumers applications. For more information contact Sellmark Corporation, 2201 Heritage Parkway, Mansfield, TX 76063. Phone: (817) 225-0310. Fax: (817) 394-1628. Their website is www.pulsarnightvisionusa.com.
New Products From Del-Ton Incorporated

Del-Ton is pleased to announce the introduction of an exciting new rifle designed for the sport shooter and enhancements to two flagship models of its rifle line. The DTI Evolution is an excellent choice for any sporting application including 3-gun competition. Key features include: 16-inch CMV chrome-lined, mid-length lightweight barrel and gas system; 1×9 twist, HPT/MPI tested Carpenter 158 bolt, Samson Evolution 12.37-inch free float rail, M4 feed ramps, Samson Quick Flip Dual Aperture rear sight; Samson folding front sight, Two-stage, Mil-Spec trigger, Magpul MOE+ grip, Magpul CTR Mil-Spec buttstock, Mil-Spec buffer tube and a H-buffer. The retail price will be $1,300. The DT Sport OR is now on the shelves. This sporty, lightweight rifle is a great value and offers many features available on more expensive rifles. Key features of this rifle include 16-inch barrel of 4140 steel; 1×9 twist, phosphated under low pro gas block, lightweight profile Tested Carpenter 158 bolt, A3 Flat top with white "T" marks, lower receiver is Mil-Spec forged 7075 T6 aluminum; hard coat anodized and an M4, 6-position buttstock. The price on this rifle will be $699. The Echo 316H OR is a solid, mid-priced A3 heavy barreled carbine that will offer years of service and reliability. Key features of this rifle will be much this same as the Sport OR but with a railed gas block, Mil-Spec buffer tube and H-buffer. The price on it will be $864. For complete technical specifications and information on these and other Del-Ton products, please contact Del-Ton, Inc., 330 Aviation Parkway, Elizabethtown, NC 28337. Phone: (910) 645-2172. Fax: (910) 645-2244. On the web at www.del-ton.com.
ATI Debuts the First Two HD-16 Series Rifles

American Tactical Imports is proud to introduce the first two rifles in their new product line of HD-16s, exclusively from ATI. ATI has joined forces with Head Down Products in Dallas, Georgia, to create a new and exciting product line that brings the highest quality in manufacturing to an affordable price point for consumers. The ATI HD-16 Series rifles will incorporate the best features of AR-15 style rifles with custom parts and accessories from Head Down. The first two models, the V916 and the HDVX will feature custom free-float aluminum rails, available only from Head Down Products. Both models will have a 16-inch Nitrocarb barrel chambered in 5.56mm with 1/7 RH twist. They will also use Mil-Spec 7075-T6 forged upper and lower receivers with Type III hard coat anodized finish. The V916 will feature a 9-inch Head Down Provectus free float rail, while the HDVX will sport a 13-inch Provectus. Both models will contain a low profile carbine length gas system, Mil-Spec Carpenter 158 bolt/8620 carrier, and commercial spec M4 collapsible stock. The ATI HD16 V916 has an MSRP of $889, while the HDVX will ring in slightly higher at $909. Both will come with a 30-round polymer magazine and hard case. Contact them at American Tactical Imports, Inc., 100 Airpark Drive, Rochester, NY 14624. Phone: (585) 328-0945. Fax: (585) 328-4168. Website: www.americantactical.com.
Leupold Introduces New DAGR Combat Optical Sight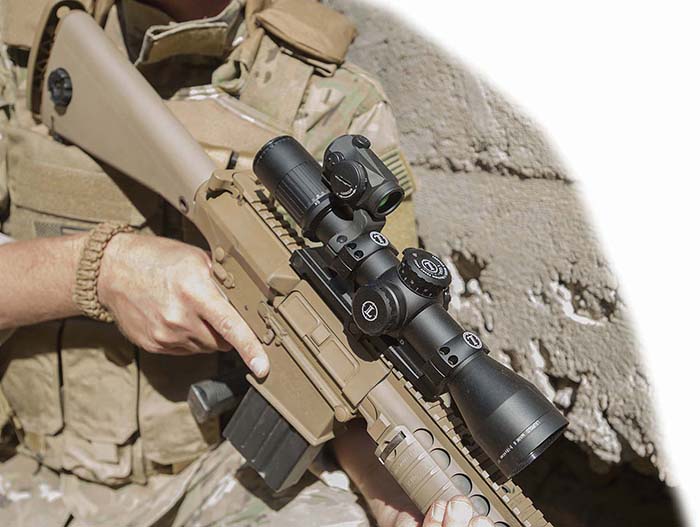 Leupold is pleased to introduce the next generation in long-range and close-quarter hybrid battlefield optics with the Dual Aperture Gunsight Riflescope (DAGR), the next generation of integrated optical aiming systems for modern small arms. Leupold's DAGR System integrates the cutting-edge Leupold Mark 6 3-18x44mm riflescope with the CQB-proven Aimpoint Micro T-1. American warfighters can go from 1x to 18x in a fraction of a second with this system. With an overall length of less than 12 inches and weighing just 34.2 ounces, the Leupold ECOS-O solution delivers an incredible field of view and rapid target acquisition at an unmatched length and weight. In order to increase the combat effectiveness, Leupold engineering redesigned the elevation turret to reduce the centerline distance between the two optics to 1-3/4 of an inch. This greatly increases the speed of target acquisition for CQB engagements. The DAGR System was recently submitted as the solution for the Miniature Day/Night Sight Enhanced Combat Optical Sight – Optimized (MDNS ECOS-O) government request for proposal. This system will be available for consumers in 2013. Built in Leupold's Beaverton, Oregon facility, the ECOS-O is the latest in the company's proud military history. Currently, more long-range Leupold tactical optics are in service with the U.S. military than any other brand. Aimpoint has been delivering red dot sights to the U.S. Army since 1997. The foundation of the DAGR is the Mark 6 3-18x44mm, which offers a specialized short zero lock 0.1 mil adjustment dial with pop up revolution indicator and an easy-to-adjust ocular housing power magnification adjustment. The system includes a Berry Compliant carrying case, Leupold's Mark 6 Integrated Mounting System and Sight mount. Contact Leupold & Stevens, Inc., 14400 N.W. Greenbrier Parkway, Beaverton, OR 97006. Phone: (503) 646-9171. On the web at www.leupold.com.
The Ultimate Sight-In Rifle Rest From In-Range Supplies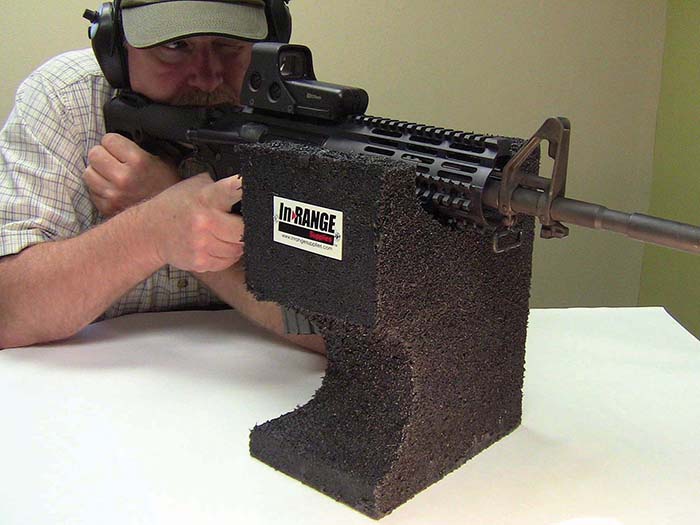 In-Range Supplies, a division of Range Systems, a leading manufacturer of live fire shooting products for the military, law enforcement and civilian communities, introduces the Sight-Bloc, their multi-level rifle rest. The Sight-Bloc is manufactured from Range Systems patented rubber composite made entirely from recycled rubber particles, which contain fire extinguishing properties, UV protection, and can endure extreme climate conditions. Unlike sandbags, which often shift, leak or absorb water, the Sight-Bloc provides a molded rubber construction that will not freeze, absorb water, or decompose, and always provides a stable and sturdy rifle shooting position. With portable metal gun rests, or with sandbags, it can be challenging to find the correct height to properly sight in your rifle. The multi-level Sight-Bloc features 2 recessed rests that can accommodate heights from 4 inches, 7 inches or 9 inches. It will also accommodate AR-15 platform rifles with 30-round magazines. The Sight-Bloc is currently being used by the U.S. Military and law enforcement agencies throughout the U.S. In-Range Supplies' Sight-Bloc weighs 14 pounds and its sturdy construction will last a lifetime. The MSRP is $49.99. Contact them at In-Range Supplies, 5121 Winnetka Avenue North, New Hope, MN 55428. Phone: (877) 423-1785. On the web at www.in-rangesupplies.com.
Crimson Trace Introduces Laserguard For Springfield XD-S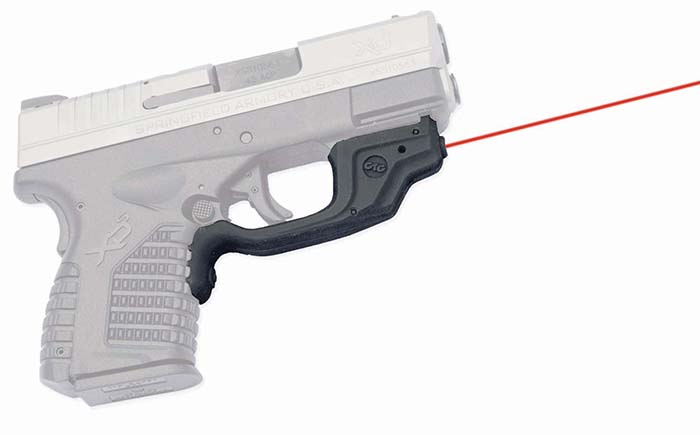 The hot, new XD-S pistol from Springfield Armory will soon have the ultimate in laser sights from the leader in the category – Crimson Trace. The popular Laserguard model will be available in November with an MSRP of $219 through the company's normal distribution network and direct from crimsontrace.com. The popularity of the XD-S hinges on its surprisingly slim frame, which makes the Laserguard platform the perfect combination because it adds no width or bulk to this compact .45 ACP pistol. With a powerful caliber and compact frame, aiming can cause a challenge to shooters. The Laserguard allows the user to get on target quickly due to its patented Instinctive Activation advantage. The Laserguard platform is essential equipment to conceal carry firearms – not a simple accessory. The entire unit adds virtually no weight to the firearm and is quickly and easily installed by the user simply securing around the trigger guard with provided screws. The profile for the pistol does change which is why Crimson Trace works with top holster manufacturers to create holster solutions for all Laserguard equipped firearms. Each Laserguard is pre sighted from the factory at 50 feet and is fully adjustable by the user to fine tune it to their chosen self defense ammunition. Featuring the most powerful laser allowable by law, the unit offers an industry leading 2 hour run time on one, easily replaced 1/3N battery, which also qualifies for the Crimson Trace 'Batteries for Life' program. For more information please contact them at Crimson Trace, 9780 SW Freeman Drive, Wilsonville, OR 97070. Phone: (503) 783-5333. Fax: (503) 783-5334. Website: www.crimsontrace.com.
This article first appeared in Small Arms Review V17N1 (March 2013)