By Chris A. Choat
Traditions Tactical Introduces Tactical Scope and Rings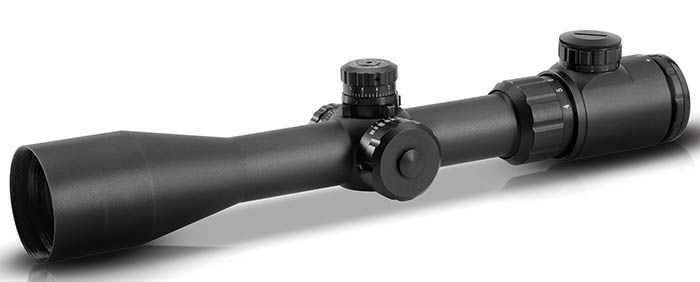 Traditions Tactical has just introduced a line of tactical scopes and rings for 2013. Available for 2013, the AR Marksman scope is offered in matte black and is available in two different models: 3-12×44 and 4-16×44. The Marksman also includes a parallax adjustment from 10 yards and up. These scopes have an illuminated mil-dot reticle in both green and red. Additionally, the Marksman scope has a 30mm tube for maximum light gathering. Retail price for either model is $199.99. The AR Patrolman model is being offered in 1-4×24 in matte black. This scope has an illuminated mil-dot reticle in selectable red or green dot with crosshair, allowing you to shoot with both eyes open for quick target acquisition. Additionally, the Patrolman has an adjustable magnifying ring up to 4 power and a full 30 mm tube for maximum light gathering. The price for the Patrolman is just $179.99. All of Traditions Tactical scope offerings work great on AR platforms. For 2013, Traditions Tactical is additionally offering 4 or 6 screw rings that work on flattop AR platforms and are extremely sturdy. The oversized hex nut ring bases and hardware provide solid attachment and the extra-wide ring design securely holds your scope in place. Available in 1 inch or 3 inch and heights of medium, high, or extra high, the price on these rings range from $19.99 – $25.99 for a set of 2. For more information you can contact them at Traditions Firearms, 1375 Boston Post Road, P.O. Box 776, Old Saybrook, CT 06475. Phone: (860) 388-4656. Fax: (860) 388-4657. On the web at www.traditionsfirearms.com.
CrossBreed Introduces First Ever Modular Belly Band System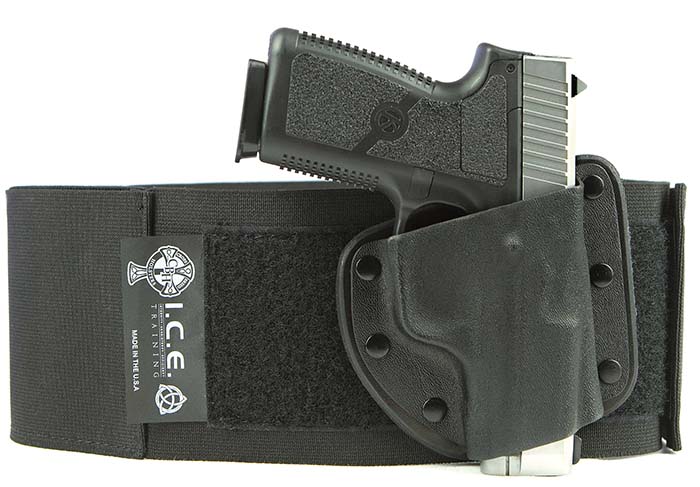 Top quality holster manufacturer CrossBreed Holsters, LLC is proud to partner with one of the most recognized trainers in the industry and owner of I.C.E. Firearm Training Services, Rob Pincus, in introducing the first ever Modular Belly Band System. "This is the first system to combine the convenience and comfort of the standard belly band, with the consistency and efficient presentation of a kydex holster," says Rob Pincus, owner of I.C.E. Firearm Training Services. The CrossBreed Holster Belly Band's innovative design incorporates the regular elastic band with CrossBreed's modular kydex holster so the user can have the versatility of their preferred holster placement. The Belly Band comes with extra Velcro for the option of removing the kydex holster and placing it anywhere the Velcro can be applied. Other features include two sewn magazine pouches and one larger sewn pouch for handcuffs. The Modular Belly Band is available in two different sizes: regular, will fit up to a 34-inch waist size, and large will fit up to 52-inch waist. As with all of CrossBreed products, the modular belly band system qualifies for the "Two Week, Try it Free Guarantee" and full lifetime warranty. They can be contacted at CrossBreed Holsters, LLC, 224 North Main, Republic, MO 65738. Phone: (888) 732-5011. On the web at www.crossbreedholsters.com.
Promatic, Inc. Announces New Running "Boar Target System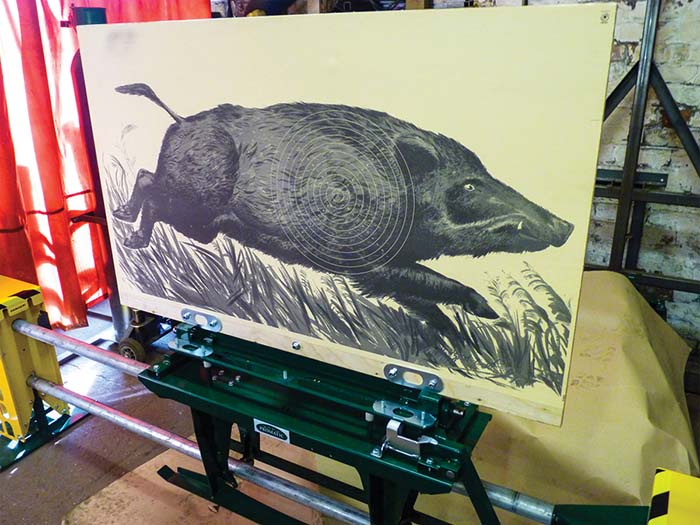 Promatic, largest worldwide producer of commercial clay target throwing machines has just announced their new Promatic Running Boar target. The Running Boar was designed as a moving rifle target to allow you to improve your skill set with a hunting rifle. The Running Boar features a 150-foot track, wireless remote for operation, speed control and directional target board that auto turns at each end of the track insuring the target is always facing the correct direction. The new Promatic Running Boar is available now and will be a another addition to the Promatic lineup that includes over 60 clay target throwing machines and a full range of ground management systems. Learn more about this at Promatic, Inc., 7803 West Hwy 116, Gower, MO 64454. Phone: (888) 767-2529. On the web at www.promatic.biz.
ATN NVB8 Night Vision Binocular Conquers Dark and Distance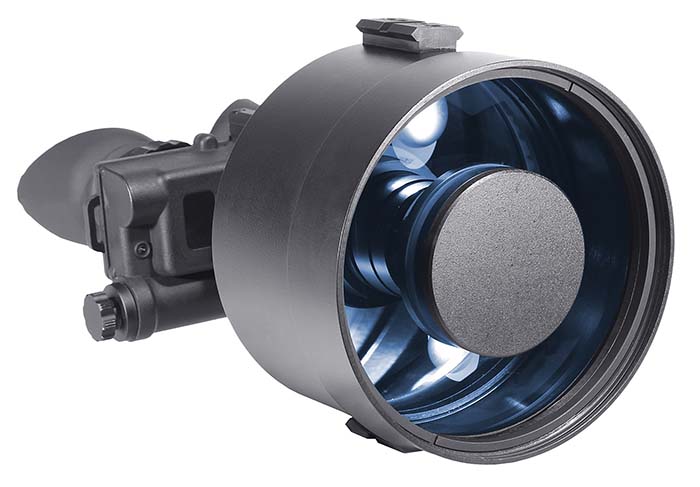 American Technologies Network, Corp., makers of military, law enforcement, security and outdoor night vision and thermal applications, now offers outdoor enthusiasts and private security professionals a powerful, long-range night vision binocular at an affordable price. Featuring an 8x magnification, the ATN NVB8 gives users the extended range in low-light to no-light conditions with perfect clarity. An adjustable interpupillary distance allows the user to set the binocular for individually correct singular image viewing. Perfect for outdoors, marine and security environments, the rugged NVB8 is water and fog resistant and tripod mountable. The multi-coated, all-glass optics feature ATN's proprietary Proshield Lens Coating providing scratch, condensation, static and glare protection. The NVB8 has a detachable long-range infrared illuminator and built-in flood infrared illuminator. The ATN NVB8 binocular is available in Generations 2, 3, 3A and 3P. It is also available in CGT, HPT and White Phosphor Technology (WPT). The ATN NVB8-2 starts at $2,699. You can contact them at American Technologies Network, Corp., 1341 San Mateo Avenue, South San Francisco, CA 94080. Phone: (650) 989-5100. Fax: (650) 875-0129. Their website is www.atncorp.com.
New Viridian Red Laser

Good news for red laser fans: The unmatched engineering, advanced design, and optimized performance of Viridian Green lasers is now available in the brightest red laser format possible: Viridian Elite Red laser sights-C5L-R and X5L-R. In nighttime, indoor, and dim light environments, Viridian Elite Red laser sights deliver a decisive advantage: maximum visibility of the red targeting dot. Viridian's optimum 635 nm laser wavelength produces the most brilliant red dot possible, for more positive targeting, higher accuracy, and greater intimidation in a confrontation – intimidation that may disarm otherwise lethal situations. In addition, ambidextrous multi-programmable design provides maximum flexibility in use, and all Viridian Elite Red laser sights are equipped with multiple action-ready exclusives such as Radiance Technology wide-beam taclights that reveal more targeting area (C5L-R only) and Enhanced Combat Readiness (ECR) for instant, automatic activation. The new lasers are compatible with all Viridian TacLoc holsters. A low profile, no-overhang design is matched to weapon type for smooth, snag-free draw, great appearance, and enhanced weapon feel and function. There is a tight, seamless fit that integrates into subcompact and full-sized railed firearms, for optimized performance. For more information you can contact them at Laser Aiming Systems, Corp., 5475 Pioneer Creek Drive, Maple Plain, MN 55359. Phone: (800) 990-9390. On the web at www.viridiangreenlaser.com.
The OTIS Tech 300 Blackout Cleaning System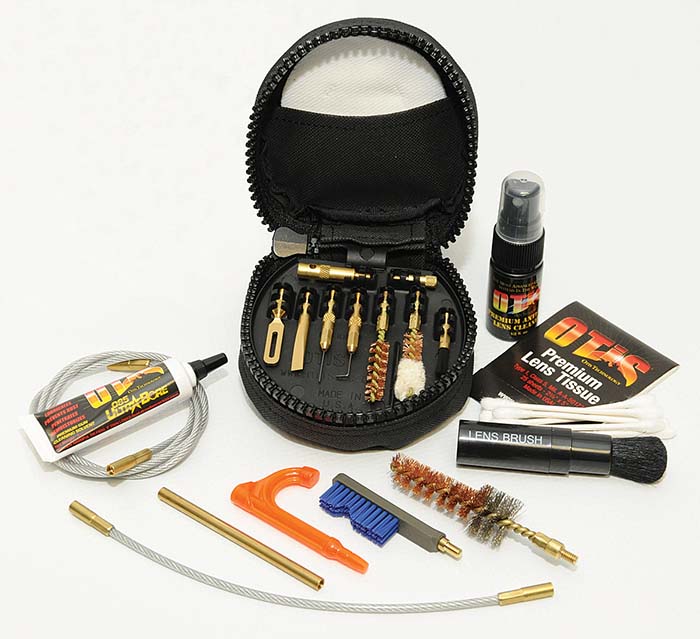 At the 2013 SHOT Show, the industry leader in small arms cleaning equipment introduced a cleaning system for the new and very popular 300 Blackout caliber. The 300 Blackout has taken the AR-world by storm with its immediate acceptance and popularity. The new OTIS kit is specifically designed for the 300 Blackout in the AR platform.
The kit includes their famous cable system along with a .30 caliber bore brush. One of the new Mongoose brushes is included, which is a bore brush with a wool mop on the end excellent for a quick clean. Most AR rifles today utilize some form of optic and the kit comes with a lens brush, lens cleaner, lens tissue and Q-tips. For getting to those hard to clean spots, the kit comes with several tools including scraper, brushes and picks. The most notable addition to this kit is a proper 300 Blackout chamber brush with a barrel extension cleaning brush at the rear. This is the most important cleaning component for any rifle. The MSR is $59.99. Contact them at Otis Technology, 6987 Laura Street, Lyons Falls, NY 13368. Website: www.otistec.com. (Review by Chris Bartocci)
This article first appeared in Small Arms Review V17N3 (September 2013)