By Chris A. Choat
MAGPUL INTRODUCES THEIR NEW MBUS PRO BACK-UP SIGHTS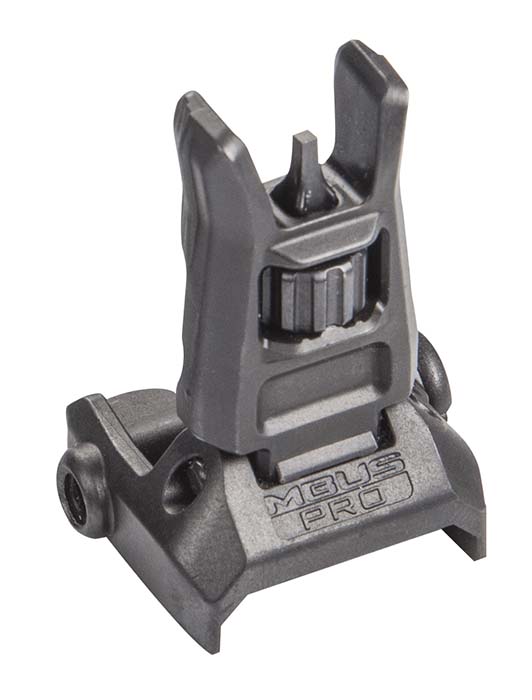 The MBUS Pro is a new corrosion resistant all-steel back-up sighting solution that delivers maximum functionality and strength with minimum bulk at a price that's even smaller than its size. The dual aperture, windage adjustable Rear and no-tool, elevation adjustable Front excel in all 1913 Picatinny rail mounting applications, including rail-height gas blocks. Positive detents keep the MBUS Pro Front and Rear at standard AR sight height when deployed, and so low when they are stowed that you'll never notice them until they're needed. Narrow width Front is compatible with most IR aiming laser and light installations for the professional user. For more information contact Magpul Industries Corporation, P.O. Box 17697, Boulder, CO 80308. Phone: (877) 462-4785. On the web at www.magpul.com.
TWO NEW COLT COMPETITION SPORTING RIFLES

Bold Ideas Texas, the Licensed Manufacturer of the CCR Colt Competition Rifles, is proud to introduce two new CSR Colt Sporting Rifles, the CSR-1516 and CSR-1518. Immediately available to the consumer market, the CSR-1516 and CSR-1518 Colt Sporting Rifles are ideal choices for sportsmen, target shooters, and hunters alike due to their superb accuracy and reliability. Both models are chambered for 5.56x45mm NATO (.223 Remington) and are designed to handle 50 grain to 77 grain bullets. Whether shooting tight groups at the range or competing in 3-gun matches, these new Colt Sporting Rifle models offer reliable performance at a price anyone can afford. Built on forged Mil-Spec-alloy receivers, the CSR-1516 and CSR-1518 feature match-grade Colt-branded chrome-moly steel barrels, button-rifled with a 1 in 8 inch right-hand twist, and air-gauged for quality. For corrosion resistance, all CSR barrels are finished in matte-black manganese phosphate. Each CSR rifle comes with a 12-inch float-tube handguard with a top mounted 7-slot accessory rail, a Colt-branded finger-groove rubber grip with integral beavertail, and a Colt Match-Target Trigger with a crisp 6 pound release. Each Colt Sporting Rifle ships with one 30-round magazine. The CSR-1516 weighs less than 6-1/2 pounds with a quality 16-inch mid-weight barrel, and measures 32.75 inches retracted and 36 inches extended. The buttstock is a Colt-branded 6-position adjustable carbine stock in an improved M4-style. The MSRP for the CSR-1516 is $990. The CSR-1518 weighs less than 7 pounds with an 18-inch mid-weight match-grade barrel, and measures 34.75 inches retracted and 38 inches extended. The buttstock is a Colt-branded 6-position adjustable rifle stock with a wide ambidextrous cheek rest for comfort and improved shootability. The MSRP for the CSR-1518 is $1,049. For more information contact them at www.coltcompetitionrifle.com.
TERRALUX INTRODUCES MORE POWERFUL LED FLASHLIGHTS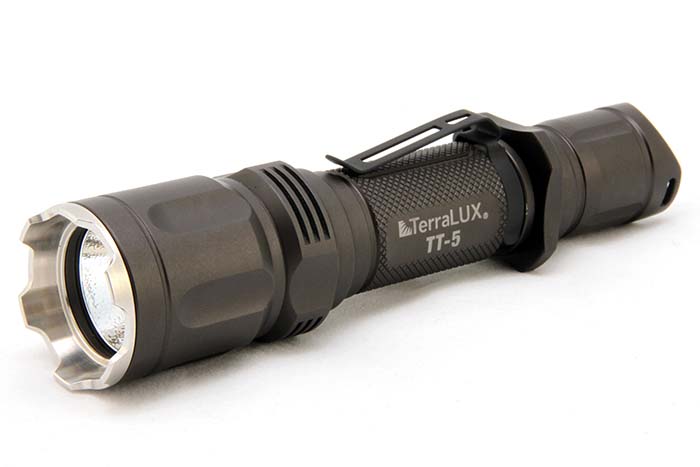 TerraLUX is a leader in LED technology. They are constantly thinking of new ways to improve lighting, save energy, time and money. Now, TerraLUX has developed a new state of the art portable light called the TT-5. This tactical LED light has four different stages of brightness; High, Medium, Low and Strobe. Since the TT-5 has a tempered glass lens, rest assured you will be getting the very best view straight ahead as long as 170 meters. The TT-5 can survive the most rugged and tough environments. The LED flashlight is CNC machined 6061 aluminum, type III hard anodize. However, if something were to happen, the TT-5 has a lifetime warranty. Technicians, law enforcement officers, military personnel and hardcore outdoorsmen all appreciate the durability and reliability that comes with owning a TerraLUX light. TerraLUX TT-5 is designed with the pros in mind but sold without the professional price tag, and there are no bulbs to replace and no expensive specialty batteries to buy. TerraLUX flashlights can be purchased online at www.terraluxportable.com.
Bushnell Announces Three New Extreme Range Rifle Scopes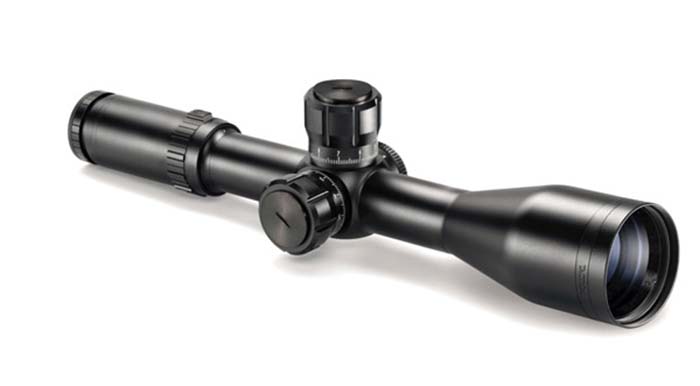 Bushnell Outdoor Products, an industry leader in high performance sports optics for 65 years, has introduced a new Elite Tactical 4.5-30x 50mm extreme range riflescope (XRS). This high-powered first focal plane riflescope is built for long-range target acquisition and available with three reticle options: Horus H59, the TreMoR2 and the G2DMR. The Elite Tactical 4.5-30x 50mm XRS riflescope packs a robust magnification range yet measures just 14.4 inches in length. With the potential to acquire targets at extended ranges with the XRS, Bushnell has incorporated its new Z-Lok locking elevation turret, which has .1 mil clicks and 10 mil revolutions. In addition, the new Z-Lok features a zero stop that allows the shooter to preset the zero and avoid the possibility of dialing below zero. Because windage adjustments require less dialing, the T-Lok turret is used on the windage knob and can be quickly lifted for adjustments when conditions change and instantly locked into place by depressing the turret to its standard position. Bushnell Elite Tactical series scopes are built to withstand the rigors of the field, whether in military and law enforcement situations, competitions or countless rounds at the range. With fully multi-coated optics and the anti-reflective Ultra Wide Band (UWB) coating, the scope has 95 percent light transmission. This results in enhanced clarity, exceptional brightness and true color from dawn to dusk. Built from high-quality forged aluminum alloy, the scope features a robust 34 mm one-piece tube and Argon purging. Elite Tactical riflescopes are 100 percent fog proof, shock proof and waterproof. The permanent, water-resistant finish causes moisture to bead up and scatter less light, giving shooters a clear view when weather conditions present a challenge. The Bushnell Elite Tactical 4.5-30x 50mm XRS is available in a black finish with either the H59 or G2DMR reticle for a suggested retail price of $2,149.99, and in the new flat dark earth finish with the H59, TreMoR2 or G2DMR reticle for $2,199.99. For more information about the Bushnell Elite Tactical series, visit the product section online at www.bushnell.com.
CALDWELL INTRODUCES NEW PRODUCTS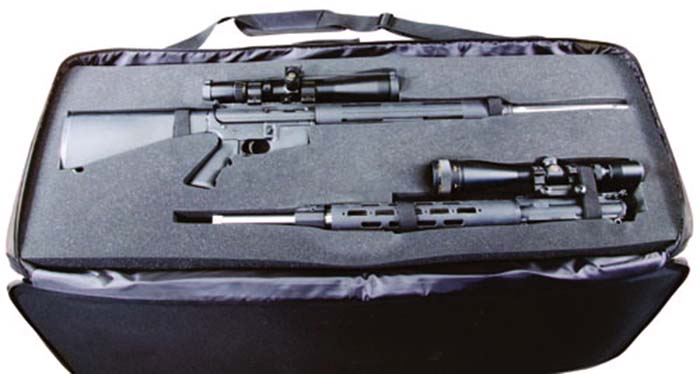 Caldwell is pleased to introduce new AR Transporter Case. Caldwell's AR Transporter Case is perfect for transporting and storing your AR-15 and separate upper assembly. This padded case is made of heavy duty ballistic fabric for durability and has a comfortable padded shoulder strap and wide carrying handles. The case features a large fully zippered accessories pouch and 6 Hook & Loop top magazine pouches. Caldwell's AR Transporter Case will hold most configurations of AR-15s up to a full size AR-15 with A2 stock, scope, and 24-inch barrel (overall rifle length 42 inches). Internal attached Hook & Loop straps hold your AR secure during transport. An additional scoped upper assembly can be strapped in as well. Interior open cell foam padding allows you to customize the fit of the case to your AR-15 with just the use of a razor knife. Interior gun cutout accepts scoped rifles up to 42 inches long.

Also new is the Caldwell Brass Trap. Are you tired of spending as much time sifting through grass looking for brass as you do shooting at the range? Look no more with the Caldwell Brass Trap. It is specifically designed to catch the brass in most shooting environments, styles and guns. The Brass Trap quickly assembles to be set on a bench and catch all or your rifle brass or placed on tripod to catch all of your pistol brass. The heat resistant mesh bag design allows wind through so it stays put no matter what. When you are done shooting unzip the zipper for quick brass removal and break it down to store in your range bag. Spend more time shooting and less time looking for brass with the Caldwell Brass Trap. It also prevents hot brass from landing on the shooter or someone next to him as well as keeping brass clean for reloading. The unit includes a carry bag and attaches to any tripod with a 1/4-20 male threaded stud (tripod not included). For more information contact Battenfield Technologies, Inc., 5885 West Van Horn Tavern Road, Columbia, MO 65203. Phone: (877) 509-9160. Website: www.battenfieldtechnologies.com.
This article first appeared in Small Arms Review V18N2 (April 2014)