By Chris A. Choat
CMMG RELEASES MK4 RCE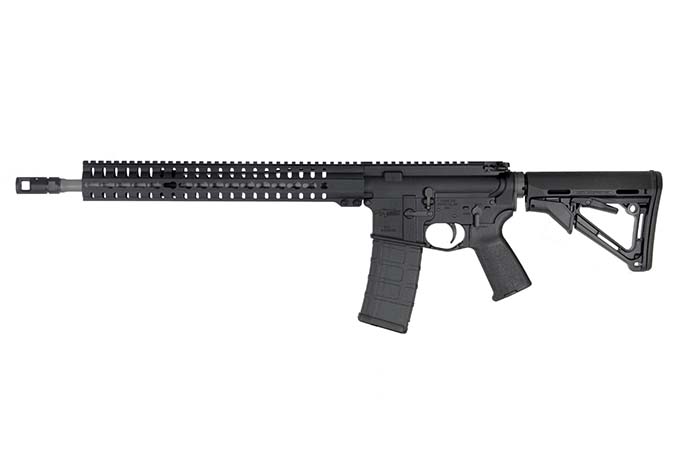 For the past decade, CMMG has delivered precision-machined AR rifles known for their exceptional function, accuracy and reliability. The latest rifle to embody these features is the CMMG Mk4 RCE, available in 5.56x45mm NATO or .300 AAC Blackout. The Mk4 RCE is one of CMMG's premier 2014 rifle models. At its core is an M4 upper receiver and an AR-15 lower receiver – both forged from 7075-T6 aluminum. The barrel is a matte finished 416 stainless steel 16-inch barrel with 1:7 rifle twist. The Mk4 RCE weighs just 6.5 pounds unloaded and weighs 7.5 pounds with a fully-loaded 30-round PMag. It is 33 inches long with the stock collapsed and is 36 3/8 inches in length with the stock extended. The RCE includes an RKM14 KeyMod free-floating hand guard with a 1913 Picatinny rail on top. The KeyMod slots are found at the 3, 6 and 9 o'clock positions and offer shooters a low-profile mounting alternative to the M1913 Picatinny rail. For accessories that are not yet KeyMod compatible, users can purchase a separate CMMG 5-slot Picatinny adapter rail that can be easily attached to any of the KeyMod slots for optimal placement of the accessories. The Mk4 RCE is equipped with a CMMG SV muzzle brake that helps to reduce recoil and increase muzzle control for quick and manageable follow-up shots. The muzzle brake is built from nitride finished 4140 steel and is able to withstand harsh conditions while providing steady and consistent muzzle rise compensation. Other features include a Geissele Automatics SSA 2-stage trigger, a Magpul CTR adjustable stock and Magpul MOE pistol grip and trigger guard. One Magpul PMag with a 30-round capacity is included with the rifle. You can find more information at www.cmmginc.com.
ROBAR ANNOUNCES NEW SR-21 RIFLE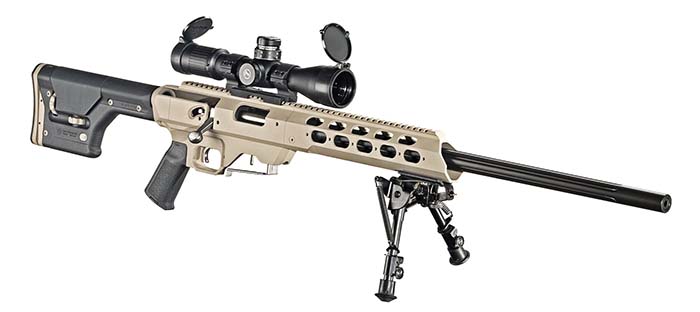 ROBAR, a trusted leader in precision rifle design, announces their new SR21 precision rifle. Designed around a customized 700 action with match grade barrel, the SR21 breaks new ground, being based on a versatile chassis system. Embracing the most advanced technology in use by precision shooters, ROBAR's SR21 begins with ROBAR's legendary accuracy guarantee of one-half MOA or better – then continues to build on that promise. The final package is based on innovation, "best-quality" components and trusted manufacturing skills. Among the unique features of this rifle are the monolithic rail, attachable sections (for mounting optics/laser/night vision and accessories), a quick detachable stock and compatibility with standard AR-style stock and pistol grip – all working together as a cohesive unit. ROBAR has created the SR21 to be one of the most versatile rifles possible, while still assuring the ability to deliver that magical 0.5 MOA. ROBAR can also place your existing rifle in this remarkable chassis and work with you to create your own SR21. This state-of-the-art modularity translates into versatility, user-friendliness and adaptability, allowing ROBAR to create an SR21 meeting your particular needs. Contact them at www.robarguns.com.
FAB DEFENSE ANNOUNCES NEW FOLDING BACK-UP SIGHTS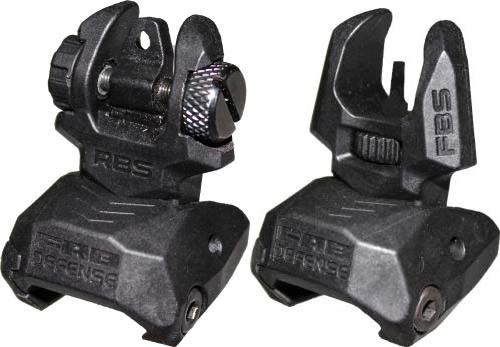 FAB Defense has just introduced their new folding back-up sights. When the FAB FBS ergonomic angel-wing shaped front site shroud aligns with the FAB RBS rear sight, a precise optical tunnel is created that ensures more accurate aiming and faster target acquisition. The FBS is a highly-advanced, low-profile, ultra-rugged, auxiliary folding front sight. It can be used with any rear sight, but has been designed to provide an extreme optical advantage when paired with the FAB Defense RBS rear back-up sight. No tools are needed for easy, rapid elevation adjustments, with positive detent locking. The RBS is a highly-advanced, low-profile, ultra-rugged, dual aperture, folding auxiliary rear sight that can be used very effectively with any front sight. But, when paired with the FAB Defense FBS front sight, it provides the extreme optical advantage described above. Dual apertures are 3mm for longer eye relief mounting, low light, and faster target acquisition; and 1.5mm for shorter eye relief mounting and greater accuracy. Apertures are instantly selectable to match conditions, and windage is easily and quickly adjusted without tools. Both RBS and FBS are made of extremely durable high-grade polymer and metal, and feature instant spring-locked deployment mechanisms that will not slip, break or deform. Their low folded profiles are smooth and inconspicuous, and will not snag on gear, webbing, or brush. The FAB Defense FBS and RBS are easily mounted on any 1913 Picatinny rail, making them ideal for use on M4/AR-15/M16 platforms and on the FAB Defense KPOS as primary or as back-up sights. When an optical sight battery fails, hunters, law enforcement officers, home defenders, and military warriors can rely on these auxiliary sights to get the job done. For more information about FAB Defense weapon accessories; Meprolight Optical and Tritium Self-illuminating Night Sights; Front Line holsters; and E-LANDER magazines, visit www.themakogroup.com.
TIMNEY UNVEILS 2014 CUSTOMER'S CHOICE TRIGGERS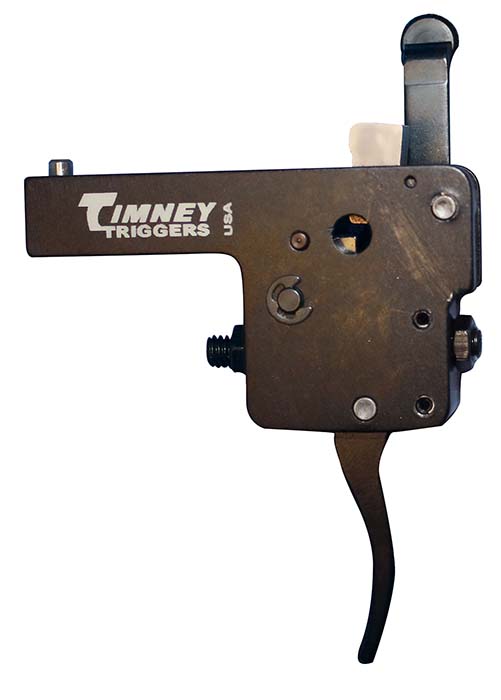 Timney Triggers, the oldest and largest trigger manufacturer in the world, has been asking shooters and hunters, "What trigger would you like us to build next?" The response has been incredible and thanks to their customers' involvement, they're thrilled to announce their 2014 Customer's Choice offerings. Mossberg 100 ATR – adjustable from 1.5 – 4 pounds. Retail price is $119.95 and $129.95 for nickel plated version. Remington Model Seven – fully adjustable from 1.5 – 4 pounds. Retail price is $134.95 and $144.95 for nickel plated version. IWI Tavor – factory set at 4 pounds and unbelievably easy to install. Because of the unique, bullpup design the Timney Trigger replacement is a two-stage trigger feel. Retail price is $352.95. Timney Triggers is dedicated to ensuring their customers a lifetime of hassle free shooting enjoyment. That is evident in the last step of the manufacturing process, when each trigger is hand assembled, tested, and calibrated for the specific rifle model it is intended for before it's delivered to the customer's door. Timney Triggers is proud to offer a lifetime warranty on all of their products and each trigger is proudly made in the USA. For more information on Timney Manufacturing please contact them at www.timneytriggers.com.
PLINKER ARMS INTRODUCES TWO NEW .22LR MAGAZINES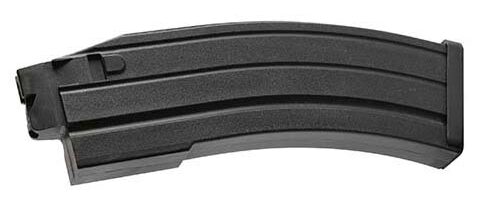 Plinker Arms, makers of American-made firearms magazines, accessories and components, announces two new .22 LR magazines to their family of .22 LR products; the .22 LR Universal magazine and the .22 LR Upper Conversion magazine. The Plinker Arms Universal .22 LR magazine is an American-made, sonically welded .22 LR magazine for SIG, DPMS and CMMG rifles. The magazines are made using a very durable, long-fiber polymer that not only increases the magazine's longevity but makes the magazines more solvent and corrosion resistant. The Universal .22 LR magazines are available in Black, OD Green and Flat Dark Earth (FDE) and in either 10 -or 25-round capacities (all state laws apply). The .22 LR Upper Conversion magazines are compatible with all three new Plinker Arms .22 LR Upper Conversion Units; the M4, SBR and Bull Barrel Upper Conversions. These magazines are also American made using a sonically welded, long-nylon polymer body construction. Available in either 10 – or 25-rounds (all state laws apply), the new Plinker Arms .22 LR Upper Conversion magazines come in Black only. Both magazines have a limited lifetime warranty and retail is just $24.99. (The Universal .22 LR magazine will not fit the Colt .22 Umarex rifles, Tactical Solutions, HK or other Umarex rifles.) For more information you can contact them at www.plinkertactical.com.
MANTA INTRODUCES NEW M7000 SUPPRESSOR COVERS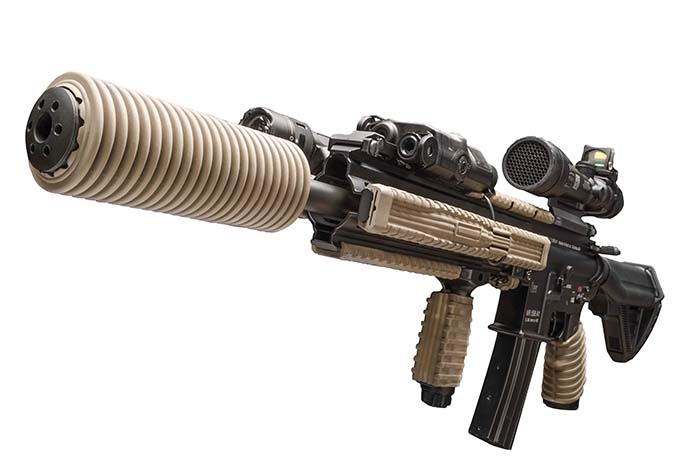 Manta is now manufacturing their new M7000 series suppressor covers. The covers will be available beginning in January 2014 and will fit 1.5 inch diameter suppressors. The use of revolutionary materials coupled with cutting-edge designs has allowed Manta to solve a problem that plagues every suppressor: HEAT. The Manta Suppressor Cover will resist the extreme heat generated from suppressors thus protecting operators and gear from accidental burns while helping to reduce mirage and IR signature. Cover segments can interface together and can be cut to length for a custom fit. The Manta Suppressor Cover will not melt. Manta has refined their designs and materials through years of testing, bringing a product to market unlike anything else. Roots in the military market has enabled Manta to create products to solve heat issues that have plagued other weapon platforms such as the Browning M2 machine gun barrel. Currently, Manta offers covers for suppressors that are 1.5 inches in diameter, a cover for the .50 caliber Barrett M107A1 suppressor and a barrel cover for the M2 Machine gun. The M7000 is Black, the M7001 is Flat Dark Earth, the M7003 is Olive Drab and the M7010 is Cammo. Manta plans to introduce multiple variations over the next several months to interface with the most popular suppressor sizes. For more information on Manta visit them online at www.manta.us.
TRU-SPEC LAUNCHES MULTICAM BLACK PATTERN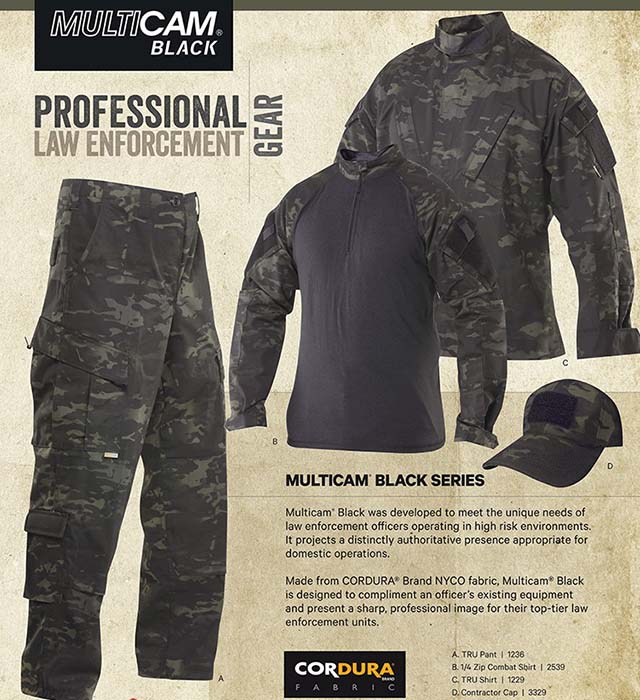 TRU-SPEC, one of the leading suppliers of uniforms and personal equipment to the military, law enforcement and public safety markets, has added the MultiCam Black pattern to their popular Tactical Response Uniform selections, specifically designed to meet the unique needs of law enforcement officers operating in high-risk environments. The MultiCam Black pattern, developed by Crye Precision and DURO Industries, projects a distinctly authoritative presence appropriate for domestic operations. The pattern is designed to complement officer's existing equipment, while presenting a sharp, professional image for the top-tier law enforcement units. MultiCam Black will be available in TRU-SPEC high tech Tactical Response Uniform (TRU), constructed with CORDURA NYCO fabric, which provides exceptional durability, comfort and No Melt, No Drip thermal performance. The TRU Shirt, TRU Pant, 1/4 Zip Combat Shirt and Contractor Cap will be available in the new MultiCam Black pattern as part of the initial launch. You can contact them via www.truspec.com.
This article first appeared in Small Arms Review V18N3 (June 2014)