By Chris A. Choat
BROWNING INTRODUCES BLACK LABEL 1911-380 HANDGUN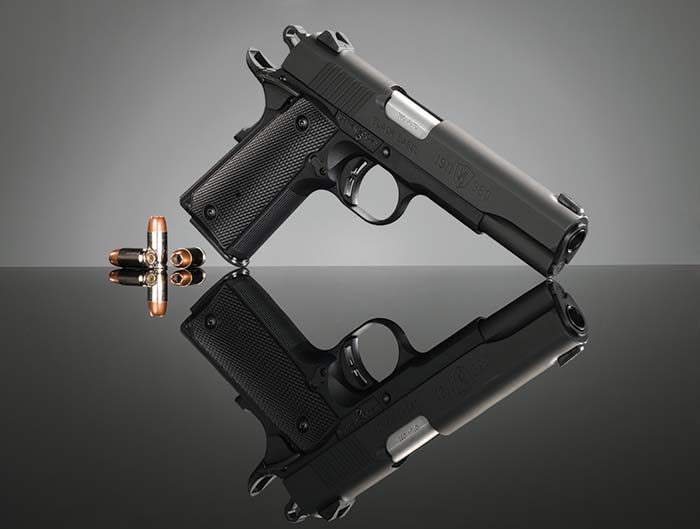 For 2015, Browning is proud to introduce the Black Label 1911-380 autoloading pistol. This new offering pairs two of John M. Browning's original inventions: the Model 1911 handgun and the 380 ACP cartridge. The 1911 has been a favorite firearm among shooters for decades and the new 1911-380 keeps with that tradition of innovation and function. Scaled down to 85% of the size of the original 45 ACP versions, the new single-action Browning 1911-380 is made in the USA and utilizes a precision-built composite frame. Extras like an extended ambidextrous safety, beavertail grip safety, machined steel slide and skeletonized hammer are also featured. The new Black Label 1911-380 comes in a matte black finish with fixed combat sights. The overall length is 7.5 inches and average weight is 17.5 oz. Slightly larger than most .380 ACP pistols, the size manages recoil better and improves control for more accurate follow up shots. The grip is narrow, but long and wide enough for comfortable shooting. Barrel length is 4.25 inches, which increases bullet velocity for more downrange punch and improved accuracy for sport shooting. The magazine capacity is 8 rounds. An ABS carrying case is included with the retail price of $669.99. Go to www.browning.com.
CMMG EXPANDS THE MK47 MUTANT LINE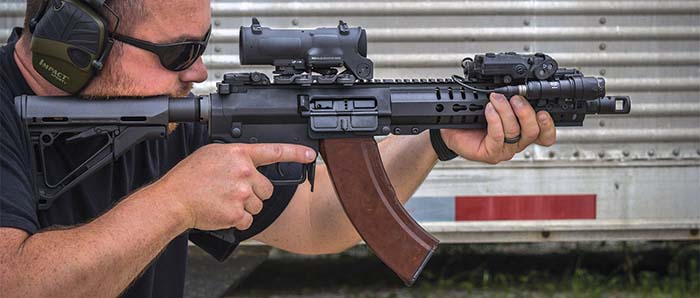 CMMG's Mk47 MUTANT has been the most talked-about rifle of 2015. Built around the 7.62x39mm caliber, the MUTANT features a shortened AR-10-sized bolt carrier group that is paired with a unique upper and lower receiver to minimize weight and increase ergonomics. One of the primary benefits of the Mk47 design is its ability to accept existing AK magazines. After thorough review and testing by the foremost rifle experts in the industry, the Mk47 MUTANT has earned a solid reputation as the ultimate mid-sized AR rifle. Now CMMG has announced the addition of an AR pistol and a short-barreled rifle (see NFA regulations) version of the MUTANT, as well as the availability of California-compliant versions of the three original MUTANT rifles (Mk47 T, Mk47 AKM and Mk47 AKM2). The new Mk47 K Pistol and Mk47 K SBR utilize many of the same features as the full-sized rifles, including the ability to accept AK magazines and drums, a shortened AR-10-sized bolt and CMMG's SV BrakeComplete specifications on the new Mk47 K Pistol and SBR models include a 7.62x39mm 10" medium taper profile barrel, a CMMG SV Brake hand guard, a CMMG RKM9 KeyMod upper receiver, a CMMG Single Stage trigger and MagPul MOE® pistol grip. The new guns come with one Magpul PMAG® 30 round AK/AKM MOE® magazine. See more at www.cmmginc.com.
PULSAR RECON X870 NIGHT VISION MONOCULAR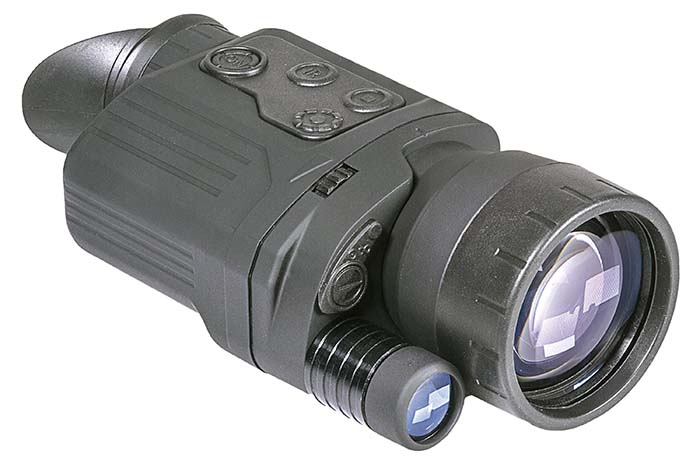 Pulsar is proud to release its newest addition to the already successful Recon line of digital night vision monoculars, the Recon X870. The Pulsar Recon X870 digital night vision monocular features a 5.5x magnification and 752×582 camera resolution for a crisp, detailed view. The new Recon is designed with an intuitive, easy-to-use interface packed into a lightweight and durable composite housing while featuring the highest sensor resolution of all Recon models. The new Pulsar Recon X870 is a revolutionary digital night vision monocular. It was designed for a wide array of uses and activities from hunting to surveillance and provides users the ability to spot objects at over 300 yards. The features built into these compact units are what set them apart from anything else on the market. Nothing in its class can compare to the resolution, range, features, and price. Equipped with an OLED display with 640×480 resolution, the X870 can even be used in colder environments down to -13° F. The Recon X870 model is designed with a 915nm laser IR illuminator that is invisible to the naked eye, an ideal application for law enforcement professionals. To learn more about Pulsar's latest products, visit www.pulsarnv.com.
WARFIGHTER ADJUSTABLE RECEIVER FROM INNOVATIVE ARMS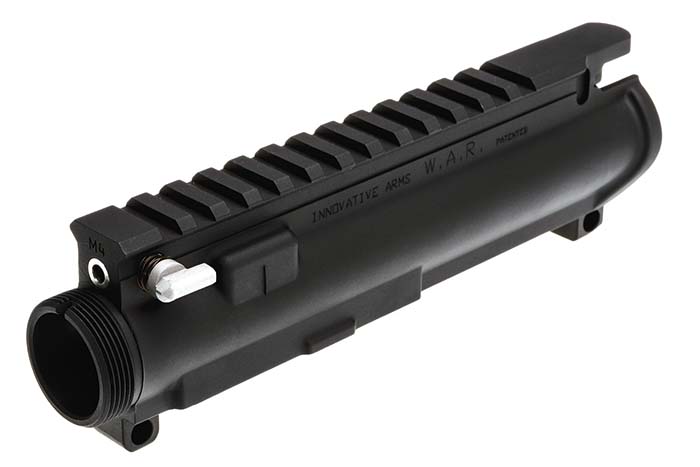 The W.A.R.® (Warfighter Adjustable Receiver) is built for suppressed direct impingement 5.56 AR15/M16 rifles. Designed to give extreme advantages to the user, every detriment of suppressed firing of these rifles is now virtually eliminated. The Killswitch® of the W.A.R. is built directly into the upper receiver, meaning that you never unshoulder the rifle or use any tools. The adjustment can even be made in the dark. You can quickly and easily switch from suppressed to unsuppressed or leave it in between the two settings to shut "off" the gas to manually cycle the rifle, all while keeping the rifle on your target. The specific location of the Killswitch not only allows for use with almost every rail system on the market, but it reduces the gas just prior to interfacing with the carrier key. This means that the rifle not only sounds quieter to the shooter's ear but it also reduces the wear of the rifle component parts from the reduction of heat and excessive fouling. When the W.A.R. is in the suppressed mode it virtually eliminates the "blow back" in the shooters face, along with the burning eyes and the choking gas. The design of the W.A.R. allows the gas tube to fully pressurize which can make the rifle "feel" different. Most users say that their rifle feels like is shoots softer and smoother. This is the only upper in the world that delivers all these advantages. The W.A.R. comes with forward assist, dust cover assembly and proprietary gas tube in either carbine, pistol length or mid length. The W.A.R. is for use in conjunction only with factory 5.56mm ammunition, a quality 5.56 suppressor and barrels with a gas port hole size between .084 – .093. For more information go to www.innovativearms.com.
STEVENS OFFERS 20-GAUGE PUMP SHOTGUNS FOR FIELD OR SECURITY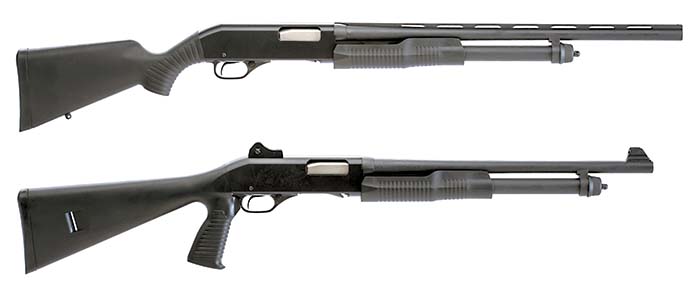 Stevens has expanded its 320 line with four new 20-gauge models: two field grade versions (standard and youth), as well as two security models. The Stevens 320 pump shotgun series has a reputation for solid, affordable performance for everything from wing shooting to home defense. Shipments of these products are currently being delivered. The new 20-gauge shotguns boast the same features as their 12-gauge counterparts, with dual slide bars, a rotary bolt, rugged synthetic stock, and five-round magazines. Yet, these lightweight, reliable firearms are priced at or below $260. Features and benefits of the new guns include dual slide pump bars, rotary bolt, rugged synthetic stock and a five plus one capacity. They are built on the popular 12-gauge model 320 pump shotgun platform. For more information you can find them at www.savagearms.com.
COMMAND ARMS SIDE-FOLDING, 6-POSITION AK-47 STOCK TUBE NOW AVAILABLE
CAA USA is pleased to announce the CAA ambidextrous, side-folding, 6-position, polymer, collapsible stock tube is now available and shipping to retailers across the country. The CAA side-folding, stock tube (AK47SFSP) allows the installation of M4-style stocks on most AK-style rifles with Saiga stamped receivers. The CAA side-folding stock tube provides rifle enthusiasts and professionals with CQB and covert carry capabilities and easily converts from left-hand to right-hand folding positions. The polymer construction of the stock tube features an internal aluminum lock and latch parts for extra strength. Installation is quick and easy and requires no gunsmithing or tools. The horizontal tube mounting to the stock also improves sight picture. An oversized, ridged push button makes it easy to locate and fold the stock, even under stress. To move the stock from the folded to extended position, a pull on the stock is all that is required (no push button). The 6-positions allow the user to customize the fit of the stock for a personalized and comfortable fit. The CAA side-folding, 6-position, collapsible tube accepts all commercial AR15/M4 collapsible stocks, including CAA's skeletonized (SKBS) and collapsible (CBS) buttstocks. Available in black only with an Unconditional Lifetime Warranty, the CAA AK47SFSP collapsible tube for AK47's has a retail price of $114.99. For more information go to www.commandarms.com.
FEDERAL PREMIUM ADDS 380 AUTO TO PERSONAL DEFENSE HST LINEUP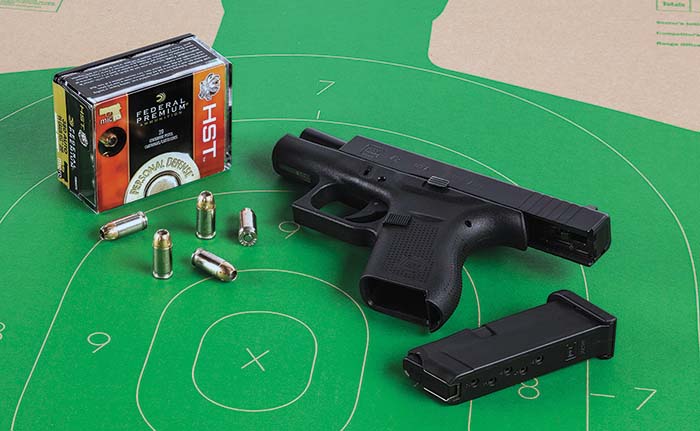 In 2013, Federal Premium® made law enforcement's top duty round available to the public, creating the ultimate Personal Defense® load: HST®. This year, the product line is even stronger thanks to a new load in 380 Auto, which is an excellent option for concealed carry pistols. Shipments of this new ammunition are currently being delivered. HST ammunition provides consistent expansion, optimum penetration and terminal performance that raise the bar for micro-size handguns. Its specially designed hollow point won't plug, and the jacket and core hold together to provide almost 100 percent weight retention. The construction ensures micro-size handguns deliver the power needed for personal defense situations. The HST 99 grain bullet's exclusive design delivers best-in-caliber expansion, outperforming all other leading factory brands in 380 Auto. The result is full-size terminal performance from a compact platform. Performance tests were based on bullet and crush cavity diameters versus competition; tested with a micro handgun in 380 Auto with a 2.75-inch barrel fired into 10 percent ballistics gelatin at 10 feet. The new round offers a 380 Auto load for micro-size concealed carry pistols specially designed with a hollow point that expands reliably. Expanded diameter and weight retention produce the desired penetration for personal defense situations without over-penetrating, and the bullet nose profile, nickel-plated case and Federal primer provide the ultimate in function and reliability in semiautomatic handguns. Find out more at www.federalpremium.com.
SALTED EARTH DEVELOPS ATLAS-08 LASER TRAINING TARGET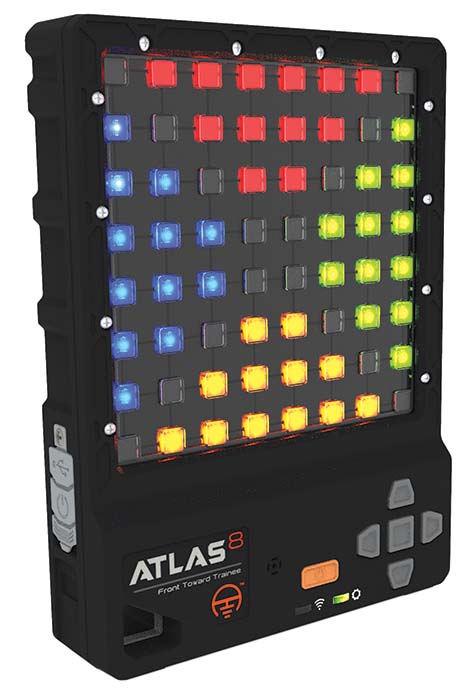 The ATLAS-08 is a fully programmable adaptive laser training target; users have full control over the full-color display and detection regions. The ATLAS-08 can detect red, green, blue and infrared laser emitters while differentiating between lasers and flashlights to enable true low/no light training scenarios. Designed to be rugged, these targets can follow you into the field to take your dry-fire training outdoors. ATLAS-08 targets are wireless enabled and can be easily deployed in large scale operations to create sophisticated training environments. Through use of the mobile or desktop application, you can control your training environment while also receiving real time feedback (draw stroke, split times, accuracy, etc). Metrics can be tracked over time (optional) providing users with a real data set to track their progress and ensure that they are operating at the peak of their skill set. The ATLAS-08 includes a 1/4-20 UNC mount on the bottom of the device for mounting to tripods, RAM mounts, or any standard camera mounts to give you the ability to mount your trainers to suit your individual needs. The ATLAS-08 is currently available to Law Enforcement and Military customers, interested departments can send their information to Contact@TheSaltedEarth.com. More info available at www.TheSaltedEarth.com.
This article first appeared in Small Arms Review V19N10 (December 2015)