By Chris A. Choat
BURRIS INTRODUCES NEW TACTICAL OPTICS KIT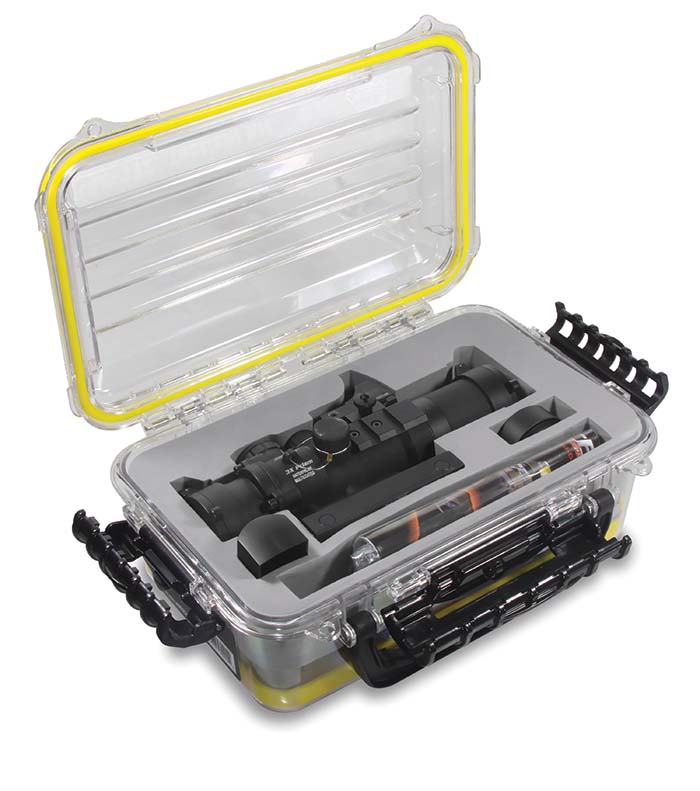 Burris helps tactical and competitive shooters get ready to roll with three new AR Tactical Kits. The kits include a quality prism sight and either a secondary red dot sight or an AR Tripler, plus mounts, all packaged in a rugged carry case. They're complete, ready-to-go optics platforms, at over a $100 savings compared to buying each item separately.
AR-332 Tactical Kit

The Burris AR-332 Tactical Kit's 3x magnification with the Ballistic CQ reticle is perfect for instinctive target acquisition and quick shooting from point blank to intermediate ranges. The black reticle is etched directly onto the prism, with red or green illumination at the turn of a dial. Reticle dots correspond to bullet-drop from 5.56mm or 7.62mm ammunition, but the optic can handle heavier recoil if needed. An Anti-Reflection Device reduces reflection and glare. The FastFire II red dot reflex sight provides a 4 MOA dot with an automatic brightness sensor that adjusts to any lighting condition. Position it on top of the AR-332 for lightning fast target acquisition and close-range engagement.
AR-536 Tactical Kit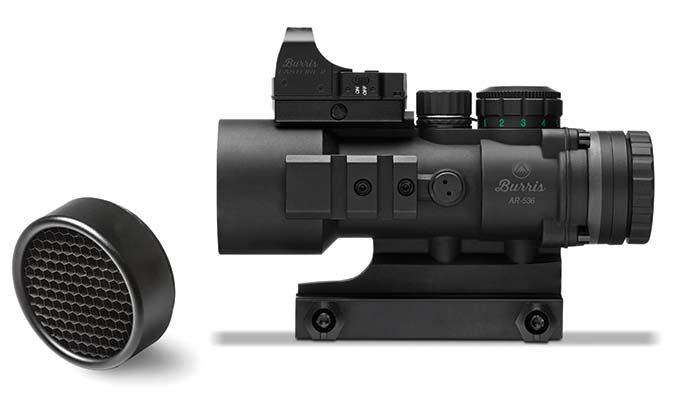 The fixed 5x magnification Burris AR-536 Tactical Kit is for lawmen, military and competitive shooters who want additional range plus fast target acquisition. The etched-on black reticle with red or green illumination offers lightning response to intermediate targets and precision shooting at longer distances. Its 10-position power/color selector satisfies all lighting conditions. The Ballistic CQ reticle's holdover dots are good to 600 yards and work with 5.56mm or 7.62mm ammo. The kit includes an Anti-Reflection Device and FastFire II 4 MOA red dot reflex sight.
AR-1X Tactical Kit
The Burris AR-1X Tactical Kit Prism Sight delivers both-eyes-open accuracy for ultra-fast shooting. The Ballistic CQ-1X black reticle is etched onto the prism for use without battery power, plus instant push button adjustment between green or red illumination settings. Easy-to-see hash marks offer trajectory compensation out to 600 yards. One lithium AA battery delivers up to 5,000+ hours of service. The Burris AR-Tripler allows quick transition from CQB to mid-distance shooting. Mounted in the quick-detach AR-Pivot Ring, it rides in tandem with the AR-1X for additional 3x magnification. With the push of a button, it flips to the side for 1x shooting. For more information contact them at www.burrisoptics.com.
BATTLE RIFLE COMPANY INTRODUCES THE BR4 ATTACHE 9MM AR PISTOL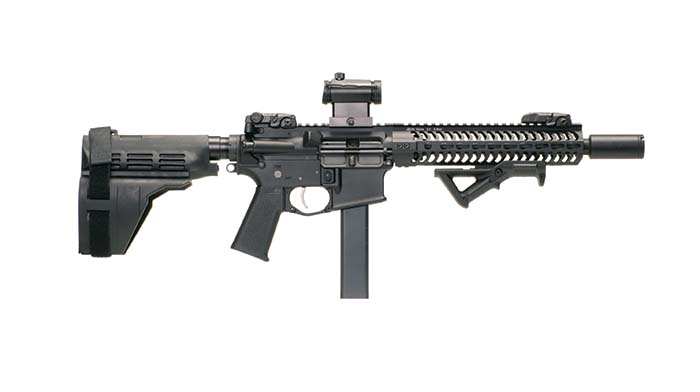 Battle Rifle Company, builder of quality and affordable AR platform rifles, is proud to introduce the BR4 Attaché model 9mm AR pistol. The BR4 Attaché is new for 2015 and it is Battle Rifle Company's first entry into the 9mm AR pistol market. The BR4 Attaché 9mm is a blow-back Colt SMG configuration and comes with a 32-round straight magazine and a 10.5 inch barrel. In addition to being available with an A2 flash suppressor or muzzle brake, it also comes with an Ergo pistol grip, single point sling adaptor and an optional SIG Brace. Topping off the features is an Odin Works rail system with many options available for sights. If you are looking for a truly fun AR pistol, then the BR4 Attaché fits the mold perfectly. The 9mm round offers extremely low recoil and the ability to go up to 32-rounds for extended shooting. It's the perfect combination for plinking or varmint/predator hunting. Go to www.battleriflecompany.com.
Ross & Zheng Engineering Unveils NEW MULTI-CALIBER UNIMAG AR MAGAZINE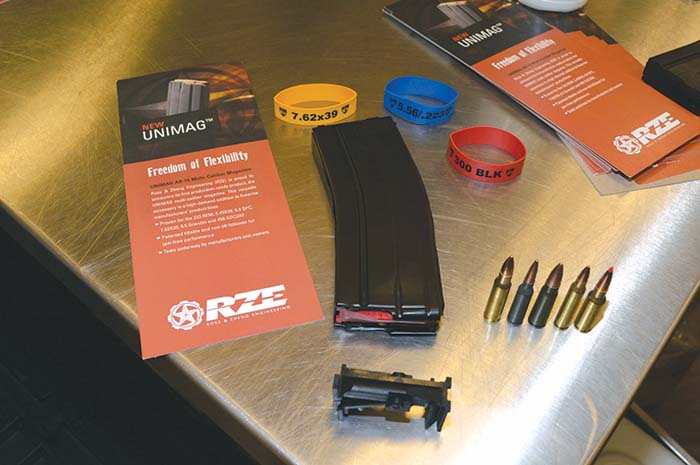 Ross & Zheng Engineering (RZE) has announced that it has a new multi-caliber magazine to fit the AR 5.56 platform guns. The UNIMAG multi-caliber magazine, RZE's first production-ready firearm component, provides enhanced performance and reliability for gun owners and enthusiasts. Compatible with AR-15 and other rifles that use a STANAG magazine, the UNIMAG is proven to be reliable and functional for six different types of ammunition and counting. The patented design includes a two-piece, self-levering follower that maintains its stability while also accommodating tilt introduced by the ammo, and a self-adjusting magazine shell to regulate various cartridge diameters. This is the first magazine that can handle the .223, 6.5, 6.8 and the two AK calibers, the 7.62×39 and 5.45×39, reliably. It also offers manufacturers a tremendous opportunity to expand their AR-15 product families, particularly in 7.62×39 uppers and lowers. RZE's proprietary technology is backed by patents, including the self-levering follower for a universal magazine of multiple caliber compatibility for firearms (U.S. 8667724 B2) and the magazine shell of a universal magazine of multiple caliber compatibility for firearms (U.S. 8850732 B2). The company holds two additional firearms accessory patents and has one patent pending. Learn more about the UNIMAG at www.rosszhengengineering.com.
MESA TACTICAL DRAMATICALLY EXPANDS STOCK OPTIONS FOR FN SCAR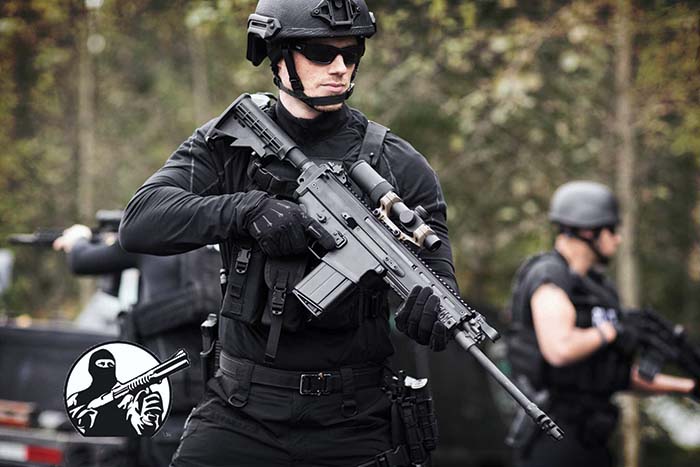 Mesa Tactical, designer and manufacturer of high quality tactical accessories and equipment for law enforcement, military and civilian shooters, has introduced a buttstock adapter for the FN-SCAR rifle. This new adapter allows the FN-SCAR to use virtually any AR-15 buttstock. The availability of different styles and configurations AR-15 buttstocks, now usable on the FN-SCAR, increases the adaptability and versatility of this fine carbine. The Faro Adapter fits both the SCAR 16S and SCAR 17S. The FN-SCAR is an excellent carbine, but its proprietary buttstock limited configurations and user desired options. The investment cast aluminum Faro Adapter replaces the factory SCAR buttstock assembly. The adapter accepts rifle length or carbine length AR-15 buffer tubes to which the user can attach almost any available AR-15 buttstock. Simply install the tube onto the adapter, add any AR-15 buttstock and then simply install on the SCAR in place of the factory stock assembly. The Faro Adapter features steel ambidextrous push button style QD sling attachment points and is available in either matte black or Flat Dark Earth. The comb height in relation to the top Picatinny rail is exactly the same as a Flat Top AR-15. For more information contact them at www.mesatactical.com.
MASTERPIECE ARMS UNVEILS NEW MPA930DMG PISTOL

MasterPiece Arms (MPA), manufacturers of the MPA MAC Line of semiautomatic pistols, carbines, suppressors and MPAR rifles, proudly announces the MPA930DMG, the first all-aluminum lower pistol from the new DMG (Defender, Machined, Grip) Series. This 9mm pistol is based on the 930sst, but includes a fully machined aluminum pistol grip and lower receiver. The 930DMG uses their fully machined grip system matched up with an all-aluminum lower receiver; significantly reducing the overall weight of the pistol. The 930DMG is chambered in 9mm, uses Glock style magazines, has adjustable front and rear sights, has a built-in single point sling flush cup, and mounting holes for a rear fixed or side folding stock. The MPA930DMG comes standard in Cerakote Tungsten coating. It is also available in Black, Gunmetal, Flat Dark Earth and Burnt Bronze Cerakote finishes. The pistol is further equipped with a side cocker, scope mount, hammer with disconnect (plus original hammer) and comes in an MPA polymer case. It will also be available in an SBR version shown in the photo. It has a retail price of $679.99. For more information on MasterPiece Arms and their product line of pistols, rifles, carbines and suppressors, visit www.masterpiecearms.com.
ADAPTIVE TACTICAL HAS NEW SIDEWINDER VENOM 10-ROUND 12 GAUGE MAG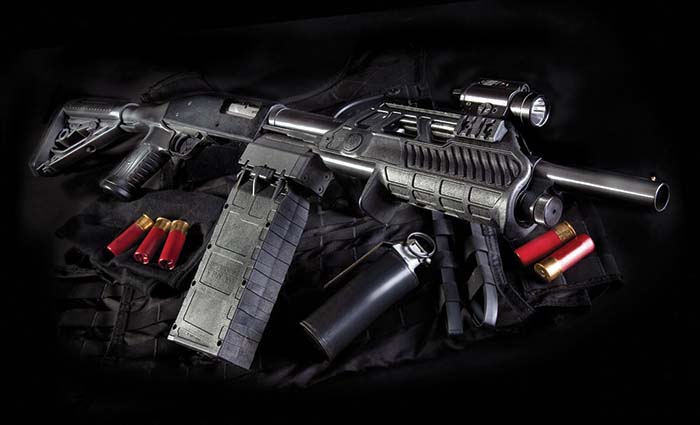 Adaptive Tactical, LLC, manufacturers of innovative firearm stocks and accessories, including the popular Sidewinder Venom shotgun systems, is proud to announce the release of its Sidewinder Venom 10-round box magazine for the Sidewinder Venom magazine-fed shotgun system. This system provides the ability to transform your Mossberg 590, 500* and 88** series 12 gauge pump action shotgun into a magazine fed, smooth operating tactical shotgun. The Venom 10-round magazine is compatible with 12 gauge 2.75-inch ammunition. It allows for rapid reloads while maintaining reliable feeding. Each magazine is made of durable polymer construction with strong composite and metal components. Magazines are available in Black, A-TACS, MultiCam, or Desert Digital. The interchangeable design makes this not only an innovation for the range but for home defense. Individuals now have the ability to leave their shotgun unloaded with an easy, quick loading option. This also allows for speedy transitions from buckshot to slugs or whichever ammunition the user chooses by labeling each mag with the specific shot shells loaded. For more information on Adaptive Tactical visit www.adaptivetactical.com.
This article first appeared in Small Arms Review V19N5 (June 2015)