By Chris A. Choat
WINCHESTER AMMUNITION RELEASES NEW M-22 SUBSONIC .22LR AMMO

Winchester Ammunition delivered one of the most significant innovations to hit the rimfire world in 2013 with the introduction of the 17 Winchester Super Magnum, but where new rimfire loads are concerned, the company is far from done. In 2016, Winchester Ammunition continues to invest in its rimfire product line with the development of a new M-22 Subsonic .22 LR round.
The M-22 is designed specifically to function in semi-automatic firearms, while remaining subsonic from both pistol and rifle length barrels. The new M-22 Subsonic features a 45-grain black-plated lead round nose bullet that has the equivalent energy of full velocity 36-grain rimfire products. In addition, the M-22 Subsonic utilizes non-corrosive priming and clean burning powder for reduced muzzle flash. The M-22 Subsonic was also created with suppressed firearms in mind, but performs just as well in unsuppressed rifles and handguns. During Winchester testing, M-22 Subsonic rounds measured 129 dB from an unsuppressed rifle. That is significantly quieter than a full velocity .22 LR fired from a suppressed rifle, which typically measures around 138 db. With the addition of a suppressor, M-22 Subsonic achieves a remarkably quiet 116 db. The M-22 Subsonic will be available in 100-round plastic packs and 800-round bulk packs. Visit them at www.winchester.com.
DESERT TECH BEGINS PRODUCTION OF THEIR MDR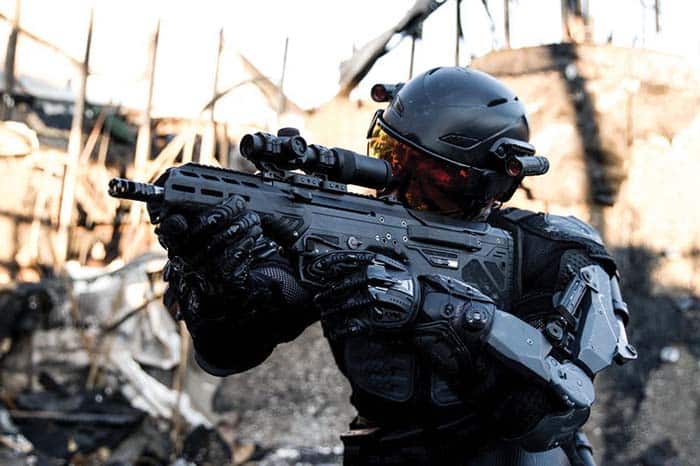 Desert Tech has announced that it has begun production of the much anticipated Micro Dynamic Rifle (MDR) and rifles are scheduled to start shipping 2nd quarter of 2016. The MDR rifle is one of the most anticipated rifle release of 2016. In anticipation of the large demand for the MDR, Desert Tech has invested and installed over $3.5 million in brand new state of the art CNC machines that are dedicated to the production of the MDR. "We have expanded every aspect of the Desert Tech production capabilities in 2015 and with the new equipment in place, 2016 is set to be a very exciting year," said Nick Young, CEO of Desert Tech. "The precision and complex capabilities of the MDR make it a true Micro Dynamic Rifle," said Cory Newman, Chief Engineer of Desert Tech. Desert Tech will begin taking pre-orders for MDR rifles starting Tuesday, January 19th, 2016. Dealers can pre-order by calling their orders into Desert Tech. Desert Tech is also accepting consumer orders through their website (www.deserttech.com), consumer orders will be delivered to their local dealer. See more at www.deserttech.com.
AIMPOINT ANNOUNCES NEW MAGNIFIERS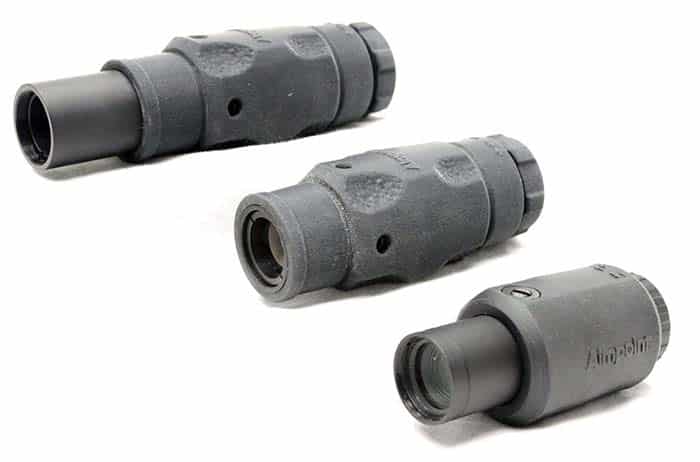 Aimpoint, the originator and worldwide leader in electronic red-dot sighting technology, has announced the addition of three new accessory magnifiers to their product line. Designed to work in conjunction with the company's electronic reflex sights, these new magnifiers are being offered in 3X and 6X magnification, in both a standard grade for use by civilian shooters, as well as professional grade models. The new Aimpoint magnifiers feature diopter adjustment, allowing each optic to be individually adapted to the operator's eye. All are protected by shock absorbing protective rubber covers that also provide an ergonomic grip surface. The Aimpoint magnifiers may be used with the company's quick-detach TwistMount™, or with the newly launched Aimpoint® FlipMount which allows the magnifier to be quickly flipped in or out of the optical axis, or removed from the firearm completely. Their standard grade 3X-C is a great magnifier at a very reasonable price point. On the professional side, the Aimpoint 6XMag offers 50% more magnification than existing US military combat optics, and allows an operator to quickly transition back to their non-magnified Micro T-2 sight for CQB. For more information on Aimpoint, visit the company's webpage at: www.aimpoint.com.
FLIR SCOUT TK THERMAL MONOCULAR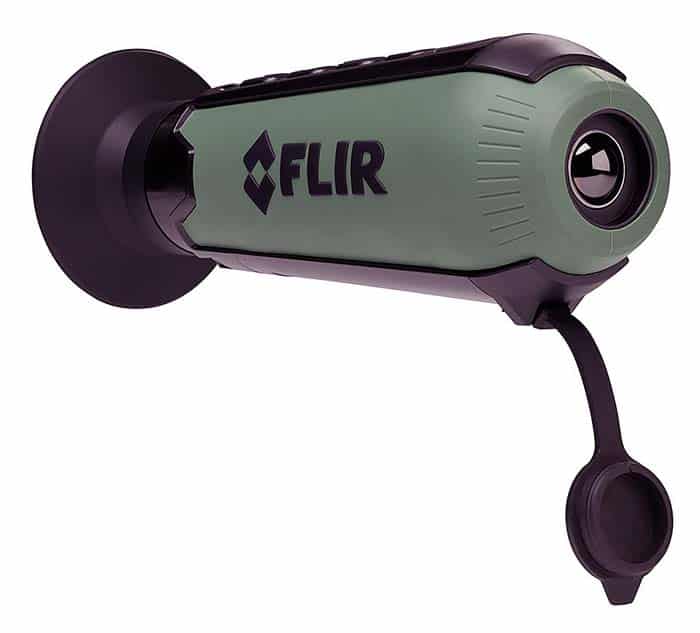 The FLIR Scout TK is a pocket-sized thermal vision monocular/camera for exploring the outdoors—at night and in lowlight conditions. Scout TK reveals your surroundings and helps you see people, objects and animals over 100 yards (90 m) away. Simple to use, with still image and video recording, Scout TK is the perfect companion, whether in the back country or your own backyard. The new monocular weighs only 6 ounces and has several video color palettes to enhance viewing including White/Black hot, InstAlert™, Rainbow, Iron, Lava, Arctic and Graded Fire. It offers single-handed operation and has a simple 4-button, intuitive user interface. The new unit is ruggedly built and is weather resistant. You can use it to check for predators, search for missing pets, scan parking lots and parks in the dark. It has an internal rechargeable Li-Ion battery that provides up to 5 hours of run time. The unit comes with a neck lanyard, lens cap and a USB cable for transferring your photos and videos. For more on the Flir Scout TK go to www.flir.com.
CZ-USA INTRODUCES NEW SCORPION EVO & BREN 805 CARBINES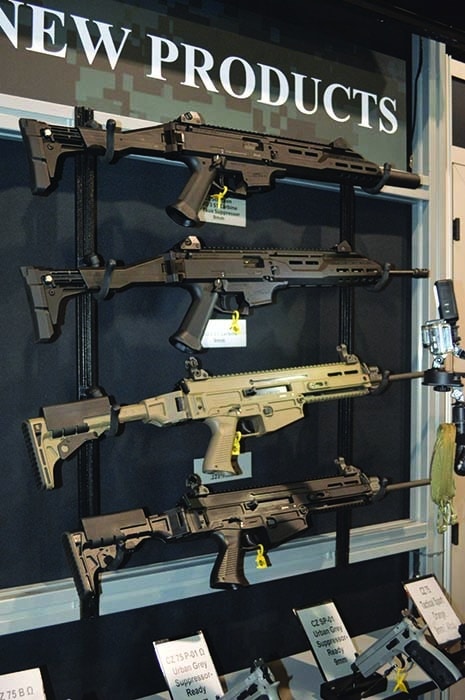 On the heels of their introduction last year of the highly successful Skorpion EVO and Bren 805 pistols, CZ-USA has now introduced carbine versions of these weapons. Available in two variants, the Scorpion Carbine is a whole new animal. Building on the lauded submachine gun platform that first hit the US civilian market in pistol form in 2015, the Carbine has a 16.5" barrel fitted with either a two-port compensator or a faux suppressor built specifically for CZ-USA by SilencerCo. Fit with the factory's folding adjustable stock, the Carbine features a number of US-made parts to make it fully 922® compliant. One of the nicest features of the firearm is the newly-designed forend, covered in M-LOK attachment points to keep the profile slim while still big enough to swallow most pistol-caliber suppressors should the owner decide down the road to convert it to an SBR for use with a suppressor. Low-profile aluminum adjustable sights round out the platform, and a top Picatinny rail allows the mounting of a wide number of optics. For those who would prefer to own a Bren 805 in rifle form without having to jump through all the hoops of converting their pistol version into an SBR, the Bren is now available in carbine form with a 16.2" barrel. Equipped with the factory's folding adjustable stock, it also has a new set of flip-up adjustable iron sights. Chambered in .223/5.56 and using the ubiquitous STANAG magazine from the AR16/M16, it easily accepts optics and lights on its top and bottom Picatinny rails. An effective two-port muzzle brake helps keep the Bren solidly on target and also reduces recoil and muzzle flip. Both carbines as well as the original pistol versions will now also be available in Flat Dark Earth. Find out more at www.cz-usa.com.
CAA INTRODUCES NEW RONI® MODELS WITH ARM BRACE & MICRO RONI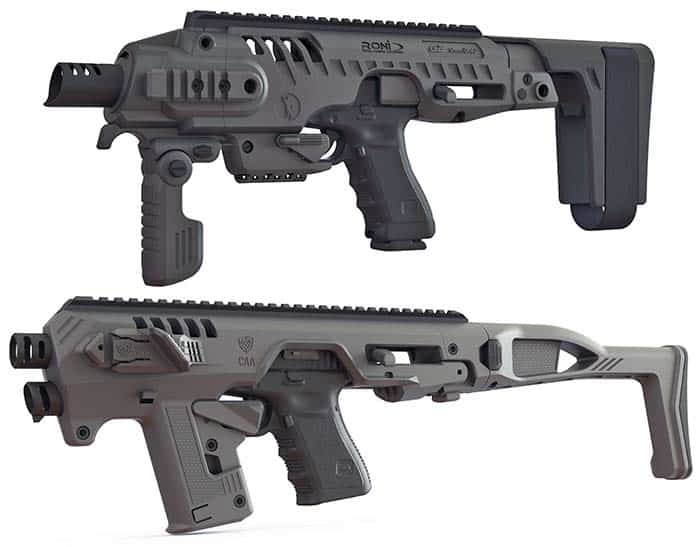 CAA, developers and manufacturers of advanced battle-tested firearms accessories, debuts two RONI® models featuring the SB® Tactical Stabilizer Brace®, enabling one-handed firing of the Micro and RECON* by attaching it to the operator's forearm. The Stabilizing Brace provides controlled support while minimizing the accuracy robbing spin and shift that often accompanies one-handed shooting. The Stabilizing Brace is adjustable and flexible with a hook and loop fastener for a custom fit for any user. The brace was originally designed for wounded warriors and others with a disability or otherwise incapable of securely holding a firearm. The STAB-RONI® is constructed from high quality elasto-polymers to exacting tolerances. Both models are designed for the GLOCK® 19/17 pistol. The RONI® platform requires no pistol disassembly at all. Simply drop the pistol in the kit and it locks within seconds. Many of the features on RONI® are ambidextrous, including the trigger-guard safety, a super-fast cocking handle and right and left serrated thumb rests for better recoil control and muzzle rise. Additional features include a forward mounted extra magazine holder, integral forward flashlight mount, Picatinny rails for two sighting devices and additional side rails. Both the Micro RONI® Stabilizer and the RONI® RECON Stabilizer are available in black. MSRP is $546.00 for the RECON and the Micro will be announced at a later date. Visit them at www.caagearup.com.
LMT DEFENSE ANNOUNCES COMPRESSOR PDW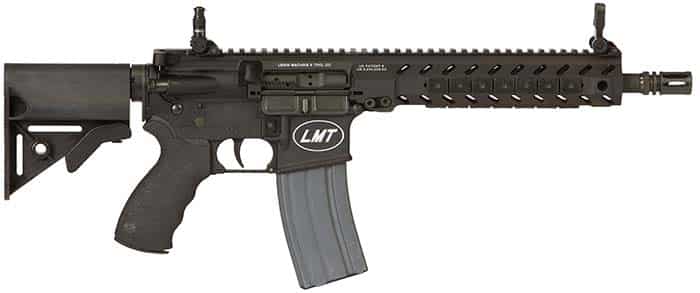 LMT Defense is excited to announce they are releasing the Compressor™ personal defense weapon, a nimble AR-platform that is easily concealed but fully capable. Responding to an international military customer request, LMT Defense set out to create a versatile rifle-caliber weapon capable of being small while packing a powerful punch. What resulted is the smallest AR profile in the industry paired with the most reliable upper receiver configuration possible – the LMT Defense monolithic upper receiver and 10.5" barrel, which has already proven itself in 35 countries around the world. The Compressor is expected to start shipping at the end of the first quarter of 2016. The Compressor features a 10.5" barrel, chambered in either 5.56 or .300 Blackout, along with a modified SOPMOD stock, extension tube, redesigned buffer and buffer spring, along with a drop-in weight for the bolt carrier that delivers a fully operational weapon, suppressed or unsuppressed without operator changes, at an overall length of 24.5". This small profile is ideal for law enforcement agencies in need of increased maneuverability or for VIP protection to engage at distances proven unreliable with a pistol. LMT Defense is also releasing a PDW Conversion Kit, replacing five key components that make it backward compatible with any Mil-Spec M4/AR on the market: modified SOPMOD stock, shortened extension tube, re-designed buffer and buffer spring, and a drop-in weight for the bolt carrier. This will reduce the length of any standard AR weapon by 2.75" overall and works reliably for 5.56 and .300 Blackout, either suppressed or unsuppressed, without operator changes. The LM8PDW556 will retail for $2,691.02. The PDW-KIT will retail for $455.00. Find out more at www.lmtdefense.com.
This article first appeared in Small Arms Review V20N4 (May 2016)