By Chris Choat
BUFFER TECHNOLOGIES M-4/CAR-15 EXTRACTOR UPGRADE KIT
Providing more than four times the extraction force of the standard parts, the Buffer Technologies upgrade kit offers AR-15/M16 users a way to ensure a more positive functioning rifle. This upgrade provides a particularly important improvement for the M-4/CAR-15 series of short barreled rifles, with the higher port pressures and more violent extraction common to these weapons. The upgrade consists of an improved spring, plunger and O-ring, which can be easily installed in minutes. It assures reliable extraction even when the chamber becomes heavily fouled after extensive shooting, or when used with ammunition that is less than optimally matched to the rifle's port-pressure requirements. Buffer Technologies is a Missouri-based manufacturer and distributor of tactical weapon accessories for military, law enforcement and shooting sports. Its signature products include patented recoil buffers for automatic pistols and rifles as well as the MagCinch dual-magazine system. For more about this new product as well as their entire line, please contact them at Buffer Technologies, Dept. SAR, P.O. Box 105047, Jefferson City, MO 65110. Phone: (877) 628-3337. Fax: (573) 634-8522. Their website is www.buffertech.com.
NEW BELT LOADER FOR 1919A4 BMG AND VARIANTS
JJ Custom LLC has just introduced a new single stage belt loader for the Browning M1917, M1919 and its variants. The new loader is very well made from steel with a parkarized finish to match most guns. It features star wheels with a hand rotated knob that indexes the belt for each new round. The rounds are initially placed in the belt by hand and then pushed into the belt with a toggle clamp/ram. Then the star wheels are indexed to the next position to load another round. It takes longer to describe it than to do it. It loads .308/7.62 NATO, .30-06 or 8mm cartridges in cloth belts for the 1917/1919/M37 series of guns. The new loader is designed to be completely ambidextrous and features 1/4 inch mounting holes in the base so it can be mounted firmly to a loading bench or portable loading base. While it is single stage, meaning it loads a single round at a time, it is fairly fast and can load a 100-round belt in about 20 minutes or less with practice. It sure saves blisters on your fingers trying to load a belt by hand and it doesn't cost between $1,000 and $1,200 like most of the old original military loaders are bringing today. This loader even features oil holes so you can keep it running smoothly. The new JJ Custom loader retails for $315. For more information, please contact JJ Custom LLC, Dept. SAR, 2400 State Route 48, Houston, OH 45333. Phone: (937) 295-5255. They can be found on the web at www.jjcustom.net. Be sure and ask them about their other products for the 1919 series of guns.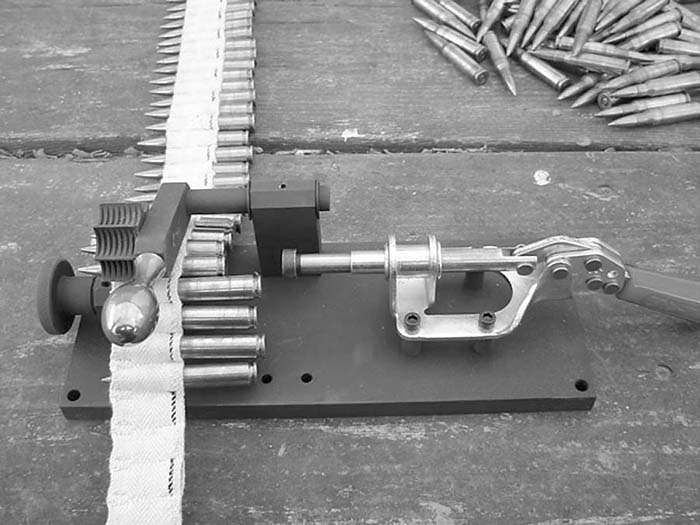 NEW HOLSTER FROM ELITE SURVIVAL SYSTEMS ACCOMMODATES LIGHT
The new 7680 holster from Elite Survival Systems was designed to fit most standard pistols with a light attached. This versatile holster was designed with adjustment points that allow the gun to fit with or without the light attached. It is constructed of 1000 denier nylon inside and out, with an internal stiffener which holds the holster's shape. The weapon is secured with an adjustable thumb-break retention strap and Velcro over-strap for added security. It also has a spare magazine pouch with an adjustable flap for secure fit. The 7680 is available in two sizes to fit most full-size pistols with lights attached. It is offered in several configurations for use with a belt or with Elite modular vests and packs. It is also available in a tactical thigh version. As with all Elite products, attention to detail and quality of materials make the 7680 an ideal solution. For more information on this as well as their full line of excellent holsters, cases and range bags, please contact them at Elite Survival Systems, Dept. SAR, P.O. Box 245, Washington, MO 63090. Phone: (636) 390-8360. Fax: (636) 390-2977. Please visit their website at www.elitesurvival.com.
This article first appeared in Small Arms Review V9N7 (April 2006)