Story & Photography by Will Dabbs, M.D.
Ergonomics is the science of interfacing man-made objects with the human animal. This pursuit shapes the way we drive our cars, run machines on a production floor, sit at a desk, open a Coke can and fly the space shuttle. Where, in previous generations, such stuff was pretty much random, nowadays ergonomics is big business.
There's a lot riding on how well we can run our weapons. Whether you are a young stud in uniform kicking down doors, a cop investigating a disturbance in a spooky building or just an otherwise unremarkable armed American trying to determine why the dog won't shut up at 3 o'clock in the morning, optimizing the interface between gun and flesh can indeed be a combat multiplier. We find the current state of the art in the WASP and Venom ergonomic foregrips from Function By Design (FXD).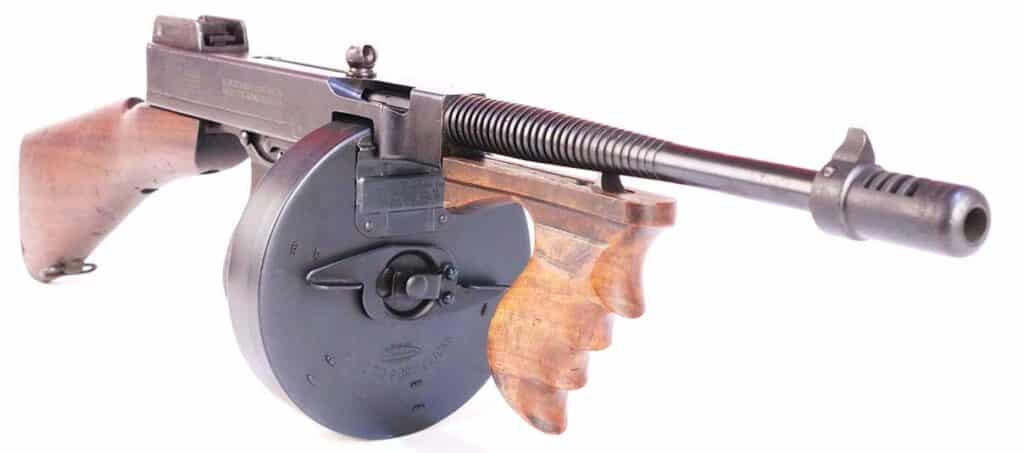 Origin Story
It's tough to say exactly who first dreamt up the concept of putting a vertical foregrip on a firearm. [EDITOR'S NOTE: I had a Farquar-Hill rifle sn 33 of 100, made in 1908, semiauto, that had a wooden verticle foregrip that had numerous screwholes to change foregrip locations, so 1908 is a good starting point.] However, it is a simple thing to identify who brought the concept into the mainstream. That would be General John Taliaferro Thompson.
General Thompson's eponymous submachine gun was born from the ashes of the First War to End All Wars. Young men of most of the world's nationalities were bleeding out on forsaken battlefields across France and Belgium. The military leadership of the day tried to fight tomorrow's war with yesterday's tactics, and the result was carnage most unprecedented. Facing the prospect of losing an entire generation, visionaries like John Thompson strived to contrive tools that could get the Tommies and Doughboys up and out of their trenches so they could end the War.
That first Thompson gun was titled the "Annihilator," and prototypes were ready for shipment to Europe 2 days after the Armistice. When General Thompson was unable to secure any large-scale sales to post-War military or law enforcement organizations, he released his invention to the public. During the Great Depression these remarkable guns were available openly, but they remained too expensive for normal folk to afford. However, the serious criminals of the day either bought their own with ill-gotten gains or just stole what they wanted. The phenomenon of the motorized bandit burned the iconic image of the Tommy Gun into the American psyche.
The classic Thompson icon includes a 50-round drum magazine, a Cutts compensator and a vertical foregrip. The gun itself is a fairly wretched piece of kit with its center of gravity too far back and its line of recoil significantly above the buttstock. It was state-of-the-art for its day, but the design was soon eclipsed by more streamlined stuff. However, the weapon's mass and the relatively modest power of the pistol cartridge it fired made the weapon eminently controllable. With a little trigger time a determined operator could unleash a great deal of chaos with a Thompson.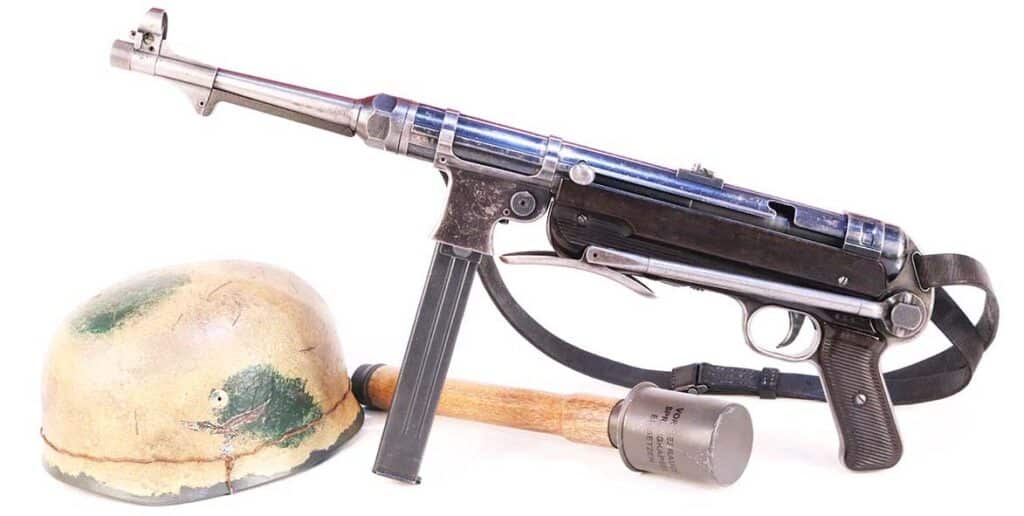 General Thompson died before he could see his invention really find its legs. Despite the fact that the Thompson was lyrically outdated at the onset of WWII, it was all we had handy. As a result, American industry churned out some 1.5 million copies before the end of the War. However, we did simplify things a bit.
The later M1 and M1A1 Tommies dispensed with the complicated Blish lock and Cutts compensator while moving the charging handle to the right side from the top. They also incorporated a simplified horizontal foregrip rather than the previous swept-back sort. These changes made the complicated Thompson slightly less so and sped up production. I've run both side-by-side, and I personally find the previous gun to be more effective and controllable. However, that's as much a function of its slightly reduced rate of fire as anything else.
Cold War
Mikhail Timofeyevich Kalashnikov rocked the world with his marvelous farm tractor of an assault rifle. The first versions had a stamped steel receiver but were deemed inadequately rugged. That determination led to the definitively forged steel AK-47. In the 1950s the Soviets perfected that original stamped receiver, and the AKM was born.
More than 100 million Kalashnikov rifles saw service in hundreds of guises. Stocks, both folding and rigid, along with sundry barrel lengths and furniture designs defined most of them. Along the way, the Romanians developed a fairly crude vertical foregrip for their own particular versions of Comrade Kalashnikov's chopper. There are variations to accommodate both fixed stocks and underfolders. Back when I wore the uniform, I logged a fair amount of time behind AK rifles and personally sought out those with the vertical foregrips.
SOPMOD
September 1989 saw the advent of the Special Operations Special Technology (SOST) Modular Close Combat Carbine Project. This mouthful of milspeak was administered by the Naval Surface Warfare Center Crane Division and ultimately birthed the first SOPMOD kit. SOPMOD stands for Special Operations Peculiar Modifications. That original Block 1 kit included enough cool-guy gear to support four carbines.
The beating heart of the SOPMOD kit was the Knight's Armament Rail Interface System. For the first time in military history we now had the accessories we needed to optimize our weapons for particular missions. One of the simplest yet most effective additions to the M4 was the basic clamp-on broomstick foregrip.

Physiology
Set the magazine down for a second and head over to the gun box. Snatch up a random smoke pole and assess how it really feels to you. If you happened to heft a Garand, M1 Carbine or lever-action Winchester, then you'll be pushing your wrist just past a position of comfort to accommodate that long walnut forearm. If the gun you grabbed is a SOPMOD-equipped M4 or a Romanian AK, then that perpendicular orientation is just a wee bit far in the other direction. It turns out that what is just about perfect is General Thompson's century-old trench broom.
Tactics evolve with experience, and we run our guns nowadays in ways that would have been unimaginable back when I first donned the uniform. A lot of really smart people have spent a great deal of time pondering the subject, and entire schools now orbit around the rarefied art of gunfighting. Now that we run our weapons with our support hands outstretched for optimal control, the good folks at Force By Design have conjured the ideal foregrip.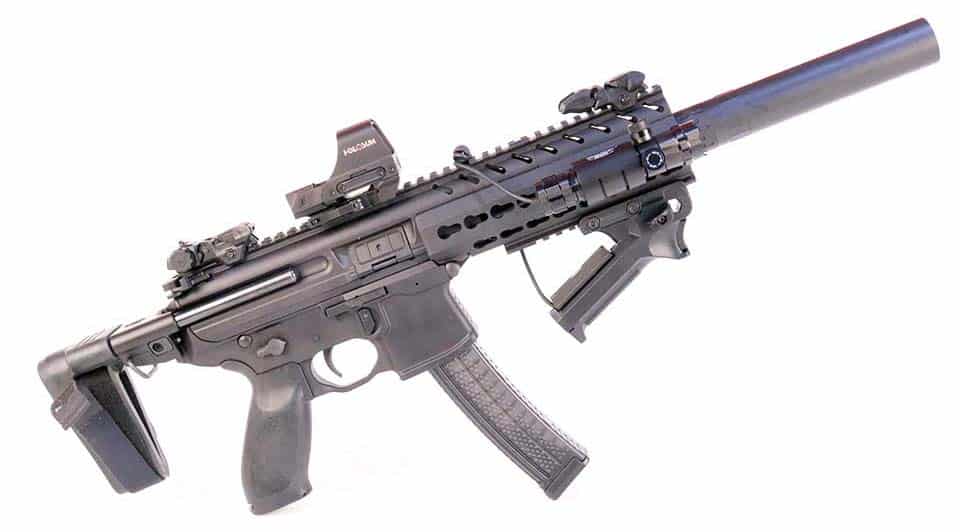 FXD
The company name Force By Design (FXD) is a clever mathematical allusion. In the WASP and the Venom we find mankind's best effort at transforming a black rifle into an extension of your anatomy. These high-tech appendages come in two broad flavors.
Both the WASP and the Venom are sharply swept and formed from some kind of indestructible polymer material. They both clamp painlessly onto any standard Picatinny rail using nothing more advanced than a standard screwdriver. They both also include little thumb wings on both sides upon which you may rest your weary thumbs. They are generously grooved to improve your purchase when sweaty or rushed.
The Venom is a wee bit shorter than the WASP and not quite so customizable. Where the thumb shelves are rigidly molded in place on the Venom, on the WASP you can loosen an Allen screw and adjust the angle and placement to suit. The WASP also includes an adjustable trigger on the front to optimize finger placement as well as a compartment to accommodate a pressure pad for a light or laser. Both grips are designed and produced in the USA, and 10% of the profits go to support injured veterans.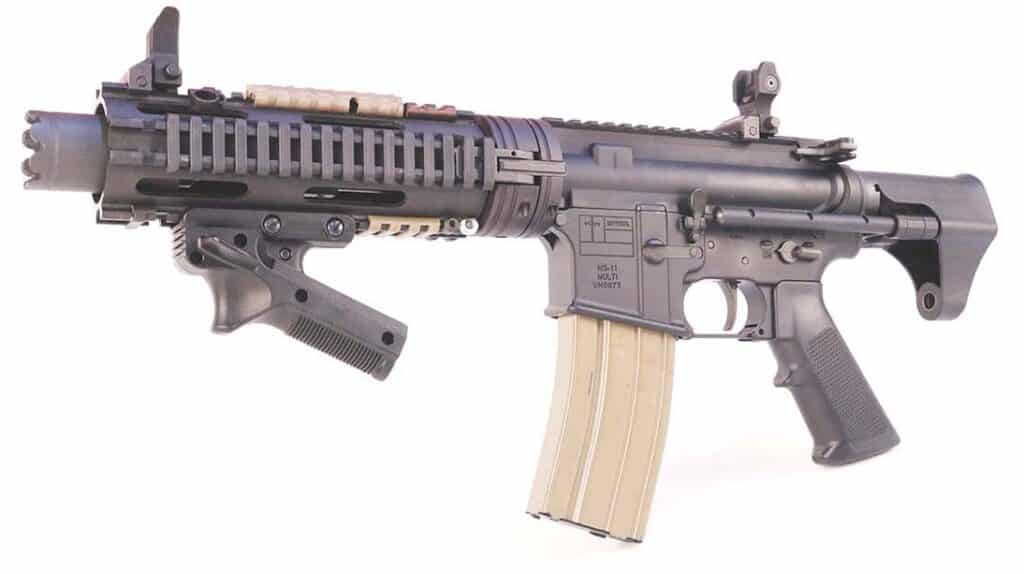 Legal Matters
In a veritable ocean of silly gun regulations, arguably the most asinine to me has always been the government's take on foregrips. As I understand it, you can mount up an angled foregrip on a handgun and keep Uncle Sam as both a pal and soulmate. However, make that grip the 90-degree perpendicular sort, and you are a felon worthy of a decade in prison.
The entire issue turns on the definition of a handgun. According to federal law, a handgun is a firearm with a short-angled grip designed to be fired with one hand. Considering the only time I would actually fire a handgun one-handed would be if my other hand was blown off, that seems a bit anachronistic. However, the good folks at ATF are tasked with interpreting and enforcing this tripe, and frankly they do a bang-up job considering the bucket of snakes with which the U.S. Congress has gifted them. 
The ATF adjudicates these issues on a case-by-case basis in the form of position letters in response to a citizen's specific queries. It is well known that these letters only apply to those who requested them, but they do give insights into the .gov mindset. One particular letter dated November 20, 2013, specifically states that the sort of foregrip that would magically transform a conventional handgun into an NFA-regulated "Any Other Weapon" would be the sort that is oriented 90-degrees off of the gun's bore. Logically, therefore, the WASP and Venom should be good to go across the board on any platform.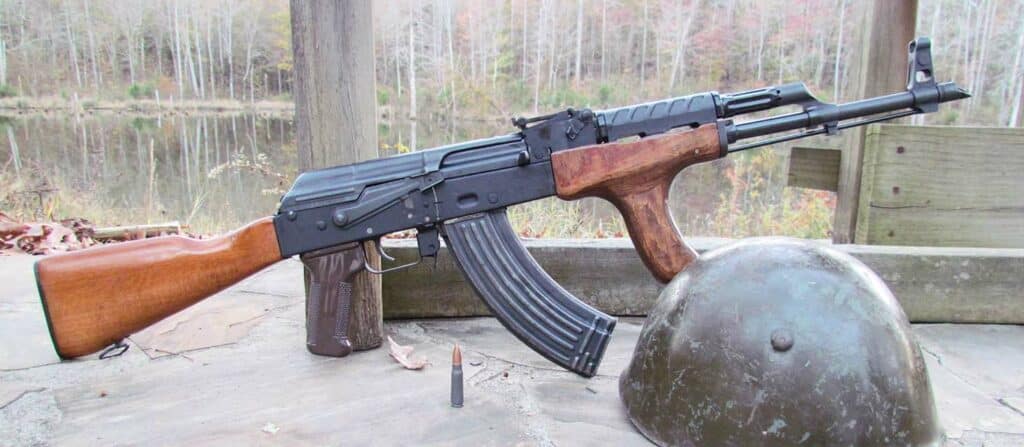 How Do They Run?
The addition of the WASP or Venom allows you to retain positive control of your weapon with your weak hand alone. Should you need to index to a sidearm or less-than-lethal tool, then the FXD device helps you keep your primary weapon handy and accessible without undue fatigue. As a result, I found that it was indeed an easy enough chore to keep my weapons pointed where I wanted them with my weak hand. The incorporation of a pressure switch on the WASP is just gravy.
The hard angles of the thing can dig a bit if you run the weapon with your thumb wrapped around the grip. However, the thumb rests are where your thumb should live anyway, so that's not an issue. I tried these two grips on a ludicrously large number of rifles and pistols and found them to run exactly as advertised. Orienting the support hand a bit below the bore axis took a little getting used to for me; but that learning curve remains quite pleasantly shallow.
Denouement
A determined warrior can be formidable wielding a $75 Hi-Point pistol or even a decent rock; but for those of us who take our tactical tools seriously, the details of ergonomics and function are the places where dreams either flourish or perish. In the WASP and Venom by Force By Design we get a glimpse of the future of tactical weapons. For more information, see forcexdesign.com.
This article first appeared in Small Arms Review V24N3 (March 2020)