By Linda M. Gilbertson
My eyes are 66 years old, but the rest of me is 32, according to my husband. Throughout these years, my eyes have changed. My ophthalmologist says that some of it is based on heredity such as the predisposition from my maternal side to develop glaucoma, but most of it is based on diet and life experiences. All of us have gone through periods of time in our lives when our diet has not been positively influenced by the Food Pyramid. We were told to eat a lot of carrots for healthy eyes, but that's about the extent of eye care. With the development of heart and lung issues and diabetes, this further affects the health of the eyes.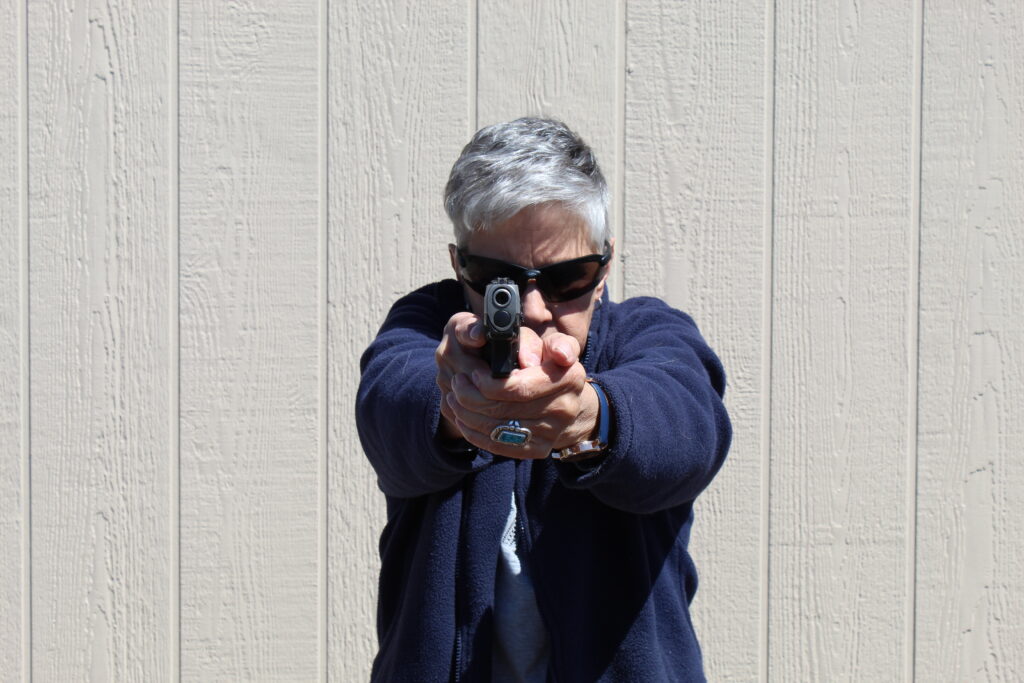 In life experiences, many times I've not worn sunglasses on sunny days. I've scratched the cornea of my eye. I've worn contact lenses and due to age, developed insufficient tear production in my eyes. This created irritation and infection. How many times have you gotten something toxic or some specks in the eye that required eye washing or an emergency visit to the eye doctor to avoid a corneal burn or ulcer?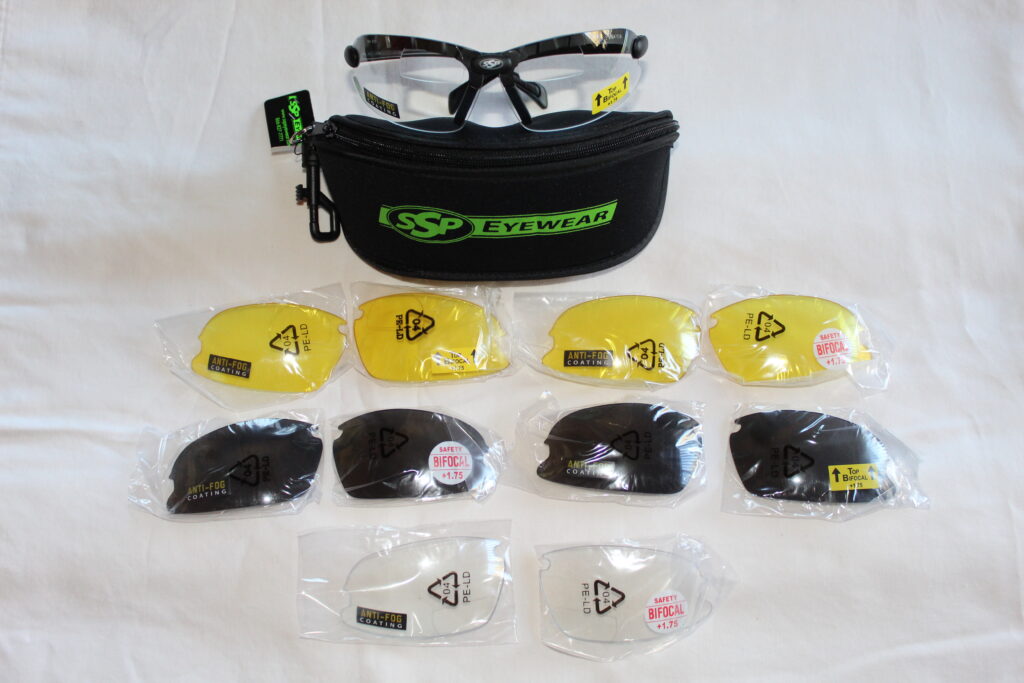 In addition, through time, the cornea ages and may develop hyperopia (farsightedness), myopia (nearsightedness), astigmatism (distorted shape) or a combination of astigmatism with either of the other two.
The Problem
Family heredity, nutrition, life experiences and age will affect the eye's health and subsequently the vision. I've gone from no glasses, to glasses, to hard contacts, to soft contacts, back to glasses for reading, to bifocal, to progressive lenses. I've gone from perfect eyes to astigmatism, to hyperopia, to ocular migraines to vitreous degeneration. I'm at a point where I have developed "floaters" which in ophthalmology lingo is "a translucent or opaque object floating around in the vitreous, which is the gel that fills the rear chamber of the eye." I see "ghosts" (my term) in front of my eyes floating around, which besides being annoying, sometimes blurs my vision. When this degeneration was diagnosed, I saw flashes of light in the corners of my eyes as well. To me it looked like lightning strikes. In normal everyday activity I'm able to ignore this condition but when attempting to shoot for accuracy, I'm challenged.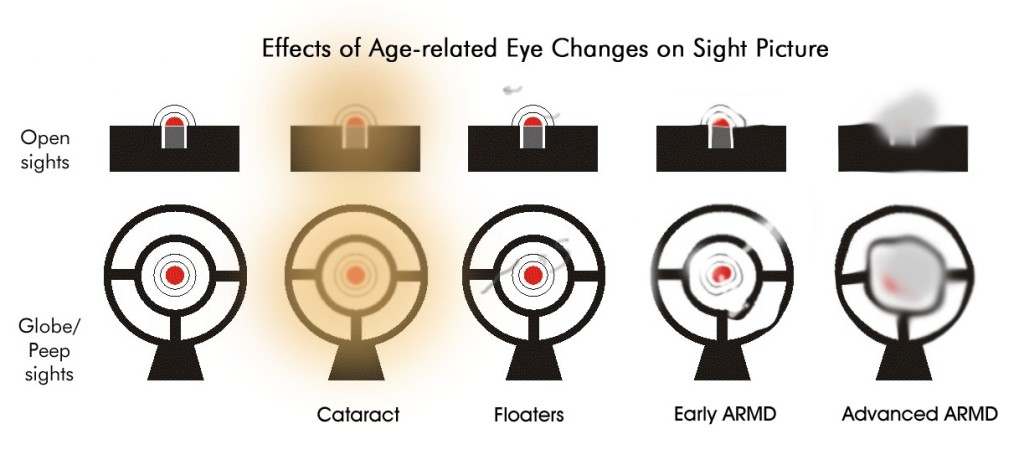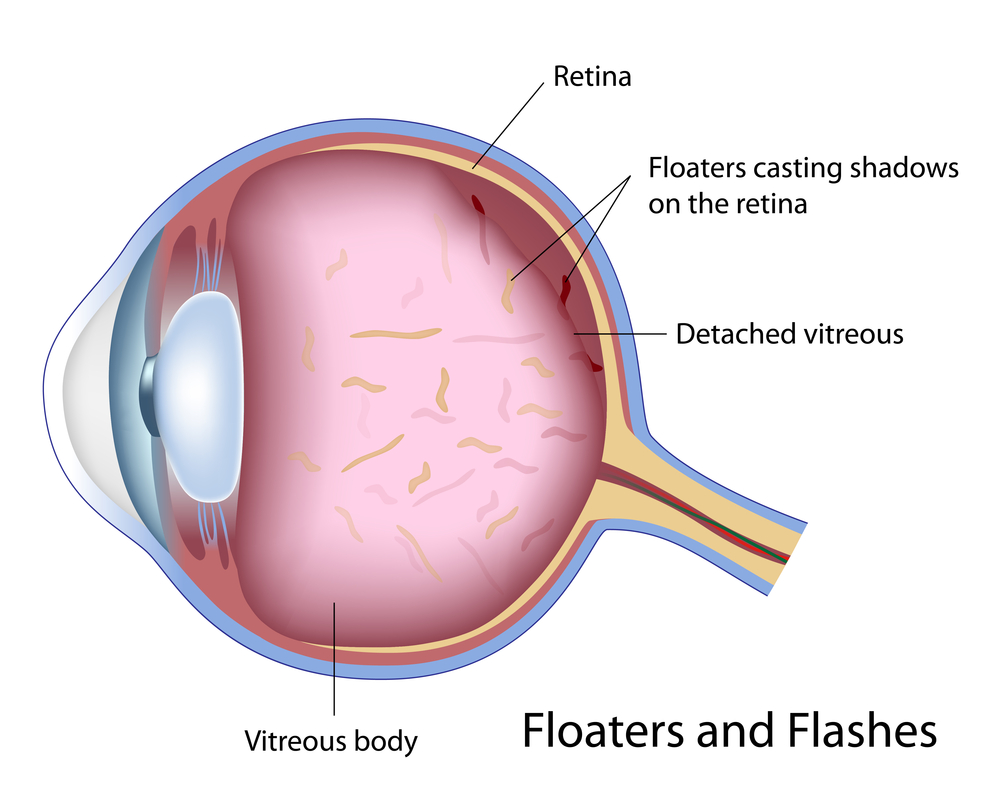 The Analysis
According to an interview conducted by Chris Sajnog (chrissajnog.com) with Dr. Robert Buonfiglio, a Boston practicing optometrist for 34 years who works in the area of Sports Vision Training, "I suspect that shooters, as a group, are more attuned to small changes in their eyesight because of the need for precise shooting vision. … One of the challenges for shooters wearing progressive lenses is that focusing a front sight requires tilting the head back in order to access the part of the lens that corrects for that distance. But this can be awkward and uncomfortable at best, and it can adversely affect your stance when shooting at worst."
In my researching his 2016 article, I wanted to know what I could do for both my hyperopia and vitreous degeneration while wearing shooting glasses. How can I shoot a pistol when I don't have perfect eyesight? If I lower my head and look at my sights with the upper portion of my progressive lenses, I must accept a blurred front sight and pray that I hit my target. If I reposition my head by looking through the lower portion of my lenses with magnification of +2.50 for reading, I must accept an uncomfortable and unbalanced position and blurred vision. My vision is still blurred because I need a different magnification for arm's length where my front sight will be, not at the reading position which is the +2.50 magnification.
My vitreous degeneration, as I was told by my ophthalmologist and as Dr. Buonfiglio notes in his article, can't be corrected with glasses. According to Dr. Buonfiglio, "traditionally, the thought of removing floaters would involve opening the eye surgically and vacuuming them out, and trying to remove them in that matter is something that would not be worth the risk, which would include an infection, retinal detachment and a few other undesirable things. However, there is research being done to ablate ('zap') them with a precisely focused laser, but that procedure is still in the research states [sic]."
The Solution
SSP Eyewear takes my old eyes and gives them new focus. SSP developed Top Focal™ shooting glasses for anyone who wears reading glasses and shoots a firearm. "By placing the magnifiers at the top of the lenses, your shooting stance will improve, you will see your sights clearly and the target unobstructed." For pistol shooting, looking through the top of the shooting glasses, your head will tilt slightly down closer to your chest, your body position will lean forward, you'll avoid eye strain and increase your accuracy. With the proper magnification, the head tilt balances the body, the impact of recoil is absorbed, and reacquisition of the target is hastened.
SSP Eyewear helped me determine the correct magnification power for the lenses through their website video (sspeyewear.com). Once I determined how to do it, I traipsed down to my local Walgreens store where they had numerous magnifications on simple reading glasses. Instead of pulling out my pistol in the store and causing immense panic, I used a pencil at arms' length focusing on the eraser tip. Trying on different eyeglass magnifications, I determined the correct magnification power for me was +1.75. The magnification for the front sight must be at the arm's-length distance which takes the prescription down a few notches.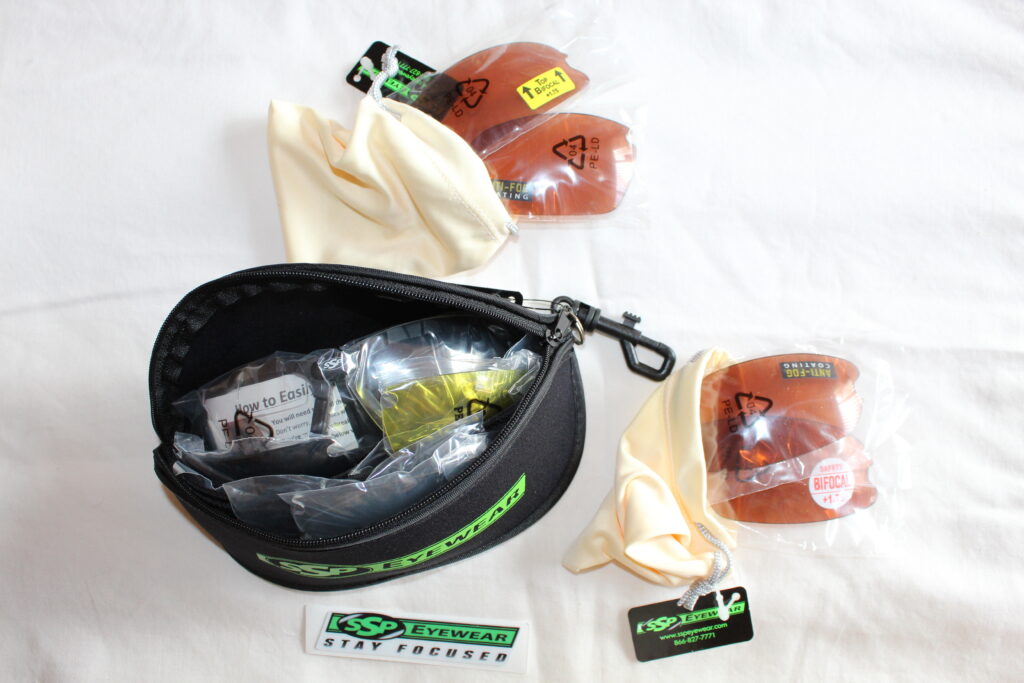 SSP Eyewear sent me the Top Focal Ultra Kit with 12 Top Focal and Denial anti-fog lenses, all at +1.75 magnification. "This kit includes everything you need for pistol[s], rifle[s], AR[s] and shotguns, to view your sights and the target in every light condition. It comes with a full set of lenses with bifocal magnification at the top of the lens, and a full set of lenses with regular bottom bifocals, so you can use the upper bifocal lens on one eye and a bottom bifocal on the other lens." The lenses are amber, clear and smoked tints.
SSP Eyewear also sent the replacement Denial bottom bifocal Bronze anti-fog lens and the replacement Top Focal Bronze anti-fog lens. "Our Denial Bifocal Kits have bottom bifocal lenses for everyone whose arms aren't quite long enough … bottom bifocal lenses allowing you to view close-up, as well as in the distance for 24-hour use in all light conditions." The Top Focal lens is, "Designed for pistol shooters and instructors allowing for in-focus view of [the] front sight . . . and for mechanics, electricians and anyone doing overhead work."
Four Challenging Issues
Shooting with both eyes open is now the recommendation of the NRA and many firearms instructors. This has been a change from the closing of the non-dominant eye. Its purpose is to permit more light, better peripheral vision and less eye strain from squinting of the non-dominant eye. I have learned that some of my students are unable to close the non-dominant eye and therefore keep both eyes open when aiming and firing. They've also mentioned that they see two barrels, two targets or two sight pictures when doing this. I advise them to either put tape over the non-dominant lens of their shooting glasses or obtain an eye-patch for that eye.
SSP Eyewear took this issue as a challenge. According to their website, "Wear with clear Top Focal lens on your dominant eye and a smoked Plano lens (no magnification) on your non-dominant eye. This will allow you to comfortably practice shooting with both eyes open as your dominant eye will focus through the Top Focal lens on your sights and your non-dominant eye will be slightly obstructed (similar to using a piece of scotch tape) so you don't feel like you see two barrels."
Cross-dominant aim is no longer an issue with shooting glasses. SSP Eyewear has developed a lens with the "magnifier located next to the nose piece out about 1-1/4 wide." Their advice is to dry-fire practice with this lens and try a smoked Plano lens (no magnification) in the non-dominant eye. This smoked lens should make the dominant eye aim through the Top Focal lens.
LASIK surgery, or having different magnifications in each eye, is no longer a problem. Top Focal and Denial (bottom bifocal) glasses will give you "different powers" for each eye. Their intent is to protect your eyes and customize your glasses to improve accuracy:
For long guns and Top Focal shooting glasses, SSP Eyewear recommends use in conjunction with an AR "as the sights are the same distance from the eyes as a handgun." In addition, using a scope, "adjust the reticle eyepiece to view the cross hairs clearly either through the Top Focal or through the bottom of the lens [and] look through the Top Focal to adjust the turrets on the scope." With red dots, just use the same Top Focal power as you would for your pistol sights. When shooting a rifle looking through the top of the shooting glasses, your cheek will rest comfortably on the cheek-weld, and your body position will lean forward which helps with the absorption of the recoil.
Conclusion
When I started this article, I addressed my own personal issues with shooting because I shoot Practical Pistol and Bulls-eye, and I instruct Pistol and Rifle. I have experienced frustration with progressive lenses in the shooting positions required for each discipline. One of the Bulls-eye competitors at our local club is an Olympic competitor who told me about purchasing reading glasses from Walgreens for a reading prescription that would have the magnification in the entire lens. With these types of glasses, I could shoot without the backward head tilt which is extremely uncomfortable and unbalanced. However, I then had to tilt my head down to look over the frame to be able to see others around me and address them when speaking. Remember your teacher in school looking at you that way? When I saw an ad for SSP Eyewear and realized they offered the magnification I needed for shooting, at the top of the lens rather than the bottom, I realized this was the answer for me.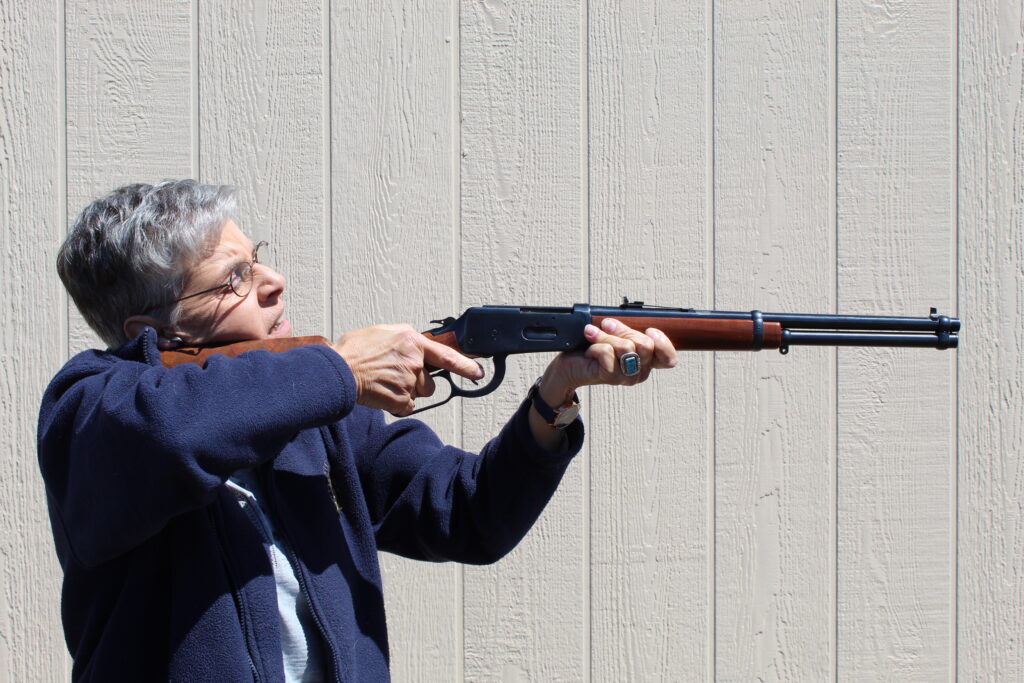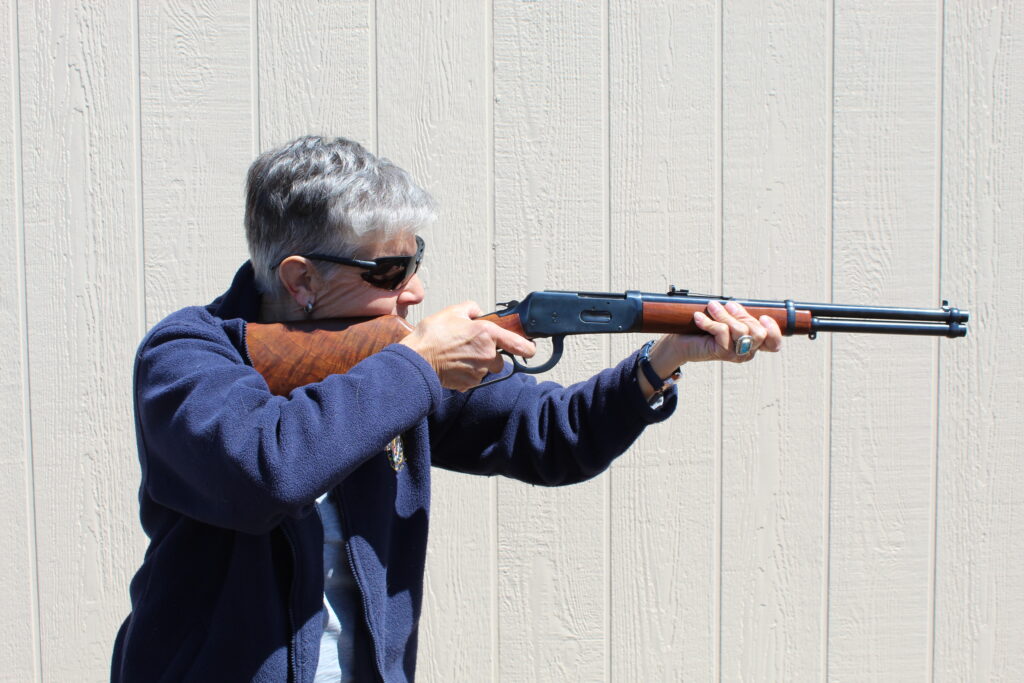 SSP Eyewear has made shooting comfortable. The average weight of the human head is 10 to 11 pounds. I no longer must tilt my head back to look through my bifocal, which puts me off-balance. I can see my front sight clearly with a forward head tilt, which is more relaxing and a headache minimizer. In both Pistol and Rifle, the forward head tilt automatically forces the upper body forward for better balance and posture, the absorption of recoil and the quicker return-to-sight picture. Aside from the physical aspects, psychologically I feel better. I'd rather look strong than weak. Many times, your appearance is enough to change the situation. Even though SSP can't correct my "floaters," I see less interference when viewing my front sight. Perhaps it's psychological, but psychological is good if it improves competence and confidence. You can't ignore a great product, especially when old eyes need new focus.
This article first appeared in Small Arms Review V24N9 (November 2020)