By Jean Huon
The post-World War II French program of infantry small arms included a light machine gun. Several models were developed.
Automatic Rifle
Châtellerault Model 1924 M 29
Based on an instruction dated October 17, 1951, the Manufacture d'Armes de Châtellerault (or MAC) small arms factory was to develop a Model 1924 M 29 LMG for the 7.62mm T65 cartridge. The barrel was replaced and a new extractor and magazine were fitted. The cost was about 10 600 French francs. A conversion was developed by their chief engineer, Lecuiller. Several prototypes were tested in 1957.
Another variation included a belt-fed weapon. Several pictures of it can be found, but they may be fake. The conversion seemed difficult to manufacture and no trial report could be found.
Heavy Assault Rifles
Several variations of assault rifles with heavy barrels were made:
MAS 53 received a heavy barrel, a bipod, a flash suppressor and a short forearm. The stock received a rear monopod and a folding butt plate. The rifle could launch a grenade and did not have a bayonet.
MAS 54 developed from the MAS 54 C, but was improved with a carrying handle. It was tested by the Section Technique de l'Armée (or STA) in October of 1954 at the French Army Proving Ground at Satory (near Versailles). They shot 44,000 cartridges with only 44 malfunctions.
MAS A.P. 1959 received a quick-change barrel and was developed in three versions: standard (rifle), short (SMG) and LMG.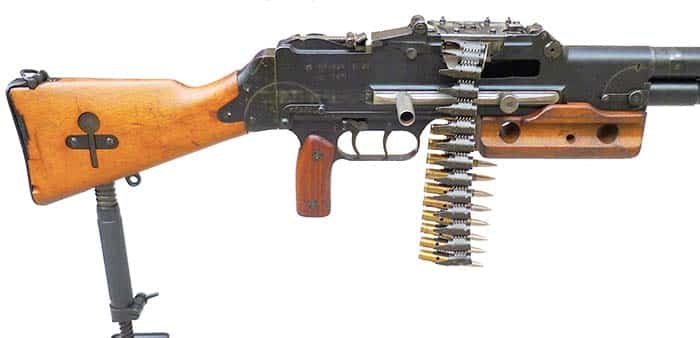 Light Machine Gun
Despite the condition of the "poor" Army of the Vichy Government, a project was developed to reach the best performance of a new automatic rifle/light machine gun.
A technical report from October 11, 1941 describes the project:
Caliber: 7.5mm
Light and short
Easy to handle
Able to shoot at aircraft at low altitude
Able to shoot at light armored vehicles
Simple design
Easy to produce
Easy field stripping
Complete disassembly can be done by any soldier, with only a screwdriver
Easy handling and instruction
Protected against mud and dust
It had to include:
Locked bolt
Gas action or recoil
Air cooled
Loading with metallic disintegrating or articulated links
Ejection on the right side, or under
Two rates of automatic fire: 600rpm against a ground target and 900rpm against an aircraft
Cocking lever on the right
Barrel fitted with a flash hider and a carrying handle
No safety lever was needed
Specifications of the automatic rifle:
Barrel: 0.50m (19.68in)
Weight: 7kg (15.4lbs)
Stock with folding butt plate
Rear monopod and folding bipod; and a light tripod (like a photograph tripod) to shoot against aircraft
Specifications of the light machine gun:
Barrel: 0.75m (29.53in)
Weight: 13kg (28.7lbs)
Removable stock
Two-position tripod (high and low) to shoot at ground targets and a special device to shoot at aircraft
Tripod Weight: 15kg (33lbs)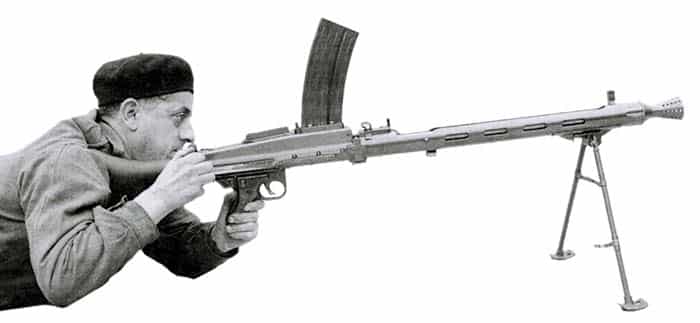 This program seemed to learn lessons from the combat in May and June of 1940 and acknowledges (without saying it) the qualities of the German MG34 light machine gun. Strangely, on May 12, 1942, the German Armistice Commission allowed the conversion of 2,021 aircraft belt-fed machine guns (MAS 34 M 39) for ground use. The conversion would be made by MAS with tools, parts and plans furnished by the MAC factory. After an examination of the French request, the Germans also allowed the manufacture of 2,700 aircraft MAC 34 M 39 machine guns, out of which 679 came from captured stocks and 700 20mm H aircraft cannons (the amount was reduced later to 500) and another order would be given later for 200 more.
The machine guns had fluted chambers and the piston was removed. The MAS also proposed a conversion for ground use: 1) put it on the M 1915 tripod and 2) add rear monopod and bipod like the Châtellerault automatic rifle.
After Germany invaded the South of France in November of 1942, all of these projects were discarded.
After the 1941 program, in 1945 the DEFA (French Army Ordnance Organisation) started a new project for the development of small arms. The universal machine gun program was very similar to the previous ones.
The specifications of the May 25, 1945 project were:
Cartridge: 7.5mm Model 1933 D (heavy bullet)
Weight: 7kg (15.4lbs) with bipod
Barrel: 235mm (9.25in) rifled, length 0.60m (23.62in), easy to change without a tool
Action: At the choice of the designer
Feeding: 50 magazine or belt-fed cartridges or 30-round magazine
Lateral ejection
Cyclic Rate: Between 500-900rpm
Sights: Rear sight and rectangular front sight
Air cooling
Accessories: flash hider, silencer, muzzle brake, sling, carrying handle, tools
Easy to produce
This program had to take into account the shortage of industrial equipment and the reduced production capacities during this period of reconstruction. Most of the parts needed to be made by stamping, sintering or casting, if possible. Raw material could be found in the country, in case of war. Disassembly was to be as easy as the Châtellerault automatic rifle and shouldn't require any tools.
The light machine gun would need a rear monopod, a stock with stock folding butt plate and a bipod. The machine gun would use a 13kg (28.7lbs) tripod.
Between 1948 and 1953, several prototypes were developed by the Mulhouse research center and the Châtellerault and Saint-Étienne small arms factories.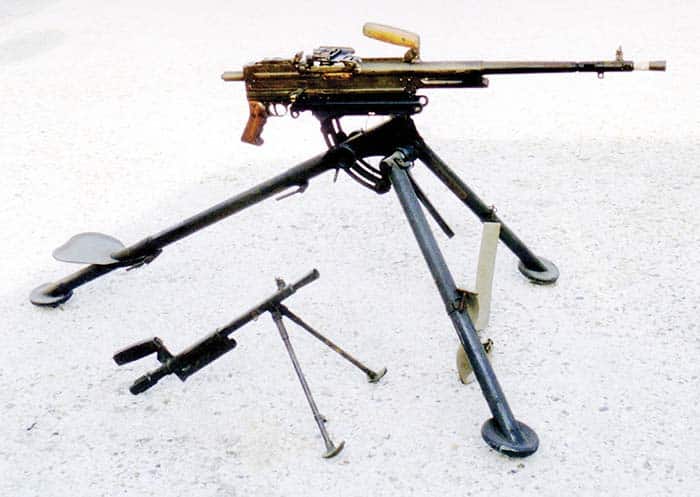 Mulhouse Prototypes
In 1950, the CEAM manufactured a light machine gun, very similar to the MG42. It was developed as an automatic rifle, with a vertical magazine and a bipod. A heavier variation, fed with links and using a tripod, was also made. Both shot the 7.5mm M1929 or .30-06 cartridges. But the guns were too heavy and many malfunctions were noted during the testing, so the CEAM weapons were not selected.
MAS Prototypes
The machine guns developed by the MAS were very similar to the MAS 36 and MAS 38 prototypes with gas tubes (without piston) were presented: A light machine gun with a short barrel and a magazine or a machine gun with a long barrel, link-fed, both in 7.5mm and .30-06. The barrel could be easily replaced. It had a gas tube, a carrying handle and a flash hider. The frame was of rectangular shape. It received a bolt carrier, a bolt and its lock. The pistol grip included a selector and a safety lever.
Feeding could be done with a magazine or a belt, after an exchange of the bolt cover.
The gun works by gas action, without a piston. The light machine gun had a bipod and received a stock. The heavy model had a tripod MAS M 1950. The MAS 50 prototypes with a gas tube worked correctly but they were too heavy and the cyclic rate was too slow.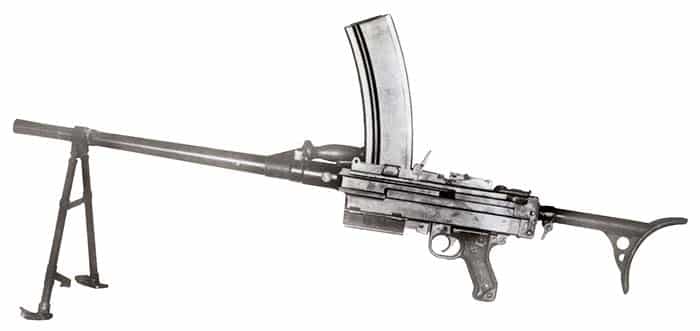 SPECIFICATIONS OF MAS 1950 WITH GAS TUBE
LMG
MG
Caliber:
7.5mm 
7.62mm
7.5mm
7.62mm
Ammunition:
7.5x54mm
.30-06 
7.5x54mm
.30-06
Overall Length: 
1.260m (49.60in)
1.040m (40.94in)
Barrel Length: 
0.50m (19.68in)
0.60m (23.62in)
Weight:
11kg (24.25lbs)
9.8kg (21.60lbs)
Tripod Weight:
13.9kg (30.64lbs)
Cyclic Rate:
550-650rpm
500-600rpm
A MAS 53 was also made, lighter, with a sheet cover around the gas tube.
Châtellerault Machine Gun
The Châtellerault factory developed a blowback machine gun, with a two-part bolt and an inertia lever. Two variations were made: one magazine-fed, one belt-fed. To make production easier, an MG42 pistol grip was used. During the tests, some specifications of the guns were modified by the DEFA on March 30, 1951: the barrel had to be easily exchanged, feeding used disintegrating links and the caliber was to be 7.62mm T65. None of the factories could manufacture models in 7.62mm quickly, therefore production would be delayed. After the tests, the CEAM and MAS prototypes were rejected and the MAC model was selected, with a short barrel and a bipod to replace the F.-M. M 1924-M 29. A heavy barrel was selected for the machine gun.
A.A. 52
A.A. 52 and its variations were manufactured with modern techniques using many sheet metal parts. Only the barrel and the bolts were machined. The weapon worked with semi-rigid locking, the opening is delayed by an inertia-amplifying lever. The receiver is of rectangular section, with a cover receiving the feeding device at the top. The cocking lever with slide is on the right. The trigger mechanism and the pistol grip are under the frame.
The ejection port is under the frame and it has a folding cover. The bolt is made of a bolt carrier with a mobile head and an inertia-amplifying lever. The weapon received a telescopic stock with an articulated butt plate. The dismountable and interchangeable barrel was fitted with a handle also used for transport of the weapon. The barrel had a fluted chamber. The barrel has four right-hand grooves with a 240mm twist rate. The 7.62mm barrel has the same groves but with a 300mm twist rate.
A push-button safety is inserted on the trigger mechanism. There is no selector. The sights are made of a folding front sight and a U-notch rear sight, adjustable from 200 to 2,000 meters. After 1962, they receive phosphorescent pellets for night shooting.
Feeding can be made with German Gurt 34 links, or French-designed detachable links (several models exist). The feeding mechanism, trigger device and pistol grip are copies of the MG42.
The first machine guns were delivered in February of 1956 and 35,000 A.A. 52 in 7.5mm were made.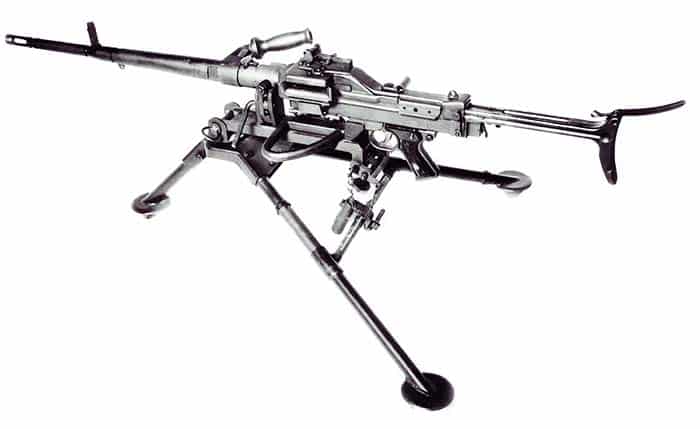 | SPECIFICATIONS | A.A. 52 LIGHT | A.A. 52 HEAVY |
| --- | --- | --- |
| Caliber:      | 7.5mm   |   7.5mm |
| Ammunition: | 7.5x54mm | 7.5x54mm |
| Overall Length: | 1.145m (45.07in)  | 1.245m (49.01in) |
| Length with Stock Retracted:  | 0.98m (38.58in)  | 1.08m (42.52in) |
| Barrel Length: | 0.5m (19.68in) | 0.6m (23.62in) |
| Weight of Weapon: | 9.15kg (20.17lbs)  | 10.5kg (23.15lbs) |
| Weight of Tripod: | | 10.6kg (23.37lbs) |
| Shooting Rate:  | 800-900rpm | 800-900rpm |
A.A. 7.62mm N – F 1
Development began in 1954 and was finished in 1962. After the MAC factory was shut down, the production was transferred to the MAS in 1964 and later to Tulle in 1967-68. Production of A.A. 7.62mm N-F 1 was 17,000 weapons.
.50 Caliber Machine Guns
Several prototypes of a .50 caliber heavy machine guns were developed to replace the .50 M2HB machine gun.
AME 12.7mm
Developed in Mulhouse, it could be tested by the French but was presented to the German Bundeswehr in 1963, without any success.
MAC 56 and MAC 58
Made in Châtellerault by a team (MM. Davail, Martin, Nardin and Rabbe), it was an enlarged version of the A.A. 52. The frame has no rear block and the dismounting of the gun is slightly different. The rear sights are scaled in hectometers from 0 to 30, the front sight can be folded down.
The feeding is carried out with metallic links:
American detachable links,
French-designed detachable links, similar but larger than those used with the A.A. 52,
French-designed non-detachable links, an enlarged copy of the Gurt 34.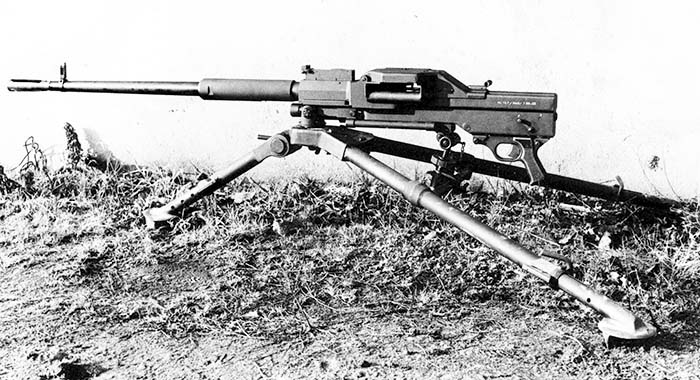 The barrel can be easily replaced; it has no water jacket or carrying handle. The 12.7mm automatic weapon has a particular trigger mechanism and several variations exist.
On the MAC 56, two rear handles are fixed to the frame with an axial trigger pushed by the thumbs, firing like the Browning U.S. M2HB machine guns. The barrel has a truncated, forked flash hider.
On the MAC 58, the trigger mechanism is completed by a conventional pistol grip. The safety is set by a lever on the left side. The barrel has a cylindrical flash hider with lateral holes. Both weapons are fitted with a recoil absorber. A French-designed mount, with a recoil-absorbing device, allowed the use of the U.S. M3 tripod on any vehicle mount initially intended to receive the American weapon.
Tested during a short time, this model was not selected because it did not show particular improvements compared to weapons of the same caliber already in use. In addition, there was interest in the 20mm automatic guns for the armament of armored vehicles.
| SPECIFICATIONS | MAC 58 |
| --- | --- |
| Caliber  | 12.7mm (.50) |
| Ammunition | 12.7x99mm (.50 Browning) |
| Overall Length (with Flashhider)  | 1.628m (64.09in) |
| Length of the Gun (without Flashhider) | 1.0m (39.37in) |
| Weight of Weapon | 26.74kg (58.95lbs) |
| Weight of Tripod | 20.655kg (45.54lbs) |
| Cyclic Rate  | 600rpm |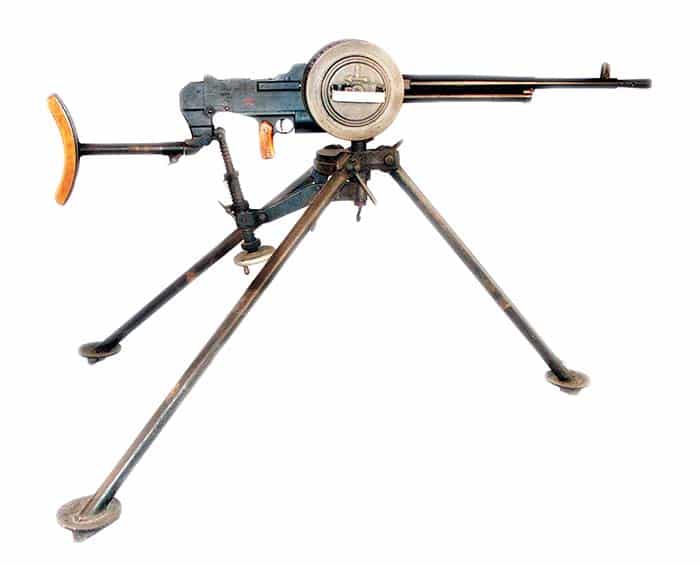 Other Machine Guns
MAC 31
After 1945, the MAC 31 tank machine guns were converted for infantry use:
MAS 31 A1, fed by a drum, mounted on vehicles or on a MAS 1945 tripod.
MAC 31 A2, fed by a flat, curved, horizontal 35-round magazine, mounted on a modified U.S. M2 light tripod.
Newly-manufactured MAC 31 E weapons with a short barrel were used on the AMX 13 light tank or on the EBR armored vehicle.
MGD
The MGD prototype was developed by Merlin Gerin Company, which also produced a light machine gun with the same mechanism. The machine gun was presented in 1946, but was not adopted.
This article first appeared in Small Arms Review V25N7 (August-September 2021)