By Todd Burgreen
Of late, the attention seems to be focused on "improving" the AR platform via developing piston-driven ARs in lieu of Stoner's original gas-impingement design. Whether or not piston-driven ARs are superior to their gas impingement brethren often generates heated discussion debating the pros and cons of each AR operating method. Within the piston-driven AR family there are various operating methods employed with no standardization of parts arrived at as of yet. This leads us to Primary Weapons Systems' (PWS) contribution to the AR field with its MK 1 series of long-stroke piston operated ARs compared to the more common short-stroke method found in other manufacturers' designs.
PWS literature clearly lays out the thought process behind the development of the MK 1 series with their fascination with the simplicity and reliability of the AK47 combined with a deep-rooted appreciation for the ergonomics of the M4/M16 platform and seeks to maximize the 50-year old AR design in terms of reliability and operating efficiency. PWS is confident that the MK 1 is an improvement over not only the original gas impingement design, especially when incorporated into short barrel platforms, but also other piston AR designs featuring short stroke pistons. Significant changes are present in the MK 1 PWS compared to both the direct impingement operating system and other piston-driven operating systems. PWS product improvements address reliability and performance issues as well as reduced carrier tilt, cam pin wear and carrier bounce.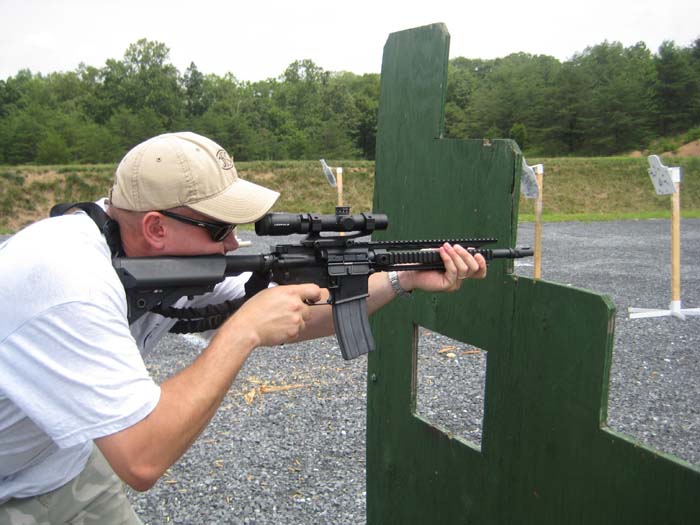 The PWS upper tested herein, the MK 112, features a 12.5 inch barrel and was mated to multiple registered AR lowers, including a select fire version. One of the major differences found in PWS products is its utilization of a long stroke piston system. While there are a variety of definitions ranging from technically complex to simplistic of what exactly long stroke and short stroke consists of; for our purposes, long stroke is exemplified by the AK47 method of having op rod connected to the bolt carrier whereas short stroke consists of a more complicated arrangement of tapped gas imparting force to an op rod that impacts another part of the mechanism that acts on the bolt carrier. The MK 1 series has been used in Iraq and Afghanistan, and has gained wide popularity with private security personnel, law enforcement and civilians alike.
The MK 112 is a natural for CQB/Direct Action roles signified by its shorter than normal barrel length of either the standard M16 or M4 rifles. The 12.5 inch barrel represents the optimum cross-breeding of handling to cartridge performance. The MK 112 PWS produces approximately 2,800+ fps velocity with the 55gr/62gr 5.56mm round while still offering compact handling and enough rail space for solid purchase and accessory additions as mission dictates. A proprietary PWS hand guard system utilizes and features a non-free float panel system that allows the end user to replace individual rails as needed without removing the barrel, barrel nut or even other rails. Imagine if you will, the PWS gas/piston tube surrounded by rails that do not rely on being attached to the tube; rather the rails are attached at the pinned gas block in the front and the receiver at the rear. The design facilitates better air flow around both the gas tube and barrel for more efficient cooling during long strings of fire. This does not mean that the MK 112's handguards do not get hot. This is a natural result of the operating rod location running down the length of the handguard to the action and not untypical for long stroke designs which utilize the muzzle gasses to operate the piston. Gloves, small vertical forward grip, and rail panels provided with the PWS MK 112 are necessary if any volume of fire is expected. The MK 112's user can attach numerous devices such as sights, lights, vertical forward grip and laser aiming devices.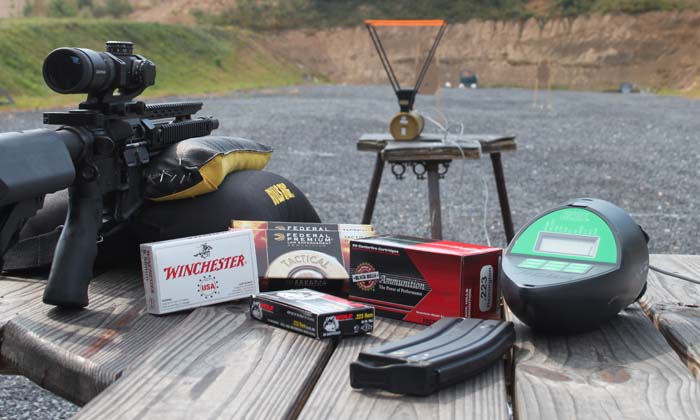 The key with the PWS MK 112 is having a 12.5 inch barreled AR that works and functions at the same reliability level as longer barrel ARs. This is where the PWS long stroke piston comes into play. The PWS system utilizes an operating rod that is attached to the carrier and a floating head piston that is attached to the operating rod. The MK 1 series is built to be a true combat carbine. With no unnecessary gas adjustments and only one moving assembly, proponents point to the MK 1 as the most rugged, simple and versatile piston operating system available. The MK 1 series is available as a complete carbine or rifle or as a "drop-on" upper receiver for use on the lower receivers of existing M4/M16 style lowers, which is the path chosen for this review.
The PWS MK 112 installed on a lower combines to weigh 6.5 pounds and has an overall length of 29.5 inches with adjustable stock extended. The MK 112's stainless steel button rifled Isonite treated 12.5 inch barrel features 1:8 twist. The 1:8 twist was selected to accommodate the widest variety of 5.56/.223Rem loads. A PWS Triad flash suppressor was fitted on the MK 112's barrel. PWS designed the Triad specifically to address the notorious muzzle flash associated with short barreled rifles.
The PWS MK 112 was evaluated at Echo Valley Training Center. The private facility has multiple 100 yard berm-enclosed bays capable of handling numerous students conducting "square" range drills or more dynamic/fluid types of training. In conjunction with the individual training bays, Echo Valley Training Center features multi-stepped target berms that are strewn with reactive steel targets, fluid drained automobiles, and moving targets at ranges varying from 150 yards out to 350 yards.

It was decided to take full advantage of the MK 112's flattop upper and performance represented in the 12.5 inch barrel by mounting a newly introduced Leupold optic – the VX-R Patrol with illuminated reticle. The VX-R Patrol is available in both a 1.25-4x20mm model with the FireDot Special Purpose Reticle and 3-9x40mm with TMR FireDot reticle. The Leupold VX-R with FireDot SPR reticle is designed for instinctive, close-range/low-magnification situations, yet allows shooters to engage targets with greater precision at longer ranges than generally possible with non-magnified red optics or other reticle style low powered scope. The Leupold VX-R 1.25-4x is an optic candidate worthy of being left on the PWS MK 112 full time. It is able to handle multiple roles as a user decides albeit close range engagements or further. The Leupold VX-R offers the capability to engage multiple targets in rapid sequence due to its FireDot reticle pulling the shooters eye to the aiming point, while at same time providing adequate accuracy out to a couple hundred yards. As many "maturing" shooters can attest to, the single focus plane is easier to shoot accurately than coordinating front and rear sights. The 5.56/.223's flat trajectory aids in making hits out to 250 yards without having to compensate excessively for bullet drop with the short 12.5 inch barrel proving not that much of a hindrance to velocity; A 200 yard zero provides for +2 inches at 100 yards and -13 inches at 300 yards.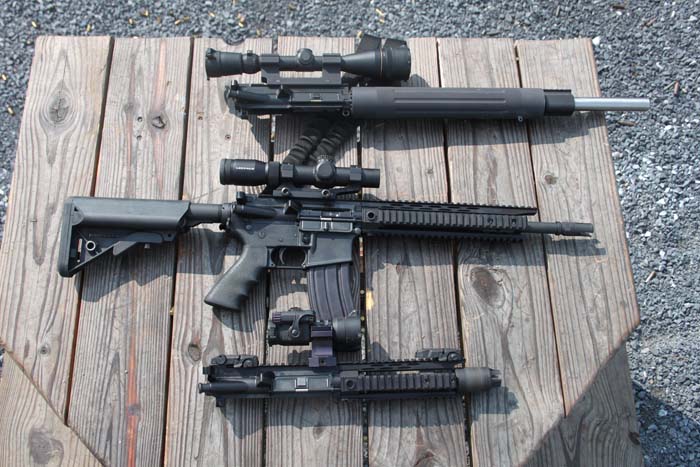 Ammunition tested with the PWS MK 112 was a combination of Black Hills Ammunition loads, Federal Premium Law Enforcement 55gr Triple Shok and 62gr Bonded SP loads, Wolf 55gr FMJ, and Winchester 55gr FMJ. The MK 112 kept all loads tested under 2 inches at 100 yards with the Federal Premium 55gr Triple Shok and Black Hills 69gr Match producing near MOA groups out to 200 yards. Overall, the accuracy level was more than acceptable considering the barrel's profile. Accuracy test protocol consisted of five three-shot groups with each ammunition type; group sizes were averaged. Velocity figures ranged from 2,800-2,900 fps over a RCBS chronograph.
C.R. Newlin, Echo Valley Training Center owner and partner in Stonewall Arms, generously allowed me to borrow his select fire AR lower for testing with the PWS MK 112. Range testing commenced with functionality tests consisting of dumping multiple magazines at several targets in rapid fashion once sight zeros were verified. Any fighting rifle must be reliable to be worthy of further consideration. The importance of quality magazines can not be overstated in terms of impacting a weapon's reliability. The majority of malfunctions in a select fire, or even semi-auto rifle, can be traced to a faulty magazine. I primarily use Brownells' AR magazines for this reason, though random magazines are mixed into testing at times. The PWS MK 112 long stroke gas piston operating rod system proved its worth in keeping the bolt carrier group cooler and cleaner compared to direct impingement AR rifles. While not trying to be unrealistic or overly harsh, the PWS MK 112 was exposed to multiple magazine dumps at various times of the T&E. The method was not mindless ammunition wasting, but rather wanting to confirm beyond a doubt that the PWS MK 112 was reliable under the most extreme circumstances. Along these lines, recoil and muzzle climb was found to be less than expected even when firing on full automatic.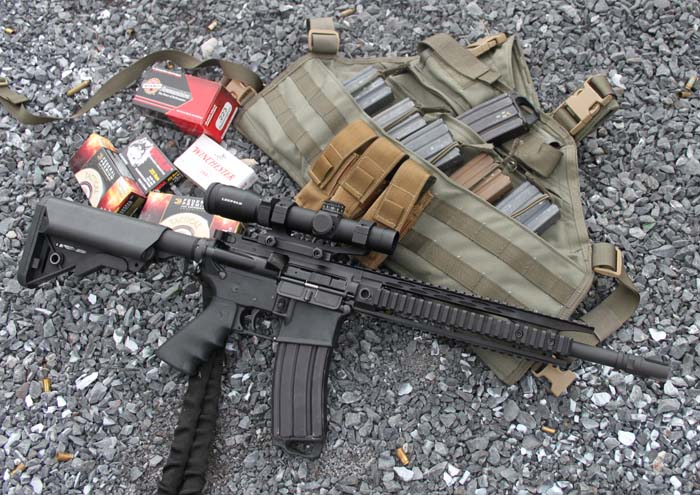 One of the lowers used with the PWS MK 112 upper contained a patented Wilson Combat Tactical Trigger Unit (TTU). It is simple to install by anyone with rudimentary AR maintenance skills and instantly enhances shooter-to-rifle interface. Wilson Combat designed the TTU not as a match trigger, which can be less than hardy under robust conditions, but rather as single stage 3.5-4.0 lb. trigger with a short reset suitable for all conditions of use. The Wilson Combat TTU requires no field adjustment and does not have any loose parts or screws that seem to come loose at the worst time. The TTU hammer geometry was designed with military/surplus primers in mind allowing for reliable ignition of all ammunition. The Wilson Combat TTU meets or exceeds military specifications for drop safety – something that "match" triggers usually can not represent as doing. All in all, the Wilson Combat TTU allows for multiple rounds to be sent downrange quickly/accurately and for precise longer range shot placement better than your standard trigger unit; yet retains reliability lacking from some of the other trigger units on the market.
An even better evaluation of the PWS MK 112 was its use in portions of Jason Falla's Redback One Tactical Carbine Course conducted at Echo Valley Training Center. It got exposed to realistic training curriculum during multiple exercises involving quick reaction shooting, multiple rounds on several targets, moving while shooting, and working around barricades. Team Tactic exercises involving moving to and from a designated target area using cover while either changing magazines or engaging targets when a partner is reloading are other good weapon evaluation drills. One gets a good sense of the way a weapon handles along with reliability due to the sum of ammunition expended in short time frames characteristic of these Team Tactic drills.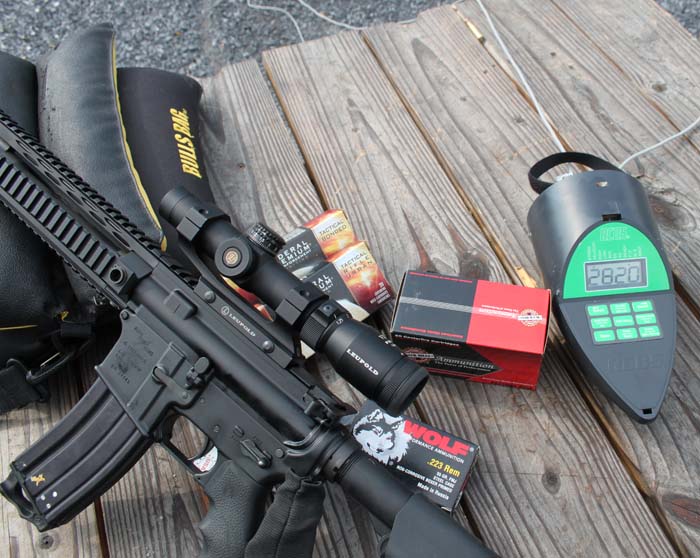 The PWS MK 1 gas-piston system can be disassembled for maintenance without requiring the rifle's handguards to be removed, unlike some of the short stroke ARs on the market. Cleaning methods for the PWS MK 112 are familiar to anyone with experience with the AR-15. The PWS long-stroke gas system serves to isolate the action from heat and fouling, especially when compared to the typical AR direct gas impingement method of dumping gas directly into the action.
The BATF regulations of what constitutes a rifle compared to a NFA SBR (Short Barrel Rifle) weapon as pertaining to barrel length serves as an artificial threshold for barrel length on civilian rifles. As can be imagined, most consumers are content to go with the 16-inch barrel to avoid onerous paperwork and tax stamp fee associated with a less than 16 inch SBR rifle even if a shorter barrel is better suited for the task intended. Some may question the utility of employing a rifle with a barrel measuring 12.5 inches. Is the 3.5 inches worth the non-NFA 16 inch version? That is a question each individual will have to answer. The fact is that most engagements happen well within a 100 yard range, especially in law enforcement or civilian settings, with handling and reliability playing more of a factor in quick, reactive engagements than muzzle velocity. However, the RCBS chronograph indicates that only approximately 200 fps is lost with the MK 112's 12.5 inch barrel. A 7 inch PWS MK 107 Diablo upper was test fired with similar ammunition for comparison sake with the PWS MK 112. The 7 inch barrel produced velocities in the 2,300 fps range – really showing the advantage represented by the MK 112's longer barrel in terms of velocity. The PWS MK 112 represents the "sweet spot" of sub-16 inch handling while maintaining some semblance of rifle ballistics and terminal performance.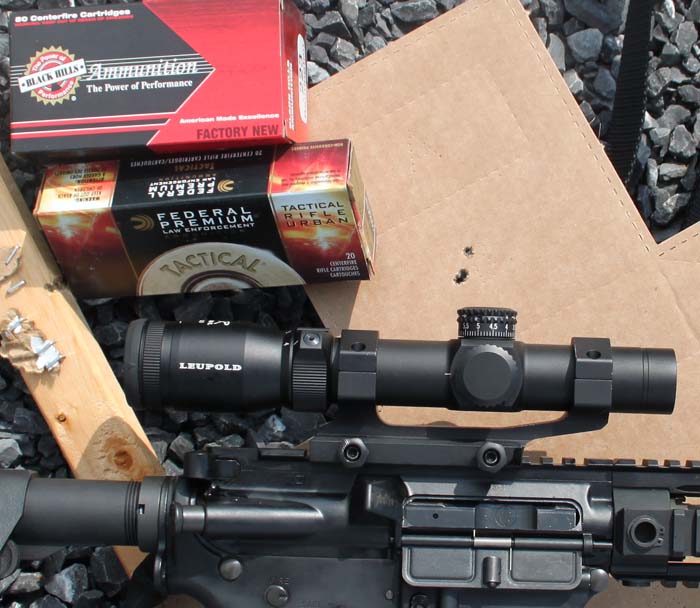 Sites of Interest:

Primary Weapons Systems
(208) 344-5217
www.primaryweapons.com
Black Hills Ammunition
(605) 348-5150
www.black-hills.com
Echo Valley Training Center
www.echovalleytrainingcenter.com
ATK/Federal Cartridge Company
(800) 322-2342
www.federalpremium.com
Leupold & Stevens Inc.
www.leupold.com
Brownells' Inc.
(800) 741-0015
www.brownells.com
This article first appeared in Small Arms Review V16N3 (September 2012)