By Todd Burgreen –
There is no doubt about the popularity and acceptance of polymer striker-fired handguns. It seems end users and arms makers both win. The quick adoption of striker-fired weapons for LE and military use bears this out. From a manufacturer perspective, polymer-framed, strike-fired handguns are less expensive to produce and require minimal hand fitting while still offering impressive performance.
Hammer-fired single action only "cocked and locked" handguns have not faded quietly into the sunset, though. In fact, the case can be made this format is actually flourishing. Why? The mystique of a well put together single action semi-automatic handgun is hard to deny in our current polymer striker-fired age. A trigger with minimal-to-no-creep, limited travel/reset, and a break like the proverbial "glass rod" is hard to resist. All of these things become magnified as knowledge and skills are gained in the quest to run a handgun with ruthless efficiency. The performance offered in these aficionado weapons justify their place as a valid choice.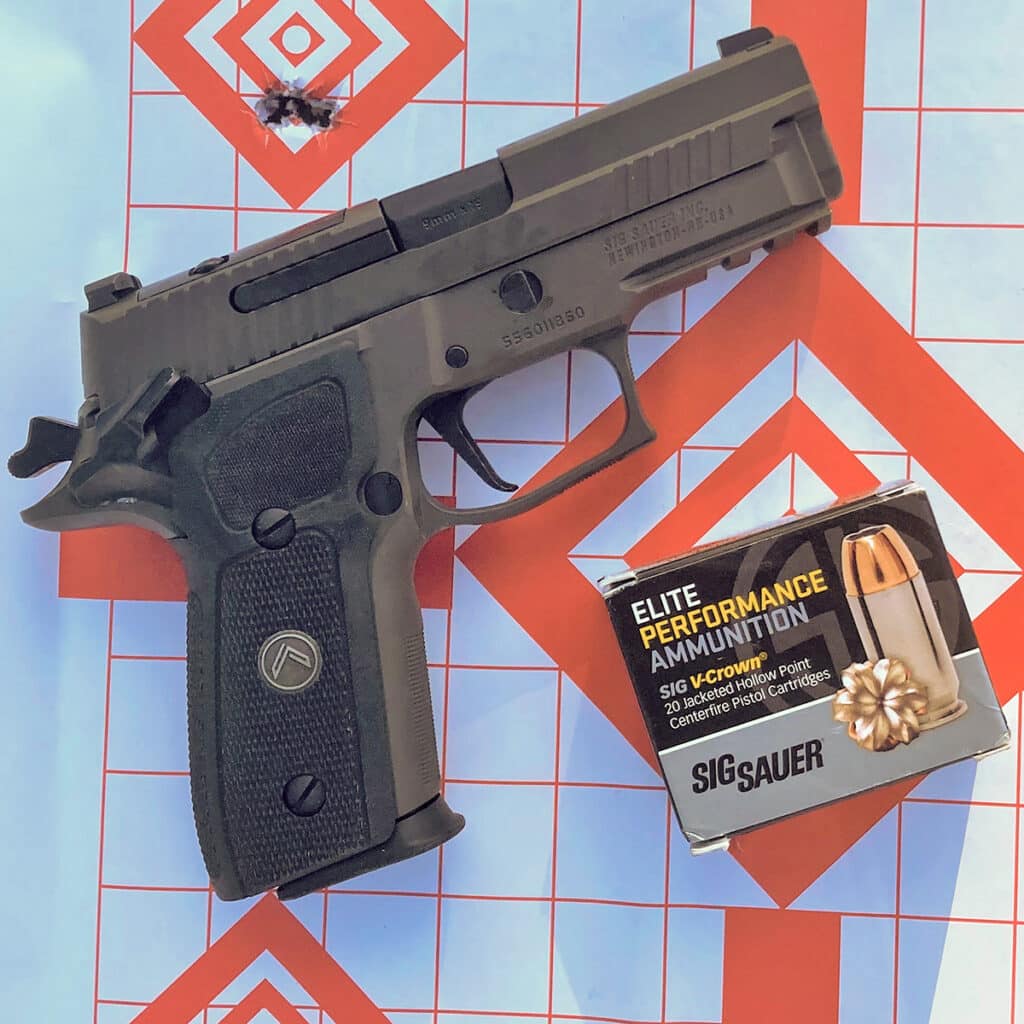 While SIG Sauer has become a standard-bearer for the polymer striker-fired genre with its P320 and P365 series, SIG is still representing with 1911, P210, and P220/226/229 family of metal-framed hammer-fired weapons. A little-known SIG Sauer decision made circa 2006 was to offer a single-action-only trigger option to shooters with certain models of the P220/226/229 family. The P229 Legion SAO is one such example and the focus of this article.
Legion Features
The SIG P229 Legion SAO RXP is a compact variant of SIG's classic P226 model. The Legion designation carries extra weight in SIG world. Legion nomenclature indicates SIG upgrading of an established product based on feedback from SIG Sauer's elite professional clients around the world. A Legion weapon is intended for customers who rigorously use their gear.
What sets the P229 Legion SAO apart from its other P229 stable mates? First, is the Cerakote Elite Legion gray coating covering the stainless-steel slide and aluminum frame. This is not merely window dressing; the coating improves durability. Custom G-10 grips with a Legion medallion are also present. The single-action-only (SAO) trigger is what focused my attention on the P229 Legion SAO. The P229 Legion SAO offers the best of the P229 design with preferred trigger profile. Icing on the cake is the P229 Legion featuring a flat style trigger shoe versus curved. This offers a 90-degree lever for better geometry and lowers the probability of pulling to the right or left during shots.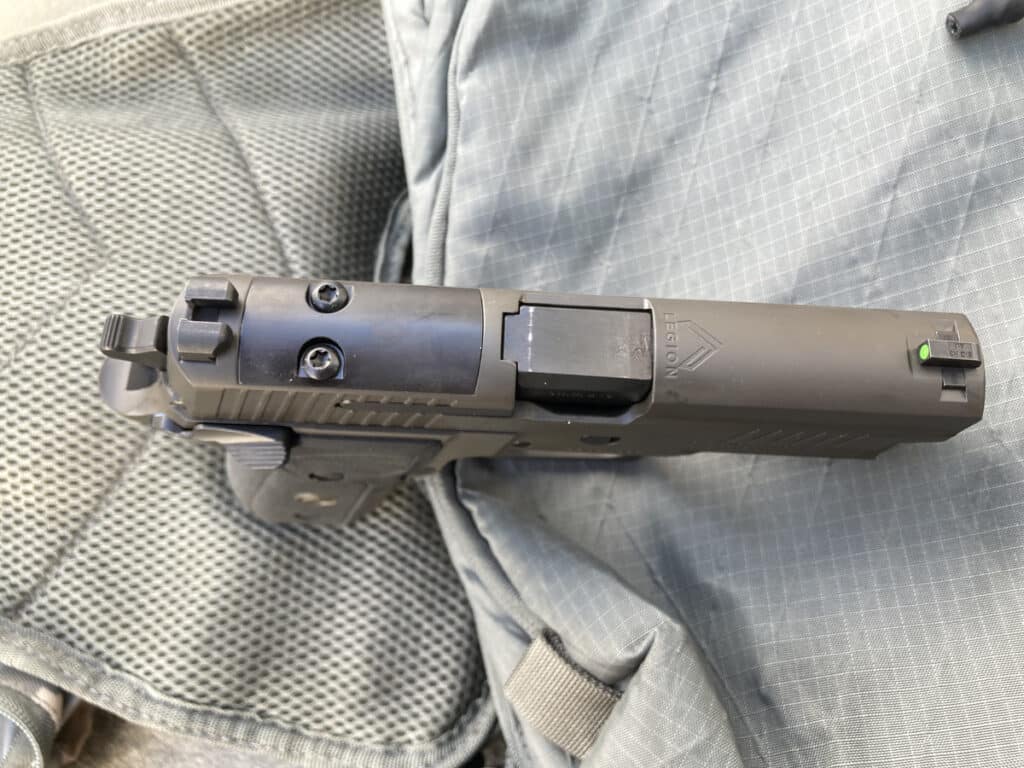 The superior SIG XRay3 day/night irons arrive on the P229 Legion SAO. Don't worry, the slide is factory milled if you want to mount a red dot. Ambidextrous manual safeties are present on the P229 Legion SAO in lieu of a de-cocking lever that's usually found on the P226/9 models. There's some strong nostalgic feelings attached the P229 Legion SAO's exposed cocked and locked hammer. The swiping down/deactivating of safety the lever brought me back to my early days of training with a single action handgun.
Compact Without Compromise
SIG realized that a more compact P226 design would help them attract even more consumers, especially considering the expanding concealed carry laws spreading across the country. Thus, the P229 was born. The P220/6's history and track record of proven performance on the battlefield (and the street) grant the P229 Legion SAO instant credibility. The P229 Legion's compact profile makes it ideal for concealed carry, especially with inside-the-waistband carry techniques. Someone who is a practitioner of concealed carry quickly realizes that length, grip size, overall weight, and width of a pistol are the key defining parameters for discrete carry handguns.
The P229 Legion's aluminum frame, stainless slide, and 3.9-inch barrel add up to a weight of only 31 oz. While the safety lever is located within natural thumb swipe distance, the slide lock sits further toward the rear of the frame compared to other weapons. This all but eliminates the chance of unintentionally engaging the slide lock during strings of fire as can happen when shooters rest their thumb on the lever with other designs.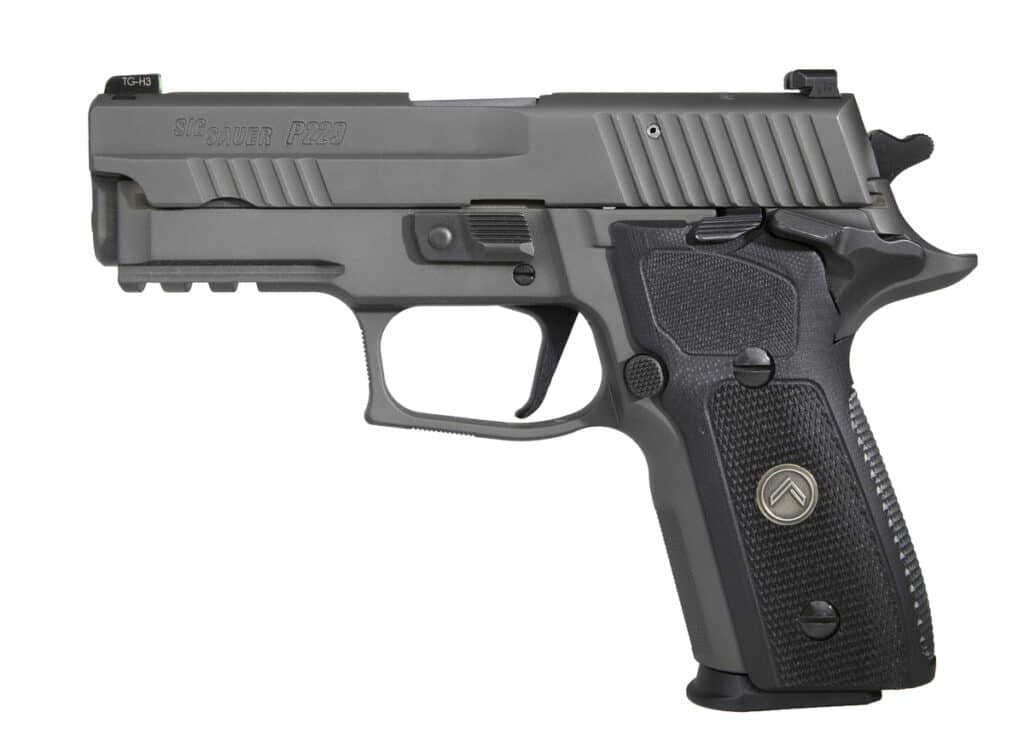 Another nod to the P229 Legion SAO's more modern design when compared to the 1911 is the safety's ability to stay engaged while manipulating the slide. The P229 Legion features a contoured reduced profile beavertail allowing for better hand placement on the frame while limiting the concern of printing through cover garments. The beavertail's protrusion from the frame guides one's hand to the optimum grip position during the draw stroke and aids in recoil management. More aggressive front strap checkering and additional checkering under the trigger guard enhance grip purchase. An undercut has been applied below the trigger guard, allowing for a higher grip and more control when firing, especially during rapid shot strings.
The P229 Legion's shorter barrel/slide maintains optimum mix of sight radius, concealment, balance, and reliability. The SIG XRay3 day/night irons compliment the P229 Legion's intended role as a concealed carry weapon. The P229 Legion's SAO's 3.9-inch cold hammer-forged barrel and short reset, single-action trigger combined with near perfect lock-up in the stainless-steel slide ensure maximum reliability and accuracy performance. The SIG single-action trigger pull measured 3.5-4 pounds. The aluminum frame features a Picatinny rail-equipped dust cover for tactical versatility in the way of lights and laser target designators.
Range Time
No weapon's reliability should be blindly trusted without confirming its function, especially if used for personal defense. The SIG P229 Legion SAO had no issue performing straight out of the box. The first range session consisted of over 200 rounds without cleaning or adding lubricant. Firing was at a relatively steady pace with different shooters running the P229 Legion thru its paces on plate racks, dueling trees, and other drills. Considering that the P229 Legion's design intent as an everyday carry handgun, we decided to dedicate some time evaluating around vehicles, breaching facades, door entries, and other CQB activities. Echo Valley Training Center's onsite Hesco Shoot House and 360 Range were ideal test locations. The natural pointability of the P229 Legion comes into its own in this realm. The single-action only trigger is a key component in this equation. The single action trigger aids in rapid target engagement with minimal trigger reset. The SIG slide/barrel combination contributes more mass, aiding in increased muzzle control for double taps or longer strings of fire.
PERFORMANCE
| | | |
| --- | --- | --- |
| LOAD | VELOCITY AVG. | ACCURACY@25yds |
| Federal 124gr HST | 1070fps | 1.75 in. |
| SIG SAUER 124gr V Crown | 1164fps | 1.25 in. |
| Hornady 147gr XTP | 915fps | 1.33 in. |
| Black Hills 115gr JHP EXP | 1140fps | 2 in. |
A variety of 9mm loads were tested with the P229 Legion including Federal HST, Speer Gold Dot, Hornady XTP, SIG V-Crown & FMJ, and Black Hills Ammunition JHP & FMJ. An ammunition can featuring a smorgasbord of random brands and types was also used. Loads fired spanned 115- to 147-grain. The P229 Legion SAO handled all brands, bullet types, and weights with equal aplomb. P229's ergonomics and handling characteristics are quickly appreciated and make a user understand why the P229 is well thought of. The overall balance of the P229 Legion SAO made recoil no more an issue than a full size P226. Even under the induced stress of drawing against a timer and engaging multiple targets, the manual safety was always positively disengaged. No malfunctions were experienced while test firing over 650 rounds during range visits.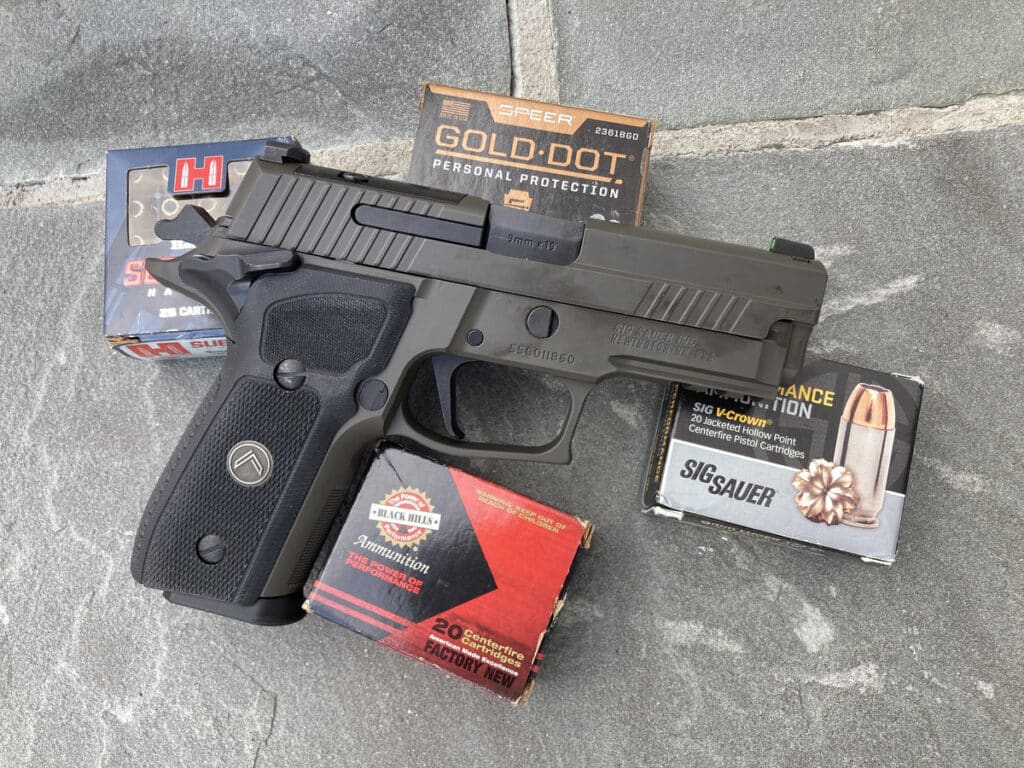 The SIG P229 Legion SAO did not disappoint, regularly producing 2- to 3-inch groups at 25 yards when fired from standing, unsupported positions. Bench testing could not be resisted after witnessing the unsupported accuracy results. Under 2-inch groups at 25 yards were not unusual.
The P229 Legion SAO was tested in various holsters from VersaCarry and Galco. Flexibility is the key to effective carry practices with Inside-the-Waistband (IWB) Concealable from Galco and Comfort Flex Deluxe from VersaCarry. The SIG P229 Legion did not feel out of place or uncomfortable in either the VersaCarry or Galco IWB even when carried for lengthy stretches of time going about daily business. The Decree belt holster from VersaCarry and Royal Guard from Galco had the P229 Legion riding comfortably on the hip.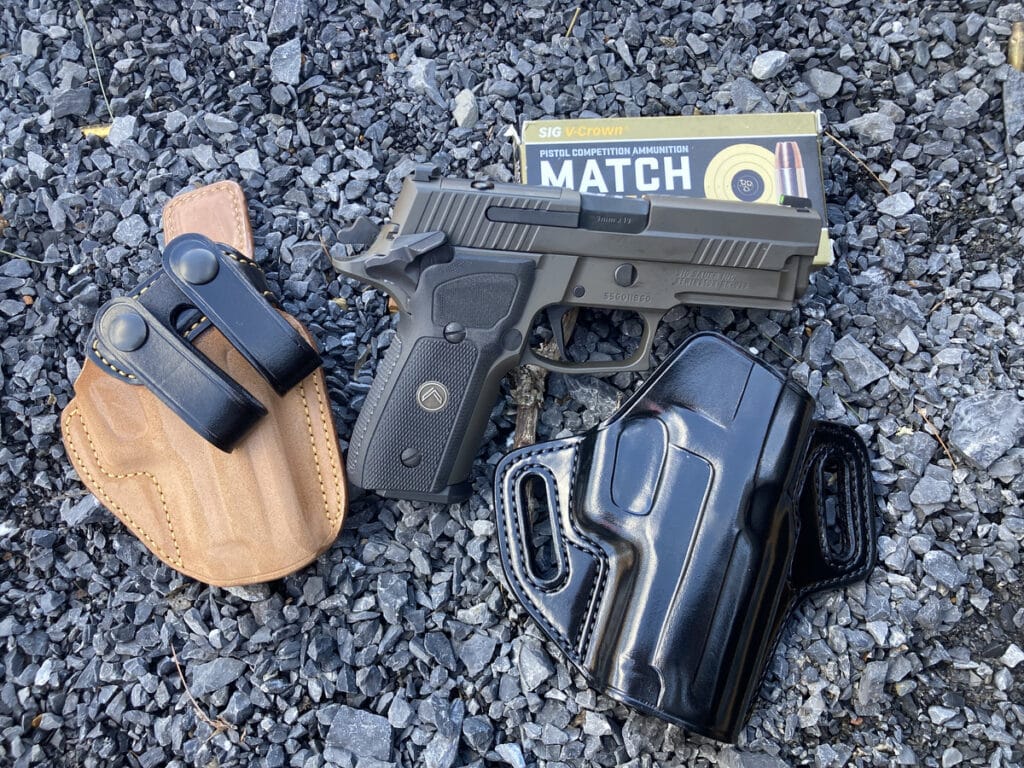 Hammer Fired Single Action Only Evolution
One could argue the single-action only SIGs such as the P229 are the natural evolution of the 1911 design, especially with the number of high-capacity 9mm 1911s becoming available. The P229 Legion SAO is at a price point many custom-tuned 1911 aficionadas can appreciate.
The P229 Legion SAO easily fits the concealed carry and personal defense roles, especially if a polymer-framed, striker-fired model is not your thing. For example, the P229 Legion equipped with a light/laser on its forward rail is as good a nightstand handgun as there is. Size comparison of the P229 Legion SAO to the commander-sized 1911 should quell any concerns of those that may think the SIG is too large. The SIG P229 Legion SAO is ideal for anyone wanting to capitalize on the SIG Sauer reputation for out-of-the-box reliability and accuracy combined with single action trigger for utmost control and precise shot placement.
SPECIFICATIONS
| | |
| --- | --- |
| Make: | SIG Sauer |
| Model: | P229 Legion SAO |
| Caliber: | 9mm |
| Barrel Length: | 3.9 in. |
| Overall Length: | 7.4 in. |
| Height: | 5.5 in. |
| Weight: | 31.7 oz. |
| Includes: | Three 15-round mags |
| MSRP: | $1599 |
| URL: | sigsauer.com |