The Pennsylvania Farm Show Complex's Expo†Hall†provided generous space for the show's nearly 1000 tables and more than 200 vendors, as well as†remarkable "walk up museum" displays of exotic vintage†armaments. Closest to the camera, filling some 18 black-draped tables and†supplemented by a lineup of tripod and†wheel mounted†weaponry, Robert Starer's Historic Arms Corp. provided visitors with an up close and personal look at his extraordinary collection, brought all the way from Virginia Beach, Virginia. HistoricArms@Verizon.net
By Robert Bruce
SAR's formula for its sponsored shows – combining regular weapons with machine guns and much more – has long been an enormous success for dealers and attendees of the SAR West mega-shows. This concept has traveled quite well to the East Coast as seen in Robert Bruce's look at some highlights from our Harrisburg, Pennsylvania event.
"The Harrisburg location is ideal and well known to the Class III and 'Black Rifle' community, so we think that this will give both sponsors of the show a chance to grow, just like we did with SAR West in Phoenix." Dan Shea- Editor-in-Chief, Small Arms Review
Ideal indeed, not only for enthusiasts of exotic weaponry, but most everyone with an interest in firearms, the newly-activated SAR East show both promised and delivered the goods.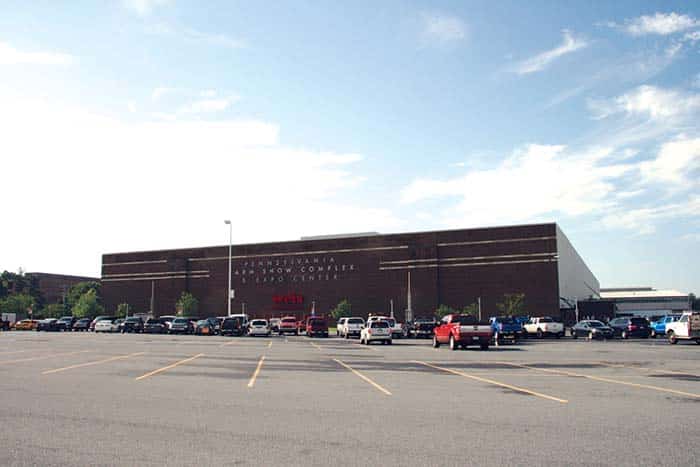 For three days beginning on the afternoon of June 19th, Harrisburg, Pennsylvania's most strategically-located city, was ground zero for a multi-state tribal gathering of aficionados of vintage and modern weaponry including machine guns, mortars, silencers, black rifles, and plenty more.
The enormous Expo Hall of the Pennsylvania Farm Show Complex became both a "walk right up museum" and a 950 table shopping bazaar for more than 4,000 customers buying everything from A(mmo) to Z(ombie targets) offered by 225 vendors.
Noting how it was patterned on the enormously successful fifteen year run of the annual SAR West shows in Phoenix, Arizona, Debbie Shea, General Manager of Chipotle Publishing LLC, said that all the essential elements for a successful launch came together.
"We get so many requests for an SAR East show," she said, "and we have really wanted to do it, but we needed the right partner to ensure that the show would be a success from the start. Steve and Annette Elliott (C&E Gun Shows/Showmasters) finally had an opening in a venue we all thought could allow for the growth."
Echoing the optimism of both Sheas, show partner Steve Elliott offered his insight into how both personal and professional relationships can drive good business decisions.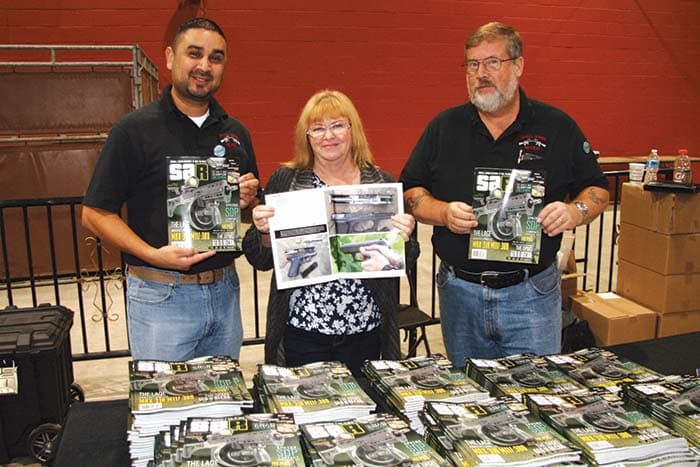 "I've been long time friends with Dan and Debbie as well as Bob Templeton at Crossroads of the West who runs the SAR West event," Elliott said. "They've had a great success with that so I approached them about doing a show on the East coast."
Chipotle Publishing, the parent company of Small Arms Review as well as Small Arms Defense Journal, handled the Class III and 'Black Rifle' section, while East coast partner C&E Gun Shows/Showmasters brought in vendors from near and far selling "regular firearms," parts, accessories, ammo, gun books, militaria, and more.
(Author's Note to Gun Haters reading this feature article for hysteria-mongering purposes: Everything offered for viewing and for sale at the show is fully legal. All dealers/displayers/vendors have the necessary papers and permits and all buyers have to comply with all local, state and federal legal requirements. Not only is this strictly enforced by the show's promoters, but BATFE was there with an informational booth and – of course – discreet walk arounds).
Slide Show
Take a virtual tour of highlights from the 2015 SAR East show by viewing the slide show linked on the SAR website www.smallarmsreview.com: Click "https://www.smallarmsreview.com/archive/reference.10-2015.cfm#10202015" for 167 images of many of the specific products mentioned below, along with notes including contact info for their purveyors, as well as some amusing odds and ends.
Guns, of course
Projectile pumpers large and small were offered aplenty, ranging from wickedly powerful and whisper-quiet airguns to grenade type launchers, machine guns, and even mortars and cannon.
Black rifles? All the well-known ones were there for sale at very favorable prices, along with interesting entries from HM Defense and Rev Arms. Shy? Get a no-paperwork 80% finished AR receiver for a measly $79.99. Oh, and for that ultimate AR to star in your collection, don't miss Dennis Todd's battle-scarred "contractor bring-back" suppressed SR-25/Mk11 Mod 0.
Pistols? Pick 'em up and get a feel for most everything from derringers to hand cannons. And if you want to win your bar bet every time, pull out proof that there really is a double barrel M1911 .45. Merely $6000 from Neil Smith.
Entertainment
YouTube novelty gun video sensation "FPS Russia" was a human star at the show, on hand all three days schmoozing his many fans, posing for pictures and signing autographs. And if your boudoir needs a bit of help on the romantic side, one of his comely young assistants was selling plenty of "napalm and bacon" scented candles.
While certainly entertaining, the UTM show team's innovative Civilian Target Ammunition and Portable Training Facility was definitely on the more serious side, providing free, hands-on, highly realistic marksmanship training to attendees.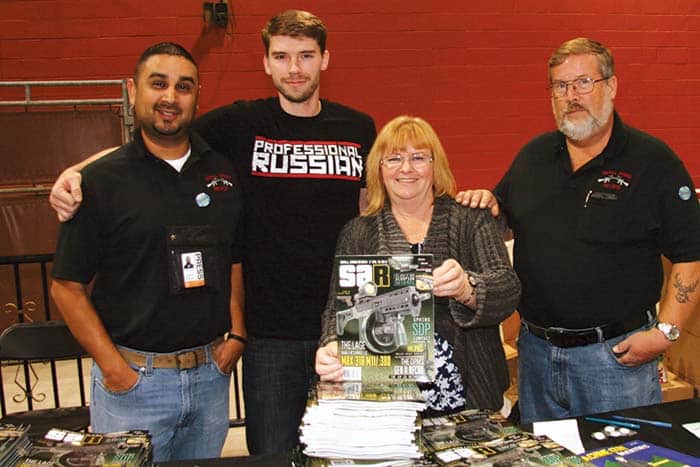 Museum quality
Extensive displays by collectors and dealers of historical machine guns, artillery pieces and other exotica were also a big draw, giving show attendees two important benefits in contrast to traditional museum settings. First, no rope barriers and no annoying glass cases. Then, the opportunity to have questions expertly answered by owners or their RKI staffers.
Most folks are appreciative, but don't give much of a thought to the expense and logistical hassles of bringing in a temporary ordnance museum populated by vintage classic guns with iconic names like Gatling, Hotchkiss, Lewis, Vickers, Maxim, Browning, and many more.
But the reality is that Curt Wolf of US Armament, Robert Starer of Historic Arms and others needed a small fleet of trucks and plenty of help to bring it all in and then take it all back home. On their own dime.

Prominent among too many treasures on display to note here was a crown jewel in Robert Starer's already astonishing collection. His one of a kind "Midas Thompson" is a Model 1921A that's beautifully engraved and inlaid with 24 karat gold, and has been a famous NFA collector's piece for half a century.
Ammo
Without ammo, your firearm's not much better than a dead pitbull, and this was the place to get the feed you need to keep it alive. Elusive .22 LR was readily available, and most everything else you want that's ready-made or roll-your-own through .50 BMG caliber, 37mm and bigger. How much bigger? How about a 120mm tank projo from Bob Omsted….
If you are with us in counting fireworks as ammo then you're in the right place. In addition to Doctor Tom's Leather selling traditional 4th of July celebratory items, there were lots of spectacular pyrotechnic loads for 12 gauge shotguns and 37mm flare/grenade launchers, as well as Tannerite targets and quick-light tracers.
More, more, more
SAR's shows offer a full-immersion experience in the gun culture, featuring all kinds of directly related things like a bounteous array of holsters, day and night sights, lasers and lights, targets, spare parts and accessories including nifty items like bump-fire stocks.
Ancillary offerings include rare militaria, knives and knife sharpening devices, tactical clothing, gear and body armor, eye and ear pro, reference books, and survival essentials.
Also, just as important to the happiness and well-being of attendees including wives and kids, there are some interesting and amusing things ranging from practical to whimsical and even weird. Like jewelry, "Kalashnikitty" tee shirts, make-fun-of-liberals posters, and music CDs with all the WW2 German marching songs you ever wanted.
Hungry? In addition to the venue's fast-food concession, individual vendors offered the obligatory jerky, and also nuts, deli meats, cheeses, and even an astonishing variety of pickles! Bon apetit!
2016
Next year's SAR East show promises to be even bigger and better. Once again in the Pennsylvania Farm Show Complex, it will kick off a bit earlier; March 18 – 20. So visitors; mark your calendars and vendors; make your space reservations now.
This article first appeared in Small Arms Review V20N1 (January 2016)