By The Small Arms Review Editorial Staff
Tacomhq
This year Tacomhq is introducing the tarac an optical accessory that adds 1.0 Moa to 120+ mils to any optic for additional range (with additional "zeroes") and automatically compensates for bullet drop for you.


"Todd-Hodnett-approved," the Tarac is military purchased and tested and is available in the alpha, bravo and charlie tarac. The alpha tarac is a 500 yd 1.25" Lens pop-up for ars to immediately switch from cqb (close quarter battles) to 500 yds in secs. The Bravo Tarac is 2.25" Lens pop-up designed for ars and scopes. Set your bravo tarac as 500-yd pop-up for ars, or set your bravo to boost your scope's total operating range by adding up to 30.0 Moa (adaptable for either application in secs). The charlie tarac is long range 10 to 120+ mils scope boosting accessory that can add 10's of mils of additional range instantly with an accessory that can fit in your pocket. With the charlie there is no distortion, light loss or chromatic aberration. There's no need for special scope mounts, adjustable height rings, slanted picatinny rails or change in cheek position.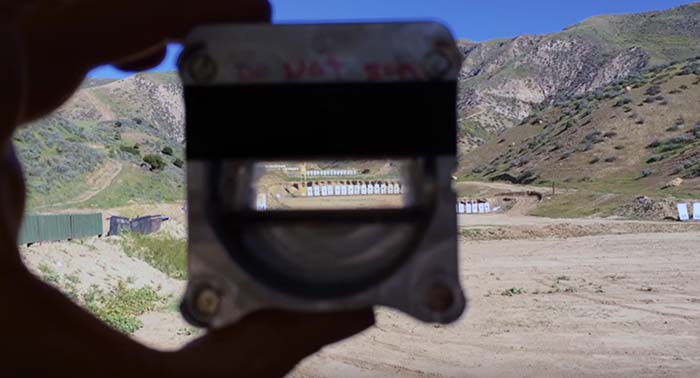 Lasermax releases activation technology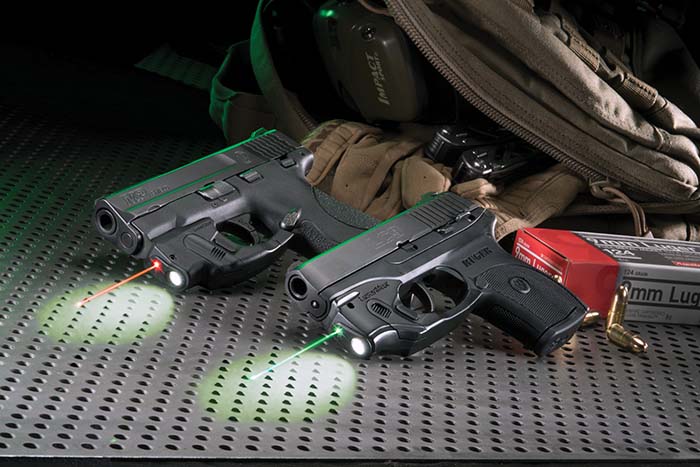 Now in its 26th year, Lasermax is a leading innovator and designer of premium laser aiming systems with a growing portfolio of significant patents. Specializing in the design and manufacture of rugged and innovative firearm sighting solutions for military, law enforcement and commercial markets worldwide, the company also delivers premium laser products and optical systems for the semiconductor, aerospace, biomedical and telecommunications industries. Lasermax is an ISO 9001:2008 certified and WOSB 8(m) certified women-owned small business and has been recognized by Inc. 500|5000 As one of the fastest growing companies in the U.S.
The company announced on January 5, 2016, that Lasermax is set to release revolutionary activation technology for its line of Centerfire light and laser products. This new activation technology is coined Gripsense. "This revolutionary new technology combines the best of both instant activation and controlled activation into the same product" said Chris Tinkle, chief sales officer for Lasermax. "Our Gripsense technology allows consumers to choose how they want to activate their light and laser. Your gun, your choice."
The patent pending Gripsense technology from Lasermax debuted to the industry at the 2017 SHOTShow on January 17, with a few sneak peeks prior at sales channel partners expositions. Industry professionals stop by any Lasermax exposition, to become a part of the Gripsense nation.
Hexmag offers Advanced AR-15 Pistol Grips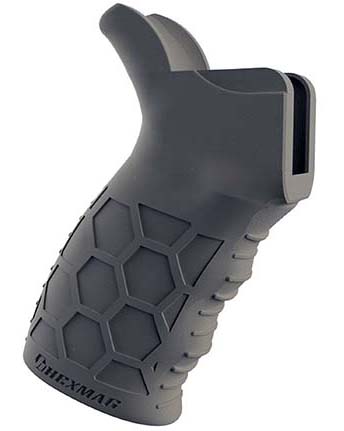 Hexmag, LLC (www.Hexmag.Com), maker of the most advanced and versatile AR-15/AR-10 platform magazines on the market, proudly presents two new pistol grips that are excellent for either rifle. Both grips are available in black or flat dark earth and feature upper grip extensions. New from Hexmag is the Hexmag Tactical Grip (HTG). This grip features a unique overmolded soft rubber grip surface with finger grooves and a rounded back strap swell similar to many 1911 pistols. The HTG also comes with the innovative Gapper which fills the space between the trigger guard and grip for increased comfort.
The HTG allows for a fuller and firmer grip squeeze—or purchase and is an excellent choice for most shooters. Its grip well is also hollow so backup items such as batteries, ear plugs, and a number of after-market accessories can be inserted inside for long term backup. "The versatility that each of these grips provides to our customers ensures that whether in the field or at the range, Hexmag has affordable options that get the job done," according to Dave Smith, marketing director. MSRP: $34.99.
The Hexmag Advanced Tactical Grip (ATG) is designed for competition and shooters with special needs/requirements. This patented and easily-installed grip allows shooter to adjust the grip angle by several degrees to accommodate different preferences, hand sizes and/or shooting positions.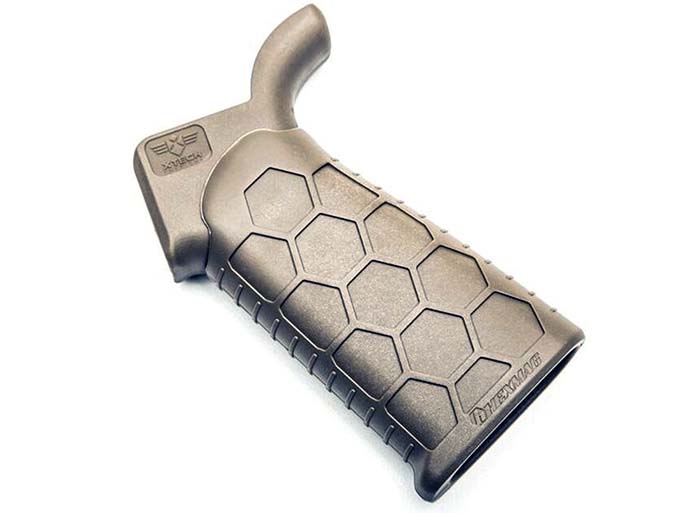 Installing the ATG on an AR-15/10 platform is a five-minute task that can be done without machining or special fitting. After installation, the grip angle can be easily adjusted from the standard to 17, 25 or 33 degrees takes in just a few seconds: loosen the grip well screw, move the grip to the desired position, then re-tighten the screw, and it will stay locked in position. MSRP: $27.99.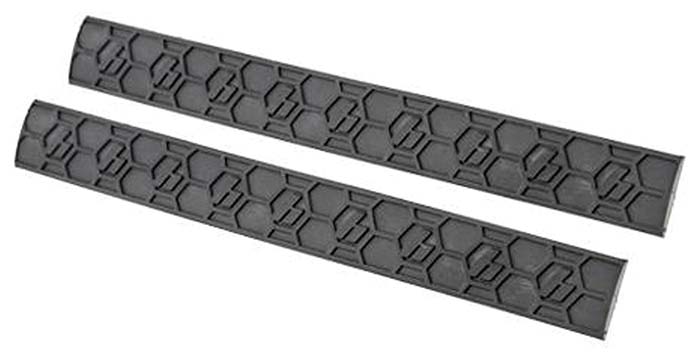 The new low-profile Hexmag pattern high-traction, non-slip rubber rail covers can be easily snapped onto the unused sections of your rifle's accessory rail (picatinny, m-lok, wedgelok or keymod wedgelok), and you are both good to go and band-aid safe. Hexmag rail covers effectively and attractively protect your rifle's rail mounting surface from nicks and bangs that can render a good accessory lock-in difficult or impossible. "These rail covers not only provide functionality and protection," says Hexmag marketing director Dave Smith, "They add a distinct complementary look and design across our accessory line for that empty rail space on rifle and carbine forearms." Hexmag rail covers come in 3- and 4-packs and are available in 7- or 18-slot versions (depending on firearm model). They can be ordered in two colors; black or flat dark earth. MSRP: from $21.79 To $33.99, Depending on firearm model, cover size and quantity. Hexmag grips, magazines and accessories are made in the USA and come with Hexmag's lifetime warranty.
Champion's Center Mass AR500 steel targets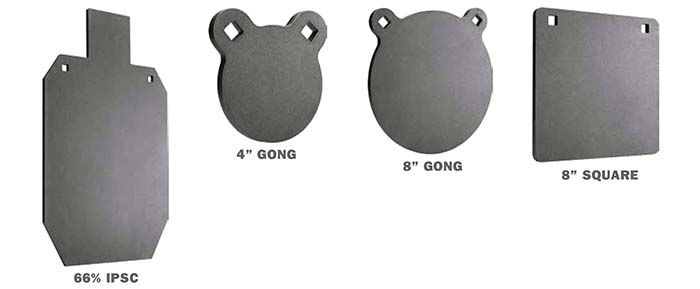 Nothing beats the instant feedback and satisfying "ping!" When a well-aimed shot hits a steel target. The new Champion Center Mass AR500 steel targets are designed for years of fun at the range. The AR500 steel is hard enough to withstand multiple calibers at the appropriate distances. The targets also come in three different shapes and sizes, allowing for a customizable shooting experience. Hearing is believing with Champion Center Mass AR500 steel targets.
• Premium rolled and hardened AR500 steel construction
• Made in the U.S.
• Centerfire rifle rated (3/8" thick)
• Centerfire pistol rated (1/4" thick)
• Precise, laser-cut edges
• Square holes for 1/2" carriage bolts.
Savage Arms MSR 10 Hunter

The MSR 10 Hunter is a light, compact sporting platform that still packs the punch of 308 win. and 6.5 Creedmoor chamberings. The rifle squeezes even more performance from its upgraded barrel with a target chamber, 5R rifling, Blackhawk! AR Blaze trigger and tough melonite QPQ finish. Savage Arms MSR 10 Long Range pack all the features and upgrades you expect from a savage precision rifle into a single platform and you have the MSR 10 Long Range. Chambered in 6.5 Creedmoor or 308 win., it is built on a compact frame with a non-reciprocating side-charging handle. Its Blackhawk! Two-stage, target trigger and Magpul PRS adjustable buttstock optimize the accuracy of the upgraded barrel, which features a target chamber, 5R rifling and melonite QPQ finish.
American Built Arms Co. Howa precision rifle and MOD*X M500 Tactical Shotgun System

The A*B Arms Howa Precision rifle is a lightweight, affordable and extremely accurate rifle system featuring the Howa 1500 short-action rifle, available in .308 And 6.5 Creedmoor. The Howa precision rifle features the Howa 1500 black barreled action w/h.A.C.T. Trigger and a 22" standard barrel with a 1:10 twist. The barreled-action is housed in the A*B Arms MOD*X Gen III Modular Rifle System chassis. The chassis is aluminum, hard-coat anodized to mil-spec type III with a 11.5" Free-floating modular forearm featuring three sides with keymod attachment points. It is distributed exclusively through united sporting companies. Contact your FFL dealer today to determine availability (http://www.Ellettbrothers.Com/dealerlocator.Asp).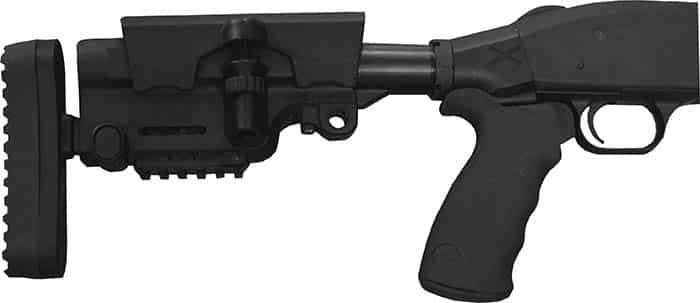 The A*B Arms MOD*X M500 Tactical Shotgun System is a bolt-on replacement stock specifically designed for the Mossberg 500 shotgun. The "fixed-adjustable" buttstock which includes the A*B Arms enhanced buffer tube and spring loaded butt pad allows for up to 28 different locking positions. The adapter easily bolts to rear of the rifle receiver without any alterations to your rifle. The A*B Arms MOD*X M500 Tactical Shotgun System is a lightweight, ergonomic butt stock that provides a quality, flexible upgrade to the existing factory stock.
CZ-USA P-10 C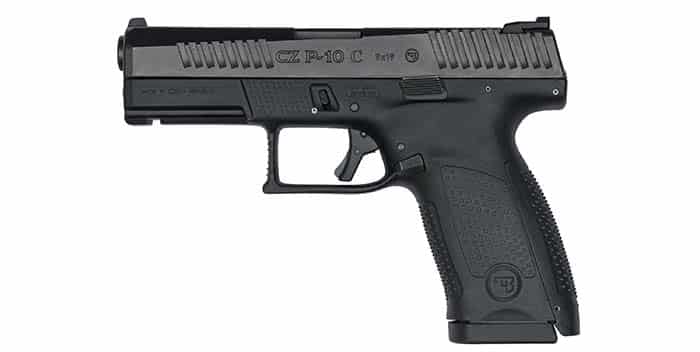 With a crisp, clean 4.5 Lb trigger pull and an incredibly short reset, The P-10 C stands as one of the best if not the best factory striker trigger on the market. Coupled with the ergonomics CZ is known for as well as their cold hammer forged barrel, it's what every duty gun should be–accurate, reliable and easy to shoot.
Battle Arms 300© PDW–7.5" 300Blk SBR personal defense weapon and ultra compact pistol Sabertube© and Vert© buffer system combo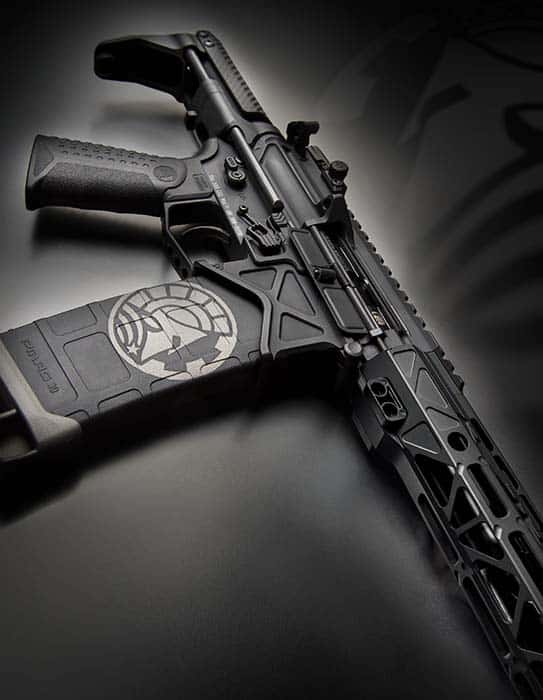 The 300© is built on Battle Arms Development's monolithic PDW lower receiver and integral Vert© stock system for unparalleled strength and weight savings. It features a 7.5" 300 Blk barrel and ambidextrous controls. The ultimate PDW designed with law enforcement, executive protection and special operations in mind. At only 20.1" Overall length, the 300© is perfect for where discretion, portability and concealment is of the utmost importance.
Compatible with the ultra compact Vert© buffer system, the new ultra compact pistol Sabertube© features our Vert© buffer spring system. Measuring at only 4.75", It is functional, clean and has an elegant dimpled design making it the most unique buffer tube on the market.
FN Herstal FN FCU Mk3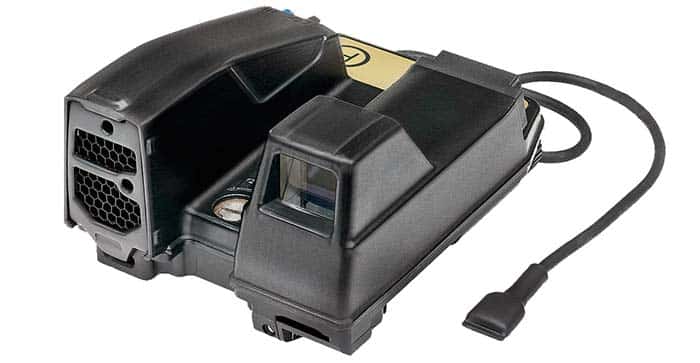 FN Herstal is introducing its third generation mk3 version of the FN FCU. The FN FCU Mk3 integrates the latest generation of electronic modules to improve its performance–and takes into account feedback from user experience with the earlier models. It retains the benefits of earlier versions (automatically adjusted point of aim, fast target acquisition night and day) while adding a host of enhancements. This includes an improved laser range finder for even better accuracy, a larger aiming window for easier target acquisition, automatic sight adjustment for lateral drift, reduced size, reduced power consumption and a quick detach base through a picatinny type interface and one hand activated lever. In addition, the new FN FCU Mk3 has several laser safety features for enhanced training capability.
When combined, all these improvements help to dramatically increase the hit probability of the 40mm grenade system in defense and security operations and embody FN Herstal's motto of 'enhancing capability through technology'. The FN FCU Mk3 can be fitted onto a wider range of underbarrel and stand-alone launchers and because the FN FCU/User interface remains unchanged no extra training is required for users of previous models. Firing tables supplied with earlier models, or created for them, can also be easily transferred to the new version.
This article first appeared in Small Arms Review V21N4 (May 2017)